<! MP3s 01/30/11 > <! icons 01/30/11 >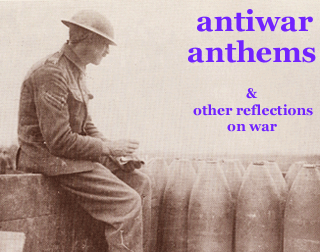 ---
This page catalogues many of the best war-related songs -- both anthemic and antiwar -- that I have heard. This list is of songs that are on albums which otherwise don't have war and wartime as their whole theme. A separate page reviews records that are mainly about war and antiwar propaganda songs.
---
War And Peace - A Musical Overview
---

Eric Andersen " 'Bout Changes And Things" (Vanguard, 1966)



Eric Andersen "The Best Of Eric Andersen" (Vanguard, 1970)



Of all the original Greenwich Village folkies, Andersen seemed to have the introspective songer-songwriter thing down a lot earlier than the rest, with the possible exception of Tom Paxton. He did do some overtly political material, but again, he did it with a subtlety that many of his peers lacked (or perhaps distained...) The Woody Guthrie-ish "My Land Is A Good Land" is one of the great patriotic anthems of all time; left-wing only by association, really. It can be heard in its original solo acoustic form on 'Bout Changes And Things or in a goofily orchestrated re-make on the controversial Best Of album, where Andersen re-recorded many of his best songs with a broader pop market in mind. The larger arrangements and orchestrations sometimes blot out the gentle, quavering quality of his original acoustic recordings, but Andersen was one of the most unique voices of the early '60s folk scene and even in altered form, his songs are quite effective. Likewise, his civil rights anthem, "Thirsty Boots" is still a great in either version. Worth checking out.
Eric Bogle "Scraps Of Paper" (Flying Fish, 1981)



Australian singer-songwriter Eric Bogle is the author of several stunning antiwar ballads, notably "No Man's Land" and "And The Band Played Waltzing Matilda," which are both on the original version of this fine folk album. These songs deal with the horrors of the First World War; "Matilda" is certainly Bogle's best-known song, having been covered by June Tabor, Makem & Clancy, and most famously by the Irish punk-roots band, The Pogues. Bogle's version was the first I heard, and I still find it profoundly moving. The image of a generation sacrificed, with resounding hollowness, on the altar of war, is powerfully conveyed in both songs, capturing in deft strokes, the catastrophic disillusionment of the so-called Great War. Profound, and tremendously emotional material. Highly recommended. (More information about Bogle can be found on his his home page and through his booking agency, Stoneyport Agency.

Billy Bragg "Levi Stubbs Tears" (EP) (Go Disc/Elektra, 1987)

(LP)
England's '80s working class hero, rough-hewn Leftie troubadour Billy Bragg combined the electrified abrasiveness of punk rock with the stripped-down melodicism of folk-oriented buskers... On this EP he covered Dick Gaughan's powerful (though somewhat credulous) song, "Think Again," which questions the logic of the Cold War policies of "mutually assured destruction" -- since the Russians suffered so greatly in WWII, why would anyone truly believe they wold risk that sort of hardship again in a nuclear conflagration? By covering this song, as well as Leon Rosselson's "World Turned Upside Down," Bragg opened up a relatively mainstream audience to the work of some of the UK's best left-wing songwriters.
Billy Bragg "The Internationale" (Go Disc/Elektra, 1990)


While we're on the subject of Billy Bragg, I may as well mention this disc, where he packed all of his most overt political material onto one EP. For the most part, it's a bit dry and overly-earnest. But if you wanna hear our lad croaking out the Internationale and songs about Victor Jara and Phil Ochs, this is the place to go.
Cincinnati's University Singers "The Hand That Holds The Bread: Songs Of Progress And Protest In The Gilded Age, 1865-1893" (New World, 1978/1997)


Part of the excellent New World series honoring the 1976 American Bicentennial. Although the Robert Shaw-ish chorale approach is a bit formal and stilted, the songs gathered on this album contain a wealth of historical and social commentary, touching on argicultural and immigration issues, labor agitation for an eight hour day, the impact of transportation and industrial monopolies, and other concerns of the day. The lyrics to many of these hymnlike tunes are a chore to follow, but a few stand out like gems. "The Future America," a parody of "My Country, 'Tis Of Thee," blasts the rich for their rapacious control of the country's wealth... a message that hasn't diminished much over the centuries. Informative but plainly written liner notes make this an even more effective collection. American history buffs should track this one down.

Dick Gaughan "A Different Kind of Lovesong" (1983)



This is the artistic height of Scottish folksinger Dick Gaughan's work as a political troubadour -- an unrelentingly abrasive set which examines nuclear war, torture and oppression across the globe. Sounds a bit harsh, doesn't it? But while this is astonishingly grueling, it is also effective and moving -- Gaughan is one of very few artists who could record such a humorless record, and still pull it off aesthetically. The title track anticipates such criticisms, basically arguing, "hey, in such times as these, what else can a feeling person do, but be as political as possible?" Perhaps the most well-reasoned, and most moving song on here is the anti-war anthem, "Think Again" (later covered by Billy Bragg), which provides historical and emotional balance to America's Cold War paranoia regarding the Soviet "evil empire." A recommended record, but you have to be in the right mood.


<! 03/10: real wxh = 108x108 >

Dick Gaughan "Sail On" (Greentrax/Appleseed, 1996)



This also has its moments, though there are several lamentably arranged tunes, and some overly didactic politics as well. Gaughan's social conscience remains undiminished as he resurrects Pete Seeger's warning to LBJ, "Waist Deep In The Big Muddy," refashioning it from a Vietnam parable into a broadside about the complacency in the Clinton era. The highlight here is Hamish Henderson's "The 51st (Highland) Division's Farewell To Sicily," written in honor of the Scottish soldiers who had helped conquer the island in WWII, only to be sent off to another bloody battle -- Gaughan's guitar mournfully evokes the regimental bagpipes, providing one of the album's most soulful and effective moments. (For more about Dick Gaughan, see my discography page.)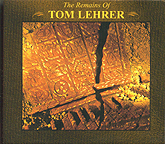 Tom Lehrer "The Remains Of Tom Lehrer" (Rhino, 2000)


Frolicking his way towards notoriety in the early 1950s, Tom Lehrer blasted the willful amnesia of the Eisenhower era, composing witty ditties about drug dealing, bomb testing, sado-masochism and various other hot topics that America had suddenly persuaded itself it knew nothing about. The singing math professor-cum-satirist was hardly what you'd call a leftie-folkie, or even anything as drab as a mere peacenik, but his "So Long Mom, I'm Off To Drop The Bomb" remains one of the most brilliant and hilarious lampoons of the Cold War nuclear standoff. It's actually a parody of an anti-Japanese WWII-era song, "Goodbye Mama (I'm Off To Yokohama)," which you can hear on some of the finer warsong collections. The rest of Lehrer's repertoire is amazing as well -- he is, quite simply, one of the most skillful lyricists of the 20th Century, and a gem for anyone of a historical, topical bent. This 4-CD set is the definitive look at Lehrer's career -- where else can you learn about LBJ's sidelining of Hubert Humphrey, the American recruitment of Nazi Germany's scientific elite, about Vatican II or the ever-present obsession with The Bomb, yet find yourself humming along instead of stifling a yawn? Although he never actually earned his PhD, Tom Lehrer is still the Dean of Satire, and here's your chance to audit his course.
Makem & Clancy "Tom And Liam: The Makem & Clancy Collection" (Shanachie, 1986)



This features stellar versions of Australian singer-songwriter Eric Bogle's widely-recorded antiwar ballads, "No Man's Land" (aka "Willie McBride") and "And The Band Played Waltzing Matilda." These songs deal with the horrors of the First World War Although artists as varied as June Tabor and the Pogues have covered these songs, I think that Makem & Clancy's version of "Willie McBride" is the most piercing and beautiful I have heard. The destruction of a generation of men, and the assumptions of continued progress and civilized enlightenment that died along with them, is made tangible and real, in a mournful, moving fashion. Plus, the rest of the material on this fine Irish folk album is top-caliber as well. Recommended!


<! 03/10: MP3 ASIN correct? >
Country Joe McDonald "War War War" (Vanguard, 1971)


In the mid-1960s, Berkeley, California's own Country Joe McDonald sang the famed "Fixin' To Die Rag," as popular an anthem as the American antiwar movement could ever hope for. An icon of the pinko commie Left, McDonald later campaigned for the politcal rights and rehabilitation of returning Vietnam veterans, helping bridge the gap between the protestniks and the soldiers they had once reviled. This is an impressive album that he made during the height of the Vietnam War, hearkening all the way back to the First World War, and the poetry of Robert W. Service, a Canadian poet who served as a war correspondent in the Balkan wars and later as an ambulance driver on the French front in WWI. Service was generally patriotic throughout the conflict, but as he witnessed so much the unceasing carnage, he was overcome by disillusionment and disgust. Although many of the poems on here may be a bit too epic and belaboured, the opening tracks, "Foreward" and "The Call," are quite compelling, and certainly rank as some of the best work McDonald has ever done. He deserves credit for recording this album, which showed a surprising measure of maturity and artistic depth within a rather polarized and often glib political clime. Definitely worth tracking down. (For more info, check out Country Joe's website, Art Damage and the Robert W. service home page.)
Country Joe & The Fish "I Feel Like I'm Fixin' to Die" (Vanguard, 1967)



The "Fixin' To Die Rag" was one of the great antiwar anthems of the 60s leftie crowd; it's simplistic, funny and scathing. Plus, it's got a great tune. Country Joe & The Fish were also a pretty good hippiedelic rock band, so it's not like that's the only attraction to this fine best-of collection.

Christy Moore "The Iron Behind The Velvet" (Tara, 1979)


The beautiful but blood-curdling anti-nuclear ballad, "The Sun Is Burning" is one of the eeriest and most powerful antiwar songs ever written. The imagistic lyrics slowly build the picture of an idyllic afternoon in some nameless park in Anytown, then, just as slowly, envision that idyll being swiftly, inexorably annihilated by a neutron bomb. You'd have to be made of stone not to be moved by this tune; it's a doozy. It is one of the best examples I know of a well-written, entirely artful. poetic pacifist ballad... it must be heard to be fully appreciated. This album is full of fabulous traditionally-oriented Irish folk music, with a sweet, modern melodic lilt. Besides Moore's warm, burnished vocals, this also boasts stellar cast of musicians includes Moore's longtime Planxty pal, Andy Irvine, as well as his little brother Barry Moore (who later had a popstar fling as Luka Bloom). Recommended! (For more about Christy Moore, see my discography page.)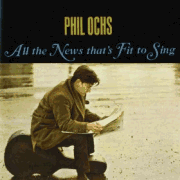 Phil Ochs "All The News That's Fit To Sing" (Elektra, 1964)



Phil Ochs "I Ain't Marching Anymore" (Elektra, 1965)



Of the politically-oriented Greenwich Village leftie troubadours, Phil Ochs was unquestionably the angriest, most direct, and most effective. He opposed the Vietnam War (and American interventionism in general) far earlier than most folks on the Left (the Bay of Pigs and the Cuban Missile Crisis were his flashpoints), and he wrote one scathing broadside after another, only much later shifting his work towards the introspective, poetic style of the singer-songwriters. I personally find his propaganda songs quite effective, and quite moving. "I Ain't A-Marching Anymore" includes a war-by-war catalog of American intervention abroad; "The Draft Dodger Rag" provided a witty, satirical anthem for the budding student movement of the 'Sixties, while "One More Parade" was a more straightforward condemnation of militarism and the general glamorization of war. Perhaps some of his most resonant material were his civil rights-related songs, such as "Too Many Martyrs" and "Here's To The State Of Mississippi," which reached into emotional reservoirs untouched by the more distant Asian conflict. Ochs's stuff is frequently reissued, which is great, although each new version tends not to stay in print long. But if you check out these two albums, you'll definitely be on the right track. (Note of great ironic interest: arch-rightwinger Anita Bryant actually recorded one of Ochs's best songs, the anthemic but socialistic "Power And Glory," on a collection of patriotic songs she did in the late '60s. Apparently her organization didn't "vet" their composers properly... or maybe she just liked the song. Either way, his version is better.)

Tom Paxton "I Can't Help But Wonder Where I'm Bound: The Best Of Tom Paxton" (Rhino, 1999)


Tom Paxton "Ramblin Boy" (Elektra, 1964)



Tom Paxton "Ain't That News" (Elektra, 1965)



The all-American boy next door who turned nutty liberal kook, Tom Paxton always seemed like the odd man out in the '60s protest scene -- not as scathing as Phil Ochs, nor as oblique and artsy-fartsy as Bob Dylan, he struck a nice middle note, carefully crafting sensitive, humorous songs that generally got the point across. It's worth it to pick up his original albums, just so you don't miss out on anything good, but Rhino's best-of collection is very well selected, and includes some of his best protest material, such as "What Did You Learn In School Today?" and "Lyndon Johnson Told The Nation," which rank as some of the best political songs of the era. "The Willing Conscript" is a real doozy, too, although "We Didn't Know At All" would also have been a nice addition, along with some of the starker civil rights ballads, such as the chilling "Goodman, Schwerner & Chaney." Thankfully, those are included in the fab British twofer reissue of 1964's Ramblin' Boy and Ain't That News? from '65. Highly recommended.
John Prine "Great Days: The John Prine Anthology" (Rhino, 1993)


One of the prototypical early '70s singer-songwriters, John Prine isn't really the kind of folkie who reflexively writes protest ballads, but his song "Sam Stone" is one of the most emotionally resonant songs of the Vietnam War era. It's not about combat, per se, but about the psychological after-effects. It's a very mature, reflective look at the world civilian Prine doubtless found himself in, and it still packs a wallop. This 2-CD collection is incredible; almost all of Prine's essential early work is included (with a few inevitatble, unfortunate omissions). Highly recommended!

Leon Rosselson "Rosselsongs" (Fuse, 1990)



Equal parts Mike Leigh and Tom Lehrer, activist songwriter Leon Rosselson is one of the most accomplished leftie lyricists of the last few decades. He is probably best known as the author of "World Turned Upside Down," a historical ballad based on the writings and historical accounts of Gerrard Winstanley, leader of the Diggers, a pre-Marxist proto-socialist peasant movement which called for the abolition of private property. Billy Bragg famously covered the song, bringing Rosselson's work to a wider, modern audience. This is a strong collection of Rosselson's best, most focused work -- it's not all war-related (much more about class relations and social alienation), but as long as we're on the topic of great left-wing folk music, you should at least be aware of this guy's work. The classics "Palaces of Gold" and "World Turned Upside Down" have been inexplicably re-recorded for this collection, but that doesn't make much difference, when backed up by marvels such as "Penny for the Guy," "Stand Up For Judas," "Let Your Hair Hang Down" and "Don't Get Married Girls." Highly recommended!

Pete Seeger "Greatest Hits" (Sony/Columbia, 2002)



The venerable master of left-liberal folksinging, Pete Seeger has had more than his fair share of great pacifist anthems. This recently expanded best-of album includes Malvina Reynolds's "Where Have All The Flowers Gone?" and "Waist Deep In The Big Muddy," Seeger's ode to Lyndon B. Johnson's escalation of the Vietnam War (which turned out to be an unexpected radio hit when it came out in the '60s). Classic '60s folk material.

Pete Seeger "Headlines And Footnotes: Collection Of Topical Songs" (Smithsonian Folkways, 1999)



Of course, if you want to get right down to the nitty-gritty, here is a collection of just-topical material, including "Waist Deep In The Big Muddy," as well as tunes on subjects as varied as unionism, the Spanish Civil War, and various historical disasters. Warwise, the reason to get this is the quiet, delicate masterpiece, "From Way Up Here," which asks us all to take a bird's eye view of the planet from up in outer space: what's the point of all this bloodshed and fear? Ya can't beat Pete.

Mark Spoelstra "Five And Twenty Questions" (Elektra, 1965)


This bluesy Greenwich Village folkie didn't traffic that much in overtly political material, but when he did, there was usually a nice payoff. "White Winged Dove" is a nice, powerfully compact protest song which quite deftly ties gun control and antimilitarism together. The rest of his stuff is pretty nice, too.

The Zombies "Odyssey And Oracle" (CBS/Date, 1968)



Although this psychedelic pop masterpiece isn't about the war per se, it does contain one of the spookiest WWI-related compositions I've ever heard -- "The Butcher's Tale" -- which follows in the tradition of the pacifist-tinged horrific realism of the best WWI-era poets. Besides that one chilling sketch of a shell-shocked doughboy, this disc is packed with one great song after another, making it one of my favorite old pop albums. If you've never heard this album, you really should track a copy down and check it out.
---
Links
---
---



Main Jazz Index
Pop Reissues
Pop Music Index



---