<! MP3 12/25/08, 01/08/11 > <! update 12/25/08 - could run through it again > <! outside 00/00/00 > <! links 00/00/00 > <! pix 00/00/00 > <! icons 01/08/11 >

---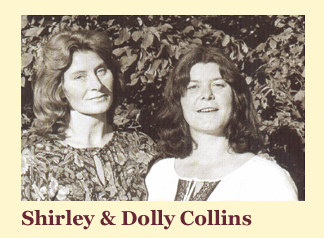 One of the starker and more hyper-traditional folk revival acts, sisters Shirley and Dolly Collins greatly widened the Brit-folk repertoire with their tireless resarch and the inventive arrangements of their odd, otherworldly albums. Their style may be a bit dry and rarified for the casual folk fan, but if you're on their wavelength, there's nothing else like it.
---
Discography
---

Various Artists "SING CHRISTMAS AND THE TURN OF THE YEAR" (Rounder, 2000)



A young Shirley Collins makes one of her earliest recorded appearances as part of a holiday-oriented tour de force organized by American expat, uber-folklorist Alan Lomax. It's an amazing live BBC broadcast from Christmas Day, 1957, which gathered the talents of revered revivalists such as A. L. Lloyd, Seamus Ennis, Cyril Tawney, and Ewan MacColl, as well as numerous lesser-known performers. From studios in Belfast, Birmingham, London, Wales, Plymouth, Derbyshire and Scotland, they were all contributing live on the air to an elaborate Christmas pageant that included not only British and Celtic folk material (including plenty of pagan and protest music), but also the rockin' new skiffle style and a bit of calypso and African highlife music from Britain's immigrant communities. The tightly scripted program features narration by Lomax, who had spent the bulk of the '50s in the UK, hosting various folk programs on radio and TV, and who waxes eloquent about the social and mystical roots of Britain's Christmas traditions. Lomax was ahead of the curve in so many ways on this project, it's hard to know where to begin -- stylistically, technically, crossculturally -- this was an ambitious, professionally realized broadcast that gathered together the best of Britain's folk talent, and yet retained the charm of a grade school talent show. Collins contributes on several tracks, a bit stiff-sounding, but still the voice of England's rural tradition -- in a foreshadowing of things to come, she even closes out the program singing with a Skiffle group! This album is fascinating as a work of art and a historical document, this is one of the jewels of Rounder's extensive program reissuing Lomax's vast recorded legacy. The songs and snippets whiz by too fast, but it's still a dazzling show!
Shirley Collins "Sweet England" (Argo/Topic, 1959)


Shirley Collins "False True Lovers" (Folkways, 1959)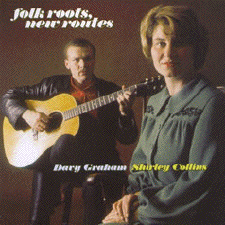 Shirley Collins & Davy Graham "Folk Roots, New Routes" (Decca, 1964)


A fab reissue of one of the early touchstones of the British folk movement, this captures two of the founding members at peak performance. Graham's innovative, bluesy-jazzy guitar work is an odd, but oddly effective counterpoint to Collins' tradtionalist balladry. Yet with all the musical experimentation, the flow and narrative punch of the songs are never lost, and the record is solid from start to stop. It is easy to see how Graham's acoustic work on this early album would have had a powerful impact on the up-and-coming young guitarists such as Bert Jansch, John Renbourn and Richard Thompson, who came in his wake, and furthered the fusion of blues, rock and trad. Highly recommended!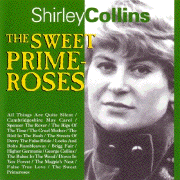 Shirley & Dolly Collins "The Sweet Primeroses" (Topic, 1967)



Highly recommended. For me, this is one of Collins' most compelling albums, with several of the most vivid folk stories she's recorded. Peter Bellamy and his cohorts in the Young Tradition sing backup (apparently; they were uncredited on the original album...) Thes songs feature tragedy after tragedy -- lost loves, furtive trysts, unwanted pregnancies galore. England's archaic expressions of sexuality and desire are laid bare with an a sense of reserve which is entirely appropriate to the original "code" that these songs were written in. Also includes an early recording of "Spencer The Rover," a song which may be familiar to fans of John Martyn. (The CD reissue includes several tracks taken from the 1963 Heroes In Love EP.)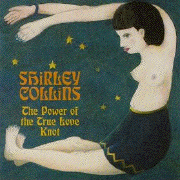 Shirley Collins "The Power Of The True Love Knot" (Polydor, 1967/Fledgling, 1999)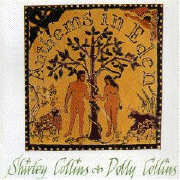 Shirley & Dolly Collins "Anthems In Eden" (Harvest, 1969)


The Collins Sisters continue their exploration of early music themes, aided by members of the Early Music Consort, who play numerous obscure instruments, such as the rebec, sackbut, rackett and crumhorn... This is a much larger ensemble than on previous Collins albums, but in some ways the rarified, somewhat arid quality remains unaffected. To be honest, I find it hard to get into this music; it requires more intellect and less emotion than I'm willing to give to appreciate music... Still, this album is considered a classic in the genre.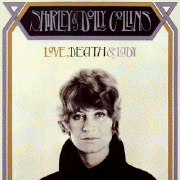 Shirley & Dolly Collins "Love, Death And The Lady" (Harvest, 1970)


Shirley Collins & The Albion Country Band "No Roses" (Pegasus, 1971)



Collins created a veritable English folk dynasty when she gathered together the Albion Country Band, wherein Ashley Hutchings, Richard Thompson, Simon Nicol, John Kirkpatrick, along with Lal and Mike Waterson, Maddy Prior and Royston Wood (late of The Young Tradition) all back Collins up on one of her best albums. As ever, Collins's voice is an aquired taste, but if you enjoy her already, then this is the album to get. On "Murder Of Maria Martin," Collins finds an epic ballad to give "Matty Groves" a run for its money. Nic Jones pitches in on that tune as well... In fact, this album is so packed with Brit-folk luminaries, it's actually a bit mind-boggling. Richard Thompson's presence looms heavy on the whole project -- a blessing for his fans as well. After this, the Albion Band took on a life of its own, primarily led by Ashley Hutchings. Shirley Collins joined them again from time to time (on albums noted below), but the Albion history begins here... An album well worth searching out.
Etchingham Steam Band "Etchingham Steam Band" (Fledg'ling, 1974/1995)



An Albion Band spin-off with Shirley and Dolly Collins in on the fun. Although this album was recorded in 1974, it was not released until 1995.
Shirley & Dolly Collins "Adieu To Old England" (Topic, 1974/Fledgling, 1999)

Shirley & Dolly Collins "Amaranth" (Harvest, 1976)


Apparently this LP only featured six new songs (although those feature a bunch of Fairporters, giving Collins a big boost instrumentally...) The second side of the album is made up of Shirley and Dolly's "Anthems in Eden Suite," which was originally released in 1969.

Shirley & Dolly Collins "For As Many Will" (Topic, 1977/Fledgling, 1993)



The Albion Dance Band "The Prospect Before Us" (Harvest, 1977)



One of a long line of Albion/Etchingham-related albums featuring Shirley Collins, Simon Nicol and Collins's onetime husband, Ashley Hutchings. Albion was an enlarged, electrified version of the Etchingham band, with a determined devotion to ceilidh, or country dance material. It's a lot more upbeat and playful than most of Collins' own material, with a thumping downbeat and overall clompy good-nature. A bit goofy, sure, but good clean fun along the same lines as the various "Morris On" albums that Hutchings had produced with all their folk-prog cohorts. This album even features a few live tracks, which give a pretty good idea of just how good this group was, even outside of the studio. May wear a bit thin after a while, but it's still a nice, fun record.

Shirley & Dolly Collins "Harking Back" (World Serpent, 1998)


Live recordings of two of the Collins sister's last public concerts, in late 1978 and early 1979. The recording quality is quite nice, although Shirley's spoken introductions to many of these songs is practically inaudible. Nice audience rapport throughout, and many of these songs are, of course, drawn from various albums throughout their careers. The CD also has some very good, very personal, liner notes by Shirley Collins, regarding the passing of Dolly Collins, who died in 1995.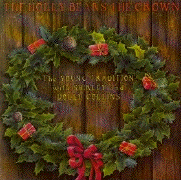 The Young Tradition & Shirley And Dolly Collins "The Holly Bears The Crown" (Fledgling, 1995)



A compelling collection of Christmastime and winter-y ditties, originally recorded in 1969, merging the talents of the Collins sisters and the equally craggy and arcane Young Tradition trio. There's a great stylistic variation, from the craggy-voiced growls of the late Peter Bellamy to some of the sweetest harmonizations the Collins sisters ever did. There's a cool variant version of "The Holly Bears A Crown," and several other semi-pagan spirituality tunes, some of it stark, some of it melodic. But this is one of the most accessible Collins-related albums I've had the pleasure to hear... Highly recommended!
Shirley & Dolly Collins "Snapshots" (Fledgling, 2006)


---
Best-Ofs
---
Shirley Collins "A Favorite Garland" (Decca, 1974)
Covers her career from 1964-'74.
Shirley Collins "Fountain Of Snow" (World Serpent, 1999)

Shirley Collins "Within Sound" (Free Reed, 2003)


A massive box set packed with "hits," rarities and concert recordings, including nearly two dozen previously unreleased performances and many more hard-to-find older recordings. May be a bit daunting for the Collins-shy, but devoted fans will go gaga.
Shirley Collins "The Classic Collection" (Highpoint, 2004)

Shirley & Dolly Collins "The Harvest Years" (EMI, 2008)


---
Related Records
---

Peter Bellamy/Various Artists "The Transports" (Free Reed/Topic, 1977)


In the 1780s, with the Americas closed as a dumping ground for the criminal class and other assorted ne'er-do-wells, England decided to ship its convicts off to the rocky shores of Australia. Among the hundreds of prisoners on the penal transports of the "First Fleet" were Henry Cabell and Susannah Holmes, a young couple who met in jail, but had to make it all the way to Botany Bay before they were allowed to be wed. This dense song-cycle chronicles their journey -- convicted of petty theft, detained for several years in an English jail before being deported to Australia, and finally wed under colonial law, later to become one of the founding families of the new nation. Peter Bellamy wrote the libretto, and enlisted a phalanx of the most talented British trad singers to help out, including June Tabor, Nic Jones, Martin Carthy and The Watersons, each taking on a role within the operetta. Dolly Collins provides orchestral arrangements that are mildly impenetrable or overly flowery at times, and the overall tempo of the album lacks variation, but the material itself is very powerful and the story is quite compelling. (For more folk music dealing with Australian history, also check out the various albums by Martyn Wyndham-Read.)
---
Links
---
English Folk Singers is one of the best sites on the Web, with a complete, lavishly annotated discography, and some nice personal asides. The other artist profiles on here are quite nice, too. Thanks, also, to this site for various clarifications and discographical information.
World Serpent is best known as the label of the dark-ambient band, Current 93. They also have put out some of the best Brit-folk reissues in recent memory... well worth checking out!
Fledgling Records is currently the Brit-folk label to check out... They've recently put out some of the best, most obscure, and most overdue reissues in recent memory, and have several nice new records out as well... They are, indeed, the bee's knees.
---



Main Celt/Brit Index
International Music Index



---