<! MP3 01/02/09 > <! update 01/02/09 > <! outside 00/00/00 > <! links 00/00/00 > <! pix 00/00/00 > <! icons 01/07/11 >

---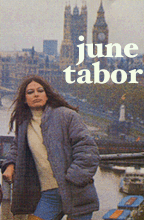 Unlike many of the other female singers in the British folk revival, vocalist June Tabor is best known as a solo performer, rather than as a member of this band or that. Her ascention to the upper stratosphere of the trad crowd was certainly remarkable: after kicking about on the folk circuit for a few years, she released her first Silly Sisters album, along with Maddy Prior of Steeleye Span, and went on to record a steady stream of solid records, working with the cream of the English folk scene. Ultimately, I find Tabor's approach a little too mannered and regal, more art song-ish than heartfelt folk, but nonetheless she is an artist of unmatched stature. (And I'm sure more than a few of her devoted fans will be all too glad to take me to task for any percieved slights!) Anyway, here is a quick look at her recorded career...
---
Discography
---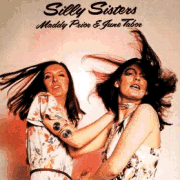 Silly Sisters "Silly Sisters" (Shanachie, 1976)



What a wonderful record. One of the greatest '70s trad albums... Maddy Prior and June Tabor's voices and musical sensibilities are a perfect match, and the material they chose is also a delight. The elusive English traditionalist Nic Jones plays fiddle or guitar on most of these tracks. This was, amazingly enough, Tabor's musical debut (outside of a few tracks on various folk collections, dating back to 1972). And what an entrance it was!

June Tabor "Airs And Graces" (Topic/Shanachie, 1976)



A remarkable followup to her Silly Sisters debut. This features a brace of traditional tunes, Child Songs and the like, as well as a fine a capella version of Eric Bogle's hauntingly powerful antiwar ballad, "The Band Played Waltzing Matilda." Although she sings several songs unaccompanied, Tabor is once again joined on several songs by the crisp, stately fiddle and guitars of Nic Jones, as well as Jon Gillaspie on keyboards. The bounciness of the Silly Sisters album is replaced by a more stately feel, a sense of gravitas and seriousness that would later get laid on a bit too thick. But here, everything remains in a delicate, effortless balance, suspended, crystalline and serene. A fairly perfect English folk album, well worth searching out.

June Tabor "Ashes And Diamonds" (Topic, 1977)



June Tabor & Martin Simpson "A Cut Above" (Topic, 1980)



Another beautiful album, featuring Tabor still in a mostly-trad setting, singing ballads and aires with great gusto and warmth, ably backed by guitarist Martin Simpson. The album's closer, "Unicorns," is a hint of things to come, with a tinkly piano and dolorous feel, but for fans who like their folk music simple and clean, this acoustic outing will swiftly become a cherished favorite. Simpson's role is mostly in the background, providing subtle, solid accompaniment, and plenty of Nic Jones-style slap-and-tickle guitar work. Recommended!

June Tabor "Abyssinians" (Topic, 1983)



June Tabor "Aqaba" (Topic, 1988)



June Tabor's legendary loftiness has certainly taken hold by the time this album came out... There are a few lighter, acoustic-based songs on here, but for the most part it is a heavier, grander hand at play, as Tabor embarces the mantle of Art Song Singer with full gusto. For those who prefer their folk music as Serious Art, this is a godsend; the rest of us may find it a bit slow-going and overly-cerebral.

Silly Sisters "No More To The Dance" (Shanachie, 1988)



A nice follow-up to Maddy Prior and June Tabor's first legendary pairing, although this time around the music is a bit glossier and less strictly trad. A couple of songs go over the line for my personal sensibilities, but these tunes are definitely the exception. On the whole, a lovely album. Includes a nice version of Colm Sands' delightful cautionary tale, "Almost Every Circumstance"... Worth checking out.
June Tabor "Some Other Time" (Hannibal, 1989)


Tabor sings standards, such as "Body And Soul," "Night And Day," "I've Got You Under My Skin" and the title track, even a version of "Meditacao," a bossa nova oldie by Antonio Carlos Jobim. A change of pace, to be sure, for this folk-scene doyenne, but doubtless of interest to her devoted fans.
June Tabor & The Oyster Band "Freedom And Rain" (Rykodisc, 1990)


June Tabor "Angel Tiger" (Cooking Vinyl, 1992)


June Tabor "Against The Streams" (Cooking Vinyl, 1994)


June Tabor/Danny Thompson/Savourna Stephenson "Singing The Storm" (Cooking Vinyl, 1996)


June Tabor "On Air" (Strange Fruit, 1996)


Live BBC recordings, spanning 1976-90.

June Tabor "Aleyn" (Topic, 1997)



Another solemn offering, with traditional ballads, a protest song, a jaunty country dance or two and many dour, piano-based meditations, with pianist Huw Warren providing the slow, sad accompaniment that brings out Tabor's most doleful side. Highlights include the torch-tinged "No Good At Love," "The Fair Maid Of Islington," and "A Proper Sort Of Garden," one woman's reflection on her childhood link to nature. Overall, this is too mopey and cerebral for me, and a bit too sad. Perhaps it's best used sparingly, like a mousse or other rich treat, one song placed in a mix with others, rather than a whole album at a time. But, as ever, you can't deny it's a class act: Tabor's work is deep and rich with soulfulness and intelligence. Worth checking out!
June Tabor "A Quiet Eye" (Topic/Green Linnet, 1999)


June Tabor "Rosa Mundi" (Topic/Green Linnet, 2001)



The reigning grand dame of English song returns, with a typically rich, multi-faceted album that explores her country's fascination with the thorny, flowering briar known as the rose. If you're a Tabor fan, this record will be a delight; non-fans may find her a bit stuffy, but of course, that's part of the charm. Tabor's current style of chamber music accompaniment (cello, piano, violin and viola) suits her well, and is employed with a sparing yet stately sense of beauty. Lofty, but well worth checking out!

June Tabor "An Echo Of Hooves" (Topic/Green Linnet, 2003)



Another stately, lovely album, with a perceptible drift back to the traditional side of things. Nearly all these songs come from the Child Ballads, or other traditional sources, and it's a rich emotional field for Tabor to plow, She sings amid a variety of musical backings, including a couple of lovely tunes with Martin Simpson on guitar. I prefer the songs with stringed instruments rather than the piano, which contributes to a sense of stuffiness, while the fiddle and guitar and a capella singing all bring out her edgier side. The piano work dominates this album, but it's still classy stuff... A nice return to the music's roots!
June Tabor "At The Wood's Heart" (Topic, 2005)


June Tabor "Apples" (Topic, 2007)


June Tabor "Ashore" (Topic, 2011)



Tabor's back with a brooding, weighty collection revolving around the relationship between the human race and the sea. Includes both contemporary and traditional material -- I prefer the trad stuff, but hearing her tackle a song like Elvis Costello's "Shipbuilding" is pretty cool, too...
June Tabor & Oysterband "Ragged Kingdom" (Topic, 2011)






<! Twenty-one years ago, June Tabor and Oysterband got together to record what is now recognised as an English folk-rock classic. It wasn't exclusively a folk album, though there were some traditional tracks, but rather an eclectic, powerful reworking of anything from Lou Reed to Shane McGowan. Now, at long last, comes the followup that so many of us have been asking for, and it's no disappointment. The energy is still there, along with the desire to startle and experiment, but so is a new maturity and emotional depth, and even greater variety. The traditional songs include Bonnie Bunch of Roses, in which the stomping backing is never allowed to overshadow Tabor's no-nonsense storytelling; then there's a glorious melodeon and fiddle-backed treatment of Fountains Flowing, that song of parting and grief, and there's delicate, unaccompanied vocal harmony singing on the Scottish lament (When I Was No But) Sweet Sixteen. The contemporary songs range from a fiddle-backed stomp through Dylan's Seven Curses, through to a thoughtful, gutsy reworking of PJ Harvey's That Was My Veil, and a pained, acoustic version of Joy Division's Love Will Tear Us Apart, which features a powerful duet between Tabor and John Jones, who come together again for a very English treatment of the bittersweet Dark End of the Street. This was worth waiting for. --Robin Denselow, The Guardian Product Description Freedom And Rain remains one of the finest collaborative albums of the past three decades. Bringing together the immense, individual talents of the sublime English folk singer June Tabor and the raucous roots rebels Oysterband, it produced something quite new and enduring. When they reunited last year to perform at fRoots Magazine's 30th birthday party at The Roundhouse, they felt the chemistry spark again. And 21 years on, they've made the brand new Ragged Kingdom, a brilliant, belated follow-up that mixes the traditional with the contemporary in startling fashion. ''June Tabor & Oysterband - a marriage made in heaven'' - Rolling Stone. >

---
Best-Ofs
---

June Tabor "Anthology" (Music Club, 1999)

June Tabor "The Definitive Collection" (Highpoint, 2003)

June Tabor "Always" (Topic, 2005)


A 4-CD box set, with nearly half the material previously unreleased.


<! Tabor is a Popular and Critical Folk Favourite, Having Won the BBC Radio Two Award for Best Folk Singer in 2004. Her Many Albums have all Garnered Generous Praise, with the Greatest Accolades Heaped Upon her 2004 Album "an Echo of Hooves" from Such Important Sources as the Sunday Times ("OutstandingÉthe Year's Finest Folk Record") and Mojo ( "ÉmajesticÉa Stunner"). This Box is a Treasury of Riches, Including Key Tracks, Live and Unreleased Songs and Collaborations with Maddy Prior, the Oyster Band, Martin Simpson and More. Careful Attention Has Been Paid to the Sound Remastering which Brings New Life to the Recordings. Includes a 48 Page Booklet with Many Previously Unseen Photographs, a Comprehensive Biographical Essay with Many Quotations and Observations by June Herself and Complete Notes on all the Songs and Performances by June and Others. Almost Five Hours on Four Cds, 67 Tracks, 32 Previously Unreleased. >

---
Related Records
---

Peter Bellamy/Various Artists "The Transports" (Free Reed/Topic, 1977)


In the 1780s, with the Americas closed as a dumping ground for the criminal class and other assorted ne'er-do-wells, England decided to ship its convicts off to the rocky shores of Australia. Among the hundreds of prisoners on the penal transports of the "First Fleet" were Henry Cabell and Susannah Holmes, a young couple who met in jail, but had to make it all the way to Botany Bay before they were allowed to be wed. This dense song-cycle chronicles their journey -- convicted of petty theft, detained for several years in an English jail before being deported to Australia, and finally wed under colonial law, later to become one of the founding families of the new nation. Peter Bellamy wrote the libretto, and enlisted a phalanx of the most talented British trad singers to help out, including June Tabor, Nic Jones, Martin Carthy and The Watersons, each taking on a role within the operetta. Dolly Collins provides orchestral arrangements that are mildly impenetrable or overly flowery at times, and the overall tempo of the album lacks variation, but the material itself is very powerful and the story is quite compelling. (For more folk music dealing with Australian history, also check out the various albums by Martyn Wyndham-Read.)
---
Links
---
---



Main Celt/Brit Index
International Music Index



---