<! cd 01/07/11 > <! MP3 01/07/11 > <! update 01/07/11 > <! outside 01/07/11- WP > <! links 00/00/00 > <! pix 00/00/00 > <! icons 01/07/11 >

---
Guitarist Martin Simpson
---
Discography
---

<! Martin Simpson "The Pink Suede Bootleg" (Limited Edition Cassette - 1987) >

Martin Simpson "Golden Vanity" (Trailer, 1976) (LP)


Martin Simpson & June Tabor "A Cut Above" (Topic, 1980)



Another beautiful album, featuring the ever-lofty June Tabor still performing in a mostly-trad setting, singing ballads and aires with great gusto and warmth. The album's closer, "Unicorns," is a hint of things to come, with a tinkly piano and dolorous feel, but for fans who like their folk music simple and clean, this acoustic outing will swiftly become a cherished favorite. Simpson's role is mostly in the background, providing subtle, solid accompaniment, and plenty of Nic Jones-style slap-and-tickle guitar work. Recommended!
Martin Simpson "Special Agent" (Fledg'ling, 1981)

Martin Simpson "Grinning In Your Face" (Topic, 1983)






<! includes covers of pop oldies "It Doesn't Matter Anymore" "The First Cut Is The Deepest" "Masters Of War" along with more traditional Brit-folk fare >

Martin Simpson "Sad Or High Kicking" (Fledgling, 1985)

Martin Simpson "Nobody's Fault But Mine" (Dambuster, 1986)

Martin Simpson & Jessica Ruby Simpson "True Dare Or Promise" (Topic, 1987)


Martin Simpson "Leaves Of Life" (Shanachie, 1990)



An all-instrumental set...
Martin Simpson "When I Was On Horseback" (Shanachie, 1992)



Martin Simpson "A Closer Walk With Thee" (Gourd, 1994)



A contemplative set of instrumental, acoustic reinterpetations of classic American gospel themes such as "I'll Fly Away," "Palms Of Victory," "Wayfaring Stranger," "What A Friend We Have In Jesus," and many other, much more obscure tunes. Some of these tracks are gorgeous, some are a bit goopy, and some go way out in left field... in a very nice way. Simpson really makes this material his own, and slows the pace way down, with the express purpose of getting us out of the hustle and bustle of everyday life. This didn't really move me as much as I thought it might, but it's still quite nice.
Martin Simpson "Smoke And Mirrors" (Thunderbird, 1995)

Martin Simpson & Jessica Ruby Simpson "Red Roses" (Thunderbird, 1995)

Martin Simpson & Jessica Ruby Simpson "Band Of Angels" (Red House, 1996)

Martin Simpson & Wu Man "Music For The Motherless Child" (Water Lily Acoustics, 1996)

Martin Simpson "Cool And Unusual" (Red House, 1997)






<! mainly British traditional ballads >

Martin Simpson "Live" (recorded 1994, Oxford) (Red House, 1997)


Martin Simpson, David Hidalgo & Viji Krishnan "Kambara Music In Native Tongues" (Water Lily Acoustics, 1998)

Martin Simpson "Bootleg USA" (Topic, 1999)


Martin Simpson "61 Highway" (EP) (Beautiful Jo, 1999) <! live >


A 3-song EP...
Martin Simpson "The Bramble Briar" (Topic, 2001)


Martin Simpson, Jessica Radcliffe & Lisa Ekstrom "Beautiful Darkness: Celebrating The Winter Solstice" (High Bohemia, 2001)

Martin Simpson "Righteousness And Humidity" (Topic/Red House, 2003)






<! collection of American blues, played on acoustic and steel guitar, and banjo. >

Martin Simpson "Kind Letters" (Topic, 2005)






<! ...joined by a host of outstanding musical accompanists including Nancy Kerr and James Fagan, Chris Parkinson, and members of the celebrated Irish group Danu to produce what is probably MartinŐs best album to date.>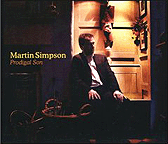 Martin Simpson "Prodigal Son" (Compass/Topic, 2007)



(Produced by Martin Simpson)
A majestic album from British trad-folk singer-songwriter Martin Simpson, a veteran performer who also, by the way, picks one helluva fine acoustic guitar. This album is something of a summary of all that is best about his career, the elegant bridging between traditional and contemporary folk, with equal shares of Celtic, English and American influences. Alongside cover tunes such as Randy Newman's "Louisiana, 1927" (an astonishingly prescient song about corruption and natural disasters, widely resurrected in the wake of Hurricane Katrina) are ancient ballads such as the grim, seductive "Little Musgrave" and the yearning "Andrew Lammie." Simpson also includes two of his finest and most personal original compositions, "She Slips Away," written after his mother died, and "Never Any Good," a song that both catalogs and celebrates the apparent shortcomings of his father. And, throughout, there is achingly beautiful guitar work, reminding us yet again why Simpson has long been considered one of the best players in the modern English folk scene. Certainly one of the finest trad-folk albums of the last few years.
Martin Simpson "True Stories" (Compass, 2009)


Martin Simpson "Purpose + Grace" (Topic, 2011)






<! With guest appearances from Richard Thompson, June Tabor, Dick Gaughan and Fay Hield, the album marks a bold and confident step for Simpson. Building upon the strengths of Prodigal Son and True Stories, like a movie producer, he conceived the whole project over a number of months and then invited some of his favorite musicians to bring their stellar talents to the recording sessions. The material shifts from Anglo-American ballads, Scots and English traditional songs to new compositions from Bruce Springsteen, Richard Thompson, the aforementioned Yip Harburg and Martin Simpson. >

---
Best-Ofs
---
Martin Simpson "The Collection" (Topic, 1994)


Martin Simpson "The Definitive Martin Collection" (Highpoint, 2005)

---
Links
---
---



Main Celt/Brit Index
International Music Index



---

<! Martin Simpson "Golden Vanity" (1976) Martin Simpson "Special Agent" (Fledg'ling, 1981) B000006B8H Martin Simpson "Grinning In Your Face" (Topic, 1983) B00000IQNH B002B3WUSE Martin Simpson "Sad Or High Kicking" (Fledgling, 1985) B0002B7K64 Martin Simpson "Nobody's Fault But Mine" (Dambuster, 1986) B000001BFY Martin Simpson "The Pink Suede Bootleg" (Limited Edition Cassette - 1987) Martin Simpson & Jessica Ruby Simpson "True Dare Or Promise" (Topic, 1987) B00004SV7O B002K39D30 Martin Simpson "Leaves Of Life" (Shanachie, 1990) B000000E92 B0016UPRQA An all-instrumental set... Martin Simpson "When I Was On Horseback" (1992) Martin Simpson "A Closer Walk With Thee" (1993) Gourd Music Instrumentals, mainly gospel Martin Simpson "Smoke And Mirrors" (Thunderbird, 1995) B000005YH6 Martin Simpson & Jessica Ruby Simpson "Red Roses" (Thunderbird, 1995) B000005YH4 Martin Simpson & Jessica Ruby Simpson "Band Of Angels" (Red House, 1996) B000001BBI Martin Simpson & Wu Man "Music For The Motherless Child" (Water Lily Acoustics, 1996) B000002VYN Martin Simpson "Cool And Unusual" (Red House, 1997) B000001BBU B000S5BXP8 mainly British traditional ballads Martin Simpson "Live" (recorded 1994, Oxford) (Red House, 1997) B000001BBS B000S5AXL8 Martin Simpson, David Hidalgo & Viji Krishnan "Kambara Music In Native Tongues" (Water Lily Acoustics, 1998) B000006OHP Martin Simpson "Bootleg USA" (Topic, 1999) B002YWZHRI B0030XWCTQ Martin Simpson "61 Highway" (EP) (Beautiful Jo, 1999) B002F2EZC0 - MP3 live 3-song EP Martin Simpson "The Bramble Briar" (Topic, 2001) B00005LC3K B000QZUG4Y Martin Simpson, Jessica Radcliffe & Lisa Ekstrom "Beautiful Darkness: Celebrating The Winter Solstice" (High Bohemia, 2001) B000056K90 Martin Simpson "Righteousness And Humidity" (Topic/Red House, 2003) B0000AOV3B B000QZSVAU collection of American blues, played on acoustic and steel guitar, and banjo. Martin Simpson "Kind Letters" (Topic, 2005) B0007ULLQU B000QZR8A4 ...joined by a host of outstanding musical accompanists including Nancy Kerr and James Fagan, Chris Parkinson, and members of the celebrated Irish group Danu to produce what is probably MartinŐs best album to date. Martin Simpson "Prodigal Son" (2007) Martin Simpson "True Stories" (Compass, 2009) B002M9FYGW B002GUKTBW Martin Simpson "The Collection" (Topic, 1994) B00000590M B000QZSUXI Martin Simpson "The Definitive Martin Collection" (Highpoint, 2005) B0003JAJKY >