<! MP3 01/09/09, 01/05/11 > <! update 01/09/09 > <! outside 00/00/00 > <! pix 00/00/00 * > <! icons 01/05/11 > <! Mike Whellans - played mostly acoustic blues, but also trad Wild Geese Ian Woods & Charley Yarwood "Hooks And Nets" (1984) > <! The Whistlebinkies "...And Ted McKenna" (Amiga, 1976) Tommy Williams "Spring Time In Battersea" (Free Reed, 1976) - Tommy Williams was an English concertina player of some renown - Pete Webb (on Topic) WOODEN HORSE II - RARE UK PROG FOLK - EARLY OOP RI~MINT TONY WALES - SUSSEX FOLK SONGS & BALLADS LP 1957 rare folkways english trad uk >
---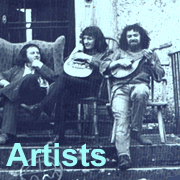 Trad & Folk
Artists and Albums
Hello! This page is part of an opinionated overview of Celtic and British folk music, with record reviews by me, Joe Sixpack... This is not meant to be taken as a "definitive" resource, but rather as a record of some of the music which has caught my interest. I am always looking for more good music to explore, so your comments and suggestions are welcome.
This is the first page covering the letter "W"
---
A | B | C | D | E | F | G | H | I | J | K | L | M | N | O | P | Q | R | S | T | U | V | W | X, Y & Z | Comps | Celtic Music Labels & Links | World Music Index
---
Loudon Wainwright - Yeah, I know he's a Yank. But still...
The Wassailers "Wassailers" (Fellside, 1978) (LP)





<! Waterboys http://ceolas.org/artists/Waterboys.html The Waterboys "The Waterboys" (Chrysalis, 1983) The Waterboys "A Pagan Place" (Chrysalis, 1984) The Waterboys "This Is The Sea" (Chrysalis, 1985) The Waterboys "Fisherman's Blues" (Alliance, 1988) The Waterboys "Room To Roam" (Alliance, 1990) The Waterboys "Dream Harder" (Geffen, 1993) The Waterboys "The Best Of The Waterboys" (Chrysalis, 1991) '81-'91 The Waterboys "The Secret Life Of The (EMD/Chrysalis, 1994) Waterboys '81-'85 >


Waterson-Carthy -- see Martin Carthy and The Watersons





The Watersons - see artist profile




The Wayfarers "The Wayfarers" (Folk Heritage, 1970)


There are quite a few bands called "The Wayfarers" -- there's the American folk group, an Aussie folk group, more recently, an alt-country Americana band, and these guys, an excellent British trad-folk trio, featuring singer Brian Dewhurst, who went on to record several albums under his own name...


<! with Brian Dewhurst > <! MP3 - fbn - B004AV42HW >

The Wayfarers "Take Two" (Folk Heritage, 1970) (LP)





<! The Wayfarers "Songs And Dance Tunes" (xxxxxxxxx, xxxxxxx) (LP) B004EQWSRE - same band??? The Wayfarers "world's fare" - ?? >
Sheena Wellington "Strong Women" (Greentrax, 2003)






<! "Strong Women Rule Us By Their Tears" >

Sheena Wellington "Hamely Fare" (Greentrax, 2003)



A somewhat genteel, folkie set, featuring Scottish singer Wellington's affectionate versions of several traditional ballads, a haunting new tune by young'un Karine Polwart ("Whaur Dae Ye Lie"), and a brace of songs by Robert Burns, including her version of "A Man's A Man," which was apparently sung at the opening of the new Scottish Parliament. Wellington's a capella performances really stand out -- I think the guitar and fiddle around her on other tracks are a bit sugary... But once you hear the elegance of her voice unaccompanied, you may well be won over. Certainly worth a listen!

Gary West "The Islay Ball" (Greentrax, 2001)



A refreshing new sound for the Celtic scene... Scottish piper Gary West performs on the bagpipes, tin whistle and --most notably -- on the less-well known Scottish smallpipes, which have a very distinctive and appealing tone, perhaps a bit more pleasing to the ear than the standard bagpipes (which many casual listeners find a bit, um, irritating). This album has several very striking tunes on it, music that sounds remarkably different than most other Celtic instrumentals you may have heard... Recommended!
Whippersnapper "Promises" (WPR, 1985)


The first album by fiddler Dave Swarbrick's late-'80s band... A very upbeat, adventurous and playful ensemble, mixing bouncy bluegrass and swinging jazz along with off-kilter British trad. Definitely worth checking out!
Whippersnapper "Tsubo" (WPR, 1987)


Another technical and cross-stylistic tour-de-force, although I'm sure plenty of folks would find this hard to get into... Swarbrick and company whirl through a mix of Celtic/Brit trad, more generalized "world music," some acoustic swing ala David Grisman, and a dash of rock'n'roll as well. It's skillful and dynamic, although also a little bit forceful and in-your-face eclectic. But for adventuresome sorts, this could be a pretty fun ride.
Whippersnapper "These Foolish Strings" (WPR, 1988)

Whippersnapper "Fortune" (WPR, 1989)

Whippersnapper "Stories" (WPR, 1991) <! non-Swarbrick album >





<! Whippersnapper "Promises" (WPR, 1985) dd Dave Swarbrick, violin, mandolin, vocals; Chris Leslie, violin, mandolin, vocals; Martin Jenkins, mandocello, mandolin, flute, vocals; Kevin Dempsey, guitar, vocals Whippersnapper "Tsubo" (WPR, 1987) Whippersnapper "These Foolish Strings" (WPR, 1988) Dave Swarbrick band Whippersnapper "Fortune" (WPR, 1989) Whippersnapper "Stories" (WPR, 1991) non-Swarbrick album Whippersnapper was formed in 1983 by Dave Swarbrick. His career to date meant he was already a legend on the folk scene - solo, with Beryl Marriott, The Ian Campbell Folk Group, Martin Carthy and, of course Fairport Convention. They were the first band he had brought together himself. Initial contact was with Martin Jenkins and Chris Leslie. Looking for a fourth member, Martin recommended fellow Coventry musician Kevin Dempsey to complete the quartet. Swarb now had three of the most respected acoustic string players in the country as his fellow musicians. Martin Jenkins and Kevin Dempsey had both been members of Dando Shaft. After the group broke up in the early seventies, Martin joined Hedgehog Pie and Bert Jansch`s Conundrum, as well a pursuing a solo career. Kevin became an early exponent of world music, whose career embraced Indian classical, Latin, jazz-funk and big band: he played alongside such legendary figures as Alice Coltrane and David LaFlamme. Chris Leslie was known both as an instrument maker and as a member of duos with his brother John and Steve Ashley; like Swarb he had played fiddle with Beryl Marriott`s groups. He had a growing reputation as a songwriter. Whippersnapper made their debut at The Burnt Post, Coventry on January 15, 1984. The anticipation was enormous. Here was a coming together of great talents in an acoustic band able to command a stunning array of instruments (fiddle, mandolin, guitar, bouzouki, mandocello, mandola, whistle, cittern, flute) with great virtuosity. Giving us a taste of what to expect, Swarb told the papers, "It is very advanced music, quite intricate and swings like mad." In their first year together they played at the two most famous folk festivals in the UK - Cambridge and Cropredy. They were also the unlikely pioneers of the way the music business was about to go, since their first release was a live video of the Cambridge set, filmed four months before they even began recording their debut album. Through the second half of the 1980s Whippsnapper remained one of the must-see (and must-hear) bands playing on the British acoustic music scene. Tour gigs were inevitable sell-out dates and festival organisers vied to book them. They released five albums - the classic Promises (1985), Tsubo (1987), the live album These Foolish Strings (1989), Fortune (1989) and Stories (1991). By the time the final album was released, Swarb had left the band he had formed, leaving the others to continue as a trio. >

Wicked Tinkers "Wicked Tinkers" (Gael Force, 1998)



This American three-piece band takes one of the more irritating musical styles -- the Scottish marching bagpipers -- and reduces it to its most essential elements: one piper, two set of drums. In doing so, they free themselves from the need to coordinate with a bazillion other players, and thus fashion a much more fluid, creative sound... You still have to be really, really into the bagpipe to sit through this one... But if you are really, really into the bagpipe, this is an album you'll greatly enjoy.
Wicked Tinkers "Hammered" (Thistle Pricks, 2000)


Wicked Tinkers "Loud" (Thistle Pricks, 2002)



Wicked Tinkers "Banger For Breakfast" (Thistle Pricks, 2003)


Wicked Tinkers "Whisky Supper" (Thistle Pricks, 2005)


Wicked Tinkers "Rant" (Thistle Pricks, 2008)



John Williams "Steam" (Green Linnet, 2001)



A zippy set of accordion instrumentals from this Chicago-based Irish-American artist. Fiddler Liz Carroll and many others join in on lively duets and full-band workouts... Even if you're not a fan of all-instrumental Celtic music, this is an record you may want to check out... Williams has a very distinctive style and an unusual melodic sensibility... I was quite taken with it!

Robin Williamson & His Merry Band "A Glint At The Kindling" (Stony Plain, 1979)


Gentle, playful, naifish, goofy acoustic hippie-Celtic meanderings, tailormade for capering about amid the runestones in one's kilt... It's all very well and fine, except that the emphatic, nigh-inaudible recitation on the 14-minute long "Five Denials On Merlin's Grave" -- a druidic English history lesson -- is a bit much, at least for the casual listener. Still, this is a pretty cute album. Not great, perhaps, but enjoyable in a rarified, willowy kind of way. Considered a classic in Williamson's ouvre.

Robin Williamson & John Renbourn "Wheel Of Fortune" (Flying Fish, 1993)


A pleasant live album, on which former Incredible String Band frontman Williamson upstages the more demure Renbourn, with exaggerated Scottish humor. One highlight is a version of the Archie Fisher classic, "Lindsay," which features Renbourn on vocals. Williamson's tale tales also have their charm, but he overdoes it on a couple of tunes. Best joke on the album: Renbourn's aside that they had thought of calling the collaboration "the Incredible String Tangle..."

Robin Williamson "The Seed At Zero" (ECM, 2000)



An unusual offering from an unusual label... Former Incredible String Band-er Williamson puts many poems to music, mostly short works by Dylan Thomas, augmented with original tunes by Williamson, who proves as eccentric, inventive and immediate an artist as he's ever been. This might all seem out of place on the rarified ECM imprint, but he does have an odd, attenuated sensibility that fits in. At any rate, this album is kooky and cool, and Williamson's expansive personality comes through loud and clear... Certainly worth checking out!
Gordon Cutty/Tommy Williams "Masters Of The Concertina" (Free Reed, 2007)


A twofer reissue of a pair of albums by two separate artists, Gordon Cutty's A Grand Old Fashioned Dance and Tommy Williams' on Springtime In Battersea, each with simple, stripped-down concertina instrumentals of the sort one might have heard in English alehouses in decades and centuries gone by... The CD reissue includes artist interviews as bonus tracks. Probably for hardcore concertina enthusiasts only. (And there are many!)
Wolfstone "Unleashed" (Green Linnet, 1991)



Wolfstone "The Chase" (Iona Records / Green Linnet, 1992)



Yeesh. Synthesizers, thumping drums, a dash of flamenco guitar and a full-band rock sound that drops like a ton of cement are added to the Celtic vibe of this Scottish crossover combo. Pretty much every track on here has something about it that bugs me. Mostly it's the synths, but the vocals are pretty iffy as well, as are the clompy, Steeleye Span-ish rock guitars. The folkie elements do not compensate for the rest of the package.
Wolfstone "Year Of The Dog" (Green Linnet, 1994)


Wolfstone "This Half Tail" (Green Linnet, 1996)


Wolfstone "This Strange Place" (Green Linnet, 1998)



Easy listening trad. The rock elements have largely been minimized, but the synths remain, more cloying than ever, accompanied by vapid lyrics and saccharine arrangements. Ugh.

Wolfstone "Seven" (Green Linnet, 1999)



Hmmm. This is still pretty scary, but for some reason singer Stuart Eaglesham sounds more appealing on this disc, and there's a proggy feel to it that is strangely seductive...
Wolfstone "Not Enough Shouting" (Once Bitten, 2000)


Wolfstone "Almost An Island" (Once Bitten, 2003)



YEESH. The blandest, most formulaic of crossover arrangements to date... with crunchy, grungy rock guitars added for good measure. Irritating vocals, too. Really, really irritating.
Wolfstone "Terra Firma" (Once Bitten, 2007)


Wolfstone "Pick Of The Litter -- The Best Of Wolfstone: 1991-1996" (Green Linnet, 1997)


Gay & Terry Woods "In Concert" (BBC/Strange Fruit, 1995)


An unusual (and kind of sweet) set by Ireland's short-lived folk-rock Woods Band ensemble. Terry Woods was a veteran of the likewise short-lived Sweeney's Men and a founding member of Steeleye Span; later on in the 1980s, he went on to become a member of the raucous punk-folk outfit, the Pogues. Here, though, he and his then-wife, Gay Woods, were exploring a new style in Irish pop, one markedly different than the prevalent hard rock and trad folk of the times. This CD collects two separate performances -- a 1976 concert in London and a 1978 BBC session with DJ John Peel, the much-revered guru of the British underground scene. Each performance showcases soulful melodic rock with a strong debt to the languid electricifaction of Thompson-ian editions of Fairport Convention (and indeed, Dave Mattacks and Dave Pegg played with them on their London gig). There is a slightly hippie-ish, elves-in-the-woods vibe, but this is clearly more rock than folk; what's most amazing is how much the upbeat '78 sessions seem to anticipate the jangly twee of '80s and '90s navelgazing indiepop... An interesting footnote to both the trad and the rock worlds.
Gay & Terry Woods "Backwoods" (Polydor, 1975) (LP)





<! The husband-and-wife duo of Gay and Terry Woods got their beginning in 1969, when Terry Woods was still a member of Sweeney's Men. At that point, negotiations were underway for Sweeney's Men plus Gay Woods to join Fairport Convention bassist Ashley Hutchings in a new band, to be called Steeleye Span. When Sweeney's Men members Irvine and Moynihan decided it wasn't what they wanted, another duo, England's Tim Hart and Maddy Prior, went in with Woods and Hutchings. The Woods lasted for just one album before striking out on their own as the Woods Band, releasing an eponymous debut in 1971, where they mixed traditional and original material. After touring extensively throughout Europe, the band fell apart and Gay and Terry returned to Ireland. Settled again, they signed with Polydor, for whom they recorded Backwoods in 1975. >
Gay & Terry Woods "Tender Hooks" (Cooking Vinyl, 1978)



The Woods Band "The Woods Band" (Edsel, 2001)


This was the lone solo album by Terry and Gay Woods, originally recorded in 1971, not long after the founding of Steeleye Span. It's okay-but-unremarkable, a familiar mix of stark traditional material and clunky rock-related stuff, lacking the synergy of the Steeleye ensemble. This may be of interest historically, but the later rock-oriented stuff (above) is more engaging.
Gay & Terry Woods "Lake Song from Red Waters: The Best of Gay & Terry Woods" (Hux Records, 2003)


Heather & Royston Wood "No Relation" (Transatlantic, 1977)



An absolute delight. The first solo album made by these former members of The Young Tradition following that trio's dissolution several years earlier. Although the group's third member, Peter Bellamy, apparently parted ways with the (unrelated) Woods over their growing devotion to medieval and Renaissance music, they were certainly on to something good, as this lone album demonstrates. Bellamy chimes in himself on several of these songs -- which sound oddly enough quite a bit like classic Young Tradition tunes. But there is quite a bit of variety and rich musical range on here, including some truly exotic high harmonies and plenty of beautifully-realized, impressively researched old songs. This is one of the most striking folk/early music albums I've heard... Well worth tracking down! (Reissued on CD along with the Young Tradition's 1969 album, Galleries, and their earlier Chicken On A Raft EP.)
John Wright "Unaccompanied" (Topic, 1978) (MP3)





<! John Wright playing vocal, jew's harp fiddle and organ >
John Wright & Catherine Perrier "Traditional Music Of France, Ireland & England" (Green Linnet/Innisfree, 1978)
(Produced by Lisa Null & Patrick Sky)



<! no ASIN - 01/12/15 > <! cat # SIF-1011 >
John Wright "Ride The Rolling Sky" (Fellside, 1993)
(Produced by Paul Adams)
Although this album starts off alternating between rootsier, more traditional sounding numbers, and slightly wimpy, overly flowery folk numbers, it does settle into a more evenly paced, robustly rich sound. One thing you can't fault this fellow for is his excellent taste in source material, with songwriters ranging from Stan Rogers, Sandy Denny and Jimmy McCarthy. Many of these familiar tunes may float up and prompt a smile or two from old-time trad fans; his version of "Caledonia" may not have the magical grace of Dougie McLean's original, but the a capella arrangement is an interesting and entirely new approach to this lovely song. This album didn't completely floor me, but it won't disappoint anyone, either, particularly those of a more mellow, melodic folkie temprament.


<! no ASIN - 01/12/15 >
John Wright "A Few Short Lines" (Greentrax, 2000)

John Wright "Language Of The Heart" (Greentrax, 2001)



More of a contemporary folk album; not terribly trad. You can still discern his soft Scottish accent, but that's about it.
Martyn Wyndham-Read - see artist profile
---
More Celtic/Brit Folk Albums -- Letters X, Y & Z
---



Main Celtic/Brit Index
Main World Music Index


---