<! MP3 01/10/09, 01/05/11 > <! outside 00/00/00 > <! pix 00/00/00 > <! icons 01/05/11 > <! UPDATES: 01/10/09 01/05/11 - add Jean Ritchie link when age done in Country section, Renbourn needs pix 12/08/14 - added Tony Rose page > <! Carolyn Robson "Banks Of Tyne" (xxxxxx, xxxxxxx) B0015RBFCY Carolyn Robson "Dawn Chorus" (Reiver Records, 2003) - Carolyn Robson's specialty is traditional folk song and dance. Her extensive repertoire consists mainly of songs from her native Northumberland and Scotland as well as from other parts of the British Isles. Many of her songs are performed a cappella. Song List: 1. Derwentwater 2. Ma Gallowgate lad 3. Heh ye seen wor Jimmy? 4. Ma bonny lad 5. Captain Rover/Here's the tender coming/The Coquet light/Liberty for the sailors 6. The snows they melt the soonest/The pig and sow 7. Derwentwater's farewell 8. Robin Spraggon's auld grey mare 9. Felton Lonnen 10. Newcastle station/Lea rigg Runrig JON RAVEN - artist page roughed out 12/08/14 MICHAEL RAVEN - other albums?? Bob Roberts "Songs From The Sailing Barges" (Topic, 1978) Recorded at Ryde, Isle of Wight, August 1977. Produced by Tony Engle. With Bob Roberts on melodeon and occasional vocals. With notes on jacket by A. L. Lloyd. 21 tracks. A little wear to jacket edges. - AND OTHER ALBUMS - Mick Ryan/Various Artists "The Pauper's Path: A Folk Opera" (xxxxxxx, 2011) - (2CDs) - "...Celebrating The Extraordinary Resilience Of Ordinary People" Bob Roberts "Breeze For A Bargeman" (Solent, 1981) Barry Ronan "Traith" (Gael Linn, 1983) - From sleeve notes: This recording represents a unique blending of ancient and modern, of traditional and technological. Barry Ronan, from Cill Ronain in the Aran Islands, writes and sings in the Irish language, one of the oldest living traditions in the world. Musicians include: Barry Ronan - vocals; Paul Barrett - programming and arrangements for Fairlight CMI; Don Harris - drums, percussion. Jane Rothfield & Allan Carr "Atlantic Bridge" (Green Linnet, 1987) - Modern celtic folk music. Comes with the original lyric sheet. Musicians include: Jane Rothfield - fiddle, vocals, banjo; Allan Carr - guitar, vocals, mandolin; Martin Hadden - electric bass, guitar, piano, synthesizer, vocals, percussion. 10 tracks including: Six O'Clock; Geraldine And Ruthie Mae; Somewhere Over The Rainbow Medley; Corachree; Love Is Teasing; Fiddler A Dram; The Girls In The Morning/Norwegian Tune; Free Man; Monymusk Medley; The North Country. Jeannie Robertson (Topic) Rum "Rum" (Philips, 1972) Format: Vinyl LP album. Philips Records, Dutch release from 1972. 1970s successful Flemish folk group featuring Paul Rans on guitar. Comes with original lyric sheet. Musicians include: Wiet Van De Leest - banjo, viol, vocals; Paul Rans - guitar, vocals; Dirk Van Esbroek - mandolin, vocals. Micho Russell "Traditional Country Music of County Clare" (Free Reed, 1976) - Irish folk music from flute and whistle musician Micho Russell. Micho Russell, the flute and whistle-player of the legendary Russell Brothers of Doolin, Co Clare, learned from Clare musicians such as Johnny Doran, Willie Clancy, and concertina players Martin Kiloughery and Paddy Murphy. > <! Jim Reid "I Saw The Wild Geese Flee" (Springthyme, 1984) "A highly rated album from one of the original Foundry Bar Band members." Scottish traditional music album capturing the essence of the Scottish East coast. Musicians include: Jim Reid - vocals, guitar, mouth-organ; with Bob Dewars - accordion; Chae Geddes - fiddle; and Sandy Beattie - bass. 15 tracks including: The Wild Geese / Norland Wind; Lassie Wi the Yellow Coatie; The Shearin's No For You; Stobbie Parliament Picnic; Upon the Moss o Burreldale; Up The Noran Water; Bogie's Bonnie Belle; Flower of Northumberland; The Foundry Bar; Busk Busk Bonnie Lassie; The Spark Among the Heather; Rowan Tree; Bogheid; Vinney Den; Rohallion. > <! Runrig - Scottish band > <! Leo Rowsome "The King Of The Pipers" (Claddagh) B000055Z9U The first album of uilleann pipes ever made, by a great twentieth century master. The title says it all. Leo Rowsome "Classics Of Irish Piping, v.1" (Topic, 1975) B000005911 B000QZR1G0 - featured on this LP are the Uilleann Pipes (or elbow pipes), the national bagpipe of Ireland played by renowned piper Leo Rowsome. Compilation of recordings made between 1926 and 1944 in London for the HMV and Columbia labels. Leon Rowsome "Irish Traditional Music" (Dolphin, 1974) - Uillean pipe player Leon Rowsome. Featured on this LP are the Uilleann Pipes (or elbow pipes), the national bagpipe of Ireland. Renowned piper Leon Rowsome (son of Leo) made only two solo records using the uilleann pipes, one for Topic Records and one for Glenside. This, the Dublin based Glenside LP release, being the more rare. Leon Rowsome "...And His Uillean Pipes" (Glenside, xxxxxxxx) > <! Ram's Bottom "The Young May Moon" (Tradition, 1981) with Keith Kendrick other Keith Kendrick: East Kent Hoppers The Druids The Anchor Men produced one CD 'Nautical - But Nice!' for VOR. singing shanties with '3 Sheets To The Wind' (Geoff Higginbottom and Derek Gifford) and they have a brand -new CD just out for Cock Robin Music called 'All Tide Up'. His solo career has rolled steadily through all this and there are three solo CDs - 'Me 'Umble Lot' (VOR), 'Home Ground' (Fellside) and the recent 'Well Seasoned' (Wildgoose). > <! Patti Reid "Patti Reid" (Fellside, 1987) B001JTRW0W - MP3 > <! Ripley Wayfarers "xxxxxxxxxxxxxxx" (xxxxxxxxxxx, xxxxxxx) Ripley Wayfarers "xxxxxxxxxxxxxxx" (xxxxxxxxxxx, xxxxxxx) Ripley Wayfarers "xxxxxxxxxxxxxxx" (xxxxxxxxxxx, xxxxxxx) Ripley Wayfarers "Gentlemen Of High Renown" (Traditional Sound Recordings, 1974) Ripley Wayfarers "Down The Road" (Singabout Records, 1985) The Ripley Wayfarers "Five Wells" (Traditional Sound Recordings, 1972) The Ripley Wayfarers "Chips And Brown Sauce" (Traditional Sound Recordings, 1972) - trad? - pub folkies from Derbyshire >
---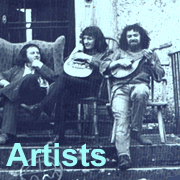 Trad & Folk
Artists and Albums
Hello! This page is part of an opinionated overview of Celtic and British folk music, with record reviews by me, Joe Sixpack... This is not meant to be taken as a "definitive" resource, but rather as a record of some of the music which has caught my interest. I am always looking for more good music to explore, so your comments and suggestions are welcome.
This is the first page covering the letter "R"
---
A | B | C | D | E | F | G | H | I | J | K | L | M | N | O | P | Q | R | S | T | U | V | W | X, Y & Z | Comps | Celtic Music Labels & Links | World Music Index
---

Ragged Heroes "Annual" (Celtic Music, 1988)
(Produced by Ragged Heroes & Mark Powell)
A cheerful though sometimes underwhelming set featuring Stephen and Vikki Clayton, along with Paul Ogden and others in a lightly electrified romp through several trad ballads such as "Lord Bateman" and "Who'll Be King But Charlie..." The standout performers are fiddler Jerry Sharpley and singer Vikki Clayton; less captivating are the pub-rockish snare drums and the thumpy electric bass, with an overall sound that brings to mind Steeleye Span in their more conservative moments... This has its moments and is a strong presentation for Clayton, but there are other trad-rock records that are of equal or greater calibre that you might find more resonant. Worth checking out, though.


<! 01. The Loving Ballad Of Lord Bateman 02. Our Captain Cried 03. Step And Fetch Her - Swaggering Boney 04. Benjamine Bowmaneer 05. Who'll Be King But Charlie 06. Geordie 07. Paddy O'Rafferty - Mcconnell's - The Musical Priest 08. Lisbon 09. Bushes And Briars >

The Rankins "Collection" (Rounder, 1999)


A good sampler of the rock-pop tinged folk music made by Cape Breton, Canada's Rankin family. Too goopy for me, and intensely not "Celtic enough," but if you wanna check these folks out, this is the right place to start.
Michael Raven & Joan Mills "Death And The Lady" (Folk Heritage, 1972)



(Produced by Alan Green)



<! - with the band Saga > <! Raven was a member of folk trio The Black Country Three along with brother Jon Raven and Derek Craft, recording their self-titled debut album in 1966 for Transatlantic.[4] Raven worked in folk-roots trio, Ravenshead.[5] The Black Country Three "The Black Country Three" (Transatlantic, 1966) - no ASIN The Halliard by Jon Raven / The Jolly Machine (1968) Michael Raven & Joan Mills "Death and the Lady" (1972) Michael Raven & Joan Mills "Hymn to Che Guevara by Michael Raven (1974) Michael Raven & Joan Mills "My Old Friend" (1998) - by Michael Raven with guest Joan Mills and Johnny Collins (1998) Michael Raven & Joan Mills "Outlaw of Loch Lene" (1999) Michael Raven "Gipsy English – Solo Guitar by Michael Raven (2000) Michael Raven "Retrospective" – solo guitar by Michael Raven Michael Raven "Welsh Guitar" – solo guitar by Michael Raven Michael Raven "Taming the Dragon's Strings" – solo guitar by Michael Raven >

Michael Raven & Joan Mills "Hymn To Che Guevara" (1974)



A politically themed album, laced with traditional (non-political) songs, alongside would-be anthems like the solemn and somewhat dreadful title track. Guitarist Michael Raven backs singer Joan Mills, who warbles about in a distinctly Joan Baez-ish, old-school, earnest '60s folkie style. Most of these tracks are too American-sounding for me, although the few British-flavored tracks are okay. Overall, this record doesn't do much for me, though obscuraholics should note that the original vinyl release was pressed with only a 100(!) copies, so it's legendary and all.


<! 01 Belle Starr & Jesse James 02 Twenty Years 03 Tim Evans_ Dance 04 Melancholy Pavanne 05 Perry Mason_s Maggot 06 Hymn To Che Guevara 07 The Great Train Robbery 08 Magpies In Picardy 09 Little White Donkey 10 Dancing Lady 11 Over The Wall 12 Midnight City >

Eddi Reader "Sings The Songs Of Robert Burns" (Compass, 2003)



Scotland's national poet, Robert Burns, has been oft covered in the folk and trad scenes, and remains a solid foundation of the trad canon... These flowery, orchestral, singer-songwriter-y, rock-tinged renditions certainly take a new approach to this old and venerated material. I personally find it a bit too sugary, but it's clearly a fresh approach, and I would recommend it on that basis alone: I probably don't need to listen to this album again, but I'm willing to bet a lot of you folks out there will enjoy it quite a bit.




Regal Slip "Bandstand" (Dingle's Records, 1981)
The lone album(?) by this British folk band, which was formed in '76 and performed steadily until the early '80s. Regal Slip featured four-part harmonies from singers Graham and Eileen Pratt along with Sue Burgess and Ron Taylor (formerly of the Songwainers)... Delightfully enough, the band's oddly evocative name is actually the name of a favorite beer -- Pils Lager -- spelled backwards.


<! - no ASIN - 12/2014 >
Alan Reid "The Sunlit Eye: Songs And Music In The Scottish Tradition" (Temple, 1997)






<! of the Battlefield Band >

Alan Reid & Rob Van Sante "Under The Blue" (Red Sands, 2002)


A lovely, absolutely first-rate, contemporary Scottish folk album featuring Battlefield Band multi-instrumentalist Alan Reid and relative newcomer Rob Van Sante, whose styles mesh perfectly. This is an irresistible album, with beautiful instrumental work and the rich, mellowed vocals that only true Celts can muster. Flawless song selection as well, running the gamut between contemporary and traditional, with none of it sounding the least bit forced. This is an elegant, evocative record, which will hold up well to years of repeated auditions. Recommended!
Alan Reid & Rob Van Sante "The Rise And Fall O' Charlie" (Red Sands, 2006) <! date? >

John Renbourn - see artist profile

Bonnie Rideout "Scottish Reflections" (Maggie's Music, 2002)



A rather staid, slow-paced set of fiddle, viola and bagpipe-based instrumentals... A little too sleepy and ornate for me, though if you wanted to check this artist out, this compilation, which gathers material from 1991-99 is a fine place to start.


<! 01/09: a BUNCH of albums by Rideout >

Ridgeriders "Ridgeriders: Songs Of The Southern English Landscape" (HTD, 1995)


Ridgeriders "In Concert" (Talking Elephant, 1996)


Yet another Ashley Hutchings/Albion Band side project, this time a collection of songs written for the popular mid-1990s TV show, Ridegerunners, which explored the local nooks and crannies of the southern English countryside, by way of the ancient ridge roads which have radiated outwards from Salisbury Plain since ancient times. Some of the songs sound traditional, but are actually written by Hutchings and his partners on this project, Phil Beer and Chris While. Generally speaking, I prefer Beer and Hutchings' vocals, While's singing is a bit too mannered and her sensibilities a bit sugary for my tastes. But on the whole, this is a surprisingly vigorous, rewarding project. The concert album repeats about half the songs that appear on the first album, adding many others based on the local histories and lore of the region. Worth checking out!

Jean Ritchie/Various Artists "Field Trip" (Greenhays, 1954)


A fascinating album in which one of America's supreme folkloric artists drew close the connections between American old-time music and its British and Celtic roots. Travelling through England, Ireland and Scotland on a Fulbright scholarship, Ritchie collected many wonderful performances from the locals, of well-known songs such as "Pretty Polly," "The Cuckoo's Nest" and "Barbara Allen," then contrasted the Old World versions to the ones she learned as a child in Appalachia. This is a great record, which still holds its charm, all these decades later. Recommended!
Jean Ritchie "British Traditional Ballads In The Southern Mountains, v.1" (Smithsonian Folkways, 1960)

Jean Ritchie "British Traditional Ballads In The Southern Mountains, v.2" (Smithsonian Folkways, 1960)


Jean Ritchie "Ballads From Her Appalachian Family Tradition" (Smithsonian Folkways, 1961)



The great 19th Century American scholar James Francis Child was a bit premature when he proclaimed the British and Irish ballad tradition moribund and fit for a bit of academic taxidermy. The Harvard professor's miscalculation is ably demonstrated in this set of songs that Appalachian folk phenomenon Jean Ritchie learned as a child and committed to to record during the opening days of the Kennedy administration, over a half century after Child concluded his songcatching efforts. All the songs here are versions of tunes gathered in Child's monumental, multi-volume English And Scottish Popular Ballads, but sung in the local variant forms that Ritchie learned from her Kentucky kith and kin. And, man! What great performances. Ritchie sings these old murder ballads and morbid epics with a simplicity and authoritativeness that cuts past the centuries and makes the old tales live again. This is realy storytelling and folklore at its best -- the horrific nature of these old songs, in which sisters kill sisters and jealous, cuckholded husbands hack down their rivals is made magnetic in her chillingly matter-of-fact presentation. These are some of the finest, most engrossing versions of "Little Musgrave," "The Unquiet Grave," "Barbary Allen" and other classics that you will ever hear. A riveting record -- highly recommended!
Alasdair Roberts - see artist profile

Davie Robertson "Star O' The Bar" (Greentrax, 2003)



One of those oddball albums that you just gotta hear to appreciate. Robertson is a Scottish pub singer who writes his own material, taking traditional musical forms and adding his own original lyrics, and though he doesn't actually perform in public that much, he has the sound of a fella who can really rouse a properly lubricated audience... Some are fairly straightforward and traditionally themed, but others, like the comedic "The Hanky," are true kooky gems. And if nothing else, that thick brogue is a thing to treasure!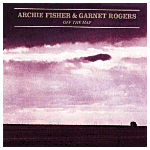 Garnet Rogers & Archie Fisher "Off The Map" (Snow Goose Songs, 1986)


A lovely live album, combining the talents of Glaswegian Archie Fisher and Canadian folkie Garnet Rogers, brother of the late folk crooner, Stan Rogers. This kicks off with a fairly goopy modern folk tune, "Borderland," but quickly settles into more standard, traddish Celtic fare. It's a soft, stately, simply gorgeous album, which shows their mutual warmth and sympathetic musical talents. Probably not out on CD, but definitely worth tracking down.
Garnet Rogers "All That Is: The Songs Of Garnet Rogers" (Red House, 2001)


Tony Rose - see artist profile
Leon Rosselson - see artist profile
Kate Rusby - see artist profile

Cathie Ryan "Cathie Ryan" (Shanachie, 1997)



(Produced by Seamus Egan)
The first solo album by the bodhran player of Cherish The Ladies, this tilts more towards Irish-stylized contemporary folk material than towards trad. There are Nanci Grifith-ish passages, but also a heavy whiff of coffeehouse confessionalism, particularly on songs such as "Detroit Was Burning," where Ryan writes about being a young child amid the racial tension in the Great lakes region during the 1960s. Seamus Egan of Solas produced and plays on the album, and bandmate Winifred Horan also plays on here... Strict trad fans may want to shy away from this one, but ponytailed folkies might like it a lot.
Cathie Ryan "The Music Of What Happens" (Shanachie, 1998)



Cathie Ryan "Somewhere Along The Road" (Shanachie, 2001)



(Produced by John McCusker)
Ryan ditches most of the Solas crowd on this one, picking up Scottish fiddler John McCusker as her producer, along with Kate Rusby and Karine Polwart to add some high-power vocal assistance... There are still some overly earnest folkie moments (such as "In My Tribe," a lethargic, leaden monologue about Native Americans and ethnic identity...), but in general, this is a much lovelier, more stately album; contemporary, but with more of a timeless, traditional feel. Her vocals are much stronger on here as well... Worth checking out.

Cathie Ryan "The Farthest Wave" (Shanachie, 2005)



Once again, a powerful all-star cast populates a strong offering from Cathie Ryan of the Irish-American supergroup, Cherish The Ladies... Scottish fiddler John McCusker continues in his role as album's producer (having worked with her on previous recordings); other great players such as Phil Cunningham, John Doyle and Alan Kelly add their musical oopmph, while Karine Polwart (recently of the Battlefield Band) sings some fine harmony, and Galway's Sean Keane contributes gripping, gorgeous duet vocals to "What Will You, Love," one of the album's traddest highlights. Overall, I find Ryan's vocals and artistic approach to be a bit stuffy, but anyone looking for modern approaches to Celtic trad would do well to check this album out -- Ryan is innovative and adventurous without resorting to cheesy synths or drum machines... The instruments are all acoustic, and the musicians are all top-flight performers. Not totally my cup of tea, but close!

Mick Ryan & Pete Harris "The Widow's Promise" (Terra Nova, 2002)


A wonderful English trad reissue, collecting material from Ryan and Harris's first two albums, Drink Up The Sun andAnother Place, Another Time. Opening with the delightfully bawdy title track (a Harris original that sounds centuries old), this disc will be a treat for those who enjoy the new-songs-through-an-old-filter approach of Ewan MacColl, Roy Bailey or Nic Jones... Ryan is an accomplished modern songwriter whose material has the grave, throaty appeal of his forebearers. Although many of these songs are of modern vintage, they have a timeless sound. Pete Harris's quiet, stately accompaniment is spot-on perfection. Highly recommended.

Mick Ryan & Pete Harris "Hard Season" (Wild Goose Studios, 1999)


More sonorous, soulfully-sung, throaty English folk balladry. Harris and Ryan mix traditional songs such as "The Recruited Collier and "Spencer The Rover" along with similar-sounding original material, including a couple of tunes from Ryan's A Day's Work, a song-cycle written for a play about the First World War. All the songs tell interesting tales and are intelligently performed; Ryan and Harris also have a wonderful way with a memorable melody, compelling the listener to tune into their old-world vibe. Harris' rich, melodic accompaniment is completely sympathetic to Ryan's husky vocals -- another winning album by this fine trad-oriented duo.
---
More Celtic/Brit Folk Albums -- Letter "S"
---



Main Celtic/Brit Index
Main World Music Index


---