<! MP3 02/03/09, 01/04/11, 08/17/12 > <! outside 00/00/00 > <! pix 00/00/00 > <! icons 01/04/11 > <! updates: 02/03/09 01/04/11 - added Ian Campbell page > <! Cabestan - French "chants du Marin" - several albums With John Wright on fiddle http://time-has-told-me.blogspot.com/2009_09_01_archive.html Cabestan "Chants de marins traditionnels" (Le Chasse-Maree, 1984) Cabestan "Il y a dix marins sur mer..." (Le Chasse-Maree, 1987) date? Cabestan "xxxxxxxxxxxxxxxxxx" (Le Chasse-Maree, 1984) BRYAN CHALKER'S NEW FRONTIER "THE HANGING OF SAMUEL HALL" (Avenue, 1971) Winnie Chafee - Cape Breton fiddler Andy Caven DAVE CARTWRIGHT "A Little Bit Of Glory" (Transatlantic, 197--?) psych-rock? Claremont Country Dance Band "Popular English Country Dances Of The 17th And 18th Centuries" (CDS, 1979) Bob Cann "West Country Melodeon" (Topic Records, 1975) West Country English folk music released on the Topic Records label. Bob Cann is a celebrated melodeon player from Dartmoor in Devon. John Conolly & Pete Summer "Trawlerton: The Singing Of The Fishing" (Fellside, 2000) B001CF8WH0 - MP3 Nadia Cattouse "Nadia Cattouse" (Reality, 1966) Nadia Cattouse "Earth Mother" (RCA, 1969) Nadia Cattouse "Songs Of Grief And Glory " (xxxxxxxx, 1967) - with Robin Hall and Jimmie MacGregor http://en.wikipedia.org/wiki/Nadia_Cattouse Syndey Carter "Lord Of The Dance" (Elektra, 1966) - a six-song EP, with Martin Carthy backing Carter on guitar Syndey Carter & Jeremy Taylor "...At Eton" (Fontana, 1967) Syndey Carter With Bob Pegg & Carole Pegg "And Now It Is So Early" (Galliard, 1972) Syndey Carter/Various Artists "LOVELY IN THE DANCES: SONGS OF SYDNEY CARTER" (Plant Life, 1981) B000024WZY B002N8Q8PI (Produced by Nigel Pegrum) Reflection "The Present Tense: Songs Of Sydney Carter" (Reflection, 1968) (LP) B00D6UM02C Franciscus Henri who accompanied Carter recorded an anthology of his songs and poems (Nothing Fixed or Final) in 2005. He continued to work with Donald Swann, writing six songs for the 1964 Donald Swann EP, Songs of Faith and Doubt. http://en.wikipedia.org/wiki/Sydney_Carter > <! Bryan Chalker "Bryan Chalker" (Chapter One, 1973) B003D0PGOO - MP3 - country and folk - Don Williams-ish(?) Hank Locklin-esque, Hank Snow-y - Chapter One Records, UK release from 1973. Folk and contemporary material from Bryan Chalker's New Frontier. Musicians include: Bryan Chalker - vocals, guitar; Dave Lewry - guitar; Dave Plane - banjo; Gareth Fletcher - electric bass. > <! Caedmon - folk-rock > <! La Chifonnie - La Chifonnie (Hexagone) (LP) B009YZ0K2U - late 1970s. Celtic psych roots from French folk group. Musicians include: Hal Collomb - dulcimer, percussion, spidoline, vocals; Diane Holmes Brown - hurdy-gurdy, darbuka, percussion, concertina, vocals; Patrick Desaunay - violin, guitar, banjo, spruce Vosges, vocals; Serge Desaunay - accordion, violin, mandolin, vocals and others. La Chifonnie "Au-Dessus Du Pont" (Hexagone) (LP) B009YZ0KWK > <! Eddie Clarke, Sean Corcoran, Maeve Donnelly, Mairead Ni Dhomhnaill "Sailing into Walpole's Marsh" (Green Linnet, 1977) > <! Vincent Campell "The Purple Heather" (Cairdeas) B0040QX1DS This double CD feature VincentÕs playing over a period of almost 50 years, the recordings on the album cover the years 1962 to 2009. A wide variety of tune types and some of VincentÕs stories about the tunes (in Irish and English ) are featured. Vincent plays in the style of most of the players of older generations, playing mostly single tunes, instead of medleys, as a result of this there are 86 tracks, 43 on each CD. Other recordings of his playing can be found on the compilations. CC44CD The Brass Fiddle and on CNF002 The Fiddle Music of Donegal Vol. 2. As usual with the Cairdeas na bhFidilˇir' CDÕs a 36 page booklet is included with the CDs. Cairdeas na bhFidilˇir' - fiddle-based label > <! Frank Cassidy "Nil Gar Ann!" (Cairdeas, 2006) B0027H2YM6 These recordings cover a period in time from 1946 to 1967 and feature 35 Tracks. The CD features some speech items, the voice of Frank himself also his cousin Con Cassidy, Sˇamus Ennis and Dr Malachy McCloskey voicing their opinion of FrankÕs playing. Sˇamus Ennis often said he was the best fiddle player that he had ever met! The album comes with extensive notes and maintains the high production standards set by the previous releases from the CNF Series. (and in duet with John Doherty) > <! Bobby Casey "The Spirit Of West Clare" (Bow Hand, 2008) B0013FXVPM This is probably one of the most important releases of the decade! illustrious fiddle player Bobby Casey (1926-2000) was born near the Crosses of Annagh, Co. Clare. His father was John 'Scully' Casey, the leading fiddler of his day in West Clare, although it was actually from Junior Crehan that Bobby learnt his first tune. Moving to London in 1952 Bobby forged several key musical friendships with other exiled Claremen including Tommy McCarthy, Joe Ryan and Vincent Griffin, and exerted enormous influence on London's traditional Irish music scene. In the late '60s Bobby featured on the seminal album ŌPaddy in the SmokeÕ and the music on this new CD was recorded at around the same time by Reg Hall and Bill Leader. > <! Bill Caddick Bill Caddick "Sunny Memories" (1977) Bill Caddick "Reasons Briefly Set Down ..." (Highway, 1978) A veteran of England's folk-rock scene since the 1960s, Bill Caddick has made his greatest impact as a songwriter. His tunes have been covered by June Tabor, Alex Campbell, Christy Moore, Peter Rowan, Gordon Bok, Cherish the Ladies, Priscilla Herdman, Prudence Johnson, Jean Redpath, and John Kirkpatrick and used as the soundtracks of numerous musical plays produced by the National Theater and Granada TV. Caddick's five solo albums, Rough Music, Sunny Memories, Reasons Briefly Set Down, The Wild West Show, and Winter With Flowers, are balanced by a variety of collaborations. He joined with the Albion Band to provide the music for National Theater productions Larkwise and The Passion, and worked with British musicians Peter Bond and Tim Laycock in an informal trio that continues to occasionally perform. As a founding member of British folk-rock band Home Service, Caddick recorded three memorable albums, Doing the Inglish, Home Service, and Alright Jack, in the early '80s. Singing in British folk clubs since the early-'60s, Caddick focused on organizing and performing at folk festivals until 1973, when he joined a puppet/street theater group called Magic Lantern. Leaving to embark on a solo career two years later, he recorded his debut solo album, Rough Music, in 1975. Caddick's involvement with theater began when he rewrote the music of his second album, Sunny Memories, for a show that premiered at the Roundhouse in London and continued to be performed during a subsequent tour. Although he maintained his solo career, Caddick became increasingly involved with collaborations. After working with the Albion Band in 1977, and the trio Bond, Caddick & Laycock in the late '70s, he helped to form Home Service in 1981. He remained with the group until resuming his solo career with his fourth album, The Wild West Show, in 1985. Temporarily relocating to London in the late '80s, Caddick released a limited-edition cassette, Urban Legend. He recorded his fifth solo album, Winter With Flowers, shortly after returning to his homeland in the midlands. Currently residing in Shropshire, Caddick continues to perform as a soloist and with the Jackfield Riverbillies. ~ Craig Harris, All Music Guide > <! Tony Capstick Tony Capstick & Hedgehog Pie "His Round" (Rubber, 1971) (LP) B004F7OE0Q Tony Capstick "xxxxxxxxxxxxxxxxxxxx" (xxxxxxxxxxxx, xxxxx) Tony Capstick "xxxxxxxxxxxxxxxxxxxx" (xxxxxxxxxxxx, xxxxx) Tony Capstick "xxxxxxxxxxxxxxxxxxxx" (xxxxxxxxxxxx, xxxxx) Tony Capstick "xxxxxxxxxxxxxxxxxxxx" (xxxxxxxxxxxx, xxxxx) Tony Capstick "xxxxxxxxxxxxxxxxxxxx" (xxxxxxxxxxxx, xxxxx) A regular performer on folk circuits he recorded many albumsŃfirst for Newcastle-based label Rubber Records ('His Round' with Hedgehog Pie, 'Punch and Judy Man', 'Tony Capstick Does a Turn', 'Songs of Ewan MacColl' with Dick Gaughan and Dave Burland and 'There Was This Bloke' with Mike Harding, Derek Brimstone and Bill Barclay). In 1981 he reached number 3 in the UK singles chart with The Sheffield Grinder/Capstick Comes Home. > <! Bob Cann "WEST COUNTRY MELODEON" (Topic) (LP) B004EQU10K Cotley's Strike "Northern Song" (1977) - UK 77 - was Northern Song the label? - ultra-private release, with songs about coal mining, labor issues - some sort of folk opera? >
---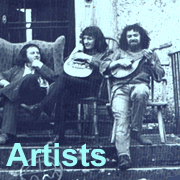 Trad & Folk
Artists and Albums
Hello! This page is part of an opinionated overview of Celtic and British folk music, with record reviews by me, Joe Sixpack... This is not meant to be taken as a "definitive" resource, but rather as a record of some of the music which has caught my interest. I am always looking for more good music to explore, so your comments and suggestions are welcome.
This is the first page covering the letter "C"
---
A | B | C-1 / 2 / 3 | D | E | F | G | H | I | J | K | L | M | N | O | P | Q | R | S | T | U | V | W | X, Y & Z | Comps | Celtic Music Labels & Links | World Music Index
---



Ian Campbell & The Ian Campbell Folk Group - see artist profile




Lorna Campbell "Adam's Rib" (Cottage, 1976)
A concept album, composed by brother Ian Campbell, with twelve songs outlining the concerns of women... The entire record was re-recorded by Lorna a couple of years later, with different accompaniment.


<! Side One The Party It's Over Now The Telephone Song Can't You Make It Last The Dawning of a Day What Do You Think Side Two Blue Day The Lumb Maternity Ward Off to School Dear Diary Adam's Rib >

Lorna Campbell "Adam's Rib" (Storyville, 2000)



Re-recorded versions, from 1977-78.
Canny Fettle "Trip To Harrowgate" (Tradition, 1977)

Capercaillie "Cascade" (Etive, 1984)

Capercaillie "Crosswinds" (Green Linnet, 1987)



Capercaillie "Sidewaulk" (Green Linnet, 1989)



Modernized Celtic music that follows in the path of early Clannad albums -- brisk instrumentals interspersed with glossier vocal numbers and a thumping electric bass or intrusive synthesizer here or there. Talented, it's true, but for the more traditionally-minded among us, this Scottish ensemble may be a hit-or-miss affair. They are more true to their roots on the instrumental numbers -- bad news for folk like me who prefer hearing songs. I'm also not terribly fond of vocalist Karen Matheson... I guess I just don't like the timbre of her voice, or perhaps I'm just used to hearing a Hebrides accent in a rougher, more rugged context. This early album is perhaps your best shot to size them up as a proper "trad" band.

Capercaillie "Delirium" (Green Linnet, 1991)



Egad, this is cheesy. I mean, sure, Karen Matheson has a pretty voice and all, but the oceanic synthesizers and babbling brook-y, Windham Hill-ish piano lines are just so goddawful sappy. Nothing on here for me, thank you very much.
Capercaillie "Get Out" (Survival/Green Linnet, 1992)






<! (remixes and live tracks) >

Capercaillie "The Blood Is Strong" (Survival, 1993)






<! (compilation of TV themes) >

Capercaillie "Secret People" (Survival/Green Linnet, 1993)


Capercaillie "Capercaillie" (Survival/Green Linnet, 1994)






<! "reworked an remixed" >

Capercaillie "To The Moon" (Green Linnet, 1995)






<! "Glenfinnan (Songs Of The '45)" B001GXPV54 (MP3) (1995 or 2009?) >

Capercaillie "Beautiful Wasteland" (Rykodisc/Survival, 1998)



Omigod. I mean, I like the sound of the Celtic language as much as anyone else, but sitting through this synth-heavy goopfest is a bit much to ask of anyone! To be fair, if you like this sort of world music-y mix of New Age and electronica, this is a skillfully produced album, and Matheson's voice is well suited to the material (or has grown into it...) But, still... honestly!

Capercaillie "Nadurra" (Green Linnet, 2000)



This glossy crossover material is too slick for me, but I guess if Celtic-pop fusion is the sound you're after, this is about as good as it gets. That concession being made, however, I gotta say that the songs with English lyrics are just godawful -- it's a miracle that after "Hope Springs Eternal" came on I didn't just stop listening, flee in horror and never look back. The Gaelic material is a bit more forgiving, since it's easier to just space out and listen to the pretty tone of Matheson's voice, a bit like a bird chirping, though with less of a sense of history behind it. I dunno. This just ain't my cup of tea. The funky electric bass lines just seem wrong, and the gooey, facile progressions don't help much.
Capercaillie "Live In Concert" (Valley, 2002)


Capercaillie "Roses And Tears" (Compass, 2008)



Another strong Celtic crossover set by Scotland's fusion-y Capercaillie, with lead vocals from Karen Matheson and an lineup that includes Donald Shaw on accordion, Manus Lunny on bouzouki and Michael McGoldrick playing the pipes. The album opens up with the funky, resolutely pop "Him Bo," and then weaves back and forth between tradition and modernism. There's an anti-war anthem, courtesy of John Martyn, lots of mellow, electronic-tinged grooves, and a hefty dose of trad, woven deep into the mix. Personally, I love it when Matheson sings in Gaelic, although like many old-fashioned folkies, I prefer a more traditional acoustic sound. But Capercaillie fans know what to expect by now, and this album certainly will not disappoint listeners who are open to a bit of pop in with their Celtic music.
Capercaillie "Dusk 'Til Dawn: The Best Of Capercaillie" (Valley, 2000)


Capercaillie "Grace And Pride -- The Anthology: 2004-1984" (Valley, 2004)


Capercaillie "Heritage Songs" (2007)






<! Capercaillie ("Kap-ir-Kay-Lee", named after a large Grouse) are without a doubt one of the most popular of Scottish traditional groups. Karen Matheson's singing has been widely acclaimed, both for traditional songs and some of their more pop-influenced recent work. Many comparisons have been made between Capercaillie and Clannad both for their overall style and their ventures from traditional to more modern sounds. The band has been around since the early eighties, and have recorded with Green Linnet and Survival Records. > <! * Trian II (1995) * Trian (1992) > <! http://tonycapstick.com - defunct 08/11 >
Tony Capstick & Hedgehog Pie "His Round" (Rubber Records) (LP)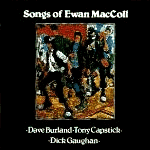 Tony Capstick/Dick Gaughan/Dave Burland "Songs Of Ewan MacColl" (Rubber/Black Crow, 1978)


(Produced by Geoff Heslop)
Songwriter, folklorist and troubadour Ewan Maccoll is often thought of as a paragon of the "British" folk movement; here, his place in the Scottish pantheon is reclaimed as a Scottish icon in a trio of gorgeous ballads by Dick Gaughan, including "Jamie Foyers," "Schoolday's End," and "Thirty Foot Trailer," as well as trading verses with Burland and Capstick on "Shoals Of Herring," which closes the album. It's a fine, heartfelt homage, with a very low-key, homespun feel. 'Twould be nice if a tune or two could find their way onto some of Gaughan's retrospective albums sometime soon, but if you can track the original album down, you'll be happy with that as well.


<! Tony Capstick "His Round" with Hedgehog Pie Tony Capstick "Punch And Judy Man" Tony Capstick "Tony Capstick Does A Turn" "Songs Of Ewan MacColl" with Dick Gaughan and Dave Burland and "There Was This Bloke" with Mike Harding, Derek Brimstone and Bill Barclay) (LP) B0050AQ0TA BARCLAY/ BRIMSTONE/ CAPSTICK/ HARDING There Was This Bloke (Rare 1974 UK vinyl LP of crowd pleasing comedy-folk on the Rubber Records label recorded live in various hotels and rugby clubs by four scary looking blokes [as the back of the sleeve will attest!]. You get the pub antics of Tony Capstick the cockney capers of Derek Brimstone the laddish Lancashire tales of Mike Harding and zany stuff by Bill Barclay. A folk singer walks into a pub... RUB010) >
Liz Carroll & Tommy Maguire "Kiss Me Kate" (Shanachie, 1978)

Liz Carroll "A Friend Indeed" (Shanachie, 1979)


Liz Carroll "Liz Carroll" (Green Linnet, 1988)



Liz Carroll "Lost In The Loop" (Green Linnet, 2000)



A beautiful, lively set of fiddle-based instrumentals. Carroll is truly a soulful and inspired performer, equally able to dazzle with her technical prowess and to capture your imagination with a wistful, mist-covered aire. Seamus Egan, John Doyle and Winifred Horon (all from the band Solas) join in with warm, sympathetic backup; Egan also produced the album, giving it a smooth but not sugary feel. Nice stuff... highly recommended!

Liz Carroll "Lake Effect" (Green Linnet, 2002)



Another lovely, all-instrumental album by this outstanding Chicago-based Irish-American fiddler. This is one of those precious few albums that gets past my disinclination towards Celtic instrumentals -- leaning heavily towards the lighter, more lyrical melodic side, Carroll here concentrates on dreamy airs, waiting until the album's end to get into the more typical, bouncy jigs and reels. Fine by me; after the warmth and ease of the album's first half, I was totally sated, happy to hear something softer and easier on the ears than the usual manic breakdowns that fill the Irish soundscape. Gets a little bongo-y and ornate on a few tunes, but mostly this is pretty down to earth. Worth checking out.

Liz Carroll & John Doyle "In Play" (Compass, 2005)



A fantabulous two-person Celtic trad jam session featuring Chicago-based fiddler Liz Carroll (of Cherish The Ladies) and guitarist John Doyle (late of the band Solas). Carroll generally takes the lead, but Doyle's subtle, constantly shifting accompaniment is a tour-de-force in and of itself, contrasting the old-country sawing with a deft, pop-and-jazz inflected acoustic commentary. These are two top-flight Irish-American trad virtuosi, each performing at their absolute peak. I'm not generally that into all-instrumental trad albums, but this one's a doozy. Definitely worth checking out!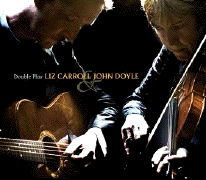 Liz Carroll & John Doyle "Double Play" (Compass, 2009)



(Produced by Liz Carroll & John Doyle)
Another stunning set of duets from these Irish-American folk-trad superstars. The uptempo opening medley, "The Chandelier/Anne Lacey's," will blow your mind: the nimble, restlessly inventive guitar picking and fiddling are astonishing in their speed and innovation, as well as the fervent, musicianly joy which radiates out for listeners to hear. Carroll and Doyle aren't mere technicians, they are collaborators and celebrants, riding a wave of excitement and newness that few artists get the chance to achieve. This record is easily one of the best Celtic-trad releases of the decade, and sets the bar for any artists that follow in its wake. Most of the tracks are instrumentals, although Doyle sings several songs, which is also a delight. Sorry if I seem to be gushing, but -- wow! -- this record really pays off when you give it close attention. Give it a spin.


<! http://en.wikipedia.org/wiki/Liz_Carroll >


Eliza Carthy - see artist profile





Martin Carthy - see artist profile




John Carty "Last Night's Fun" (Shanachie, 1996)


John Carty "Yeh, That's All It Is" (Shanachie, 2001)



John Carty "At It Again" (Shanachie, 2003)



A delightful all-instrumental set featuring the fiddling of London-born, Irish-bred John Carty, who has the sprightly, crisp style of North Connaught down to a science. His fiddle will capture your imagination, with minimal accompaniment by bouzouki, piano and guitar, each mixed low so that it's the fiddle that really stands out. Lovely stuff.

Karan Casey "Songlines" (Shanachie, 1997)



A soft-edged, mostly traddish solo album by one of the featured performers in the much-vaunted American-Irish band, Solas. Co-produced by bandmate Seamus Egan, this disc is pretty easy on the ears, but best when it sticks to more traditional elements. Casey has a pretty voice, with classic lovely Irish tones, but somehow this album seemed a little too perfect and coy to really capture my imagination. Devoted Solas fans seem to love this album; I was a little nonplussed.

Karan Casey "The Winds Begin To Sing" (Shanachie, 1999)



A very lovely album, wherein sparse arrangements softly frame Casey's gorgeous vocals. It's a mellow album, but it generally falls short of sounding syrupy. A couple of tracks are iffy -- transposing Billie Holiday's lynching ballad into a Celtic context is questionable, and I could live without the poppish arrangements on "Buile Mo Chroi," but other than that, this album is a real delight. Rich, beautiful, and very much in touch with traditional roots. Recommended!
Karan Casey & Friends "Seal Maiden: A Celtic Musical" (MFLP, 2000)



A children's record featuring music and spoken word from Karan Casey, Mairead Ni Mhaonaigh, Laura Brown and Iarla O Lionaird.
Karan Casey "Distant Shore" (Shanachie, 2003)



Another fine solo album by this crystal-voiced singer, formerly of the Celtic trad band, Solas... Here, Casey pursues a more modern, folky singer-songwriter strain on many of these tunes, but also finds time for some lovely traditional material, and a little bit of elves-in-the-woods action as well. Her fans will not be disappointed, and those new to the fold should be intrigued. Definitely worth checking out!
Karan Casey "Chasing The Sun" (Shanachie, 2005)



Karan Casey "Ships In The Forest" (Compass, 2008)



(Produced by Donald Shaw)
Opening with the elegant, elegaic "Love Is Pleasing," this album gives way to a slower, somewhat sombre pace, placing Irish singer Karan Casey in the stately, serious company of folk-scene grand dames such as June Tabor or Dolores Keane... Casey isn't quite as dour or severe as Tabor, but she certainly is gathering gravitas and moving beyond the standard folkie fare. Casey gives a nod to like-minded American auteurs with a lovely cover of Joni Mitchell's "The Fiddle And The Drum," which features some of her finest vocals, set to sparse but sweet bagpipe accompaniment. She picks up the tempo a little, five songs in on "Town Of Athlone," one of the only songs on here to be driven by guitar, rather than piano, but by and large this set has slower songs with atypical arrangements. The ghosts of the past are never far from the surface in Ireland, and some interesting issues are raised by her inclusion of the traditional ballad, "Dunlavin Green," about a 1798 massacre that is key to the culture of rebellion: what is to be done with all this political baggage, two hundred years later, now that the "Troubles" are thought to be done, following the Belfast Agreement of 1998? The songs still arise, and so do the feelings behind them -- is it acknowledging history, or tending to old grievances? Either way, the music is lovely, as is Casey's voice, one of the sweetest and most purely "Irish" female voices around. Fans will definitely want to pick this one up, although it is a bit on the doleful side.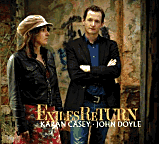 Karan Casey & John Doyle "Exiles Return" (Compass, 2010)



(Produced by Dirk Powell)
An outstanding collaboration between singer-guitarist John Doyle and vocalist Karan Casey, two of the founding members of the Celtic-trad supergroup Solas, who reunite here for a gloriously rich, stripped-down acoustic set. Casey takes the lead on most of the songs, with Doyle singing lead on three tracks (while harmonizing on several others, and providing typically strong, sympathetic accompaniment throughout...) The repertoire is a fab collection of traditional and traditionally-oriented songs, delivered with the soulfulness and depth of understanding we've come to expect from both these artists. Old-timey scholoar Dirk Powell and flautist Michael McGoldrick add subtle support on a tune or two. Beautiful stuff: you can't go wrong with any of these artists.
---
Celtic/Brit Folk Albums - More Letter "C"
---



Main Celtic/Brit Index
Main World Music Index


---