<! MP3 02/22/09, 09/15/10 > <! pix 02/22/09 - a few loose ends, 09/15/10 > <! archived 02/22/09 > <! icons 01/07/11 >
---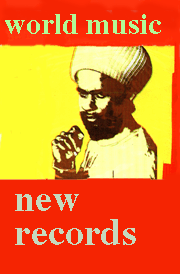 Welcome to my "Recent World Music" reviews page, which highlights new(ish) African, Asian, Latin American and Celtic records, as well as your plain old "miscellaneous" categories... Basically, whatever catches my interest amid the roar and thunder of our global music marketplace...

These records were reviewed in the year 2001.


---
Recommended Records: 2001 | Review Archives | World Music Index
---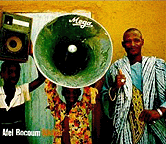 Afel Bocoum "Alkibar" (Nonesuch, 1999)



A young protege of Ali Farka Toure, Bocoum infuses the familiar Malian griot style with a dreamy, intricately-layered ambient production. A very strong release which avoids the pitfalls of the Parisian school of overproduced African pop, this disc has plenty of subtleties to reward repeat listenings. HIGHLY RECOMMENDED.

Arte Mixto "Sin Chisme" (Ahi-Nama, 2001)



Perky, folk-flavored Latin American vocals, with bouncy arrangements that include tipica violins as well as classic salsa piano and rhythms. Admittedly, this style may not be for everyone, but fans of older ensembles such as Grupo Raiz or Pablo Milanes (in his more upbeat moments) may enjoy the bouncy, jazz-tinged acoustic arrangements and cheerful harmonizations. This album is a little less poppy and cloying than the last, and Arte Mixto seem to have tightened their performances up considerably, edging towards an ever-more professional sound. It's not entirely my cup of tea, but latinophiles of an acoustic bent may enjoy this quite a bit.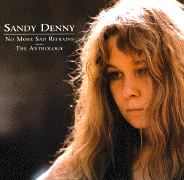 Sandy Denny "No More Sad Refrains: The Anthology" (A&M, 2000)



For those of us who missed (or couldn't afford) Rykodisc's lavish Sandy Denny box set from many years back, comes this outstanding 2-CD set of some of her best material from her brief but stellar career. As a founding member of Fairport Convention, one of the great English folk-fusion outfits of the late 1960s, Denny was revered as one of the movement's great divas, on a par with Maddy Prior and Anne Briggs. Her early death in 1978 cemented her status as a legend, and as modern soundalikes such as Beth Orton have come to the fore, Denny's legacy has grown. As these CDs show, Denny's stately voice quickly developed into an almost unreasonable loveliness, a piercingly direct presence. While she sang with the same sort of arty piousness that made fellow Fairport member Richard Thompson sound conceited and boorish, in her hands the loftiness felt different, emphasizing the elegance of the songs, rather than the ego of the singer... Hardcore fans may complain that this anthology omits her work with the Strawbs, for most of us, this collection will be more than enough to keep the fire burning.

Candido Fabre "La Habana Quiere Guarachas Contigo" (Tumi Music, 2000)



Hip-hop freestylers could do well to study the flow of this fellow, who is hailed as a star of the new generation of Cuban guaracha singers, as is hailed as an heir to the throne of the great Beny More. While Fabre has nowhere near the vocal power or purity of tone that More had, he is certainly a deft wordsmith and can dash off tounge-twister lyrics at lightening speed. What's most impressive about this set is that all the tracks on here were written by Fabre himself -- almost unheard of in Cuba, where standards and tradition are the watchwords of the day. His band is also pretty sharp, with a strong rhythm section and nice charanga arrangements. Definitely worth checking out.

Ghazal "Moon Rise Over The Silk Road" (Shanachie, 2000)



Rapture! Over the years, the music of India has become pretty familiar to Western ears, Persian classical has never had the same sort of tremendous crossover exposure, and still retains much of the austerity and mystery that Indian ragas once had. The group Ghazal interweaves the two styles, and is made up of sitar player Shujat Husain Khan, tabla master Swapan Chaudhuri and Kayhan Kalhor, who plays the Persian kamancheh, an early ancestor of the modern violin. Their third album, "Moon Rise" is their most beautiful and most accomplished to date. Although the members of Ghazal don't completely stick to the strict rules of either tradition, this album follows many of the compositional conventions of Indian and Persian classical music. The first track sets the tone in a prolonged improvisation, experimenting with melodic ideas while establishing a dialog between the unique instrumental voices. The musicians take turns developing and gently pushing the music along, until they join together in a mad dash toward the main theme. The second track, "Pari Mahal," is a bouncy, light celebration of this central melody, and the last track develops it even further, although with a warm, rich wholeness that was only hinted at as the record began. While the album is nearly an hour long, it passes by in a trancey, timeless style, without feeling too short or too long. This is one of the most sensuous, deliciously nuanced, records to hit the world music bins for quite some time.

Kila "Lemonade And Buns" (Green Linnet, 2000)



Celtic music, like American jazz or bluegrass, is a genre which has wrestled for decades with its own limitations: the classic forms are so clearly outlined and so frequently perfected that it seems difficult to expand the style without mucking it up. Recent attempts at pumping up the old jigs and reels have typically included tinkly keyboards and synthisizers (ala American folk music...) or dubious graftings of hard jazz and hip-hop. This Irish outfit is one of the first I've heard that managed to modernize without sounding forced or cluttered. Kila's songs have an organic feel to them -- their sound is large and unusual, building up big arrangements around traditional instrumentation, but without the patchwork-y Frankenstein feel of various "Celtic beat" bands... In fact, the overall impression is a bit more Tin Pan Alley, hearkening back to jazz string bands rather than to the bebop-ish influences other bands have tried out. It's not entirely my cup of tea, but I was pretty impressed; anyone interested in experimentation in Celtic trad should definitely check this one out!

Habib Koite "Baro" (Putumayo, 2001)



Another lovely, acoustic-based record from this innovative pop star from Mali... This disc is less experimental than his previous album, but perhaps even more satisfying. Very pretty stuff -- great to have on as something you can space out to, but also very captivating and musically rich. Recommended!

Kornog "Korong" (Green Linnet, 2000)



After more than a 20 year lapse, this outstanding French (Breton) Celtic band is back, with an album that picks up exactly where the last one left off. I'm not normally that into Celtic instrumentals -- jigs, reels and airs -- but Kornog has always displayed a liveliness and melodic grace that set the band at the pinnacles of the Celtic music scene, with an interplay of fiddle and flute that is particularly dynamic and appealling. Perhaps the most distinctive aspect of the Kornog's sound, though, is the beautiful voice of Scottish native, Jamie McMenemy. McMenemy has lost none of the rich sonorousness which marked their early albums, or the dreamy, evocative breathiness that makes him one of the most captivating singers in the folk-trad scene today. Simply gorgeous. This is an album that's been a long time coming, and is highly recommended.

Wendo Kolosoy "Marie Louise" (Indigo/Harmonia Mundi, 2000)



One of life's little pleasures is the discovery of a "master musician," by which we mean, of course, some grizzled, cheerful old-timer that most people would never have heard of have heard of in a million years, were it not for the efforts of some dedicated maven at a teeny record label somewhere... someone who knew the story of what that artist did way back when, and dragged them back into the studio to show folks that they've still got what it takes today. Meet Wendo Kolosoy. One of the pioneers of the early-'50s Congolese "rumba" style, Kolosoy has a relaxed vocal style that radiates good cheer and a calm confidence in the power of his music. This is matched by the dreamy guitar work of Vula Missy and Zacharie Onana, which is also gorgeous, but not flashy. Other West African old-timers such as I. K. Dairo have been recording constantly over the decades, but sometimes I find the understated tone of albums like this preferable to other, more upbeat, efforts, as often there is a lot to be gained by speaking softly and saying little... A gently playful, unhurried album that holds up to repeated listenings.


Lalezar "Music Of The Sultans, Sufis And Seraglio, v. 1: Sultan Composers" (Traditional Crossroads, 2000)



Lalezar "Music Of The Sultans, Sufis And Seraglio, v. 2: Music Of The Dancing Boys" (Traditional Crossroads, 2000)



The first two of a four-CD collection of Ottoman Empire music, recorded by one of Turkey's premier folkloric ensembles. This series should appeal to world music enthusiasts and early music fans alike, as the music's antiquity is balanced by the passion and grace of the performers; also appealling are the exotic sounds of unusual instrumentation and the fascinating historical presentation. Volume One concentrates on the compositions of royalty -- formal court music written by various sultans during the 17th- 20th centuries. The Asiatic nature of Turkish classical music has never been more apparent, as well as the European influences that intertwined it during the heyday of the Empire. At least as the Lalezar ensemble performs it, this resembles a mix of Japanese classical with medieval liturgical vocals. The second disc has an even more colorful story behind it -- it is kocekce music, which was written for an unusual group of performers, the cross-dressing "dancing boys" of Istanbul. The dancing boys were a drag variant of the female erotic dancers of the time. Originally, the kocek were a respected part of Turkish cultural life, a professional performing class supported by the largesse of the Empire itself. However as the Ottomans lost ground militarily (and economically) in the 19th Century, many of the dancing boys lost their patronage and turned to more explicit prostitution in order to survive. This in turn led to their being banned, and their music suppressed by the sultans; elements of the kocekce music were gradually re-integrated into Turkish popular music, but this CD concentrates on the original versions. A little less accessible than the first volume, but fascinating nonetheless.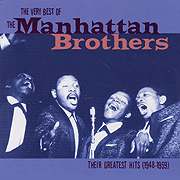 Manhattan Brothers "The Very Best Of... 1948-1959" (Stern's Africa, 2000)



A stunning, joyous set of doo wop-like "jive" vocals from some of South Africa's greatest post-WWII musicians. The Manhattan Brothers were one of the first groups to benefit from the booming postwar economy that brought black South Africans into the cities in large numbers, making their sort of pop success possible. Singing in Shona, Xhosa, Zulu and English, the Manhattan Brothers mixed sleek swing vocals with proto-doo wop and jubilee gospel, and were the group that set the standard for the many vocal groups that came in their wake, including Miriam Makeba's late-'50s ensemble, The Skylarks. Makeba herself first came to prominence as a soloist in the Manhattan Brothers ensemble, and appears on several of these tracks. The feel is playful and glorious, with some of the lushest, most swinging vocals you're ever likely to hear on disc. This is a great record - a highly welcomed addition to the all-too-small pool of similar records that uncover this forgotten style of American-influenced South African pop. HIGHLY recommended!
Maraca "Descarga Total!" (Ahi-Nama, 2000)



Orlando "Maraca" Valle is a sharp, young Cuban bandleader from modern-day Havana, whose style ranges from old-style tipica to full-blown flights of Latin-jazz jams. The jazzier stuff doesn't appeal to me, personally, but the ensemble is still pretty tight, and others may like this disc a lot. Worth checking out!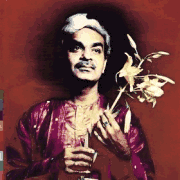 Gopal Shankar Misra "Out Of Stillness" (RealWorld, 2000)



Stately, hypnotic Hindustani classical music, played on the sitar-like vichitra veena, a stringed instruments which is relatively new to Western ears. The vichitra veena actually predates the sitar (it has no frets) but shares much of the same languid, droning resonance. Dr. Misra is one of its greatest proponents, performing his own arrangements of traditional themes from his native Benares, in Northern India. It's lovely stuff -- simultaneously static and captivating in that unfrenetic manner that can only be achieved by music that isn't obsessed with getting somewhere else, but is content to set a mood and explore it in its own good time.
Toto La Momposina "Carmelina" (Indigo, 2000)


A stunning set from this Columbian diva... This veers sharply away from the standard-issue hyperactive cumbias that dominate most Columbian releases, with an electric mix of Cuban-style sones and guarachas, African percussion and indigenous South American folk styles. Okay, so I admit that may sound a bit academic on paper, but that's why you owe it to yourself to pick this album up and see if you think it sounds as groovy as I do. La Momposina is an arresting vocalist, and these tunes are delivered with a solid, swinging beat. Highly recommended!

Cathal McConnell "Long Expectant Comes At Last" (Compass, 2000)



A charming and sometimes rather daft set of Irish drinking songs and pubstool ballads... Includes a lot of deliciously raunchy material, delivered in an affable old-timer style. McConnell is, of course, a founding member of the '70s band, Boys Of The Lough, and has a slew of great guest artists on this album, including folks such as piper Joanie Madden, Dave Mattacks, Len Graham, Richard (and Linda) Thompson, and that great old American connoissuer of bawdy ballads, Oscar Brand. This is one of those albums that you have to be on the right wavelength for... but if you are, it'll really pay off well!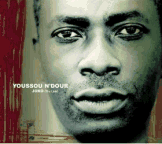 Youssou N'Dour "Joko" (Nonesuch, 2000)



Senegal's Youssou N'Dour is arguably the most famous African pop artist alive; he's certainly one of the leading exponents of the slick, high-tech production style that has grown out of the Parisian expatriate scene over the last few decades... This is his first album in over six years and, like other recent African pop albums, it points to a resolution of the aesthetic bridge that separates fans of a more stripped-down sound and those who like the soft stuff. There are still a few touches that make me cringe -- a soprano sax here, an overwrought chorus there -- but overall this album has a nice organic feel to it... pleasant, listenable, seductive. The only problem, really, is that so many of these songs end so quickly; it's as though someone advised N'Dour to trim his tunes down because eight-minute long songs won't get as much airplay in America. The four-minute long compromises mostly end just when things are getting good, and several seem kind of bluntly edited... The good news is, N'Dour's new songs sound great. I just wish I could hear more of them.

Anders Norudde "Himself" (Northside, 2000)


The multi-talented Anders Norudde, piper and fiddle player for the Swedish folk revival supergroup, Hedingarna, goes solo on a striking instrumental album that highlights his affinity for Middle Eastern and Celtic melodies. The keening of bagpipes and flutter of flutes dance throughout, as does his proficiency on a wide variety of styles. Pretty cool... well worth checking out!

Radio Tarifa "Cruzando El Rio" (Nonesuch/World Circuit, 2001)



This Spanish trio is one of the most creative and eclectic world music bands of recent vintage, although, admittedly, they do have a bit of a prefab, made-for-NPR-and-Borders sheen to them. On this disc they shy away a bit from the slightly ambient leanings of earlier albums, and delve deeper into the Arabic shrillness of Spain's Moorish heritage. There's also still plenty of crosscultural intersplicing, with hints of Celtic, Asian and African music throughout, as well as an ever-present, ever-clever bit of Appalachian banjo picking and country guitar which pops up from time to time. It's a deftly crafted, seamlessly produced album, which balances gritty traditionalism and modern sleekness with admirable grace. A very accessible version of Arabic music, and an album that can grow on you, quite quickly... check it out!

Ravi "The Afro-Indian Project" (Arc Music, 2001)



Blending the Malian kora into Indian classical music might seem a dubious effort, but the results are quite nice. With gentle tablas throughout, and acoustic bass lines courtesy of the venerable Danny Thompson, this disc frames the kora in a new, and quite pleasant, context. Overall, this album might be too mellow for some, but it's not saccharine or bland, and the crossover is quite effective. Plus, with folks on the calibre of Tarun Bhattacharya, Hosam Ramzy and Ravi Shankar's percussionist pitching in, it's worth checking out -- a new twist on the East-West formula.

Greg Ribot & Cumbia Del Norte "The International Conspiracy" (Cathexsis, 2001)



An upbeat, swinging album, combining cumbia rhythms, klezmer-style clarinet and lighthearted, bouncy jazz. There's also a dash of mambo, a pinch of samba, a jigger of soca and even some of that Andean folk music. And, yes, saxophonist Greg is guitarist Marc's brother... Marc plays on several tunes, but doesn't overshadow anyone... This is a very fun album; not a wide variety of tone, but a great, playful feel. Recommended!

Kate Rusby "Sleepless" (Compass, 1999)



(Produced by John McCusker)
Kate Rusby, from Yorkshire, is one of England's most promising young singers, a charming, bright-toned vocalist who (so far) has managed to keep things traditional sounding, and to avoid the usual pitfalls and temptations of folk-pop fusion. Of course, with Battlefield Band fiddler John McCusker in tow as a creative sounding board and co-arranger, it shouldn't be too hard to keep it real. Most of the songs on here are traditionally based, and Rusby's original compositions are also quite nice... Also includes a nice cover of an Iris DeMent tune... Nice stuff! If you liked her last album, you won't be disappointed by this one!

Anoushka Shankar "Anourag" (Angel, 2000)



It's probably no surprise to hear that Ravi Shankar's daughter can thrum a mean sitar... and this album (on which Ravi duets for one number) showcases her considerable talent. On my first listen, I wasn't overly blown away -- I thought it was technically sharp, but undistinctive -- but with repeated listenings it grew on me quite a bit. Like her father, Anoushka Shankar takes liberties with the form, introducing touches which could be considered "Western", although in the case of this album these variations are rather subtle, more of a nudge than an actual digression. For the most part, this is a straightforward, traditionalist Indian classical album, and it holds up rather well.

Sharon Shannon "Sharon Shannon" (Compass, 1991/2001)



Nice reissue of Shannon's groundbreaking 1991 solo album... As a relative newcomer on the Celtic trad scene, this sweet-toned accordionist/fiddler was in the midst of gigging with Christy Moore and the Waterboys when she took some time off to record this nice set of instrumental tunes, along with more dazzling guest stars that you could imagine... The material ranges from traditional reels and such, to bouncy (not-too-poppy) crossover material, and one or two nice surprises of non-Celtic origin. If you like instrumental albums, this one is pretty hard to beat.

Omar Sosa "Preitos" (Ota, 2000)



A mad, multi-lingual mix of free jazz, latin jazz and hip-hoppish spoken word, incorporating influences as diverse as Tito Puente, Gil Scott-Heron and and Miles Davis. Sosa breaks out of the standard confines of latin jazz to include diverse South American and African styles (notably traditional Ecuadoran and Moroccan styles) as well as mixing in jazz influences that hearken back to outsider artists such as the Last Poets and Sun Ra. Personally, I find this album to be a little cluttered and dense -- irritating, even -- but anyone who's into the artists I mentioned above might wanna check this out. It's quite skillfully delivered -- it's just not my cup of tea.

Tarika "Soul Makassar" (Triloka, 2001)


One of Madagascar's most successful bands, Tarika established themselves early on with a series of tightly-crafted, densely layered pop albums, defined largely by the ever-present valiha, a type of hand-held harp that sounds somewhat similar to the kora used in Mali. Tarika's sound was always so distinctive and so arresting that it there has always been an ever-present danger that it would be lured into some ill-advised, goopy, New Age-y "world beat" remix project... By and large, they have avoided that trap, although this record edges a little bit closer, with its eclectic multicultural mix and folkie undertones... Indonesian music is the main new element, prompted by a trip to Jakarta to explore the Asian cultural roots of the Malagasy; other influences include African talking drums and a spot of Phil Spector (in a demure version of "Be My Baby")... Still, the blend is pretty restained and worth checking out, particularly if you liked their older albums.
Ali Farka Toure "Radio Mali" (Nonesuch/World Circuit, 1999)



Although I've never been all that keen on Ali Farka Toure's music, I have to admit I enjoyed this record a lot! Confirmed AFT fans should go absolutely ga-ga over this treasure trove of his earliest recordings, which spans 1970-1978. Among other treats, this disc includes all the material off his first album, along with other tracks he made while working as an engineer at Mali's national radio station. What I hear in these earlier recordings is a sense of unsureness, an eagerness to succeed, without being sure how far his efforts will take him -- which comes off as much more endearing than his current status as a "World Music Legend." The music is stripped down and mildly chaotic, and certainly less predictable than his output from the '80s and '90s. There's something to be said for going back to the roots -- even of a roots musician. Check it out!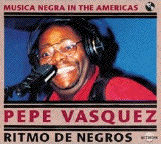 Pepe Vasquez "Ritmo De Negros" (Network, 2000)


"The undisputed star of Afro-Peruvian music," bandleader Vasquez leads a sharp ensemble, rippling their way through some muscular modern salsa, and proving that Havana and New York don't have a lock on the style. I don't really have the ear to pick out the specifically Peruvian elements in this mix, but I'm sure they're in there. Regardless, fans of hot Latin dance music could get a real jolt out of this one.

Various Artists "PUTUMAYO PRESENTS: REPUBLICA DOMINICANA" (Putumayo, 2000)


Another solid collection, further signalling Putumayo's rise out of the "Wal-Mart of world music" pigeonhole that many have placed on the label. Although there are questionable chord changes here and there, for the most part this compilation focuses on straightforward Cuban-tinged dance music. Pleasantly melodic, these tracks veer sharply from the manic, hyper-charged merengues which typified Domincan pop in the 1980s. As far as I'm concerned, it's a welcome change of pace, and this collection was a real eye opener. It might be for you, too! Definitely worth checking out.

Various Artists "WOMEN OF REMBETICA" (Rounder, 2000)



A strong collection of "greek blues," recorded mainly in the early 1930s. This disc features several tracks by the two great female stars of the genre, Rita Abadzi and Roza Eskenazi, as well as several less-well known vocalists. The selection lingers on the Arabian melodic influences in the music, and holds up quite well when compared to earlier collections on import labels such as Interstate's Heritage label. Recommended!
---



World Music Index
Other Recent Reviews


---