<! MP3 03/02/09, 09/15/10 > <! pix 03/02/09, 09/15/10 > <! archived 00/00/00 > <! icons 02/23/11 >
---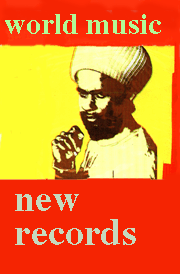 Welcome to Slipcue.Com's "Recent World Music" page, which highlights new(ish) African, Asian, Latin American and Celtic records, as well as your plain old "miscellaneous" categories... Basically, whatever catches my interest amid the roar and thunder of our global music marketplace...

These records were reviewed in the Summer, 2004.
<! New Brazilian music >

---
Recommended Records: Summer, 2004 | Review Archives | World Music Index
---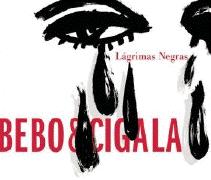 Bebo & Cigala "Lagrimas Negras" (Calle 54/RCA Bluebird, 2004)



That's pianist Bebo Valdes, one of Cuba's great jam session players of the 1950s (and still a potent force on the music scene) and flamenco vocalist Diego "La Cigala," whose half-croaked, Arabic-tinged inflections offer a fine counterpoint to Valdes's trademark sleek, supple piano runs. Cigala sounds like he, too, must be an ancient old-timer, un viejo, like all those Buena Vista dudes... But in fact he is a youngster, a ponytailed whippersnapper who just happens to channel the weight of the ages... Quite a lot of gravitas and artistic firepower is assembled here; just to spice things up, they bring in some highpowered guests, such as jazzman Paquito D'Rivera, Milton Cardona and Brazilian superstar Caetano Veloso, who duets with Cigana on a version of "Coracao Vagabundo," which closes the album. Also included are classic compositions by Miguel Matamoros, Maria Teresa Vera and other Latin American and Iberian legends. Mighty classy material.

Sean Doyle "The Light And The Half-Light" (Compass, 2004)



Fiddler Liz Carroll and Appalachian old-timey revivalist Dirk Powell are among those who join guitarist-producer John Doyle and his father Sean Doyle in this understated set of Irish trad songs. The elder Mr. Doyle has a clear, rich vocal style reminiscent of the old Clancy Brothers sound. The approach is pretty down-to-earth, with soft guitar and low-key vocals the primary touchpoints on all the songs. There's a hint of the sometimes-sugary crossover elements that arise in Doyle the younger's work with Solas, but it's mainly held in check, and this is a pretty straightforward trad album. Some of these songs are well of the beaten track, as well, so for those of a more folkloric bent, this is a real treat.
Ex-Centric Sound System "West Nile Funk" (Indieland, 2004)


Israeli mixmaster Yossi Fine and his world-beatin' crew are back, with more dub-inflected clubby stuff. I reluctantly concede that the future of world music may be in electronica and remixes; by and large, though, I don't think most proponents of the style have hit a soulful enough stride to really make the fusion work. This album -- the second full-length by this high-profile group -- is a good case in point, and a good midway point between aspirations and inclinations. The first couple of tracks were way more engaging than I thought they'd be; even though the backdrop of generic dance beats is kind of old-hat, ECSS's use of African folk motifs -- acoustic percussion, chants, ululations -- is dense but deft, well-woven and alluring, and with an air of authoritativeness that makes the tracks quite compelling. After that, just when your hopes get inflated, the record devolves into a much sparser, monotonous set of dance beats, lightly peppered with Africanisms, but nothing so challenging or as well-crafted as the album's opening salvo. In the end, this is another disc geared towards the club crowd, and while it's all very well and fine for those who want to shake their heinies on the dancefloor, for us more sedate stay-at-home types, this disc offers more promise than it delivers.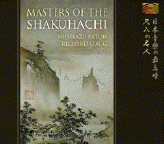 Hidekazu Katoh & Richard Stagg "Masters Of The Shakuhachi" (Arc Music, 2004)



A fine set of exploratory compositions on the Japanese bamboo shakuhachi flute... These duets are challenging and original, a fresh take on this ancient instrument; they don't have the same sustained contemplative tone as other, Zen-oriented shakuhachi albums -- indeed, there's almost an avant-garde tone to many of these performances -- but it's still quite a rich, engrossing record. Recommended!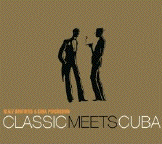 The Klazz Brothers & Cuba Percussion "Classic Meets Cuba" (Sony Classical, 2004)



Bach, Brahms, Mozart, Chopin and other highbrow icons get the royal Latin dance treatment... I was skeptical, to say the least, when I popped this one into my stereo, but when it started to play, my doubts were dispelled. Both the Afro-Cuban and the European classical traditions get their proper due, and the arrangements are neither sugary nor awkward. Some nice lyrical passages, and plenty of killer percussion as well. Worth checking out!

Miriam Makeba "Reflections" (Gallo/Heads Up, 2004)


Makeba revisits many of her older hits -- "Pata Pata," "The Click Song" and others -- with glitzy, big, modern world-pop arrangements. It's a surprisingly strong, fresh-sounding set, and even old-timers who are devoted to the old, original renditions should be cheered to hear Makeba still in such fine form. She also includes a couple of classic songs by Brazilian superstar Jorge Ben for good measure. More power to her!
The Outernationalists "Ethnomixicology" (Six Degrees, 2004)



Two British world-fusionists, including Simon Emmerson of the Afro Celts, add a dancefloor beat and mix'n'match turntabulism to a wide variety of international styles. This really isn't my kinda music -- I don't go out clubbing, and find the driving tempo to be kind of same-y from song to song. But I can tell that this is very skillfully produced, and I'd imagine that fans of the style would be thrilled by this disc. Someone else might be the right person to get the lowdown on this disc.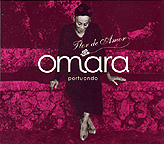 Omara Portuondo "Flor De Amor" (Nonesuch, 2004)



The smoky, sensuous and septugenarian chanteuse of Buena Vista Social Club fame, Cuba's Omara Portuondo returns with another fine set of silken romantic ballads, much in keeping with her long back catalogue. Certain songs stood out for me, such as "Junto A Un Canaveral," but the whole album sounds pretty nice. Several artists who have been in the recent Nonesuch/BVSC orbit accompany Portuondo here, including guitarist Manuel Galban, bassist Cachaito Lopez, Barbarito Torres, and tres whiz Papi Oviedo. It's a class act.

Darko Rundek & The Cargo Orkestar "Ruke: La Comedie Des Sens" (Piranha, 2004)



Eastern European music has never really been my thing; generally speaking, I see the word "Balkan" and my eyes start to glaze over... But then there are always surprises, particularly discs like this odd, atmospheric offering by Darko Sundek, a Serbian actor and musician who was once in a band called Haustor, and now fronts the uber-eclectic Cargo Orkestar... The opening number is enough to put any open-eared world music fan on notice: this ain't your grandma's Balkan music. Mixing moody, murky jazz-pop with styles indigenous to his Yugoslavian homeland -- notably gypsy and Arabic melodic themes -- Rundek crafts a multilayered, multifaceted, artsy sound, equally challenging and compelling, music that may remind listeners of irony-drenched, postmodern troubadours such as Tom Waits and Paulo Conte, who have taken their creative efforts into a different stratosphere than the legions of rude rockers and rappers that drown the soundscape. Anyway, even though the Slavic culture remains alien and unappealing to me, I could still recognize the spark of brilliance and timelessness in this album... It's definitely worth checking out!

Les Sans Culottes "Fixation Orale" (Aeronaut, 2004)



If the Bay City Rollers had been French instead of Scottish, and fell into the thrall of some dadaist garage rock scene run by Esperanto cultists... Well, they might have sounded a bit like this gleefully tounge-in-cheek "French" rock band from Los Angeles, who giddily skip from rock genre to rock genre as easily and breezily as they slide between languages. Cracking jokes in pidgin French, broken English, and whatever random syllables seem to be laying around at hand, these folks make no sense, but they sure have fun. The crunchier guitar riffs may be a little hard-rocking for your average frog-pop fans, but folks who liked April March's collaborations with The Makers may find kindred spirits here. I haven't seen them live, but I imagine they are a lot of fun.

Heidi Talbot "Distant Future" (Compass, 2004)



The Cherish The Ladies franchise continues to expand, as vocalist Heidi Talbot joins bandmates Joannie Madden and Liz Carroll and in recording as fine and soulful a solo album as you're ever likely to hear. Talbot mixes traditional songs with newer contemporary material which gives her work a sort of June Tabor-ish flavor. Most of the new songs were written by the album's producer, John Doyle (of the band Solas), who also provides nimble, supportive guitar accompaniment. Talbot really does have a lovely voice, with a bright, clear quality similar to Brit-Celt divas Bill Jones, Niamh Parsons and Kate Rusby, and even coasts into some contemplative, confessional material that may bring Norah Jones or Beth Orton to mind. This album is ideal for anyone looking for warm, well-crafted Celtic music that is richly based in the style's roots, yet embraces modern singer-songwriter folk without mucking things up. Nice album -- highly recommended.

Various Artists "MEXIQUE: LA HUASTECA - DANSES ET HUAPANGOS" (Ocora, 2003)


I have a special fondness for the densely patterned, hypnotic ballad style of the son jarocho which comes from the Huasteca region of Mexico's Eastern central coast... This collection covers the wider regional music known as the huapango which intersects with the jarocho tradition, but also includes a wide variety of Mexican folk musics. There is some of the driving, percussive, ornate melodic sound of the sones jarochos, but starker, more informal styles as well, streetcorner chants and the like. This is a fine selection of deeply traditional, authentic Mexican music, perhaps in parts not as melodically striking as other recordings that highlight harps and guitars, but still quite rich in feeling and tradition. Definitely worth checking out!

Various Artists "THE PULSE OF AFRICA" (Arc Music, 2004)



This set of drumming and percussive instrumentals is surprisingly compelling; I hadn't expected to be that into it, and then became transfixed as the waves of rhythm overtook me and carried me along. Five different groups perform on this well-paced collection: The El Hadj Ensemble specializes in Ghanaian and Senegalese drumming; Ipelegeng, Matodzi and the Soweto Ensemble represent South Africa and a group called African Works adds a "bush" beat to many tracks. Often these groups perform collaboratively, and the cumulative effect is quite nice. After decades of brisk, somewhat jarring drumming albums, it's nice to hear the recording methods and the presentation softening up a bit, so that the melodic and textural depths come out more clearly... There's no pop fusion going on here; the drumming is fairly pure, but it's also kind of laid back and pleasant to space out on, with plenty of stylistic variety. Very nice.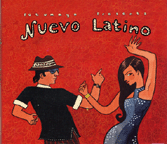 Various Artists "PUTUMAYO PRESENTS: NUEVO LATINO" (Putumayo, 2004)


A sweet set of soft, sly, (mostly) Spanish-language pop from across the globe, including Cuban, Mexican, Brazilian and European artists, all linked together by a sleek, subtle style that foregoes the aggressive edge of both Afro-Cuban salsa and rock en espanol. Its a surprisingly strong set, mellow without being goopy, downtempo without drifting into any of the electronica/world beat cliches that are so prevalent these days. Plus, it has New York's Mosquitos on it -- a pleasant surprise that really made me sit up and take notice. Nice record... recommended!
Various Artists "PUTUMAYO PRESENTS: SAHARA LOUNGE" (Putumayo, 2004)


Another world fusion/electronica mix that isn't really my cup of tea, though I can see the appeal. It's mellow and easy on the ears, if you're looking for something chill and unchallenging, this set could be for you. I'm not saying this is a "bad" record... it just isn't a style or an approach that I'm into.
---



World Music Index
Other Recent Reviews


---