<! MP3 03/03/09, 09/15/10, 02/23/11 > <! pix 03/03/09, 09/15/10 > <! archived 00/00/00 > <! icons 02/23/11 >
---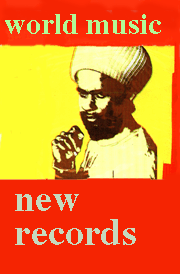 Welcome to Slipcue.Com's "Recent World Music" page, which highlights new(ish) African, Asian, Latin American and Celtic records, as well as your plain old "miscellaneous" categories... Basically, whatever catches my interest amid the roar and thunder of our global music marketplace...

These records were reviewed in Winter, 2004.
<! New Brazilian music >

---
Recommended Records: Winter, 2004 | Review Archives | World Music Index
---

Eva Ayllon "Eva! Leyenda Peruana" (Time Square, 2004)


One of Peru's best-beloved artists since the late 1970s, Eva Ayllon gets her North American debut on this energetic, robust album... Her vocals are forceful and brusque, though laced with a smoky richness... The music reflects regional styles from around Lima -- mainly the elegant, slinky lando, the classic, tango-influenced vals, and the more clattersome festejo. The latter style I can live without -- those tracks consistently got on my nerves -- but the others offer a rich, textured, romantic feel, and allow Ayllon to strech out as an interpretive singer. The arrangements are jazz-tinged and modern, in some ways this is prototypical "world music," but certainly worth checking out. If you like Susana Baca, you will definitely want to check out Ayllon as well.

Issa Bagayogo "Tassoumakan" (Six Degrees, 2004)



Malian kora player Issa Bagayogo, who hails from the southerwestern Wassoulou region, embraces modern pop production without falling into the exoticization trap that plagued kora crossovers in years past... That is, his playing isn't randomly tacked onto some generic dance tracks, and instead there's a cohesive, organic feel to the work, driven by Bagayogo's melodic drive and not-too-mellow vibe. Singing in French and in his native Bambara, Bagayogo is a gentle, guiding figure amid a tightly crafted pop sound. It's a little on the slick side for my personal tastes, but I think most African pop fans will find a lot to enjoy here... Check it out!

Batucadeiras De Rincon "Cap-Vert: Batuco De l'Ile De Santiago" (Inedit/MCM, 2004)


A very different kind of Cape Verdean music here... Instead of the languid, melodic mornas that made Cesaria Evora a star, this album highlights the starker batuque ("drumming") style practiced by the women of Rincon village on the island of Santiago. It's much like the sambas de roda (circle sambas) of Bahia, Brazil -- plain, informal, street-corner percussion with a circle of women singing a call-and-response chant with one of them leading the group. The batuco singers often make their songs up on the spot, commenting on daily comings and goings, feckless husbands, bad weather, etc. In fact, one of the songs on this disc is a ditty made up about the recording of the album, making reference in the lyrics to the folklorist who set the sessions up... This music is probably too raw for most casual world-music fans, but for the right listeners, I'm sure it is deeply fascinating.

Marcel Khalife "Caress" (Nagam, 2004)


A master oud player from Lebanon with a dynamic set of modernized Arabic music... The primary "outside" influence is jazz, with the compact Al Mayadine Quartet joined by European jazz bassist Peter Herbert. It's a little too jazzy for my tastes, but folks who are drawn to world-jazz experiments should find this to be an exciting album, packed with vigorous, impassioned performances. Certainly worth checking out.

Kitka "Wintersongs" (World Village, 2004)


Founded in 1979, this venerated San Francisco Bay Area women's chorus is one of the premiere American ensembles to explore the dense and dazzling world of Balkan vocal music... Here, they broaden their scope to include seasonal music from throughout Eastern Europe and beyond, ranging as far as Russia, Latvia, Georgia, the Ukraine, Romania, Belarus, Bulgaria, Greece, Macedonia and Israel... It's an ambitious programme, and a highly listenable record. If you're looking for something really new for your holiday listening, then check this record out. Recommended!
Sandra Luna "Tango Varon" (Times Square, 2004)



Modern tango vocals from Argentina, with all the redolent emotional power you'd expect from the style... Actually, Luna is somewhat restrained in her delivery, which is kind of a nice change of pace from the normal over-the-top approach so many artists take in this ultra-romantic genre. If you like the tango, this is certainly worth checking out!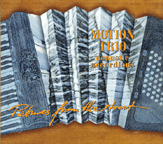 Motion Trio "Pictures From The Street" (Asphalt Tango/Indigo, 2004)



WOW. If you like accordion music, then you have GOT to check this album out. This Krakow-based Polish trio takes the instrument into wild, uncharted territory, combining the tones, undertones and overtones of three accordions to produce some of the most unusual and ear-opening squeezebox sounds this side of a Polkacide concert. The music is wholly original, too -- a dense yet playful modernist style, as challenging and as rewarding as the sounds themselves. What can I say? You've got to hear it to believe it. Highly recommended.

Ojos De Brujo "Bari" (World Village, 2004)



Creative modernizations of the classic flamenco sound, mixing in contemporary pop, hip-hop and electronica, as well as other "world music" influences. It's a much more fluid and compelling mix than you might imagine, although of course it ain't gonna be to everyone's liking. Still, this Barcelona-based band is definitely onto something... Worth checking out!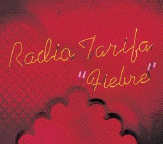 Radio Tarifa "Fiebre" (Nonesuch/World Circuit, 2004)



A driving, dynamic live set that captures a more aggressive side of Radio Tarifa's sound, in particular a tilt toward jazz-tinged improvisation, and an emphasis on individual virtuosity and impassioned, in-the-moment performances. Personally, I'm more drawn to the moody melodic side that the group shows on its studio albums, but this album does show that they can summon a lot of live-action firepower as well, and aren't just another pretty-sounding world-music studio project. If you're a Tarifa fan already, you'll probably want to check this out.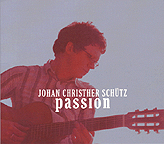 Johan Christher Schutz "Passion" (Acousticolour, 2004)



Swedish singer-guitarist Johan Christher Schutz has a somewhat intense connection to the Brazilian bossa-nova sound, and an almost unreasonably sunny world view... This album combines persistent, gentle, accomplished acoustic guitar work with cheerful, naifish lyrics straight out of the twee-est twee segments of the indiepop scene. Schutz's vocals sound quite a bit like Arto Lindsay's, but shorn of the darker and more carnal elements of Lindsay's work. I confess, it took me a while to warm to this disc -- I had to put it down and come back to it later when I was in the right mood, and then I saw that it had an undeniable charm, once I set my urban American grumpiness aside and just let Schutz be Schutz. If you think an album with song titles like "Tousled Kitten Samba" might be for you, then this is certainly worth checking out! (For more info, check out his website at: www.johanchristherschutz.net)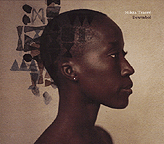 Rokia Traore "Bowmboi" (Nonesuch/Tama, 2004)



Vocal music from Mali, with a deft, streamlined melodic accompaniment. While Traore's previous album Wanita had somewhat of a modernist gloss, this set seems more streamlined, accenting her voice and keeping the songs simple and more traditional sounding. It's a pretty low-key set, but consistently engaging. Fans of African pop should enjoy this smooth, assured album. It's not dazzling or incandescent, but it is pretty nice.

Warsaw Village Band "People's Spring" (World Village/Jaro, 2004)



Woah. This is a real ear-bender of a world music record... The parochial-sounding band name belies the expansive, innovative approach these young Polish musicians take to the often-dour Eastern European traditions. Like the experimentally inclined Scandanavian bands of the Northside label, these Eastern Bloc avantniks push folk themes to outlandish heights, taking their cues from psychedelic folkies such as the Incredible String Band, rather than from Grandpa's polka-playing buddies. The featured instruments are an antique Polish fiddle called the suka (which gets a lot of echo thrown on it...) an omnipresent but often subdued dulcimer, and an insistent, keening vocal chorus... It's a striking sound, and a very nice change of pace from the standard-issue mania of many Eastern European releases. Worth checking out...!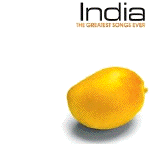 Various Artists "INDIA: THE GREATEST SONGS EVER" (Time-Life/Petrol, 2004)


Despite numerous aesthetic strikes against it -- the obvious lowest common demoninator approach (i.e. an 11-song collection that promises the "greatest songs ever!" from a civilization that's thousands of years old; generic artwork that invites speculation that this series was designed to be sold at the Pottery Barn and Starbucks; a perky little sticker that informs us there are also Indian food recipes inside and, when you open the disc, brief liner notes from some guy who wrote a book about easy listening music...) -- this album actually delivers pretty well on the musical end. It's all modern, world-beat-y, electronicalicious stuff... The closest it comes to classical music is a track by Sufi qawwali singer Nusrat Fateh Ali Khan (and hey, waitaminute... isn't he actually from Pakistan?) and a couple of songs by Bollywood singer Lata Mangeshkar (not classical, but old guard, I suppose...) But the notable aspect is that the music is all pretty good, well-chosen and accessible to American ears... Swirly, moody, melodic stuff, with just enough of an exotic sound to pique the curiousity of newcomers, or to make crabby old farts like me happy as well. Surprisingly good.

Various Artists "RITMO AFRO-CUBANO" (Fantasy, 2004)


Jazz and soul-jazz meet heavy Cuban rhythms in this fine, well-selected collection, drawn from the vaults of the Fantasy, Milestone, Pablo, Prestige, Riverside and Tru-Sound labels. The lineup includes brand-name biggies such as Ray Baretto, Dizzy Gillespie, Chico O'Farrill, Joe Loco, Manny Oquendo, Pucho & His Latin Soul Brothers, Cal Tjader, et al, along with less well-known artists like Montego Joe, Andres Hernandez, Alfredito Valdes and Benny Velarde... The music is uniformly slam-bang and satisfying -- this disc may not be revolutionary or unique, but it is a real earth-shaker, packed with sizzling examples of the best in latin jazz. Recommended!

Various Artists "WORLD 2004" (Wrasse, 2004)


A generous 2-CD overview of new "world music" material from across the globe, compiled by syndicated public radio DJ Charlie Gillett... It's a bit more on the aggressive and electro-flavored side than I prefer (but not entirely so), but still a nice cross-sampling of what's going on these days... Features many bands you might have already heard of -- Khaled, Lo'Jo, Tinariwen, etc. -- but numerous others that are farther off the beaten path. Many of these artists (and Gillett as well?) seem to be trying a little too hard to boggle and wow our minds with "trippy" sounds and multi-culti musical mish-moshes, but the set's still worth checking out; chances are you'll find a few new artists you'll get all excited by...
---



World Music Index
Other Recent Reviews


---