<! MP3 03/06/09; 09/15/10 > <! pix 03/06/09 -- update Brazil after BR conversion; 09/15/10 > <! archived 00/00/00 > <! icons 02/21/11 > <! *>
---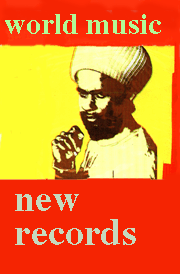 Welcome to my "New World Music" page, which highlights new(ish) African, Asian, Latin American and Celtic records, and "miscellaneous" records that I had the good fortune to listen to in April, 2006... Reviews include: Marcos Amorim, Ancient Future, Gotan Project, Charles Lloyd/Zakir Hussain/Eric Harland, Boban Markovic Orkestar, Tony Mola, Jovino Santos Neto, Novos Baianos, Steve Riley & The Mamou Playboys, Sara Tavares, Le Trio Joubran, Alceu Valenca, Marcos Valle, Various Artists: "PUTUMAYO PRESENTS TURKISH GROOVE"
This page is added to as new records come in... If you want more to read more reviews, many others are archived nearby, and there are separate sections for various kinds of world music that you might like exploring as well.
---
Recommended Records: April, 2006 | Review Archives
---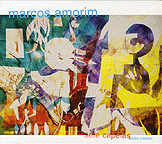 Marcos Amorim "Sete Capelas" (Adventure Music, 2006)



As a rule, I'm not a big fan of modern soft jazz, but this is quite a lovely record. Brazilian guitarist Marcos Amorim is consistently inventive and engaging on this pretty-sounding, melodically based album, crafting mellow space-out music that never lapses into pure gooeyness or by-the-numbers smooth jazz conventions. Only toward the end of the disc do a few songs get too gooey for me, but on the whole this was a very nice record to have on... Mainstream jazz fans, New Agers and new acoustic listeners will all find something to love about this album; possibly neo-folkies will as well. Worth checking out!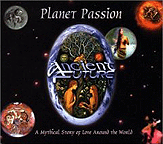 Ancient Future "Planet Passion" (Self-Released, 2002)



Okay, this totally qualifies as "guilty pleasure" territory for me... I mean, as a card-carrying, uber-hipster music-snob (or at least, someone who knows a bunch of people like that..) I'm supposed to turn up my nose at anything that qualifies as "world fusion..." Well, here's the deal with Ancient Future, they not only fit into the "world fusion" genre, they actually came up with the term, a couple of decades back. And they're really good at it. This disc does have moments that are too goopy for me, but it also has some truly gorgeous songs, particularly the East Asian-flavored tunes and the vocal numbers featuring Kazakh-born singer Irina Mikhailova, who has a lovely voice, well-suited to this loose, fluid style. Sorry, my music-snobby friends: sometimes super-mellow stuff is kinda nice. (Note, this isn't a new record, but it's their most recent release and the band just sent me a copy, so I figured I might as well give 'em a shout-out. You can also check out their website at: www.ancient-future.com )
Gotan Project "Lunatico" (XL, 2006)



A very cool, very mellow record, tailor-made for airplay in tattoo-packed cafe's and super-hip bookstores. This French-Argentine ensemble seamlessly fuses modern electro/triphoppish with the dark, brooding elegance of raw, unvarished tango, bringing Astor Piazolla's modernist vibe into a new millennium. The uncompromised wheezing of the Argentine bandoneon (or mega-accordion) laces through the, dubby, multi-textured soundscapes... This was one fo those much-welcome records that I had a hard time getting ot of my stereo once I put it in, I just wanted to hear it again and again. Chances are you might have the same response... Recommended!

Charles Lloyd/Zakir Hussain/Eric Harland "Sangam" (ECM, 2006)



Jazz saxophonist Charles Lloyd is a hard-edged player who has delved into "world" music before; percussionist Zakir Hussain is a master of Indian classical music who has collaborated with countless "Western" musicians on crossover projects of the highest order. This is a solid live set in which hard jazz and Asian modes are given equal due, mixing and asserting themselves in turns. The performances have an organic feel to them -- it's not a simple mash-up, but rather a lively concert by three musicians enjoying high-level collaboration and exploration. For me, it often gets "too jazz," but I can hear the Indian influences as well, and they come through in a pure, authentic -- albeit new and challenging -- form. Worth checking out, particularly if you are a jazz fan who tilts towards world-jazz fusions. It's amazing that this 2004 concert performance was actually the first time they'd played live together -- it has the feel of a much more seasoned, well-traveled partnership. Very impressive.

Boban Markovic Orkestar "The Promise" (Piranha, 2006)



Among the leading lights of the Eastern European brass band revival, Boban Markovic and his son Marko Markovic lead a stunningly agile, compact band, showing continued power and ingenuity in this lively new recording. The most dazzling number on here is the album's opener, "Latino," a jaw-dropping Markovic original in which the multi-layered, funky rhythm cannily approximates the skitter-skee of drum'n'bassish electronica, an impressive musical synthesis that demonstrates hitherto unimagined possibilities in Balkan beats... That this music is hand-played and not computer-generated is impressive in and of itself, but the musical cross-pollinization and modernization is also breathtaking -- this is truly some of the most cutting-edge world music of the new century, leaving fans eager to find where these guys will go from here. I mean, just listen to me: I'm gushing over it, and I don't even like Slavic brass band music! (Or do I....??)

Tony Mola "Samba + Samba" (Blue Jackel, 2006)



In the 1990s, Bahia-born drummer Tony Mola was a pioneer of the Brazilian pop-samba-Caribbean fusion known as axe music -- here, he indulges in a softer style, the fluid, flowing understated acoustic samba. This time around Mola has altogether dropped the pop/rock elements of his earlier albums, presenting an elegant, mature work that harkens back to the 1970s-era pagode style... Sweet, understated samba with soft, compelling, bossa-influenced vocals, courtesy of singer Gilson Babilonia, whose gentle croon is set to willowy mandolins and insistent, yet muted, Afro-Brazilian drumming. Very pretty and very listenable. Recommended!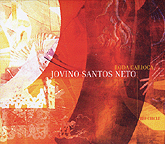 Jovino Santos Neto "Roda Carioca" (Adventure Music, 2006)



A straightforward, all-instrumental smooth jazz set, with a solid Brazilian bossamba foundation... Pianist Jovino Santos Neto leads this lively set, with a top-flight cast of Brazilian jazz players behind him. A lot of this is too jazzy for me, but there are flourishes that stand out, such as Hamilton Da Holanda's swinging, choro mandolin riffs on "Gente Boa," and Joyce's guest vocals on the song, "Nana." Brazil's leading avant jazz artist, Hermeto Pascoal, also plays on one track (playing a chewing gum wrapper and a glass of water, among other things!) Mainly this is a showcase for Santos Neto's brisk piano work, which at some times if quite lyrical and at others is a little too rat-a-tat-tat for me. Most soft jazz fans will probably like this, though... Worth checking out, if modern Braz-jazz is your bag.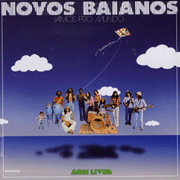 Novos Baianos "Vamos Pro Mundo" (Som Livre, 1974)


Beautiful! This disc, despite the atrocious artwork, was easily one of the best and most cohesive albums by this energetic, eclectic Brazilian tropicalia/choro/regional/rock supergroup. Guitarists Pepeu Gomes and Moraes Moreira are both in fine form, swapping licks and doubling each others melodies in both acoustic and electric settings; vocalist Baby Consuelo is at her youthful peak as well, singing with greater clarity and good cheer than I've heard on her other recordings. If you've heard other Novos Baianos albums and liked bits and pieces but found them a bit challenging, then by all means check this record out -- it's less herky-jerky and all over the map, and doesn't delve as deep into fusion-influenced material (at least not until the last few tracks of the album, and even that stuff is quite good). This is a cool record -- highly recommended! (Available through Dusty Groove mailorder.)
Steve Riley & The Mamou Playboys "Dominos" (Rounder, 2006)


Another winner from one of cajun music's leading lights... A relative young'un, bandleader Steve Riley adds a light touch to the chanky-chank, mixing in a bit of dobro and pedal steel in, introducing softened tones and harmonic richness that are often foreign to the bayou beats, singing mostly in French, but occasionally in English as well.. Recording since 1988, the Mamou Playboys helped revolutionize 20th Century cajun music without losing any of their links to its past... With their new recordings, they look poised to carry it well into the new millennium. I'm not normally much of a swamp music fan, but this album -- like all of Riley's records -- is a real treat from start to finish. This "dual-disc" includes video clips of interviews with various bandmembers and live performances of several songs. Definitely recommended!

Sara Tavares "Balance" (Times Square, 2005)



A pretty-sounding and melodically oriented album, introducing Sara Tavares, one of the new generation of artists emerging from the Cape Verde Islands, off the Portuguese coast. Tavares, who grew up in Lisbon, plays with numerous African artists, but the overall feel of the disc is closest to Portuguese fados and Cape Verdean mornas, -- primarily acoustic and ballad-oriented. Tavares -- who also plays several instruments and backs herself alone on a few tunes -- breaks free from the normally mournful sounds of these two styles, playing with an exuberance and freedom that the nostalgic, downcast mornas often lack. I didn't find myself very moved or transfixed by these songs, but they do sound nice and the more I listened, the sweeter it became. Definitely worth checking out -- folks looking for something easy and elegant will enjoy this disc a lot.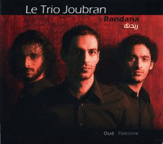 Le Trio Joubran "Randana" (Fairplay/Harmonia Mundi, 2006)



An exemplary set of Middle Eastern oud music, with three Palestinian lutists playing soft, yet urgent instrumentals... truly beautiful stuff. The Jourban brothers share a fluid musical sensibility and glide from melody to melody; it's difficult to tell one player's part from the others, as it all seems to melt together. A very listenable, lulling album... Recommended!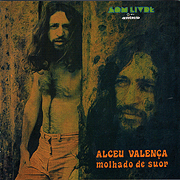 Alceu Valenca "Molhado De Suor" (Som Livre, 1974)



This is the solo debut of Brazilian rock/pop star Alceu Valenca, a native of Fortaleza, and an early champion of moderized northeastern regional music. Playing here with him are fellow northeasterners Lula Cortes and Geraldo Azevedo (with whom Valenca had recorded one earlier album)... It's kind of an avant-folk outing, with a lot of energetic, innovative, insistent acoustic guitar work, often colliding and calumphing as much as it connects aesthetically. It's an inventive, vital album, but it's a little hard to listen to, if the truth be told. Hardcore Brazilian music fans will want to check this out, as Valenca went on to become one of the most important young musicians of his era, and for those of us who like difficult music, this may be a treat in that regard as well... I'm glad it finally came out on CD and that I checked it out, but it doesn't really do much for me, on a gut level. Oh, well. (Also see my Alceu Valenca discography page...)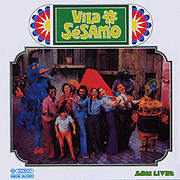 Marcos Valle/Various Artists "Vila Sesamo" (Som Livre, 1974)


Here's a rarity from the world of Brazilian pop, reissued as part of a special series on the Som Livre label... The Brazilian edition of Sesame Street featured some top talent in the musical department, with second-generation bossa star Marcos Valle commissioned to provide the Brazilian equivalent of the Moss/Oz magic. The songs are all originals, not remakes of "I Love Trash" and "Rubber Duckie," but rather compositions based on more generic themes, such as "The Alphabet" and "Imagination." To be honest, this is nowhere near as engaging as the musical masterpieces from the original CTV show, but it is an interesting sidenote to Valle's career. Waltel Branco helped with the in-studio arrangements and while the other musicians are listed as "unknown," one of the singers in the Trio Soneca sounds an awful lot like Rita Lee... (It's probably a coincidence, but who knows?) Cute, though not earthshaking. (Also see my Marcos Valle discography page...)

Various Artists "PUTUMAYO PRESENTS TURKISH GROOVE" (Putumayo, 2006)


A solid selection of contemporary Turkish dance music -- modern stuff, borne of the age of electronica -- with flowing crosscurrents of Balkan gypsy harmonies and Iberian flamenco. This album is a bit too club-sceney for me, but I can still recognize that it's good stuff. For y'all who are into world beat dance stuff, this disc will make a good addition to your library.
---



World Music Index
Other Recent Reviews


---