<! MP3 03/06/09; 09/16/10 > <! pix 03/06/09; 09/16/10 > <! archived 01/01/08 > <! *> <! icons 02/20/11 >
---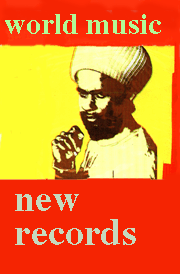 Welcome to my "New World Music" page, which highlights new(ish) African, Asian, Latin American and Celtic records, and "miscellaneous" records that I had the good fortune to listen to in Spring, 2007... Reviews include: Bole 2 Harlem, Havana Carbo, Contemporary America, Cubanismo, Roberto Fonseca, Mariza, Os Mutantes, Novos Baianos, Oojami, Spanish Harlem Orchestra, Baluji Shrivastav, Turbo Tabla, Various Artists: "Jewface," "Lagos Chop Up," "Putumayo World Party," "Tamburitza!"
This page is added to as new records come in... If you want more to read more reviews, many others are archived nearby, and there are separate sections for various kinds of world music that you might like exploring as well.
---
Recommended Records: Spring, 2007 | Review Archives
---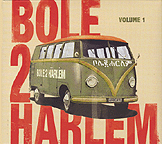 Bole 2 Harlem "Volume One" (Sounds Of The Mushroom, 2006)



Now, these people know how to party!! Modernized Ethiopian groove mixed with good, old-fashioned New York-style, hip-hoppish block-party funk... This is one of the hardest-driving, most dance-provoking, utterly satisfying crosscultural mash-ups I've heard in years, with a solid groove that sounds unlike anything I've heard before. It's original, energetic and exhiliarating, and doesn't let up from the first track to the last. Definitely worth checking out!

Havana Carbo "Through A Window, Like A Dream" (Modl Music, 2006)



Elegant, unhurried, utterly classy ballads from Cuban-American vocalist Havana Carbo... She sings in several romance languages -- French, Spanish, Italian and Portuguese -- covering classics by Augustin Lara, Ernesto Lecuona and Bola De Nieve, as well as Brazilian composers Djavan and Edu Lobo. Highlights include a vocal version of Django Reinhardt's achingly beautiful "Nuages," and a gentle duet with guitarist Romero Lubambo on Edu Lobo's "Pra Dizer Adeus." The unifying force is Carbo's warm, weary, authoritative voice -- moving beyond middle age, Carbo is an older singer, and like many ballad singers, she has aged well, bringing emotional depth and color into her work, as well as a sense that she simply does not need to rush through any of this, or worry about how her work will be received. And while she is singing in the romantic tradition of Latin America, she eschews the bombastic side of the boleros -- hushed, calmer singers such as Joao Gilberto and Ella Fitzgerald (in her softer moments) come to mind... Perhaps there could be more variety to the tempo, but taken in small doses, this is a very rich and rewarding album. Worth checking out!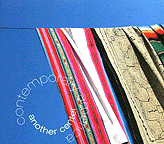 Contemporary America "Another Center" (Adventure Music, 2007)


A far-flung, highly experimental world-jazz collaboration featuring artists from seven different Latin American countries, including Argentina, Bolivia, Brazil, Chile, Columbia, Peru and Venezuela... The Brazilian faction is the strongest, with four of the artists hailing from the luso-sphere (although the vocals are mainly in Spanish...) The album's producer is pianist Benjamin Taubkin, while avantnik Ze Miguel Wisnik chimes in on the album's last track. The album is a little too noodly for me, but folks who enjoy albums from the likes of Marlui Miranda, Claudia Villela and Marta Topferova may find this pretty engaging, particularly the tunes that feature Columbia vocalist Lucia Pulido... Certainly and ambitious and challengingly diverse album.

Cubanismo "Greetings From Havana" (AIM, 2007)



Swinging, driving, unremitting Cuban son, featuring a punchy horn section led by Jesus Alemany on trumpet, backed by a tight brass quartet and rock-solid rhythm section... Cubanismo haven't recorded for several years, and they've clearly marshaled all their power for this latest effort -- great traditionally-oriented dance music with an electrifying feel, though not too blaring or jazz-oriented. If you like old-school salsa, this album will get you up and dancing before you know what hit you. Nice to hear these guys back in action!

Roberto Fonseca "Zamazu" (Enja/Justin Time, 2007)



Innovative, introspective and remarkably elastic Latin jazz from Cuban pianist Roberto Fonseca, a recent addition to the extended Buena Vista Social Club clan... Influenced by fusion artists such as Herbie Hancock and Keith Jarrett, Fonseca also has a deep affinity for old-school Cuban son, and mixes the two in a way that is fairly unique. Instead of teetering back and forth between dense, showy jazz riffs and explosive bursts of salsa (as is typical of the genre), Fonseca really weaves the various strands together in a sinuous, expressive way... I'm not normally a big mainstream or Latin jazz fan, but I found this album to be consistently engaging and persuasive, as well as quite diverse. Some cool guest performers as well -- Brazilian percussionist Carlinhos Brownjoins in on a version of Abdullah Ibrahim's "Ishmael," while Buena Vista cohort Cachaito Lopez plays bass on several tracks, and Omara Portuondo sings on a stripped-down duet, "Mil Congojas." If you're looking for new Latin jazz with heft and soul, check this album out.

Mariza "Concerto Em Lisboa" (Times Square, 2007)



A majestic, captivating performance from one of the rising stars of Portugal's fado pantheon... She is backed by gentle yet grandiose orchestrations from the Sinfonietta De Lisboa, under the direction of Brazilian cellist Jaques Morelenbaum. He bestows his trademark blend of elegance and gravitas to these sad ballads. Although the music is ripe and redolent sentiment, it is appropriate to the style, and the arrangements are tasteful and subtle, perfectly evocative of the saudade, or nostalgic sadness, of the genre, and shadows Mariza's vocals with his own sorrowful melodies. From the opening note to the album's close, Mariza radiates confidence and utter commend of her audience -- she clearly emerges here as a performer worthy of adoration on the world stage, joining singers such as Maria Bethania and Cesaria Evora as champions of lusophone artsongs. An accompanying second disc, containing a DVD documentary, captures her charm, and explains the history and nuances of fado balladry, including a lengthy exploration of the style's Brazilian roots and its social and political significance during Portugual's decades-long authoritarian dictatorship. A welcome addition to an already powerful release. Recommended!

Os Mutantes "A Arte De Os Mutantes" (Universal-Brasil, 2006)


An outstanding introduction to one of the key bands in Brazil's psychedelic rock revolution. While I must confess that I've kind of been "over" Os Mutantes for some time now, I still had to pick this disc up because of its unique concept: this 20-song collection doesn't just draw from the various Mutantes albums, but also from some of their best-known collaborations from other '60s rock pioneers, including the co-founders of the tropicalia scene. There's the fabled live 1968 performance of Caetano Veloso's "E Prohibido Prohibir," in which Brazilian bossa purists tried to boo the electric rockers off the festival stage, along with two other Veloso recordings from the same year. Gilberto Gil's irresistibly giddy psychedelic pop tunes, "Domingo No Parque" and "Procissao," also from '68, and a track off arranger Rogerio Duprat's solo album from the same year, as well as one track recorded with jovem guarda pop singer Ronnie Von. Mutantes's own catalog is also liberally represented, with wild songs from their earliest albums, alongside a respectful sampling of their later prog/hard rock records. This set cleverly and generously sorts through the band's tangled past, and presents a fresh look at their contributions to the seismic shifts in Brazilian culture... Great introduction to their work, and also a dandy item for folks who already have been on the bandwagon for a while. Snap it up!

Novos Baianos "E Ferro Na Boneca" (RGE, 1970)


Super-cool Brazilian reissue. This is a delicious slice of pure, unfettered, acid-rock tropicalia kitsch from Brazil's first burst of psychedelic rock... Novos Baianos, joining the talents of guitarists Moareas Moreira, Pepeu Gomes, Luiz Galvao and singer Baby Consuelo, were one of the liveliest and most joyful Brazilian rock bands of the early 1970s. Here, they were clearly taking their cues from tropicalia founders Caetano Veloso, Os Mutantes and Gal Costa, replicating the goofy cultural boundary-hopping of tunes such as Veloso's "Superbacana" and "Baby." But where in retrospect those gleeful songs look like juvenelia or ephemera in Veloso's long career, this record, which takes the garage-rock/samba mix and extends it to an album's length, is just a good old psychedelic pop album, fun from start to finish. The deep, sometimes dense exploration of regional Brazilian styles that later came to define Novos Baianos is almost entirely absent here... So if you're looking for cool old hippie music from foreign climes, then this disc is a must-have. Check it out! (Also see my Novos Baianos discography...)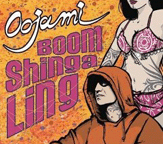 Oojami "Boom Shinga Ling" (CIA, 2006)



Fun, brainlessly upbeat modern bhangra from this lively UK ensemble. I can't make up my mind whether I find the English-language lyrics distractingly banal, or a way to make the culture even more accessible. But I do known that every track on here kicks in with a killer melodic hook, and even if the hip-hop elements aren't to my liking, the rest of the mix is a lot of fun. Pretty enjoyable, even if it ain't immortal art.

Baluji Shrivastav "Shadow Of The Lotus: Classical Indian Ragas" (Arc Music, 1994/2007)


A nice solid set of Indian classical music, performed by multi-instrumentalist Baluji Shrivastav, who has done quite a bit of world-fusion material, notably with the group called Re-Orient. Shrivastav plays sitar, pakhavaj, surbahar, dilruba, and tablas. On this album, which first came out in 1994, he's pretty mellow and reserved, digging into the meditative, droning groove of formal, traditional Hindustani ragas. Nice stuff!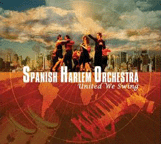 Spanish Harlem Orchestra "United We Swing" (Six Degrees, 2007)



A rock-solid, high-energy Latin dance album, in the classic nuyorican salsa style. This band plays it muy caliente, with a driving tempo and punchy brass arrangements and razor-sharp rhythms... Formed only a few years ago, Spanish Harlem Orchestra is the brainchild of pianist/arranger Oscar Hernandez, best known for his long association with salsa superstar Ruben Blades. It's not surprising there's a great stylistic similarity, since Hernandez has done so much to help shape Blades's sound, although this ensemble sticks closer to the pure salsa style, and hardly dips into jazz stylings at all. If you are looking for a dance album with a more traditional, driving feel, this disc is hard to beat. Great vocals by Ray De La Paz, too, recalling the glory years of Ismael Miranda and the other legendary salsa singers of the 1970s... World-beat pop guru Paul Simon also makes an appearance on the album's closer, "Late In The Evening/Tarde En La Noche," a bilingual revamp of one of his fine, old urban ballads. All in all, a very strong album, definitely worth checking out!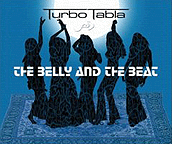 Turbo Tabla "The Belly And The Beat" (CIA, 2006)



American-based percussionist Karim Nagi is the soul of this album (with plenty of help from a bunch of folks...) This is a strong set of modernized, electrified belly-dance music; it starts out strong although towards the middle of the disc it shifts into a more traditional, percussion-oriented mode, and becomes a bit more static and less expansive. But if you're into the belly-dancing scene, you'll probably really dig this disc.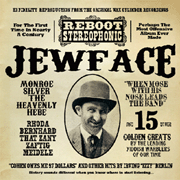 Various Artists "JEWFACE" (Reboot Stereophonic, 2007)


An impressive cultural artifact that collects sixteen Jewish-themed "ethnic" comedy-novelty numbers from the early years of the 20th Century, songs culled from the tail end of the great migration of European Jews into the United States. These were vaudeville numbers that played on ethnic stereotypes of Jewish avarice, timidity and quarrelsomeness, themes that will doubtless be offensive (or at least surprising) to some modern listeners, but which will also be taken by many others in the spirit they were originally intended, as playful self-parody. Unlike the more vicious humor of the "blackface" minstrel shows, where white performers imposed derogatory stereotypes onto African-Americans, these songs were actually written by Jewish artists for Jewish audiences, and were both good-humored, laugh-at-yourself larks and brisk portraits of a poor but upwardly mobile immigrant group that was radiply assimilating into American society. They also mirrored similar recordings aimed at other audiences -- novelty songs about Irish and Italian immigrants, for example -- ribald, ethnic-themed comedy skits that were one of the early staples of the American recording industry. The dark side has to be acknowedged: these jokes wouldn't have been funny if they didn't reflect genuine antisemitic images that were already in the popular culture, but in much the same way that derisive words like "black" and "chicano" were reclaimed in the 1960s, Jewish artists of an earlier generation wrested away the power these stereotypes had, and made the material their own. Some of it may be rough going for modern listeners, both because of the shrill, exaggerated nasality of the singers and because of the choppy state of some of these antique acoustic recordings. The historical value is immense, though, and a lot of it is simply hilarious -- when faced by a song such as "Pittsburgh, PA," which lists all the other "boigs" one might encounter in America (the Goldboigs, the Steinboigs, etc.) what else can you do but laugh? (By the way, if you enjoy this collection, you might also want to browse the Cylinder Digitization Project an online resouce at UC Santa Barbara that makes thousands of old Edison recordings available for download, including numerous novelty numbers of similar vintage... Pretty cool website, and their archive was used to assemble this album...)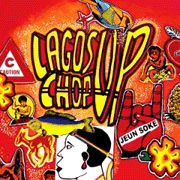 Various Artists "LAGOS CHOP UP" (Honest Jon's Records, 2005)


Wow. This album is the result of some first-class crate-digging undertaken by Damon Albarn, of the rock band Blur, during a working trip to Nigeria... The guy really knows how to find cool records: this crazy, kaleidoscopic disc blows almost every other Afro-Beat collection I've heard out of the water, mainly because the songs all sound so distinctive and unique. These aren't big-name artists or first-tier ensembles, and because they're more little guys on the margins, they take more chances and play things in ways that are surprising and new. The crazy, rhythmic keyboard attack on Dr. Victor Olaiyo's "Omelebele," for example, is the kind of thing Bernie Worrell might have pulled out on a particularly wild night in the '70s. Clattersome, shocking percussion fills the album, guitars with weird tunings, bursts of super-funky grooves and odd rhythmic changes are the hallmarks of this disc, one of the most exciting and vibrant records I've come across in recent years. Yeah, I know it came out a while ago, but I gotta tell ya, in case you don't already know, that this record is dynamite. Check it out.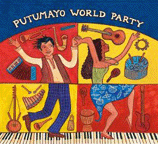 Various Artists "PUTUMAYO WORLD PARTY" (Putumayo, 2007)


An easygoing, feelgood world music dance disc that harkens back to the early days of the Putumayo label, when it was routinely disparaged as bringing about the WalMart-ization of world music. This is a bright, perky set of smooth, well-produced world-pop: Euro-salsa, Afro-gypsy hip-hop, streamlined Louisiana zydeco tunes, latter-day roots reggae, all of it situated in a decidedly middle-of-the-road mode... I got no problem with it, though there wasn't anything here that gave me shivers or made my hair stand on end... One thing that is surprising about this set, though, is the label's willingness to dig back into the past, notably the inclusion of a mid-1970s track by African smooth-groovers Osibisa, and a song from the late zydeco star Beau Jocque, who passed away in 1999. If Putumayo wants to get into mining deeper in the past, I'm all for it! Anyway, folks looking for something mellow yet xeno-friendly might wanna check this out, though fans of grittier, rootsier international music may want to take a pass. It really depends on your temperament, I guess.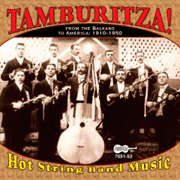 Various Artists "TAMBURITZA! HOT STRING BAND MUSIC FROM THE BALKANS TO AMERICA: 1910-1950" (Arhoolie, 2007)



Fun stuff! A lively overview of Balkan-American tamburitza music, recorded in the first half of the 20th Century... Basically, it's that kooky lute music we may think of as quintessentially "Russian," although in this case the artists are mainly of Croatian and Serbian ancestry. Although many of the key artists and stars of the genre are represented, this stunning 2-CD set isn't intended as a definitive overview of the style... Rather, it's tamburitza music as filtered through the restlessly eclectic ears of Arhoolie label owner Chris Strachwitz, whose love of raw, rollicking, rootsy music trumps the need to present a particular canon of songs. Strachwitz is interested in one thing: making a record that's really fun to listen to... and he succeeds wildly on this one! The rambling, wild abandon of some of these recordings, and the antiquity that comes through in the sound quality (particularly in the older, pre-electric recordings) bears an uncanny and unexpected similarlity to old-timey and early bluegrass music... On the later tracks, a crossfertilzation with mainstream American pop culture produces such gems as Dave Zupkovich's "Hey Tambu-Re-Bop," a kooky Balkan vamp on Lionel Hampton's big hit. There are some other jazz/blues crossovers included as well, all part of a lively immigrant culture that comes through loud and clear. This is an amazing historical resource, and lots of fun for folks coming from the culture, as well as those of us looking (or listening) in!
---



World Music Index
Other Recent Reviews


---