<! MP3 03/06/09; 09/16/10 > <! pix 02/24/09; 09/16/10 > <! archived 01/01/08 > <! *> <! icons 02/20/11 >
---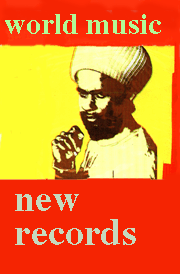 Welcome to my "New World Music" page, which highlights new(ish) African, Asian, Latin American and Celtic records, and "miscellaneous" records that I had the good fortune to listen to in Fall, 2007... This page is added to as new records come in... If you want more to read more reviews, many others are archived nearby, and there are separate sections for various kinds of world music that you might like exploring as well.
---
Recommended Records: Fall, 2007
Review Archives | World Music Main | Contact
---

17 Hippies "Heimlich" (Hipster, 2007)



Alternately kooky and beautiful, this far-flung German ensemble combines some of the insistent outsider experimentalism of The Ex, et al with the mellow amorphous poppiness of Polyphonic Spree, as well as the workmanlike, joyful competence of Paris Combo... Yes, it's the sound of a large number of amiable, unhurried musicians for whom the act of making music -- and having fun while you do it -- is an end in and of itself. Their love of collaboration and exploration will come through loud and clear to receptive listeners: if you're into Balkan brass bands, French accordion music, Jewish klezmer and gypsy swing or even ethereal indie ballads, you'll probably enjoy this album a lot. The Hippies flow from style to style, with each strand woven together in a surprisingly cohesive whole. Recommended!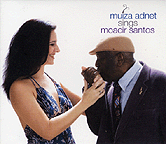 Muiza Adnet "...Sings Moacir Santos" (Adventure Music, 2007)


(Produced by Mario Adnet)
A mellow, majestic set honoring Brazilian composer and jazz legend Moacir Santos... As a tribute, this album is quite effective: it's packed with memorable, recognizable melodies from the many songs that Santos has composed, including collaborations with MPB luminaries such as Vinicius De Moraes and Gilberto Gil. It's also a good showcase for Ms. Adnet as a vocalist -- she's not dazzling or powerful, but she's fully inside of the songs she sings, performing them with conviction and care, and the emotional connection is nice to hear. Plus, she's got a bunch of heavyweight guests on here, including Milton Nascimento and Ivan Lins, saxophonist Dirceu Leitte, guitarist Ricardo Silveira and a host of other contemporary Brazilian jazz players... And, of course, there's Moacir Santos himself, singing on a couple of tunes. This is definitely on the softer, smooth jazz side of things, but it will also appeal to folks who don't like that style, and are more into straight bossa nova. Worth checking out!

Gaby Lita Bembo & Orchestre Stukas "Kita Mata ABC" (RetroAfric, 2005)



An interesting set of late '70s/early '80s recordings featuring Zairean vocalist Gaby Lita Bembo and the Orchestre Stukas... This album gathers several singles, some of which were recorded with lamentably lo-fi production, but all of which have stunning musicianship, particularly the guitar work of Samunga Tediangaye (who I believe is on at least some of these tracks). These 1974-83 recordings were wildly influential, and gve some impression of the legendary dynamism of the band, and of Bembo in particular. Worth checking out, although the sound quality may be disappointing.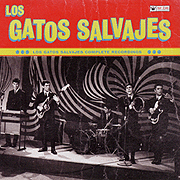 Los Gatos Salvajes "Complete Recordings" (No Fun, 2007)


A groovy collection of garage-pop recordings by one of Argentina's pioneering rock bands, Los Gatos Salvajes, formed in the city of Rosario by singer-songwriter Litto Nebbia and keyboardist Ciro Fogliatta. This disc is a great historical resource, as well as a fun record to rock out to... The CD version kicks off with the band's lone LP, a twelve-song album from 1965 and also includes tracks from a handful of singles, lo-fi live performances and hotel room demos. It's fun stuff: there's the obvious Rolling Stones influence (including a couple of songs cribbed from their repertoire) but for a band called the Wild Cats, there's also a surprisingly strong, pleasant likeness to the more harmonic Hollies, particularly in Nebbia's light, winsome vocals. At times they are predictably stiff -- as many non-American/non-British, international cover bands were -- but on many songs they really tear it up, particularly on the many Nebbia originals. Standout tracks include the instrumental "Ruta A Go-Go" (a Fogliatta original) and a cover of the Everly Brothers' "Since You Broke My Heart." The Gatos pay homage to Uruguay's Los Shakers, with a cover of their version of "Ticket To Ride." The real gems are the original songs, particularly since the Gatos sang almost exclusively in their native language (always a plus in my book) and wrote so much of their own material. The band didn't do that well, though -- the original album sold poorly (less than 1000 copies) and in 1967 the original group broke up, then reformed as Los Gatos under the leadership of Fogliatta and Nebbia, who led the new band until 1970. Here they are in their full youthful glory -- innocent, adorable, and totally rocking! (Available through the No Fun Records website.)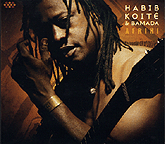 Habib Koite "Afriki" (Cumbancha, 2007)



Another absolutely gorgeous acoustic album from Malian pop star Habib Koite and his ever-fluid band, Bamada. Koite's signature sound hasn't changed much over the years, and that is very good news for fans both new and old. Dancing, delicate balafon riffs interlace with graceful guitars as Koite's gentle, insistent vocals are buoyed by a keening, floating African chorus... This is a lovely record to listen to when you want to instill a bit of peace and quiet in your life... It's not sappy or saccharine or vacuous, just quite beautiful and calm, a rich, solid musical offering that will reward listeners for years to come. Recommended!
Mike Marshall, Darol Anger & Vasen "Mike Marshall & Darol Anger With Vasen" (Adventure Music, 2007)


Two newgrass elders, violinist Darol Anger and mando/multi-instrumentalist Mike Marshall, tune in and turn on with the group Vasen, one of the most dynamic bands in the modern Swedish acoustic music scene. Various 'grassers have flirted with Celtic and other European forms, so Anger and Marshall already have an affinity for the style... The debt apparently runs both ways, as the Vasen trio leaps in full throttle along with the Northern California superpickers... It's a very energetic, hurly-burly set, dominated by note-heavy improvisational flights. The repertoire is split pretty evenly between originals and traditional material brought to the table by Marshall, and originals and traditional material from Vasen's guitarist, Roger Tallroth, and violinist Mikael Marin. Acoustic music fans who like their improvs fast and furious will get a kick out of this one, and folks who are new to the Swedish sound will probably be inspired to check out other, older Vasen albums as well.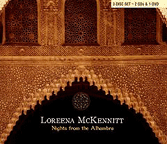 Loreena McKennitt "Nights From The Alhambra" (Verve/Quinlan Road, 2007)


Celtic, Iberian, Arabic, New Age and popular music blend in this lavish, lush concert, showcasing McKennitt's trademark mix of styles as performed at a September, 2006 concert in Spain... Fans will be thrilled at the double-disc album and accompanying DVD that mixes songs from her recent album, An Ancient Muse along with favorite songs from her decades-long career. The video portion was originally broadcast as a PBS television special; this commercial release includes that version as well as an edited cut which omits much of McKennitt's stage patter, and focusses more exclusively on the music. A fine chance for fans to see their diva in action, with her theatricality and gravitas buoyed by a large ensemble of musicians from across the globe.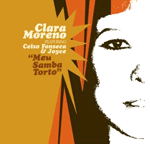 Clara Moreno "Meu Samba Torto" (Atracao/Compass, 2007)



A sweet set of classic-sounding, acoustic-based Brazilian bossa nova, with delicate but confident vocals by Clara Moreno and gorgeous accompaniment by singer-guitarist Celso Fonseca. It's a somewhat staid set -- Moreno follows a conservative, classicist's path, dipping back into the treasure trove of 1930s samba-cancao for gems by Ary Barroso, Joao de Barro, Lupicino Rodrigues, bossa-era ballads and sambas by Elton Medeiros, Durival Ferreira and Jorge Ben, along with three modern compositions from Fonseca and one tune from her mother, MPB-jazz legend, Joyce. Joyce plays guitar on two tracks (including one new song she wrote especially for this record) while and her partner, Tutty Moreno (Clara's step-father), plays drums and percussion on about half the album. Add bassist/producer Rodolfo Stroeter, into the mix, and you've got a fine album crafted by some of Brazil's best players. The album is very sweet, and while Moreno doesn't take many risks, she does make beautiful music, particularly when harmonizing with Fonseca (who is still a dead ringer for the legendary Caetano Veloso...) Definitely worth checking out.
Shahram Nazeri & Hafez Nazeri "The Passion Of Rumi" (Quarter Tone, 2007)



The mystical-romantic lyrics of the great Sufi poet, Rumi, put to music by the father-son duo of Shahram and Hafez Nazeri... Folks who like recent albums by the Persian classical ensemble Ghazal will appreciate this as well... Very stately and richly realized.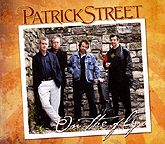 Patrick Street "On The Fly" (Loftus, 2007)



Another solid outing from this all-star Irish trad band. Kevin Burke, John Carty, Ged Foley and Andy Irvine simply soar on their instrumental numbers, while Irvine treats us to several of his patented brand of odd, arch historical ballads. The prize song here is "Sergeant Small," a bitter number from Australia about a migrant worker who is arrested for riding the rails, and his burning hatred for the policeman who brought him in -- strongly reminiscent of all those songs Irvine sings about nasty, black-hearted military men. He sings another couple of tunes of equal calibre, while Foley growls his way through "The Galway Shawl..." As I mentioned, the instrumental work is superb, some of the finest, liveliest, most soulful Celtic tunes you'll hear any time this year. If you like good, solid, real-deal Celtic trad, this record was made for you. (Available through the label, Loftus Music )

Puerto Plata "Mujer De Cabaret" (Iaso, 2007)



Lively acoustic music from Jose Manuel Cobles (aka Puerto Plata), an 83-year old guitarist and singer from the Dominican Republic whose style predates bachata and merengue music of the 1950s and '60s. This album glows with Plata's charisma and self-assurance -- he's an old-timer of the Buena Vista brand, steeped in the past, but vibrantly alive in the present. Fans of Latin American boleros, and of rural acoustic genres such as the Cuban guajira and Puerto Rican jibaro music will want to check this out.

Henri Salvador "Reverence" (V2/Circular Moves, 2007)



Elegant, modern-day French chanson pop vocals from onetime swing-cabaret guitarist Henri Salvador, who was a firebrand in his youth, but who is much mellower nowadays. Salvador recorded most of the tracks in Brazil, and from the cover art -- which features hints of Brazilian bossa nova -- and the track listings, which include duets with Brazilian superstars Caetano Veloso and Gilberto Gil, I had expected a full-on Braziliophilic lovefest. In some regards, this is true: most of the songs are arranged and led by cellist Jacques Morelenbaum, who was Veloso's bandleader for much of the 1990s, and he leads a large group of musicians in Rio, including pianist Joao Donato, who rides elegantly atop the lush orchestrations. The sound, however is mostly straightforward chanson set, with echos of French crooners such as Charles Azvanour and Serge Reggiani, with some brassy big band interludes that seem a bit Tony Bennett-ish. Both Gil and Veloso acquit themselves nicely, neither being a stranger to classy, croony vocals. The first couple of times I auditioned this disc, I was a bit put off -- it seemed a little overripe -- but it's growing on me. Definitely worth checking out.

Elza Soares "Beba-Me" (Biscoito Fino, 2007)



(Produced by Jose Miguel Wisnik)
Brazilian soul-jazz singer Elza Soares has a new live album out... I haven't heard it, but she's got her fans, and I figured they'd want to know... It's the companion disc to a concert DVD by the same name, also out on the Biscoito Fino label.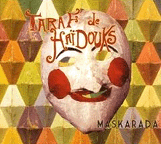 Taraf De Haidouks "Maskarada" (Crammed Disc, 2007)



Another insanely diverse collection from this multifacted Roumanian ensemble... Taraful Haiducilor (aka Taraf De Haidouks, the "band of outlaws") are a Roma, or gypsy, group, and as such have always drawn on a deep historical wellspring for their music... Here, they diverge from a popular-folkloric approach to a more academic perspective, or rather, they take a whirl at how the European academy viewed Roma music, taking "folk" pieces by classical composers such as Isaac Albeniz, Bela Bartok, Aram Katchaturian and others, and prizing out the traditional elements that the classical world had sought to formalize generations ago. Some of the pieces are delightfully imaginative or just plain kitschy -- I love the Far Eastern/Chinese elements of Albert Ketelbey's "In A Persian Market" -- and some are profound cross-cultural syntheses. The Haidouks add a few tunes of their own, along with dazzling musicianship -- fans of traditional Eastern European music will definitely want to check this one out!

Athena Tergis "A Letter Home" (Compass, 2007)



(Produced by John Doyle)
A gorgeous set of fiddle-based, Celtic instrumentals from a former San Francisco native and child prodigy who has worked in Sharon Shannon's band and played with some of the finest players in the trad scene today. Tergis has a light touch; although she studied with Altan's Mairead Ni Mhaonaigh (who can be a real demon on the bow) and Cape Breton's Buddy MacMaster, she doesn't saw as deep into the notes as they do, preferring instead to skip on top of the melodies and give everything a sprightly twist. Her tone is well-matched by the warm, playful production style of guitarist John Doyle (from the band Solas) as well as her cohorts on this recording. Sharon Shannon is a guest, and Tergis is generous in sharing the spotlight; she's also buoyed by fellow fiddler Liz Carroll, who provides both lovely counterpoint and doubling throughout... If you've often found yourself put off by the sometimes-shrill or monotonous aspects of trad instrumentals, this is the kind of album that can win you back. Consistently lively and engaging, it's a delight from finish to start... Recommended!

Linda Thompson "Versatile Heart" (Rounder, 2007)


(Produced by Edward Haber & Teddy Thompson)
Bookended by two gentle instrumentals, this album showcases British folk doyenne Linda Thompson's continued mastery of her craft. Although this acoustic-based album isn't as giddily joyful or as puckish as her previous release, Fashionably Late, it is packed with finely crafted gems such as the sardonic title track, one of several new songs cowritten with her son, Teddy Thompson, and a number of intelligently wrought folksongs. The overall mood here is rather doleful and resigned, a reflection, perhaps, of the times, as Thompson references the Iraq war a few times, including in the moving Tom Waits-Kathleen Brennan tune, "Day After Tomorrow." Thompson makes the most of her connections in English trad scene, bringing in accordionist John Kirkpatrick, as well as Eliza Carthy and the Waterson clan (on "Bob Copper And Me," a lovely tribute to one of England's finest singers of traditional song). On a few tunes she also hosts Irish guitarist John Doyle, who is fast becoming his generation's version of bassist Danny Thompson, a seemingly ubiquitous player whose fluid style and solid reliability adds magic to every track he graces. This is another strong effort from Ms. Thompson, more on the traditional side this time around, but still a real treat.

Yamato Ensemble "Japanese Music By Michio Miyagi, Vol. 1" (Arc Music, 2007)



Elegant, stately Japanese instrumental music from early 20th Century composer Michio Miyagi, one of the best acknowledged masters of the koto, or Japanese zither. The ensemble plays traditional instruments such as the koto, shakuhachi flute, and the 17-string "bass koto" or jushichigen, which was invented by Miyagi himself, as well as a smidge of (rather shrill) vocals. The music sounds stereotypically "Japanese," that is, it is exactly what you would expect to hear in, say, a Hollywood film from the 1950s or '60s when a Japanese theme was introduced. This familiarity doesn't diminish it's beauty or power, though: these recordings are lovely and meditative, starting off with a perfect rendition of Migayi's most famous piece, "Haru No Imi," and working through a half dozen of his other numerous works. Two of the tracks are very long -- thirteen and sixteen minutes each -- contributing to the unhurried, lavish feel of the album. If you want some rich, contemplative music, this disc is a fine, rewarding set. Recommended.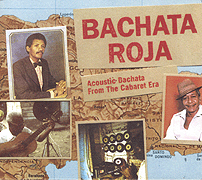 Various Artists "BACHATA ROJA: ACOUSTIC BACHATA FROM THE CABARET ERA" (Iaso, 2007)



A gorgeous, stunning album -- easily my favorite record of 2007, in any style of music. This is an utterly enthralling collection of early acoustic bachata music, a guitar-based style that grew up alongside the merengue, in the Dominican Republic. In its electrified modern form, bachata has become a very popular style in the last couple of decades, but this collection focusses on the style's early roots, dating back to the early 1960s when it was looked down on by the Dominican mainstream, and features outstanding work by many artists whose work is quite hard to find. Like Cuban guajira and Puerto Rican jibaro music, this mixes the lush romanticism of the bolero with lively, dazzling acoustic guitar work, hypnotically dense rhythms and irresistible melodies: if anything, these recordings are even catchier than the jibaro and guajira music I've loved for decades. This is the kind of record that if you played it at a party, or heard it on the radio, people would stop in their tracks and ask what was on; if you listened to these songs on the way to work, the melodies would stay in your head all day long. This is particularly true of several standout tracks, such as Julio Angel's "El Salon," "Estoy Aqui Pero No Soy Yo" by Juan Bautista and Rafael Encarnacion's sublime "Muero Contigo," which starts the album off. This is music that echoes deeply with its own purity and warmth, made in an era before global fame came to regional musicians, and from a provincial subculture inside an already remote locale: this is art that was made directly for the people who loved it most, and it is electrically charged with that intimate joyfulness and passion. Each song leaps out at the listener, and I can't wait to hear more. Highly recommended!

Various Artists "LA BELLE EPOQUE -- EMI'S FRENCH GIRLS: 1965-1968" (EMI-Zonophone, 2007)


Here's a rare bird: an above-board compilation of French girl-groupish 1960s ye-ye pop-rock... While this collection does sport much cleaner, brighter sound quality than many of the bootlegs that've been coming out over the last decade or so (see below), it's also kinda tame by comparison. Includes singers such as Liz Brady, Alice Dona, Anne Kern and Les Roche Martin... While there are a few outlandish arrangements, these vintage singles tend to be more pop-vocals oriented than rock'n'roll, more about co-optation than innovation. Still, there are some fun tracks, notably Christine Laume's giddy, teenyboppin' "Agathe Ou Christine" and "Te Te Moques De Moi," by Ria Bartok. A lot of this is more in the Connie Stevens/Petula Clark vein, but then again, for fans of that stripe of girly pop, this might be a real gem. Nothing terrible, but if you're a rocker, this won't get your blood pumping the same way as, say the ULTRA CHICKS collections. Worth a spin!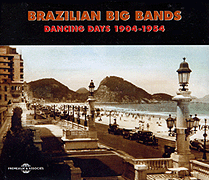 Various Artists "BRAZILIAN BIG BANDS -- DANCING DAYS: 1904-1954" (Fremeaux & Associes, 2005)


Gafieira music, the lively, big band-influenced dance jazz of the pre-bossa nova nightclubs, is one of Brazil's least well-known styles, eclipsed by the suave glamour of the bossa crowd and the various waves of rock and samba crossovers that followed. Gafieiras were dancehalls, homes to dancers and dance bands, and (in the best Brazilian tradition) many of the best bandleaders, such as Severino Araujo, Radames Gnattali and Zacharias, drew on many sources to craft their music. They played the kinetic frevo and choro styles, incorporated the muscularity and elegance of North American swing, and eventually gave in to the wave of mellower pop instrumentals and vocal music of the so-called "radio singers" era. The artists on this sturdy 2-CD set include some of the best musicians of the post-World War Two era, and their complex, lively music helped frame the musical vocabulary of Tom Jobim and other pioneers of the bossa nova style. Also included are earlier examples of large-ensemble recordings, including a protean recording of Ernesto Nazareth's "Brejeiro," recorded in 1904 by the Banda Do Corpo Dos Bombeiros de RJ, and several tracks from the Orquestra Victor Brasileira in the 1930s, when samba hit the mainstream. The first disc is the strongest, the rawest, the most evocative, with rougher sound quality and more aggressive music. Disc Two largely charts the domestication of the music, with mellower, more mannered performances, swank arrangements that were closer to Stan Kenton and Doc Severinsen than to the street sambas of Rio and Bahia. But for students of Brazilian popular culture, particularly of Brazilian jazz, this collection is an invaluable treasure trove. Intelligently assembled and well documented, it helps fill a major gap in the hidden history of one of the world's most fertile musical cultures. Recommended!

Various Artists "PUTUMAYO PRESENTS: ISRAEL" (Putumayo, 2007)


Well, this sure ain't your grandma's old Esther Ofarim album -- heck, it isn't even your big sisters Ofra Haza remix set... What it is, though, is a consistently pleasant, engrossing set of contemporary Israeli pop and indie-ish fare, easy on the ears, with a lot of melodic pull and stylistic variety. I'm always in favor of new music that sound nice, being sung in languages I don't understand, preferably by artists I've never heard of. This disc succeeds on all three counts -- a surprisingly strong set that I'd anticipated would be much cheesier than it actually was. Only a couple of tracks were a little irritating -- a smattering of reggae, a few desert flutes -- but even these fit in well with the overall mellow vibe of the album. And David Broza's crisp acoustic ballad, "Srochim," was a real eye-opener: I'd heard the name, maybe now I'll have to check him out!
Various Artists "PUTUMAYO PRESENTS NEW ORLEANS BRASS BANDS" (Putumayo, 2007)


A nice collection for fans of New Orleans brass band music, and a good introduction to the style for those who haven't heard it before. The Dirty Dozen Brass Band, Leroy Jones, the Yockomo All-Stars and others boomp, toot and boop-boop-boop their way through this rhythm-filled homage to the Crescent City. A nice set if you like the style!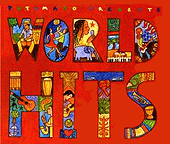 Various Artists "PUTUMAYO PRESENTS WORLD HITS" (Putumayo, 2007)


Exactly what it says it is: some of the biggest, most easily recognizable, global pop songs you could imagine. Sure, folks can quibble about this song or that song being included or excluded, but for your basic mainstream world pop album, what's there to complain about here? "Watermelon Man" by Mongo Santamaria, Jimmy Cliff's "The Harder They Come," "Lambada," "Bamboleo," "Oye Como Va," "Pata Pata..." See? After a while, I didn't even have to mention the artists anymore -- the song itself just came into your head, right? Well, that's the idea. And if you want a bunch of those songs together all in one place, turning heads at a backyard barbecue, or whatever, this disc is a pretty good option. It's definitely not made for world music snobs, but for folks who just want a little jolt of recognition, here's one hit after another -- all songs that made the whole world shake a little booty at one time or another.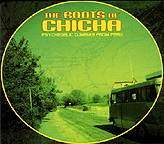 Various Artists "THE ROOTS OF CHICHA: PSYCHEDELIC CUMBIAS FROM PERU" (Barbes, 2007)



This collection mines a style of music that, by the compiler's own admission, has never had much of a following outside of the poor barrios of Peru, where it first emerged in the late 1960s. Chicha is a Peruvian variant on Columbian cumbia, in which manic accordions are replaced by gritty electric guitars, and the tempo is kept relatively slow. The style evolved during the acid rock era of the 'Sixties, when American and European rock made huge inroads into global indigenous cultures, particularly in the introduction of cheap, loud, portable modern instruments such as the Farfisa organ and electric guitars, which lent the sound of yanqui rock to local scenes, but were also easily adapted to local styles. The tracks on this album were all recorded between 1966-78, when rock-flavored experimentation was exploding across South America -- In Peru it was the Andean immigrants into the big cities, primarily Lima, who latched onto electric instrumentation and made it their own... Calling this music "psychedelic" is a bit of a stretch, although the influence of surf rock is evident, and some of the extended guitar riffs were very improvisational and unusual; there's also a distinctly Andean huayno influence, particularly in the contracted tonal scales, that sounds kinda cool. Like the cumbia it stems from, this was party music, made for people to dance to, and although it was frowned on by urban sophisticates and never made it beyond a limited regional influence, the good-timey vibe persists, all these decades later. Put it on, crank it up, and you'll find yourself tapping your toes and wiggling your hips in no time at all...


<! This collection mines a style of music that, by the compiler's own admission, has never had much of a following outside of the poor barrios of Peru, where it first emerged in the late 1960s. "Chicha" is a Peruvian variant on Columbian cumbia, in which manic accordions are replaced by gritty electric guitars, and the tempo is kept relatively slow. The style evolved from the introduction of cheap, loud, portable modern instruments such as the Farfisa organ and electric guitars, which lent the sound of yanqui rock to local scenes, but were also easily adapted to local styles. The tracks on this album were all recorded between 1966-78, when rock-flavored experimentation was exploding across South America. Like cumbia, this was party music, made for people to dance to, and although it was frowned on by urban sophisticates and never made it beyond a limited regional influence, the good-timey vibe persists, all these decades later. Put it on, crank it up and you'll find yourself tapping your toes and wiggling your hips in no time at all... >

Various Artists "SONGS OF THE AFRICAN COAST: CAFE SONGS OF LIBERIA" (Yarngo, 2007)


A fascinating set of late 1940s recordings, documenting the "cafe music" of coastal Liberia, originally recorded by ethnographer Arthur S. Alberts and released on 10" records in the 1950s. This disc reprises most of the songs from those old discs, along with six previously unreleased tracks that amplify the other material. In a timeless chicken-or-the-egg scenario, the music of this former American protectorate echoes and overlaps American blues (and, indeed, some songs will be familiar to folk-blues fans from reinterpretations made in the '60s, after the originals had circulated through the Greenwich Village scene...) Unlike much popular African music, this is linguistically accessible to American audiences -- the songs are sung mostly in English and pidgin English, with some local slang, so on the whole, the meaning of the lyrics is readily apparent. Most songs are comedic takes on romantic or ribald themes, a few are topical (although the meaning may be lost on the modern listener: the reprinted old liner notes come in handy...) and all bear the obvious stamp of a relaxed nightclub/cabaret culture. The similarities between these recordings and classic calypso are quite striking, both musically and in the lyrical form, with a tinge of the American and British music halls as well. Like old-school calypso, this might not appeal to the average world music fan -- it's far less about the melodies and rhythm than about wordplay and story-related entertainment. But students of African cultural history will find this collection fascinating, as will those of us who just like the sonic qualities of old things... It's definitely an echo of a time and place that are long gone, but enchanting nonetheless.
---



World Music Index
Other Recent Reviews


---