<! MP3 10/15/09, 09/17/10 > <! pix 10/15/09 > <! icons 02/10/11 > <! icons 02/20/11 > <! archived 10/15/09 * >
---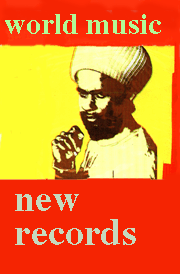 Welcome to my "New World Music" page, which highlights new(ish) African, Asian, Latin American and Celtic records, and "miscellaneous" records that I had the good fortune to check out in Fall, 2009. This page is added to as new records come in... If you want more to read more reviews, many others are archived nearby, and there are separate sections for various kinds of world music that you might like exploring as well.
---
Recommended Records: Fall, 2009 | Review Archives
---
<! NOVA LIMA + REMIXES > Mario Adnet & Philippe Baden Powell "Afrosambajazz" (Adventure Music)
Coralie Clement "Toystore" (Compass)
Deolinda "Cancao Ao Lado" (Four Quarters)
The Four Ramblers "Legendary Irish Quartet" (BACM)
Julie Fowlis "Uam" (Shoeshine)
Bebel Gilberto "All In One" (Verve, 2009)
Keletigui & Ses Tambourinis "The Syliphone Years" (Stern's Africa)
Ithamara Koorax & Juarez Moreira "Bim Bom" (Motema)
Marcio Local "Adventures In Samba Soul" (Luaka Bop)
Lura "Eclipse" (Four Quarters)
Emmanuelle Parrenin "Maison Rose" (Lion Productions) (reissue)
Puerto Plata "Casita De Campo" (IASO)
Ramin Rahimi & Tapesh "Iranian Percussion" (Arc Music)
Jean Sablon "100 Chansons" (EMI-France)
Oumou Sangare "Seya" (Nonesuch)
Sara Tavares "Xinti" (Four Quarters)
Benjamin Taubkin "Trio +1" (Adventure Music)
Various Artists "HIGHLIFE TIME FROM THE '60s AND EARLY '70s" (Vampisoul)
Various Artists "PUTUMAYO PRESENTS: BRAZILIAN CAFE" (Putumayo)
Various Artists "SENSACIONAL SOUL, v.1-2" (Vampisoul)

New To Me: Jean-Bosco Mwenda, Dominic Kakolobango and the Africassette label
---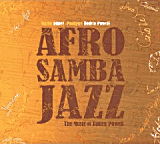 Mario Adnet & Philippe Baden Powell "Afrosambajazz: The Music Of Baden Powell" (Adventure Music, 2009)


(Produced by Mario & Mariza Adnet)
The classic Brazilian canon of bossa nova/samba composer-guitarist Baden Powell gets a rich modern jazz makeover courtesy of jazz guitarist Mario Adnet, with Baden Powell's son, Philippe, on piano and an impressive roster of contemporary jazz players also on board. Vocalists Maucha Adnet, Monica Salmaso and Carlos Negreiros light up several songs, breaking up the instrumental tone of the album. Adnet and Powell build upon the deceptively simplicity of the original songs, adding dense, elegant, concise jazz charts, with buoyant horn arrangements and sweet performances throughout. The overall effect is a collaborative, ensemble effort, with a formal feel, but also a great deal of the original harmonic warmth of old-school bossa nova. It's really nice, one of the most solid and accessible albums to come from this group of contemporary Brazilian jazz players. Recommended!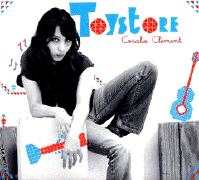 Coralie Clement "Toystore" (Compass, 2009)



(Produced by Benjamin Biolay)
Yummy! Once again, French indie singer Coralie Clement acts as a conduit for her brother, composer-producer Benjamin Biolay, who wrote or co-wrote all but one of the songs on this album (the sole exception comes from Alain Chamfort) and produced the album as well. Although I find Biolay innovative and intense, his own records have an artificiality and hermetic, cerebral feel to them, while his sister is able to have fun with the music, and makes it come to life. Although her earlier albums had a pleasant, standard-issue guitar-rock feel to them, this one is a more puckish, playful, idiosyncratic outing, with unusual instruments and sounds, and challenging, oddball arrangements. Ukuleles, Farfisa organs, toy pianos and coronets scamper about; the melodica, a uniquely irritating keyboard instrument, is rehabilitated after its years at the hands of reggae star Augustus Pablo, and becomes just one more kooky sound in an oddly entrancing mix. What holds it all together and makes it work, of course, is Ms. Clement and her gorgeous, ingratiating voice. It'd absolutely listen, any day, to her sing the names in the telephone book (provided of course that it was a French phone book...) The songs, although a bit goofy, are mesmerizing as well, with dips into Brazilian bossa, lyrics in French, English and Italian, and a wonderful duet with French pop elder Etienne Daho. Altogether, another triumph for Ms. Clement... Although this isn't an album you could put on in the background for guest, listening alone can be enchanting.

Deolinda "Cancao Ao Lado" (Four Quarters, 2009)



(Produced by Deolinda & Nelson Carvalho)
An exciting new Portuguese group, revitalizing the fado tradition with new attitudes and approaches to the national song style. The band's vocalist, Ana Bachalao, sings with energy and enthusiasm, but also with a roughness that shies away from the perfectionism and prettiness of many modern fado stars -- the band incorporates various regional and rural folk influences, and reintroduces some of the rugged sound of older folk recordings into the pop sphere. Their arrangements are similarly inventive and expansive; they show a mastery of the dominant fado, with its mournfulness and drama, but also explode into new (or new-sounding) directions. It's a very exciting and vibrant album, challenging and compelling at the same time... I'd love to see these folks play live!

The Four Ramblers "Legendary Irish Quartet" (BACM, 2007) (CD-R)


An unusual entry in the British Archive of Country Music's illustrious hillbilly history series... The Four Ramblers were an Irish vocal quartet who appeared on a regular "western" themed radio show sponsored by the BBC. They modeled their sound on the smooth harmony singing of groups such as the Mills Brothers and the Sons Of The Pioneers, but although they yodeled a cowboy tune or two, they primarily sang Irish folk tunes, sometimes giving them a singing cowboy-ish musical twist. It's fun stuff, not as operatic or genteel as other Celtic-themed artists of the same era (the late 1940s-early '50s), and a pleasant blending of styles. It ain't Planxty or The Bothy Band, but it's still pretty nice.

Julie Fowlis "Uam" (Shoeshine, 2009)



Another triumphant Celtic folk album from this young, up-and-coming singer... This is a stripped-down, nearly a capella outing, with subtle accompaniment to Fowlis' richly striking vocals. Although Fowlis has a deeply traditional inclination, there is also a modern feel to the production -- of its time, but not a cheesy pop fusion. Guest vocalists include Eddi Reader and Mary Smith -- a nice new voice on the Celtic trad scene!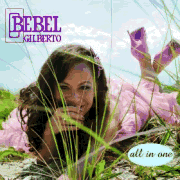 Bebel Gilberto "All In One" (Verve, 2009)



(Produced by Bebel Gilberto/Carlinhos Brown/Various Producers)
Another mellow, modern bossa-pop album, showcasing Bebel's supple, velvety voice... This is her first album recorded for North American jazz giant, Verve Records, and while there is a lot that still sounds the same as her previous albums and EPs, there's also a subtle difference. Somehow the production sounds a little more concise and focussed, also a bit crisper -- Gilberto is coming out of her the gauzy comfort zone of the soft-pop/electro scene at her former label, Six Degrees. The difference isn't huge, but it is enough to make this record seem a bit more varied and perhaps more accessible to mainstream jazz fans. There are a couple of tunes that are too overtly pop-oriented for me, but other songs, like her brisk, bouncy cover of her father's playful "Bim Bom" is completely appropriate, and a nice throwback to the earliest days of bossa nova. Mostly this is another sweet, smooth, super-listenable set from this seductively modern Brazilian vocalist, and definitely worth checking out. Recommended!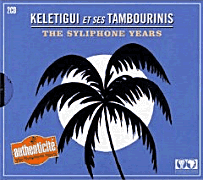 Keletigui & Ses Tambourinis "The Syliphone Years" (Stern's Africa, 2009)



A gorgeous 2-CD set of classic recordings by the 1970s Guinean dance Keletigui & Ses Tambourinis, led by keyboard player Keletigui Traore... Keletigui had a solid, consistent sound -- it's gorgeous, melodic music, generously represented in this classy reissue collection. Highly recommended!

Ithamara Koorax & Juarez Moreira "Bim Bom: The Complete Joao Gilberto Songbook" (Motema, 2009)



(Produced by Arnaldo DeSouteiro)
Amazingly, no one has covered the Joao Gilberto songbook before... As far as his modest songwriting legacy goes, bossa nova legend Joao Gilberto only recorded twelve of his own compositions (mostly he was an interpreter of Antonio Carlos Jobim's work) and those twelve songs are spread out among his various albums. So, finally, we can consider him as a composer, with all of those light, wonderful tunes put together on one single album. Brazilian jazz vocalist Ithamara Koorax and guitarist Juarez Moreira collaborate on this disc; Moreira has a penchant for doing songbook albums, having previously covered Tom Jobim and Ary Barroso, and this record has a cohesive feel to it. It's a little too jazzy, and too formal, for my ears -- maybe I'm just too used to Gilberto's sublime, subtle originals, for me to be able to settle into these sleeker interpretations. It's like hearing covers of Beatles songs; the originals are magical, and it's hard to compete. Nonetheless, after hearing this album a few times, I warmed up to it -- Koorax is an appealing vocalist, and her heart is certainly in it. Jazz fans should be delighted.

Marcio Local "Says Don Day Don Dree Don Don: Adventures In Samba Soul" (Luaka Bop, 2009)



(Produced by Mario Caldato, Jr.)
Contemporary Brazilian funk and soul, from a Rio native who carries the torch of samba-soul pioneers such as Tim Maia and Wilson SImonal... There's a touch of the cooler, funkier, sexier Jorge Ben in there as well, but mostly that sound is in the mix; there are some great arrangements (courtesy of Beastie Boy producer Mario C, who in recent years has returned to Brazil and joined the simmering local hip-hop/samba scenes...) but the vocas are pure Simonal, a husky, schmaltzy style that is popular in Brazil, but may be hard for many North Americans to get into. This is a musically creative record, and in terms of keeping true to the traditions of 1970s/80s Brazil soul, it's also very authentic. Definitely worth checking out -- if you like this, you'll also want to check out Maia, Simonal and Maia's nephew, Ed Motta.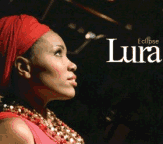 Lura "Eclipse" (Four Quarters, 2009)



(Produced by Jose Da Silva)
Another lovely, mellow, complex offering from Cabo Verde. Lura's voice is rich and deep, and the pace on this album is contemplative, deliberate and elegant. She avoids the drama and bombast of the Cape Verdean diva Cesaria Evora, and explores pop pathways that are more in line with a wider African and world-pop framework, producing her best album yet in a promising global career. The beauty of it is how none of it seems forced or precious; this is a nice, low-key album, and stands up to repeated auditions. Worth checking out!

Emmanuelle Parrenin "Maison Rose" (CBS/Ballon Noir, 1977)


(Produced by Bruno Menny & Emmanuelle Parrenin)
Beautiful, delicate French folk music, with a '70s folk-freak flavor. A classically trained harpist and vocalist, Ms. Parrenin -- who is sometimes referred to as the French Sandy Denny -- was in the thick of the Gallic folk revival, having performed in influential bands such as Gentiane and Melusine, which took old folk forms and interwove modern, sometimes brash musical ideas into the old sounds. Although she is joined her by some of her cohorts from those bands, this disc mostly features Parrenin performing on a variety of instruments -- hurdy-gurdy, spinnet, dulcimer and percussion, with her ethereal vocals laced in among the gauzy, entrancing musical beds. There is a slight hint of sugary folkie twee in the more overt melodies, but overall this is a lovely, lulling album, the kind of record you can get a little lost in, and then, when it ends all-too suddenly, wonder where you'd been for the last half hour. It's very pretty, and very easy on the ears, and very much worth checking out.

Puerto Plata "Casita De Campo" (IASO, 2009)



(Produced by Benjamin de Menil)
A swell set of emotive acoustic ballads from Puerto Plata, one of the Dominican Republic's living links to the early style of bachata music. Born in 1923, Plata has been playing gorgeous music for decades, and while this is definitely an "old man" record, with Plata's voice and guitar work perhaps a little rougher around the edges than before, it also has the confident assurance and joy for the music that, somehow, only old folks and elderly master musicians can sometimes muster. Some of the picking gets a too energetic (I suspect this is the work of some of the younger musicians backing him up) but nothing overshadows the simplicity and beauty of Plata's performances. Apparently the repertoire for this album is drawn from a number of songs that were banned during the decades-long dictatorship that ruled the Dominican Republic (and forbade many popular musicians from recording or performing in public...) Well, here's a case where art and the human spirit have won out: the music's back, and it sure sounds sweet!

Ramin Rahimi & Tapesh "Iranian Percussion" (Arc Music, 2009)



(Produced by Ramin Rahimi) <! ?>
A contemporary Iranian drumming ensemble with a strong traditional foundation. This is pretty intense stuff, really for hardcore drumming and percussion fans -- technically and culturally rich, but perhaps a little inaccessible to the average world music fan, as there is less overt emphasis on melody or harmony. But it is very high-class stuff for the right listeners to embrace.

Jean Sablon "100 Chansons" (EMI-France, 2008)


One of France's great romantic singers of the 1930s and '40s, Jean Sablon is a favorite of mine. This is a generously-programmed 4-CD set of his later recordings, which are still corny and cute, despite lacking the antique charm and freshness of his early work. I like the old stuff better, but this certainly has a strong kitschy attraction. Oooh-la-la.
Oumou Sangare "Seya" (Nonesuch, 2009)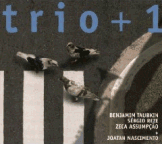 Benjamin Taubkin "Trio +1" (Adventure Music, 2009)


(Produced by Benjamin Taubkin)
Fairly straightforward jazz, led by Brazilian pianist Benjamin Taubkin, along with Zeca Assumpcao (bass), Sergio Reze (drums and gongs) and their "plus one," trumpet player Joatan Nascimento, who contributes one of the album's original compositions. There are Brazilian elements, in some songs more than others, but mostly I'd say this is a contemplative, mainstream jazz album, with a penchant for longer tracks (three that clock in at 6-plus minutes and two that are twice that length...) It's okay, not really my bag, but mellow and good for the genre, without getting saccharine or gooey. Worth a spin if you like serious contemporary jazz that's a little on the sweet side.

Sara Tavares "Xinti" (Four Quarters, 2009)



(Produced by Sara Tavares & Ani Fonseca)
Very mellow, very pretty, very gentle acoustic world-pop from this Lisbon-based Portuguese singer. This is a little too gooey and sweet for my tastes, a little too airy, but I imagine many world music fans, folks looking for mellow, gentle, pretty music, would be delighted to hear it. Tavares herself is said to have characterized her music as a kind of lullaby, and I think that's a pretty apt description... If that's what you're looking for, you won't be disappointed.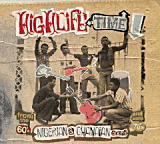 Various Artists "HIGHLIFE TIME FROM THE '60s AND EARLY '70s NIGERIAN & GHANAIAN SOUND" (Vampisoul, 2008)



Rarities and obscuro oldies from the heyday of West African guitar pop... A nice compliment to the flood of similar material out on the Sylliphone label. Groovy, hypnotic, genre-busting stuff; a bit more off the beaten track, as we've come to expect from the folks at VampiSoul.

Various Artists "PUTUMAYO PRESENTS: BRAZILIAN CAFE" (Putumayo, 2009)


(Various Producers)
A mellow, acoustic-oriented set of modern Brazilian ballads. For the most part this is a collection of less well-known artists, which I personally appreciate. The album kicks off with a relatively restrained track by the MPB superstar Djavan, but after that the next most famous artist is guitarist-vocalist Rosa Passos. All the tracks are quite nice, and this is another wonderfully listenable collection from Putumayo, not gooey or cloying crossover stuff, but a rather classy collection that knowledgeably explores the contemporary Brazilian acoustic scene. The current trad-samba revival is represented by Teresa Cristina and Ana Costa (two great artists whose work is well worth tracking down) while more pop and bossa-oriented music is also well represented. Nice record; definitely worth a spin!

Various Artists "SENSACIONAL SOUL, v.1" (Vampisoul, 2007)



A fascinating set of Spanish rock, soul and garage oldies from the 1960s and early '70s, gathering a wide swath of artists on rare, old 45s, EPs and other sources. Groovy stuff, with some real gems and nuggets. Volume Two (below) is also a gas; if you like these records, you might also want to track down the more twee-oriented PAPAGAYO sunshine pop collection which covers the same era.


<! also mention "PAPAGAYO" sunshine pop collection >

Various Artists "SENSACIONAL SOUL, v.2" (Vampisoul, 2009)



There are some sizzlers on here as well; one surprise was hearing Los Bravos (who had the big English-language hit, "Black Is Black") playing a rock-steady reggae tune. Some of the great garage-soul stompers here include "Hey Hey Bunny" by Los Gatos Negros and "El Sol Es Una Droga" by Los Kifers, which each have plenty of Arthur Conley-style horns and hand-clapping feistiness.
---
New To Me...
---

Dominic Kakolobango "African Acoustic" (Africassette, 1999)


(Produced by Dominic Kakolobango & Elijah Wald)
Gentle, gorgeous acoustic music from a modern disciple of Congolese guitarist Jean-Bosco Mwenda. Playing with traditional accompaniment, including old soda pop bottles for percussion, Kakolobango adds his own nuances and additional layers to the template created by older master musicians such as Mwenda and Losta Abelo; with the modern production, this seems somehow richer and more ornate, but no less in touch with the musical roots of the earlier recordings. American author-muscian Elijah Wald plays second guitar, although his role is not simply to play rhythm -- the two improvise and intertwine their melodies in a dazzling, playful set, with Wald adding a more distinctly blues-based sensibility. They plug in and play electric, as well, and that's lovely, cheerful stuff, too -- the kind of music that makes you glad to be alive. Recommended!

Mlimani Park Orchestra "Sikinde" (Africassette, 1994)


Gorgeous 1990s guitar pop from Tanzania, with sleek, sensual vocals and funky rhythms that seem to stretch back to the James Brown idolization of the late '60s Afropop scene, but with a softer modern edge. Mostly, it's the super-duper, super-pretty electric guitar work that's the wow-factor here -- really nice stuff that's the perfect update of the best West African pop of the '70s. Beautiful music; this band may not be very well-known outside of their home, but don't let that stop you from picking this record up. You'll be happy you did.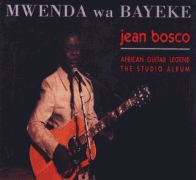 Jean-Bosco Mwenda "Mwenda Wa Bayeke" (1995)



An absolute delight. Acoustic guitarist Jean-Bosco Mwenda was one of the key pioneers of the Congolese acoustic guitar style, and this disc gathers some of the best of his all-too-rare recorded work... This music is a singular pleasure; once you hear it, you'll be hooked, and you'll be glad it came into your life. Gentle, fluid acoustic music, with equally appealing vocals. Highly recommended! (Note: for more of Mwenda's work, you might also contact folklorist Elijah Wald, who has put out some collections of Mwenda's old, hard-to-find singles, as well as some material recorded over the years for Congolese radio. There's more info at Wald's website, which also includes info on some other, similar artists.

Sedhiou Band "Africa Kambeng" (Africassette, 1998)


At the time of this recording, the Sedhiou Band was the longest-lived working ensemble in West Africa, with a sound that is both accomplished and rough. "Afro-Manding," as they call it, combines the sleek, intricate electric guitar playing of other modern African pop with a more rugged, rural regional folk style -- keening vocals, irregular, stuttering rhythms and a chunky sense of harmony. It's unusual and alluring... Also present is a strong Afro-Cuban influence, best heard in gentle songs like the Spanish-language "El Carretero," and the luxurious "Combinacion," which uses the venerable "Guantanamera" as the base for an extended, gritty jam session. Definitely worth checking out!
Wenge Musica "Bouger Bouger" (Africassette, 1988)





<! Wenge Musica "Bouger Bouger" (Africassette, 1988) B00000DDPR BOUGER BOUGER This is the first release on the Africassette label. Originally issued in Africa in '88, this is the first international release of the #1 soukous band's seminal recording. It topped the charts in Zaire and for a couple of months in '94 it was at the top of the charts in Europe. This is a great CD! >

Various Artists "MUSIKI WA DANSI" (Africassette, 1995)





<! Various Artists "MUSIKI WA DANSI" (Africassette, 2001) B000008QUI Musiki wa Dansi is the latest release on the Africassette label. This various artists collection features some of the top hits and best bands from Tanzania. Included are great Tanzanian artists such as Orchestra Maquis Original, Juwata Jazz Band, Mlimani Park Orchestra and International Orchestra Safari Sound. This is a first-rate collection. 11 tracks/71 minutes. The above sample is from Homa Imenizidia by International Orchestra Safari Sound. >

---



World Music Index
Other Recent Reviews


---