<! MP3 03/25/10, 01/31/11 - Classics links null - > <! pix 01/16/13 > <! icons 01/31/11 > <! UPDATES: 03/25/10 01/16/13 - fixed pix, replaced 108s >
---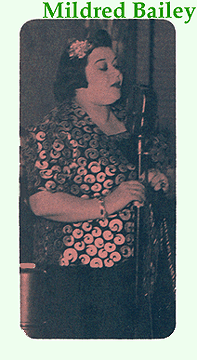 One of the most dynamic musicians of the swing era, Mildred Bailey directly influenced the vocal style of legendary singers such as Bing Crosby, Tony Bennett and Billie Holiday, and recorded some of the most uplifting music ever made. Not only was she a stylistic innovator, Bailey also helped many stars get their start in the business -- Crosby sought her help when he was starting out in the late 1920s, and Holiday was also a protege of sorts. The anecdote frequently recited by the great A&R man, John Hammond, of how he spotted Holiday singing in a small club and plucked her out of obscurity to become America's greatest jazz vocalist leaves out one little detail: when he found Holiday, Hammond was out nightclubbing with Mildred Bailey and her husband, vibrophonist Red Norvo, and it was Bailey who pointed Holiday out. Besides, if you ever listen to Bailey's best recordings, the first thing that smacks you in the face is how much she and Holiday sounded alike -- the phrasing, the lilt, the warmth and even the timbre of their voices. Bailey was there first, and she pioneered the style. She also frequently worked with the same musicians -- pianist Teddy Wilson was a frequent collaborator; apparently he preferred working with Bailey, as opposed to Holiday -- and the feel of many of Bailey's recordings is very similar to Lady Day's best Depression-era material.
Mildred Bailey's story is, ultimately, quite tragic. Despite her tremendous success and the high regard with which other musicians held her, Bailey -- a fairly hefty gal -- suffered from low self-esteem and body image problems which ultimately crippled her career. She gradually became unable to work, or to get work, and died in poverty and poor health. Crosby, Sinatra and others tried to help her out, but were unable to get her out of her downward spiral, and she died young, in 1951, after rounding off some recording sessions with Decca the year before. Her musical legacy is quite rich, and well worth checking out for any fan of the style.
---
Discography
---

Mildred Bailey "The Complete Columbia Recordings Of Mildred Bailey" (Mosaic, 2001)


Ten CD's worth of anyone's material may seem like a bit much, but in Mildred Bailey's case, it's more than deserved. This collection tracks Bailey's career from 1929 to '42, and it's all lovely stuff. Bailey and Norvo, working with arranger Eddie Sauter, led a series of dazzling jazz bands -- swank and precise, stately and swinging small combos. Norvo was a very demure performer, who kept his solos short and his arrangements sweet. Bailey, on the hand, was simply a goddess, one of the best singers of her time. The material ranges from hip wartime swing to earlier recordings that feature jazzy reworkings of familiar down-South-with-Mammy themes, such as Hoagy Carmichael's "Snowball" and "Lazy Bones," songs that carry uncomfortable overtones, but are a rich part of the Tin Pan Alley tradition. Bailey, who was of mixed race, straddles the high and the low, much like Ethel Waters did, dipping backwards into old-school Bessie Smith growling while anticipating the sleek uptown approach of the postwar pop vocalists. With 214 tracks, this collection gives us a pretty good chance to size up her style, and the most amazing thing is what a consistently high batting average she and Norvo had. They really swung. This box set features a fair amount of back-to-back alternate takes, frequently the bane of super-completist jazz collections, but in the Bailey/Norvo case, a blessing. More often than not, the versions tackled the tunes from completely angles -- they weren't doing re-takes and trying to get it right, they were testing different approaches to the material. It's fascinating to hear the easy and versatility with which they switched gears, and the improvements they made from take to take. For fans of sweet big band material -- particularly Billie Holiday fans, this box set provides a wealth of "new" tunes to check out... it's pricely, but worth every penny.
Mildred Bailey "The Complete Columbia Recordings, v.1" (Definitive Classics, 2002)


A 4-CD set, the first of two collecting Bailey's Columbia-era best!
Mildred Bailey "The Complete Columbia Recordings, v.2" (Definitive Classics, 2002)


Four more discs, with more groovy tunes!

Mildred Bailey "L'Art Vocal -- Mildred Bailey: 1931-1939" (L'Art Vocal-France, 1992)



A more compact reading of Bailey's catalog, which doesn't make it into her wartime recordings, but is pretty heavenly nontheless. This has the advantage of being tightly programmed and, naturally, quite a bit less expensive than the Mosaic box set.


<! 109 x 108 >

Mildred Bailey "Her Greatest Performances" (Columbia, 1962) (LP)


While we're at it, all you vinyl-only collector nerds might want to keep an eye out for this fab 3-LP set which covers her career from 1929-46. Pure musical gold, with classy packaging to boot. One of the great jazz reissues of the LP era.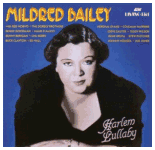 Mildred Bailey "Harlem Lullaby" (ASV Living Era, 1992)


I haven't heard this collection, but I imagine it is quite good... as most ASV releases are. Twenty-two prime tracks, selected by Brits with great taste.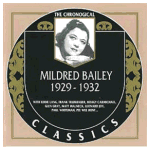 Mildred Bailey "1929-1932" (Classics/France, 1999)



Likewise, you can rely on this series to eventually cover the entire swath of Bailey's career, in a form that is more accessible and a bit less lavish than the Mosaic box set (above). Classics is a French specialty label with an amazing catalog of old WWII-era jazz releases, all of very high quality... These Mildred Bailey collections are welcome additions to their catalog. Recommended!
Mildred Bailey "1932-1936" (Classics/France, 2000)


Mildred Bailey "1937-1938" (Classics/France, 2000)


Mildred Bailey "1938" (Classics/France, 2001)

Mildred Bailey "1939" (Classics/France, 2002)


Mildred Bailey "1939-1940" (Classics/France, 2002)


Mildred Bailey "1940-1942" (Classics/France, 2003)


Mildred Bailey "1943-1945" (Classics/France, 2003)


Mildred Bailey "1945-1947" (Classics/France, 2004)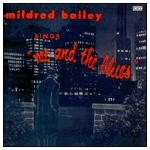 Mildred Bailey "Me And The Blues" (Atlantic/Savoy, 2000)



These late '40s recordings were made around the time Bailey tied with Billie Holiday as the best female jazz singer in Esquire magazine's 1946 jazz poll. But she was clearly diminished in comparison to her 1930s glory days -- these Savoy recordings suffer from twin troubles, not the least of which is the low-key, almost despondent sound to Bailey's voice, and the clear attempt to sound more like Ella Fitzgerald, who was on the ascendant as the great jazz singer of the post-war era. The Ella comparison is underscored by the presence of bandleader Ellis Larkins, who accompanied Fitzgerald for several years, in a much similar style. A few tracks also feature backing and arrangements by Eddie Sauter, but in general this is a fairly lethargic outing. Fans can check it out, but I wouldn't tell anyone to go too far out of their way to get this disc.
Mildred Bailey "The Blue Angel Years: 1945-1947" (Baldwin Street, 1999)





<! This wonderful CD has most of legendary jazz singer Mildred Bailey's studio recordings in the 1940's, most of them with The Ellis Larkins Trio(who also recorded on sesisons with Ella Fitzgerald, and Lee Wiley) >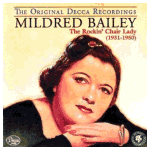 Mildred Bailey "The Rockin' Chair Lady: 1931-1950" (MCA, 1994)



This disc concentrates on Bailey's recordings on the Decca label... There's a smidge of earlier stuff from the '30s, but the bulk of this collection comes from her later work at the start of the 1950s. It's comparatively lackluster and more tilted towards pop than her brilliant recordings with Norvo and Sauter, but it's also readily available and, hey, nothing she did ever sucked.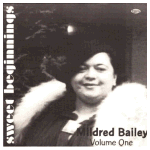 Mildred Bailey "Volume One: Sweet Beginnings" (The Old Masters, 2001)


Mildred Bailey "Volume Two: Band Vocalist" (The Old Masters, 2001)


I'm not sure offhand if these are studio recordings, airchecks, or what. It's quite possible this has some overlap with the Mosaic box or other Sony/Columbia releases. I do know that other releases on this album have really nice sound quality, so if you're looking for a more economical option for checking out Bailey's best stuff, these CDs might do the trick.
Mildred Bailey "All Of Me" (Definitive Records, 1999)


Mildred Bailey "Smoke Dreams" (Definitive Records, 1999)


Two Spanish imports which mainly explore her mid-1930s material. Both CDs on this label are reviewed in the Songbirds website that is linked to below.
Mildred Bailey "Cocktail Hour" (Allegro, 2000)


Allegro's Cocktail Hour budget series is admirable in some ways: it makes some great old music available at a very reasonable price, two CDs for the price of one. The complete lack of liner notes and artistic mystique may be a detraction, though, for many historically-oriented music fans.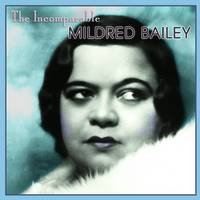 Mildred Bailey "The Incomparable Mildred Bailey" (Sony Legacy, 2003)



A well-selected, generously programmed 18-track selection of some of Bailey's best recordings on Columbia, featuring her big hit, "Rocking Chair, " and other lively swing tunes. Sure, you could quibble about this song or that being left out, but for the casual record buyer, this is a great introduction to Bailey's work, and a nice glimpse of her belting 'em out during her prime. Highly recommended!
Mildred Bailey "Mrs. Swing" (Proper, 2003)


I haven't actually heard this set, but it's certainly worth looking for, since the Proper label has made quite a name for itself offering ambitious multi-CD sets at bargain-basement prices. This here is a 4-CD set with nearly a hundred classic Bailey tracks, originally with a pricetag of about twenty American dollars (!). Sounds like a bargain to me.
---
Related Records
---
Red Norvo & Mavis Rivers "We Remember Mildred Bailey" (Koch Jazz, 2000)


A '60s tribute by Mildred Bailey's longtime partner Red Norvo, with blues-jazz crooner Mavis Rivers filling in on the vocal chores.
---
Links
---
Songbirds is a pop/jazz vocals treasure trove, collecting articles written by a wide-ranging list-serve group. Includes sappy pop singers and jazz musicians alike... Lotsa great info here, although it looks like the site went on hiatus sometime in 2000... So I'd recommend you check the site out now... while you can! Here's a link to an article someone wrote on Mildred Bailey.
CD Now actually has a nice biographical entry about Bailey on their website.
R. Richard Saville's Jazz Age Page has a nice entry on how Mildred Bailey helped Bing Crosby get his start in show business.
---



Main Jazz Index
Sisters Who Swung


---