---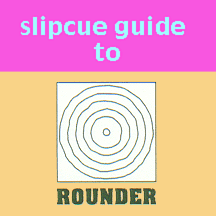 As one of the biggest and most far-reaching indies in the world, Rounder Records has a huge, huge catalog that I could never hope to comment upon fully. But it sure is easy to pick out a few favorite albums! This page is devoted only to their bluegrass, old-timey and country stuff -- releases on their Corazon imprint are included as part of my Cuban Music Guide, and other international styles and reggae are found in my World Music section.
---
Select Artists
---
---
Recommended Records
---
J.D. Crowe and the New South "My Home Ain't In The Hall of Fame" (Rounder, 1979)
An alumnus of one of the early '60s top bluegrass bands, banjo player Crowe set out in the '70s as a newgrass traditionalist, skirting the border between bluegrass and country in much the same way as his mentor, Jimmy Martin. This is my favorite of the New South albums (though the rest are all good, too)... It features a gorgeous version of the title track, Jonathan Edward's classsic alterna-country anthem, as well as upbeat versions of "Gone, Gone, Gone" and "My Window Faces The South." The band also included fiddler Bobby Sloane, bluegrass whizkid, Jimmy Gaudreau, and the late Keith Whitley (who went on to become a Nashville Top 40 guy). Lots of fun, and highly recommended.
The Monroe Brothers "Volume 1: What Would You Give in Exchange for Your Soul?" (Rounder, 2000)
The first of four CDs slated to reissue the entire Monroe Brothers output on the Bluebird label from 1936-39... This is dazzling stuff, the Rosetta Stone of old-timey music's evolution into bluegrass. Bill and Charlie Monroe distinguished themselves by their devotion to gospel material which, even with all the churchifyin' and preachin' going on at the time, was a still little unusual for country acts of the Depression era. And, man, were these guys good!! The 15 tracks on here have plenty of secular material as well, but all the songs are infused with Bill's stolid solemnity, the "high lonesome" sound in its infancy.
Del McCoury - Since Bill Monroe passed away, and the rest of them legendary fellers getting kind of old, there have been a lot of folks jockeying to position themselves as the official "torchbearer" of bluegrass tradition. Del McCoury might be the most credible candidate, not just because he's so damn real, but also because he hasn't tried to get the job. A powerfully authentic and humble performer, whose albums never fail to deliver... He's got a slew of nice albums out on Rounder (and a bunch more on Rebel and other labels)... You can count on pretty much anything by McCoury being top-notch material. (NOTE: Banjo.com's Del McCoury page is pretty cool... Now you can keep up on the comings and goings of this hot, hot combo... and see 'em when they come to your town!)
Tony Rice "Manzanita" (Rounder, 1978)
One of my favorite albums, featuring all the usual suspects -- mandolinist David Grisman, Sam Bush, dobro whiz Jerry Douglas, etc. While there's a hint of newgrass here, the instrumentals are more of bluegrass standards ("Wildwood Flower," for example) and the emphasis is on a fun set of songs, making this one of the best records to sing along with that I know of. Rice has a wonderfully mahoganied voice, which is matched by his fluid guitar style. At the time, his bluesy, note-bending leads were very unusual in the bluegrass scene, although now they're widely imitated. Still, nobody does it as well as Tony Rice, and this is one of his most awesome records.
Tony Rice "Plays and Sings Bluegrass" (Rounder, 1993)
Boy, does he ever! It's a deceptively unassuming title for such a high-calibre album. This doesn't break any new ground, but that's just as well -- here, Rice plays it straight, and produces yet another outstanding album, very close in tone and style to one of my all-time favorites, Manzanita. Highly recommended.
Tony Rice "Sings Gordon Lightfoot" (Rounder, 1996)
A bluegrass-ballads tribute to songwriter Gordon Lightfoot. Sounds cheesy, doesn't it? But Rice has been slipping these songs onto his albums for years, and this collection is excellent -- he has a real feel for Lightfoot's style. Worth checking out!
Jimmie Rodgers "The Jimmie Rodgers Library"
Volume 1: First Sessions (1927-28) (Rounder, 1990)
Volume 2: The Early Years (1928-29) (Rounder, 1990)
Volume 3: On the Way Up (1929) (Rounder, 1991)
Volume 4: Riding High (1929-30) (Rounder, 1991)
Volume 5: America's Blue Yodeler (1930-31) (Rounder, 1991)
Volume 6: Down the Old Road (1931-32) (Rounder, 1991)
Volume 7: No Hard Times (1932) (Rounder, 1991)
Volume 8: Last Sessions (1933) (Rounder, 1991)
Jimmie Rodgers still stands as one of the titans of the early country music industry... A drunkard, druggie and reknowned ne'er-do-well, his blues-based hillbilly yodels were imitated by hundreds of singers, including major stars such as Hank Snow, Ernest Tubb, Hank Locklin and Lefty Frizzell... In fact, it took a full generation before the '40s honkytonkers broke the stylistic hegemony Rodgers held over male country singers. This is an incredible multi-CD series which demonstrates why folks were so ga-ga over the "Singing Brakeman..." I wouldn't advise trying to listen to these discs all in one sitting, but if you see 'em, snap 'em up.
Ricky Skaggs "Friends and Family" (Rounder, 1982)
When Ricky returns to his roots, he can be quite sweet. This was his "hey-I've-still-got-it" traditionalist bluegrass album, made when he first was having success as a Top 40 country act. If you want to be snooty, you could find fault with its smooth production, but overall this is solid and fun to listen to. Includes several great bluegrass oldies, and the usual cast of high-power newgrass pickers and plunkers.
Don Stover "Things In Life" (Rounder, 1972)
I'm so glad the CD age caught up to this sweet little album! This is a style of bluegrass music that I just love -- humble, confident in its own worth, but back-porchy and still a little bashful. If you like the sweeter, more melodic side of say, Ralph Stanley, and don't feel the need for drag-race style instrumental fire, then check this quiet, unassuming album out. I was surprised (but very pleased) when Rounder reissued this disc -- it's always been a favorite, but it's so low-key it hardly seemed like a candidate for revival. So, hey, take advantage of its availability while you still can, before it goes out of print for another fifteen years! Also features some of the most understated mandolin work David Grisman has ever done.
Leroy Troy "The Old Grey Mare" (Rounder, 2001)
A little goofy, slightly over-the-top, but convincing and compelling nonetheless, cornpone without being corny. Leroy Troy is not as old as he sounds, singing in a gravelly, whispered lisp, trotting through a bunch of old-time tunes, but his affectations aren't intrusive, they work pretty well in the context of his tunes. Helped out by a bunch of pickin' pals, including Marty Stuart in a welcome return to his hillbilly roots, this is as much a bluegrass novelty album as it is old-timey, although for folks looking for the old-timey sense of nostalgia without quite as much of the musical severity, this could be a fun record to explore. I liked it.
Various Artists "YOUNG FOGIES" (Rounder, 1994)
Modern bands do old-timey, Skillet-Lickers-style stringband tunes. This collects tracks off albums by folks such as The Chicken Chokers, David Holt, Brad Leftwich, and Alice Gerrard -- they all have the right feel for this material -- it's not stilted and it's not lampooned, just rowdy, romping and cheerful, the way this stuff oughtta be.
ALAN LOMAX COLLECTION (various volumes)
Folklorist Lomax (son of the legendary A&R man, John Lomax) was a little bit of a johnny-come-lately to the field recording gig. Nonetheless, this ambitious series of reissues (expected to be 100 CDs total) brings back scores of awe-inspiring folkloric recordings. The CDs are organized thematically, usually following the outline of the original LPs from the late 1950s and early '60s... They range from raggedy old-timey and acoustic blues to bouncy Caribbeanchildren's games and calypso tongue-twisters. This is music played in folks front lawns and porches, not slick Nashville studios; the sort of unrehearsed, authentic material we might never have heard again if it weren't for the diligence of earnest young 'uns such as Lomax, Mike Seeger, and their friends. Of the Lomax releases I've heard so far, my favorites are the stark "shape note singing" gospel discs, recorded in white Southern churches where the congregations don't read music and are led in a primitive call-and-response style which is both fascinating and eerie. It's a sound I've long been partial to -- so bedrock and simple its authenticity is hardly a question, so sincere and musically stark that it raises goosebumps on my skin, a purely American art form which sounds as foreign as Islamic qawwal. Cool stuff!
---
Special Series
---
Jimmy Martin "You Don't Know My Mind 1956-66" (Rounder Special Series)
These are great old recordings from Martin's peak years on Decca. Features bluesy, pop-tinged classics such as the title track, "Don't Give Your Heart To A Rambler" and "Hold Whatcha Got". The band includes folks like Gordon Terry, Roy Huskey Jr. and a young J.D. Crowe on banjo - a class act all the way, and a lot of fun to listen to.
Louvin Brothers "Tragic Songs of Life"
Way back when, Rounder was one of the only above-board record labels with Louvin Brothers material of any kind in print. Thankfully, time and taste and the CD reissue bug have caught up to them, and lots of Louvins material is available. But this disc was one of the first, and remains one of the best.
---
Links
---
The Rounder Records Website lists their entire catalog, as well as articles, updates and tour information on various artists. Includes links to their Corazon (Latin American) and Heartbeat (reggae) imprints, as well as subsidiary labels such as Black Top Blues, Flying Fish and Temple.
---


Old-Timey Music
Favorite Roots Labels
Hick Music Index



---
Copyright 1998-2006 Slipcue.Com. All Rights Reserved.
Unauthorized use, reproduction or translation is prohibited.
---