---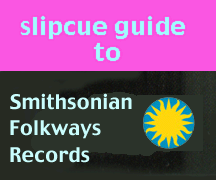 Smithsonian Folkways is the legacy of folklorist Moses Asch, who founded the Folkways label in 1948. Two things distinguished Folkways from all other record labels: the first was its dizzying diversity, from a wide variety of ethnic American music to spoken word and international recordings; the second was that Asch always kept every record he produced in print, no matter how marginal its appeal may have seemed.
At the request of the Asch estate, the Smithsonian Institution took over Folkways label in 1987. Like Asch, the Smithsonian has committed itself to keeping all the Folkways records in print, and thus dozens of odd and interesting titles are in their catalog, which (as ever) is fun to browse through and marvel at. In the past decade or so, Smithsonian Folkways has reissued many old LPs into outstanding CDs packages -- they have also added many new recordings which are in the original, inquisitive spirit of the label's founder. They have far too many titles for me to do justice to, but here are a sampling of some of my favorites.
---
Recommendations
---
Elizabeth Cotton "Freight Train And Other North Carolina Folk Songs And Tunes" (Smithsonian Folkways, 1989)

One of the sweetest, most lulling old-timey country blues performers ever. Elizabeth Cotton was a self-taught guitarist who wrote several songs which became standards in the jug ban/folk music revival of the late 1950s and '60s, including "Freight Train" and "Oh, Babe It Ain't No Lie." These Smithsonian recordings are the foundation of her legacy, and are, quite simply, pure gold. (Note: Arhoolie Records have recently reissued some of Cotton's live recordings, which are also wonderful.
Hazel Dickens and Alice Gerrard "Pioneering Women Of Bluegrass" (Smithsonian Folkways, 1996)

The title says it all -- there are plenty of great Hazel & Alice records out there (particularly the ones on Rounder Records), but this disc is a special look into their early years, as trailblazers on the traditionally male- dominated bluegrass circuit of the early 1960s. ("Hey, they play pretty good, for girls!") Their penchant for older, more traditional material is already evident, but what's also nice is, that at this period, they were still into hot picking, as well as old-timey folklore. Highly recommended! (More great bluegrass music is reviewed in my Hick Music section.)
New Lost City Ramblers "The Early Years -- 1958-1962" (Smithsonian Folkways, 1991)

New Lost City Ramblers "Out Standing In Their Field -- 1963-1973" (Smithsonian Folkways, 1993)

Possibly the best old-timey revivalists of the '50s/'60s folk scene, the NLCR were comprised of Tracy Schwartz, John Cohen and Mike Seeger (the brother of Pete and Peggy Seeger, and himself the son of folklorist parents.) All three band members were avid collectors of old folk tunes -- they dug up old 78s in the public libraries, collected them while on the road, and traveled widely throughout the Appalachians and the South, recording rural folks who still remembered the old songs. All of this is well and fine, but what really makes the Ramblers special was that they themselves rocked! Both volumes of NLCR recordings are full of inspired, entertaining music. HIGHLY recommended!
Jean Ritchie "Ballads From Her Appalachian Family Tradition" (Smithsonian Folkways, 1961)

The great 19th Century American scholar James Francis Child was a bit premature when he proclaimed the British and Irish ballad tradition moribund and fit for a bit of academic taxidermy. The Harvard professor's miscalculation is ably demonstrated in this set of songs that Appalachian folk phenomenon Jean Ritchie learned as a child and committed to wax during the opening days of the Kennedy administration, over a half century after Child concluded his songcatching efforts. All the songs here are versions of tunes gathered in Child's monumental, multi-volume English And Scottish Popular Ballads, but sung in the local variant forms that Ritchie learned from her Kentucky kith and kin. And, man! What great performances. Ritchie sings these old murder ballads and morbid epics with a simplicity and authoritativeness that cuts past the centuries and makes the old tales live again. This is realy storytelling and folklore at its best -- the horrific nature of these old songs, in which sisters kill sisters and jealous, cuckholded husbands hack down their rivals is made magnetic in her chillingly matter-of-fact presentation. These are some of the finest, most engrossing versions of "Little Musgrave," "The Unquiet Grave," "Barbary Allen" and other classics that you will ever hear. A riveting record -- highly recommended!
Lucinda Williams "Ramblin' On My Mind" (Smithsonian Folkways, 1979)

Lucinda Williams "Happy Woman Blues" (Smithsonian Folkways, 1980)

The early roots of an alt.country master songwriter. The first album is all covers of blues and old-timey songs, from Robert Johnson to Hank Williams and the Carter Family, but by the second record Lucinda was writing all her own material. (For longer reviews of both these albums, check out my annotated Lucinda Williams discography.)
Various Artists "CLOSE TO HOME: OLD TIME MUSIC FROM MIKE SEEGERS COLLECTION" 1998)

Wonderful old-timey rural music recorded between 1952-1967 by Pete's little brother. Includes later recordings from legends such as fiddler Eck Robertson, banjo-pickin' ne'er-do-well, Dock Boggs, and Sara and Maybelle Carter, as well as dozens of jes-plain-folks recorded off the cuff by the eager kid from New York City. Some of the recordings are fragmentary, and all were recorded under the simplest of conditions, with just one microphone, out on a porch or in someone's kitchen. But it's precisely this informal, non- professional nature of these recordings which give them their appeal. Also, check out the wonderful CDs of Seeger's own band, the New Lost City Ramblers (listed above).
Various Artists "MUSIC OF INDONESIA" (Volumes 1-20) (Smithsonian Folkways, 1991-98)

An astounding series of compilations which run the full range of Indonesia's bewilderingly vast multicultural landscape. Each volume focuses on an island, or a region, or a few islands, or a particular style of music. The liner notes, which rather academic, are very informative, especially in conveying the incredible cultural variety in the artificially-defined nation which is called Indonesia. Literally hundreds of distinct cultures coexist there, and this series brings home just how distinct those cultures actually are -- on the same disc you can often hear radically different musics from tribes which live only a few miles apart. By and large, the series is a throwback to the field recordings of old, though that won't stop your jaw from dropping at some of the amazing gamelan (gong) ensembles, or other, more alien styles. One particularly popular CD is Volume Two, which concentrates on the modern pop music styles called Kroncong and Dangdut, which are a wild mix of rock and indigenous styles. I've heard almost every volume in this series, and they all have their gems to offer.
Various Artists "MOUNTAIN MUSIC OF KENTUCKY" (Smithsonian Folkways, 1996)

I love these collections of old, bedrock backwoods material. Usually the artists were not professionals (or had only modest careers...) and were just old mountain folks who played and kept alive the music they grew up with. If it weren't for albums like these, this music may well have died out decades ago. Sometimes the tracks are only so-so, but just as often, they'll make your spine tingle with the intensity with which the singers believe in their songs. Great stuff, which should pass just about any litmus test of "authenticity" you could come up with.
---
Links
---
---


Main Music Index
Favorite Roots Labels
Hick Music Index



---
Copyright 1998-2006 Slipcue.Com. All Rights Reserved.
Unauthorized use, reproduction or translation is prohibited.
---