<! MP3 09/25/08 > <! update 00/00/00 > <! pix > <! icons 02/17/11 >

---
In addition to her film career, actress Brigitte Bardot also had a healthy track record as a recording artist, resulting in some of the catchiest French bubblegum pop of the late '60s. As with many of the other "ye-ye girls", much of her repertoire was written and orchestrated by pop bad boy, Serge Gainsbourg. Bardot wasn't a great singer, but she sure was easy on the eyes, and a great sport, to boot. She was the only real competition Francoise Hardy had as France's most babilicious singer.
---
Discography
---
Brigitte Bardot "Brigitte Bardot" (Polygram, 1963)


An early effort at busting Bardot into the music market. Several EPs had come out prior to this album, as Bardot was riding high on the celebrity of her film career. This album collects most of that material into one convenient package... By and large, I found the arrangements by Claude DeJacques to be rather mild, and a bit jittery, as well as kitschy in a not-camp, not-that-interesting, fashion. This is okay, but it didn't make my head spin. Still, it's classic French ye-ye, and should be investigated by anyone keen on the genre.
Brigitte Bardot "L'Appariel A Sou" (Fontana, 1964)

Brigitte Bardot & Serge Gainsbourg "Bonnie And Clyde" (Fontana, 1968)


This collaboration with pop Svengali Serge Gainsbourg represents a quantum leap forward in terms of material and presentation. Yes, in a sense this is still an exercise in pop culture manipulation... but then again that's half the fun with Gainsbourg's work. Yet the richly baroque arrangements are also reflective of the hip, happening psychedelic '60s, and are some of France's best efforts in the pop music arena. It's goofy, but it's art.
Brigitte Bardot "B.B." (Fontana, 1969)

---
Best-Ofs
---
Brigitte Bardot "Best Of Brigitte Bardot" (Polygram, 1996)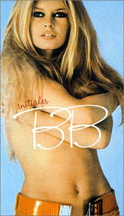 Brigitte Bardot "Initiales B.B." (Polygram, 1999)


The absolute Bardot motherlode, this box set has all the goodies -- her duets with Serge Gainsbourg, along with the early ye-ye hits. Plus, lots of sexy pictures... which is really what this is all about... right??
Brigitte Bardot "Masters" (Universal, 1999)

Brigitte Bardot "And God Created B.B." (2000)

---
Links
---

<! Chante Brigitte Bardot by Kazuko Hohki mp3 album B000X7WCYM >

---



French Music Index
French Rock Albums



---


Ribbit.