<! MP3 09/25/08, 02/17/11 - none > <! update 00/00/00 > <! pix > <! icons 02/17/11 >

---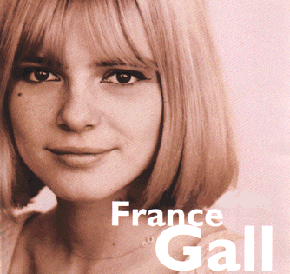 An adorably mousy-voiced singer, teenager France Gall topped the French pop charts in the early '60s, and racked up crossover success in the UK as well. Her career was all pretty prefab, with pop Svengali, Serge Gainsbourg, providing songs such as "Baby Pop" which emphasized a salacious "baby girl" jailbait undertone. Gall recorded ye-ye bubblegum through the end of the decade, and continued her career well into the 1980s, having long since transformed into more of an Kiki Dee-style soft pop/disco singer. To be honest, I'm not that big a fan - she was sort of a '60s Parisian Britany Spears -- though there are some fun arrangements on her older stuff. Still, the other boys all love her, if you get my drift.
---
Discography
---

France Gall "Les Sucettes" (Polygram, 1966)


You might wonder what all the fuss was about... She sounds way pre-pubescent on this disc, and the arrangements by Alain Goraguer are mostly standard issue French pop. The nuttier rock and psychedelic touches are mostly just hinted at here... Cute, but not really that catchy.

France Gall "Baby Pop" (Polygram, 1966)


Early stuff with arrangements by Alain Goraguer; a perfect example of the charmingly ineffective French efforts to emulate American pop. Lame in a really fun way -- this is one of Gall's best!

France Gall "1968" (Polygram, 1967)


A "psychedelic" ye-ye album? You be the judge... Sure, she's got the look (go-go gear, neo-Art Nouveaux artwork) and a song about LSD ("Bebe Requin"), but this is a fairly mild album, with a lot of goofy mannerisms and twirpy arrangements throughout. Oh, yeah, and a sitar gets strummed lightly on one or two tracks. Thematically, the song "Made In France" is appealling (as a cutesy pro-French pop anthem...), but again, this is only okay, it ain't great.
France Gall "France Gall" (WEA-Atlantic, 1975)

France Gall "Paris - France" (WEA)

France Gall "Babacar" (WEA, 1985)

France Gall "Le Tour De France: 1988" (WEA, 1988)


France Gall "Rebranchee A Bercy: '93" (WEA, 1993)


A slick, professional live set, not the kind of pop I like listening to, but still better than you might imagine. Gall's voice is in fine shape, and she breaks out of the standard-issue Euro-pop mould, moving into blues and cabaret-styled material in addition to chanson and rock-flavored pop. This is okay, I suppose, though I never need to listen to it again...
---
Best-Ofs
---

France Gall "Poupee De Son" (Polydor, 1992)


A strong collection of the best Gall had to offer from 1963-1968. Features large, fun arrangements in a variety of styles which towards the end start to incorporate more of a Mod and "psychedelic" sound. All her big hits are here, including several by Serge Gainsbourg. When the pace slows down, her vocal limitations become apparent, but if you want to check Gall out, this 23-track disc is a great place to start.
France Gall "Poupee De Son v.1-4" (Polydor, 1999)


The lavish, 4-CD version of the best-of reviewed above... All Gall's best early work! Might be a much for the average listener... but if you're really into it, this is the motherlode.
France Gall "Bebe Requin" (Polygram, 1996)

France Gall "Les Annees Musique" (WEA, 1999)


A 2-CD anthology drawing on her Warner Records years, and her long collaboration with her husband Michel Berger...
France Gall "L'Anthologie" (Polygram, 2000)

---
Links
---
The Ye-Ye Girls Website has great profiles of several leading stars, as well as links to some other great websites... Nice French pop clearinghouse!
---



French Music Index
French Rock Albums



---