<! MP3 09/25/08 > <! update 00/00/00 > <! pix > <! icons 02/17/11 >

---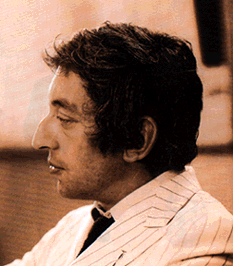 The mastermind behind the bubblegummy French girl-group ye-ye fad of the 1960s, Serge Gainsbourg (1928-1991) was well known as a songwriter and impressario, as well as a performer and all-around bad-boy celebrity. Gainsbourg cultivated infamy, and made a point of appearing as sleazy and dissolute as possible. One of his biggest hits was "Soixante Neuf Annee Erotique" ("69: The Erotic Year"), a 1969 duet with Jane Birkin in which they celebrated (and simulated) oral sex. Gainsbourg also guided the careers and musical sound of ye-ye singers France Gall and Brigitte Bardot. His own music is in the midst of a hipster renaissance, with several high-profile domestic reissues, tribute albums and cover versions, as well as a flood of European reissue imports. One of the most complex talents in modern French music, Gainsbourg holds up rather well after all these decades.
---
Discography - Easy To Find CDs
---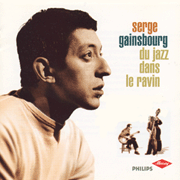 Serge Gainsbourg "Du Jazz Dans De Ravin" (Mercury, 1996)


Can the French do the lounge lizard thing? Well, sure, why not -- after all, didn't they invent the cabaret? This is one of three thematically-drawn collections that came out in 1996 that are, I think, perhaps the best introductions to Gainsbourg's work. Much of this jazz-tinged material is extremely goofy, but charmingly so. This collection draws heavily on early LPs such as Confidentiel and Gainsbourg Percussions, as well as a slew of singles and soundtracks. Well worth checking out.

Serge Gainsbourg "Couleur Cafe" (Mercury, 1996)


Gainsbourg's "exotica" material -- and it's great stuff! Draws on many of the same releases as the Du Jazz Dans de Ravin CD, but with a less goofy feel. Of these three discs, this is probably my favorite. Recommended!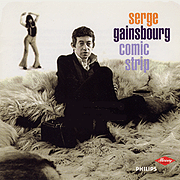 Serge Gainsbourg "Comic Strip" (Mercury, 1996)


These late '60s recordings are the songs that Gainsbourg is most identified with -- his ye-yework with Brigitte Bardot and the sexy stuff with Jane Birkin. The Birkin tracks are pretty nasty, and pretty nudge-nudge, wink-wink, if ya know what I mean... But Gainsbourg is also getting into some serious musical grooves, like the Booker T-inspired riff behind "Chatterton", and the tricky string arrangements on the Bardot duet, "Bonnie and Clyde". Novelty songs like "Comic Strip" and "Ford Mustang" may wear thin after a while, but overall this is a great collection -- probably his most accessible music to modern ears. Recommended!
---
Discography
---
Serge Gainsbourg "Du Chant A La Une" (Philips, 1958)

Serge Gainsbourg "Serge Gainsbourg No. 2" (Philips, 1959)


With accompaniment by Alain Goraguer's Orchestra. The CD reissue includes several extra songs, mostly drawn from movie soundtracks...
Serge Gainsbourg "Serge Gainsbourg No. 4" (Philips, 1962)

Serge Gainsbourg "Confidentiel" (Philips, 1963)

Serge Gainsbourg "Gainsbourg Percussions" (Philips, 1964)

Serge Gainsbourg "Anna" (Soundtrack) (Philips, 1965)

Serge Gainsbourg & Brigitte Bardot "Bonnie And Clyde" (Fontana, 1968)

Serge Gainsbourg & Jane Birkin "Jane Birkin & Serge Gainsbourg" (Fontana, 1969)

Serge Gainsbourg "Histoire De Melody Nelson" (Philips, 1971)

Serge Gainsbourg "Vu De L' Exterieur" (Philips, 1973)

Serge Gainsbourg "Rock Around The Bunker" (Philips, 1975)


Did Jewish Serge actually record an album of "nazi rock" in the mid-70s, and get everybody all riled up? My sources say yes, though it was actually an act of cultural jujitsu, jabbing a finger in the eye of complacency while mocking the vestigial Reich. I imagine Gainsbourg was keeping pace with -- or providing an antidote for -- what Iggy and Lou were doing over in Germany around the same time. Several tracks from here are included on volume 6 of Polygram's complete Gainsbourg collection.
Serge Gainsbourg "L' Homme A Tete De Chou" (Philips, 1976)

Serge Gainsbourg "Je T'Aime Moi Non Plus" (Soundtrack) (Philips, 1976)

Serge Gainsbourg "Aux Armes Et Caetera" (Philips, 1979)



Reggae-flavored dance music, recorded with Sly & Robbie.

Serge Gainsbourg "En Concert: Le Palace 80" (Phonogram, 1980)


A live show which includes plenty of old favorites, such as "Harley Davidson" and "Bonnie and Clyde." A solid performance.
Serge Gainsbourg "Mauvaises Nouvelles Des Etoiles" (Philips, 1981)


Serge Gainsbourg "Love On The Beat" (Philips, 1984)


Features "Harley David, Son Of A Bitch" and his provocative duet with his daughter Charlotte, "Lemon Incest"...
Serge Gainsbourg "Live" (Philips, 1986)


Serge Gainsbourg "Le Zenith Du Serge Gainsbourg" (Philips, 1989)


A bombastic, purposefully goofy, concert album. Has a heavy pop funk/rap feel, dominated by that wham-bam style of concert snare drums that I find particularly unappealling. Gainsbourg is appropriately charming with his weathered, Mark Knopfler-ish vocals and clevair word play (for example, the song title, "Five Easy Pisseuses"...) The arrangements don't hold up though, particularly those with the most pronounced American rock and rap influences.
Serge Gainsbourg "You're Under Arrest" (Philips)


And he probably was, at the time...!
---
Best-Ofs
---

<! Mister Melody -- Les Interpretes De Serge Gainsbourg (4CD set) Various $34.99 Universal (France), Late 50s/1960s/1970s/1980s A wealth of rare recordings all composed by Serge Gainsbourg -- sung by some of his famous female partners and a whole host of other French singers we've never heard before! The package is easily the most comprehensive we've ever seen to cover Gainsbourg's compositional efforts -- and the work here stretches from his late 50s start to the 80s years of his late career, with a few more recent cuts thrown in as well. Many numbers really keep the spirit of Serge's original tunes -- and, as with Jane Birkin or Brigitte Bardot, a number of the recordings are also clearly done with Gainsbourg's participation in some way, and at the very least, are given his blessing! Arrangers include Jean-Claude Vannier, Alain Gouraguer, Michel Colombier, Don Ray, Alan Hawkshaw, Jean-Michel Defaye, and Reg Guest -- and the package also features a 40 page booklet with loads of great photos and notes in French as well. 98 tracks on 4CDs -- from artists who include Dominique Walter, Dalida, Isabelle Aubret, France Gall, Serge Reggiani, Valerie Lagrange, Juliette Greco, Nana Mouskouri, Brigitte Bardot, Petula Clark, Michele Arnaud, Les Freres Jacques, Helene Martin, Mireille Darc, Jane Birkin, Catherine Deneuve, Anna Karina, and lots of others! © 1996-2009, Dusty Groove America, Inc. AMAZON: B000A7KLW0 >

Serge Gainsbourg "Love And The Beat, v.1" (Polygram, 2005)


Serge Gainsbourg "Love And The Beat, v.2" (Polygram, 2005)


---
Serge Gainsbourg "A Gainsbarre A Gainsbourg" (Box set) (Polygram - France)


A gargantuan, 11-disc box set of the nearly-complete works of Serge Gainsbourg. Ye gods. Following are the titles of the individual discs (which are also sold individually).
Serge Gainsbourg "Volume 10: Love On The Beat - 1984" (Polygram - France)





Serge Gainsbourg "Volume 11: You're Under Arrest - 1987" (Polygram - France)




Serge Gainsbourg "Gainsbourg... Forever" (box set) (Polygram - France, 2000)


In case THAT wasn't enough, the true, true hardcore Gainsbourg fans can go for this uber-immense 18-CD collection, which includes two discs worth of demo material recorded in the late '50s before he got signed to the Philips label. In case it matters, this edition was limited to 2000 copies. Crazy.
Serge Gainsbourg "A Gainsbarre" (Box set) (Polygram, 1999)


This is a more modest, 3-CD version of the gargantuan, 11-disc box set by the same name. Nice overview of Gainsbourg's career.
Serge Gainsbourg "Gainsbourg Percussions" (Polygram, 1999)

Serge Gainsbourg "Classe X" (Polygram, 1999)


This collection zeroes in on Gainsbourg's erotic/raunchy material... A little gimmicky, perhaps, but then again -- why not? French pop to snicker along by...
Serge Gainsbourg "Gainsbourg Forever" (Universal, 2001)


Yet another "definitive" collection, this time with 43 tracks total, covering a wide swath of Gainsbourg's stylistic shifts... The bargain version of the 18-disc monolith described above.
---
Tributes
---

Various Artists "GREAT JEWISH MUSIC: SERGE GAINSBOURG" (Tzadik, 1997)



An artsy-fartsy tribute album issued as part of John Zorn's "Great Jewish Composers" series. Nice stuff, though several artists play things a bit too close to the vest for my tastes.
Mick Harvey "Pink Elephants" (Mute, 1995)


Mick Harvey "Intoxicated Man" (Mute, 1997)


Two pleasantly affectionate, English-language tributes from this ex-Birthday Party art-goth rocker. Harvey is recycling Serge's stuff, it's true, but also making it his own. Nice record, well worth checking out... Some Serge fans hate it, but I think it's cool.
The Popguns "Harley Davidson" (Midnight, 1996)
A cute, toss-off 7" single by one of my favorite latterday power-pop bands. Features both French and English versions of this gentle, fluffy tune. Also featured on their album, A Plus De Cent.

Various Artists "ELECTRONICA GAINSBOURG" (Mercury-France, 2001)


Ambient-electronic artists such as the Orb, Howie B, Dzihan & Kamien, Snooze, etc. put techno twists on Gainsbourg classics.

Various Artists "MONSIEUR GAINSBOURG REVISITED" (Universal-Barclay, 2006)


An all-star, indie/alt, English-language homage, with A-list rockers such as Cat Power and Franz Ferdinand, along with slightly-five-minutes-ago luminaries such as Jarvis Cocker, Michael Stipe, Tricky and Portishead, as well as uber-cool elders like Marianne Faithfull, Marc Almond and Sly & Robbie... From France we get Jane Birkin, Francoise Hardy and newcomer Carla Bruni... It's all pretty solid, though I confess I may be getting too old for this stuff... They all latch on to Gainsbourg's ironic, impish experimentalism and unapologetic pretentiousness and do it all full justice... But it's still a bit overly-clever and not always easy on the ears... But if you're into Gainsbourg's arch, challenging, playful trans-cultural criss-crossing, then this disc will probably curl your toes and give you a thrill. Worth checking out!
---
Svengali Gainsbourg - related projects
---
Jane Birkin "Di Doo Dah" (Fontana, 1973)


All songs written by Serge Gainsbourg.
Jane Birkin "Ex Fan Des Sixties" (Fontana, 1978)


All songs written by Serge Gainsbourg, with arrangements by England's Alan Hawkshaw.
Jacques Dutronc "L'Ile Enchanteresse" (Vogue, 1975)
A collaboration with fellow French pop bad-boy Jacques Dutronc... Dutronc records several Gainsbourg tunes, along with material co-written by Jacques Lanzmann.

Charlotte Gainsbourg "Lemon Incest" (Phonogram, 1984)


Ever the provocateur, in the early 1980s Serge Gainsbourg turned his Svengali-like attentions towards his daughter, Charlotte, producing this scandal-seeking pop album. It features, of course, the title track, an incest-tinged father-daughter duet, as well as several other similarly-themed songs. Charlotte, who has become one of the best-known modern French actresses, is also perfect in the role of coo-ing pop chanteuse. The arrangements are generally pretty good (a bit drippy in places, but mostly solid and concise...) Definitely worth checking out, even if the transgressive undertones are a bit icky, and gimmicky.
---
Links
---
Joe Batutis' fab fan site looks great, and has great content. Includes audio clips as well as reprints of several news stories/reviews about Gainsbourg, including his 1991 obituary. No discography, though, as far as I could tell.
The Ye-Ye Girls Website has great profiles of several leading stars, as well as links to some other great websites... Nice French pop clearinghouse!
---



French Music Index
French Rock Albums



---