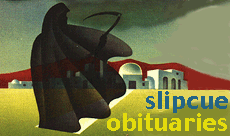 ---

Film Director Alan Pakula Dies

NEW YORK (AP) -- Film director Alan Pakula, who directed "Klute'' and "All The President's Men,'' died today in a car accident. He was 70. Pakula was driving on the Long Island Expressway when a metal pipe crashed through the windshield, striking Pakula in the head, said a Suffolk County Police spokesman. Pakula's movies included 1982's "Sophie's Choice,'' starring Meryl Streep, "See You In the Morning'' in 1989, "Presumed Innocent'' in 1990, "The Pelican Brief'' in 1993 and "The Devil's Own,'' starring Brad Pitt and Harrison Ford in 1997.
( Waitaminnit...wasn't this the guy who did all those paranoid chase films?
...Whatever happened to good old-fashioned "fishing accidents"? -joe)
---

IRON EYES CODY, Actor in Anti-Litter Commercial, 94
By Amy Waldman

Iron Eyes Cody, the actor who played an Indian shedding a tear at the sight of a littered American landscape in one of television's best-known and most- honored television commercials, died Monday at his home in Los Angeles, the police said. He was 94.
Cody played the noble Indian in some 100 pictures, including "Sitting Bull," "Paleface" and "A Man Called Horse." Sometimes his roles were listed in the credits simply as "Indian" or "Indian Chief." He also made guest appearances on television programs like "Bonanza," "Gunsmoke" and "Rawhide."
But his most indelible appearance was in a commercial produced by the former Marsteller agency on behalf of Keep America Beautiful Inc. Introduced on Earth Day in 1971, the commercial showed Cody shedding a single, eloquent tear at the sight of a landscape befouled by garbage, litter, smoke and other pollutants.
Belen Escarano. Cody's caretaker, said Monday that the actor originally resisted doing the commercial because, he said, "Indians don't cry." But, Ms. Escarano said, Lady Bird Johnson persuaded him to do the commercial. One version was made with the tear, one without: the version with the tear went on the air.
Ms. Escarano said the tear was, in fact, glycerine.
A sequel to the commercial was produced in 1975 and a revamped version of the original was introduced last year.
Cody had equally strong opinions about how native Americans should be depicted in film, often correcting misperceptions about Indian culture, behavior or history.
Cody said he was born in Oklahoma to a father, Thomas Long Plume, who was a Cherokee Indian, and a mother, Frances Salpet, who was Cree. His father performed in Wild West shows and circuses.
Although the television and movie-viewing public generally think of Cody as an American Indian, his heritage was questioned in 1996 by The New Orleans Times-Picayune, which reported, based on an interview with his half-sister and baptismal records and other documentation, that Cody was a second-generation Italian-American from Louisiana.
Cody denied that report.
In the 1950s, Ms. Escarano said, Cody and his wife, Bertha Parker Cody, hosted a television program explaining Indian history and folklore. They also served as technical advisers on numerous films, sometimes making Indian costumes.
Mrs. Cody died in 1978, and one of the couple's sons, Arthur, died three years ago. Cody is survived by another son, Robert Tree, of Phoenix, Ariz., three grandchildren, and a niece.
Let's Go Home -- I wanna get out of here!

---

Mario Zacchini, Human Cannonball, Dies at 87
By Glenn Collins

Mario Zacchini, the last surviving member of the original generation of human cannonballs, whose routine employment was being explosively propelled from a cannon across a circus tent into a net, died on Thursday at St. Joseph's Hospital in Tampa, Fla. He was 87 and lived in Tampa.
Zacchini, who was customarily launched at a speed of 90 mph while accompanied by fanfare from the circus band and a roar from the silver-painted cannon, took flight several thousand times, usually three times a day.
He often said, "Flying isn't the hard part; landing in the net is."
Zacchini was the next-to-youngest son of the nine children of Ildebrando Zacchini, a gymnast who ran away with a circus and subsequently created the Circus Olympia in Italy in the early 1900s. Eventually five of the seven brothers flew from a cannon; Mario was the last survivor of the nine children.
In addition to being three-ring cannon fodder, he spent years performing an Argentine gaucho act in his father's circus and later in the Ringling Bros. and Barnum & Bailey Circus.
"Mario was one of the world's foremost rope twirlers, a terrific gaucho who actually did a back somersault through the lasso," Mario's nephew Hugo said in an interview.
Hugo Zacchini said the family came up with the idea for the act and built its first cannon in 1922 on the island of Malta. The attraction created such a sensation that soon two teams of flying Zacchinis were crisscrossing Europe.
John Ringling discovered the Zacchinis performing in the Tivoli Gardens in Copenhagen, Denmark, and brought them to the Ringling Circus by 1929, the nephew said. Two of Mario's older brothers, Bruno and Hugo, introduced the human cannonball act to the Ringling show.
In 1934, Hugo and another brother, Victor, began performing a double cannonball act, being catapulted nearly simultaneously. Mario put aside his lasso to replace Victor that year.
After the Zacchini family's contract with Ringling expired in the late 1930s, Mario Zacchini continued to be a human cannonball at circuses and carnivals and at the World's Fair in New York. At times he was blasted over two Ferris wheels before landing in the net. He retired from cannoneering in the early 1940s and put together his own carnival, which toured the United States for years.
A decade later the next generation of Zacchinis took up human cannonballing, performing with the Ringling circus from 1958 to 1963, said the nephew Hugo. In 1965 there were five different Zacchini cannon acts performing around the United States. Hugo, who is a son of Mario's brother Edmondo, said he was the last Zacchini to be a human cannonball; his final flight was on Aug. 29, 1991.
While the Zacchinis always acknowledged that their shattering cannon blasts were purely sound effects (achieved by igniting half a cup of black gunpowder), Mario and his family never revealed the secret of the Zacchini launching mechanism, to deter copycats.
But other circus performers have said that the propulsion was accomplished by a jolt of compressed air that moved a platform upon which the performers stood. These days, many human cannonballs from other circus families are launched with elastic bungee cords.
Mario Zacchini is survived by his wife, Lydia; a daughter, Yvonne, and two sons, Mario Jr. and Tyrone, all of Tampa.
Wednesday, February 3, 1999
---
And here's the next set of more groovy obits...
Lili St. Cyr, Burlesque Dancer, 80

Chorale Leader Robert Shaw

Charles Luckman, Architect Who Designed Penn Station's Replacement, Dies at 89

---
Links
---
There are several obit enthusiast sites out there, and each has its own unique take on obituary journalism. Here are some recommended sites you may enjoy as well.
---