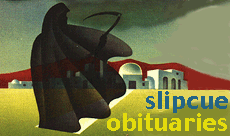 ---
ROCKIN' IN THE GRAVEYARD
Recent Obituaries of Interest
For your edification... some more obituaries...
---




Lili St. Cyr, Burlesque Legend, Dies at Age 80
By Robert McG. Thomas Jr.


Lili St. Cyr, the tall, blond beauty who left almost nothing to the imagination when she stepped dripping wet out of her signature onstage bubble bath, died on Jan. 29 at her apartment in Hollywood. She was 80.

In a field that began when a Syrian beauty who called herself Little Egypt danced her way into legend at the 1893 Chicago World's Fair, Miss St. Cyr was a master of elegant invention.

Her well-choreographed acts included portrayals of famous seductresses, few of whom could hold a candle to Miss St. Cyr.

A woman who welcomed the attentions of well-heeled stage door Johnnies, she had dalliances with the likes of Orson Welles and Victor Mature, but it was her romances with comparatively obscure businessmen that kept her in jewels, furs and lavish hotel accommodations.

But then, as Miss St. Cyr once put it: "Sex is currency. What's the use of being beautiful if you can't profit from it?"

For all that, her six husbands included a waiter, a dancer, a sometime actor and the restaurateur Armando Orsini, who got his start with financing from Miss St. Cyr.

A native of Minneapolis whose name was originally Willis Marie Van Schaack, Miss St. Cyr moved to Pasadena, Calif., when she was 7, dropped out of school after the ninth grade and was working as a waitress at a Chinese restaurant when she got her start as a showgirl. It didn't take her long to realize that the big money in burlesque lay in nudity.

Adopting the name St. Cyr after reading about the French military academy, she made her first splash at the Gayety Theater in Montreal in 1944 and remained a regional phenomenon for seven years.

She got her big break in Hollywood in 1951 when she was charged with indecent exposure during a bubble bath performance at Ciro's nightclub. By the time she beat the charge in court, the publicity had made her a headliner and led to series of low-budget movies, among them "The Son of Sinbad" (1955).

Although she once made as much as $7,000 a week, drug use marred her later years, her money ran out and she was supported by friends and the occasional sale of her photographs.

She is survived by a sister, Rosemary Minsky of Los Angeles.

Saturday, February 6, 1999

---

Robert Shaw, Choral and Orchestral Leader, Is Dead at 82
By JAMES R. OESTREICH


Robert Shaw, the renowned choral conductor and the elder statesman and great spirit of American musical performance, died Monday at a hospital in New Haven, Conn., where he had been visiting one of his sons at Yale University. He was 82.

The cause was a stroke, according to the Atlanta Symphony Orchestra, of which he was music director emeritus and laureate conductor. Shaw continued to perform until recently, although he was increasingly forced to cancel appearances because of illness. In his final New York performance, last April, he conducted Bach's Mass in B minor at Carnegie Hall.

He canceled his participation in the Robert Shaw Choral Workshop at Carnegie Hall this month because of back problems, giving way to his longtime assistant, Norman McKenzie, and to the conductor Charles Dutoit. The same back problems kept him from attending a memorial service last week for his friend Judith Arron, the executive director of Carnegie Hall, who died last month.

But he traveled to Yale over the weekend to see his son Thomas perform in Beckett's "Endgame," his senior acting and directing project.

Although he was music director of the Atlanta Symphony for 21 years, Shaw was always most respected for his work with choruses. His lasting monuments include the Atlanta Symphony choruses and the Collegiate Chorale in New York.

Robert Lawson Shaw was born in Red Bluff, Calif., in 1916. His father was a minister in the evangelical Church of the Disciples of Christ and his mother a religious singer. He intended to enter the ministry himself, but instead carried a preacher's flair and hortatory air into his musical efforts, while expanding saltily on a preacher's vocabulary.

He entered Pomona College in California in 1934, majoring in religion and philosophy. But there, as director of the glee club, he caught the ear of the popular radio band leader Fred Waring. He moved to New York in 1938 and organized the Fred Waring Glee Club, which he led until 1945.

In 1941, he founded the Collegiate Chorale, an amateur group of more than 150, as an outlet for more classical repertory. With the chorale's racially diverse membership, which changed constantly during the war years, Shaw liked to call it "a melting pot that sings."

As he would continue to do throughout his life, he expounded his techniques and, even more, his philosophy in a series of lively letters to the singers headed by a salutation that Joseph A. Mussulman adopted as the title of his 1979 Shaw biography, "Dear People . . . ."

"I get a horrible picture, from the way you sing," he wrote to chorale members in 1943, urging that attention be paid to small notes, "of little bitty eighth notes running like hell all over the place to keep from being stepped on. Millions of 'em! Meek, squeaky little things. No self-respect. Standing in corners, hiding behind doors, ducking into subway stations, peering out from under rugs. Refugees.

"Dammit, you're all a bunch of Whole-Note Nazis."

For Shaw, music was always more than a luxury or entertainment. As a form of communication, it was spirit itself, a moral force. "You don't join the Collegiate Chorale," he wrote. "You believe it. It's very damn near a religion."

In 1945 Shaw prepared choruses for performances by Arturo Toscanini and the NBC Symphony Orchestra, including famous accounts of Beethoven's Ninth Symphony.

Also in 1945, still under Waring's auspices, Shaw undertook the first of his many choral workshops. In 1948, he founded the Robert Shaw Chorale, a professional group of 40, which toured and recorded and made his name synonymous with excellent choral performance.

Shaw conducted the San Diego Symphony from 1953 to 1958. He left the Collegiate Chorale in 1954 and became associate conductor of the Cleveland Orchestra under George Szell from 1956 to 1967. He raised the Cleveland Orchestra Chorus to new heights.

In 1967, Shaw disbanded his chorale and moved to Atlanta, where he served as music director of the Atlanta Symphony until 1988. He oversaw the orchestra's transition from a part-time group of 60 players to a full-time, year-round ensemble of 93. He conducted the Atlanta Symphony in its Carnegie Hall debut, in 1971, and at the inauguration of President Jimmy Carter in Washington, in 1977. He led its first European tour, in 1988. three years later he added the Atlanta Symphony Orchestra Chorus. He retained close ties to both until his death.

Already in 1943, the National Association of Composers and Conductors named Shaw "America's greatest choral conductor." That reputation grew and was certified in 1990, when Carnegie Hall established an annual series of professional workshops under his direction.

Shaw's rehearsal techniques, isolating rhythm, pitch or enunciation, were calculated for maximum effect and efficiency, and could seem mechanistic at times.

He carried a similar pragmatism into his treatment of scores. He might re- seat singers, mixing voices to achieve a homogeneous overall sound, or shift voices to another line if it suited his concept of the desired sonority or the way that sonority was best projected.

But he could turn around and discourse at length on the spiritual and mystical meanings of a text. His pacifist ideals seemed fully intact as he prepared Britten's "War Requiem" for performance at the Carnegie Hall workshop in 1994. "Whether any one of us 'makes it' in a hereafter I find somehow less important than the presence of humanity such as this," he said of Wilfred Owen's text and Britten's music.

Other notable Shaw performances of recent years at Carnegie Hall included a Handel "Messiah" in 1992, on the 250th anniversary of the work's premiere, and a Mahler "Symphony of a Thousand," in 1995, with the Cleveland Orchestra, joined by hundreds of choristers around the hall.

Shaw fostered the solo careers of young singers, including Sylvia McNair, Marietta Simpson, John Aler and David Arnold. He also promoted contemporary music, and won awards for his service to new or American music. In 1983, he initiated a commissioning program, the American Music Project, in Atlanta.

He was made a member of the National Council for the Arts in 1979. He was awarded Kennedy Center Honors in 1991 and the National Medal of Arts in 1992 and named "Officier des Arts et des Lettres" by the French government in 1997.

His conducting won 14 Grammys, and his latest recording, of music by Barber, Bartok and Vaughan Williams, has been nominated for an award this year. He prepared English translations of many of the choral masterworks he conducted. He often talked about writing several books, but never got around to them.

It was possible to admire Shaw's craftsmanship and respect his achievement without invariably swooning at the results. Often enough, all those spiritual elements that went into the making of a performance shone through nobly, but at times a performance could seem merely "perfect" -- meticulous, wondrously refined, even powerful -- without piercing to the heart.

Still, his achievement is likely to remain the standard for many decades, largely in the hands of the disciples he cultivated. As for Shaw himself, he is undoubtedly already appraising the heavenly choirs with a jaundiced ear, wondering how best to go about shaping them up. He will probably not be diplomatic about the need to do so.

Shaw seemed crushed when his second wife, Caroline Saulas, died in 1995, after 21 years of marriage. (He and his first wife, Maxine Farley, were divorced in 1970.) "The problem is simply loneliness," he said in 1996. "I've never met a marriage quite like it. I've only experienced two, really, and one of them was my parents'."

In addition to his son Thomas Lawson Shaw of Atlanta, Shaw is survived by a daughter, Dr. Johanna Shaw of Providence, R.I.; two other sons, Peter Thain Shaw of Portland, Ore., and John Thaddeus Shaw of Lathrop, Calif.; a stepson, Alexander Crawford Hitz of Atlanta; a sister, Mrs. Harrison Price of San Pedro, Calif., and a brother, John, of Baldwin Park, Calif.

Tuesday, January 26, 1999

Let's Go Home -- I wanna get out of here!

---

Charles Luckman, Architect Who Designed
Penn Station's Replacement, Dies at 89
By Herbert Muschamp, courtesy of The New York Times

Charles Luckman, an architect and businessman who had the misfortune to design the building that replaced New York's Penn Station but who also helped to create Lever House,the landmark Park Avenue skyscraper, died on Monday at his home in Los Angeles. He was 89.
Though his buildings include such major projects as Madison Square Garden, Aloha Stadium in Honolulu, and the original master plan for the Kennedy Space Center in Cape Canaveral, Fla., Luckman may well be remembered less for the buildings he designed than for inadvertently spurring architectural preservation to become a major national movement.
Luckman was an American success story Born in Kansas City in 1909, he graduated magna cum laude from the School of Architecture at the University of Illinois in 1931. Since architectural commissions were scarce during the Depression, Luckman took a job as a draftsman in the advertising department of the Colgate-Palmolive-Peet Company. His success at that firm brought him an offer in 1935 to become sales manager of the Pepsodent Company, where his marketing techniques were credited with quadrupling profits.
In 1937, at age 27, he was featured on the cover of Time Magazine as the Boy Wonder of American industry. In 1946, three years after Pepsodent was acquired by Lever Brothers, Luckman became Lever's president.
While at Lever Brothers, Luckman proved himself a distinguished patron of modern architecture by masterminding the creation of the company's new headquarters on Park Avenue. Designed by Gordon Bunshaft of Skidmore, Owings, and Merrill, Lever House was one of the first glass skyscrapers to arise in Manhattan. Completed in 1956, the tower remains a landmark of the International Style. Along with the Seagram Building, which opened two years later, Lever House established the glass tower as a symbol of corporate America and began the transformation of much of Park Avenue from a posh residential address to a corridor of corporate prestige.
Luckman's experience as a patron helped persuade him to return to architecture as a practitioner. In 1950, he left Lever Brothers to form his own firm, the Luckman Partnership. One of his early commissions was to design a new headquarters for Seagram Brothers on a site across from Lever House. The Luckman plan was rejected, however, when Seagram hired Ludwig Mies van der Rohe and Philip Johnson to design the project. By then, Luckman had formed a partnership with the Los Angeles architect William Pereira. Based in California, the firm specialized in office buildings, airports and Air Force bases, and also designed the Flamingo Hotel in Las Vegas.
Luckman brought to architecture his business acumen and flair for showmanship. He once told a writer for The New Yorker, "I am firm in my belief that architecture is a business and not an art." This was music to the ears of corporate executives, government officials, and civic leaders more accustomed to dealing with businessmen than sparring with the artistically committed leaders of the modern movement.
Referring to his work as supervising architect for the University of California at Santa Barbara, Luckman commented, "We might recommend a building with three medium-size wings, instead of one big one, so that three people could give the wings and have them named after them."
But the architect's pragmatic approach did not endear him to architecture critics or his own professional colleagues. In the "A.I.A. Guide to New York City," Elliot Willensky and Norval White describe Luckman's design for the United States Pavilion at the 1964-65 World's Fair as "an embarrassing -- but perhaps accurate -- symbol for America. Razed in 1977. Hooray!"
Though Luckman asserted that his buildings conformed to no single architectural style, he adhered closely to the functionalist creed of modern design. As such, his buildings highlighted the thin line that separated good modern architecture from mundane obedience to the bottom line. Modern architects prided themselves on spare, restrained designs that enabled them to exploit the esthetic potential of structure and space. But this approach was easily mimicked by others who lacked a firm grasp of the esthetic dimension. A good modern building might indeed look business-like.
But to practice architecture as business did not invariably produce good buildings. In the early 1960's, when he was hired to design the new Madison Square Garden Center for the site then occupied by Penn Station, Luckman's corporate ethos set him on a collision course with the burgeoning architectural preservation movement. His design for the Garden and adjacent office tower, without distinction in themselves, brought discredit on modern architecture throughout the United States.
Responding to the public outcry against the station's demolition, the Pennsylvania Railroad's president wrote a letter to The New York Times asking, "Does it make any sense to preserve a building merely as a monument?" But Ada Louise Huxtable, who was then The Times's architecture critic, observed: "We will probably be judged not by the monuments we build, but by those we have destroyed." Plans are now afoot to redevelop the Garden site.
In 1968, the year the Garden complex opened, Luckman went into the development business. He sold his firm to the Ogden Corporation, a major real estate developer in Southern California, and became president of its subsidiary, Ogden Development. His projects included major buildings in downtown Los Angeles, including the headquarters for the Pacific Coast Stock Exchange.
In the 1970's, Luckman again dismayed preservationists when he recommended a new building to replace the Los Angeles Public Library, a downtown landmark designed by Bertram Goodhue in 1926. But, by then, partly because of the Penn Station controversy, cities had become more protective of their architectural heritage. In 1993 the old library was renovated and expanded by the Los Angeles office of Hardy Holtzman Pfeiffer.
Other projects designed by Luckman include the Prudential Center in Boston, Broadway (now Macy's) Plaza in downtown Los Angeles, the Arco Center Towers in Long Beach, Calif., the Civic Center in Inglewood, Calif., the Phoenix Civic Plaza, the Forum in Los Angeles, the Johnson Space Center in Houston, the Standard Service Station at Los Angeles International Airport (now demolished), and the original Los Angeles Convention Center, which was remodeled and enlarged in 1993 by James Ingo Freed of Pei Cobb Freed and Partners.
Luckman had a distinguished record of public service as director of the Freedom Train, part of President Harry Truman's program for rebuilding Europe after World War II. In recognition of this work, he was awarded France's Legion of Honor, England's Order of St. John, and Italy's Star of Solidarity. He was also a member of the President's Council on Physical Fitness, chairman of the board of councilors of the Brain Research Institute at U.C.L.A., and president of the Los Angeles Ballet.
In 1994 Luckman dedicated the Charles and Harriet Luckman Fine Arts Complex at California State University in East Los Angeles, established with his donation of $2.1 million. He said at the dedication: "I felt there has been so much emphasis on the business and down-to-earth approach to life that it was time to take a deep breath collectively and remember what we established in this country with a culture." Luckman's autobiography, "Twice in a Lifetime: From Soaps to Skyscrapers," was published in 1988.
He is survived by his wife, Harriet; three sons, Charles, Jr., of Falbrook, Calif., James, of Ketchum, Idaho, and Stephen, of Cochella, Calif.; eight grandchildren, and six great-grandchildren.
Thursday, January 28, 1999
---
And here's the next set of more groovy obits...
Jerry Quarry -- He WAS a contender

Virginia Verrill, Unseen Voice of Hollywood's Singing Stars, 82

Blues Legend Charles Brown

---
Links
---
There are several obit enthusiast sites out there, and each has its own unique take on obituary journalism. Here are some recommended sites you may enjoy as well.
---