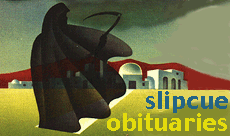 ---
ROCKIN' IN THE GRAVEYARD
Recent Obituaries of Interest
For your edification... some more obituaries...
---

Jerry Quarry, 53, Boxer Battered by Years in the Ring
By Richard Goldstein, courtesy of The New York Times
January 5, 1999 - Jerry Quarry, a heavyweight contender of the late 1960s and early '70s who faced the sport's greatest names of his era and then spent his final years debilitated by boxing-induced brain damage, died Sunday at Twin Cities Community Hospital in Templeton, Calif. He was 53.
Quarry, who lived with relatives in Paso Robles, Calif., suffered complications of pneumonia that had been brought on by dementia, his family said.
He fought Floyd Patterson, Muhammad Ali and Joe Frazier, had two shots at the heavyweight championship, earned $2 million in purses and posted a record of 53-9-4 with 33 knockouts. But by age 50, Quarry experienced severe memory loss and crippled motor skills from dementia pugilistica -- brain damage caused by repeated blows to the head. His only income was said to have been Social Security disability checks.
"He hallucinates, he hears voices," his brother James, who cared for Quarry at his home in Hemet, Calif., told an interviewer in 1995. "When he walks off, we have to go find him. Sometimes we can't find him, and we have to call the police and they bring him back."
A native of Bakersfield, Calif., Quarry was raised to fight by his father, Jack, an amateur boxer in his youth and a man with the words "Hard Luck" tattooed on his knuckles and the motto "A Quarry Never Quits." The father went west from the Texas cotton patches in the Depression years, and with his wife, Arwanda, raised his children in migrant labor camps.
"My heritage was 'The Grapes of Wrath,"' Quarry once said.
He first put on boxing gloves at age 3, won a junior Golden Gloves title at age 8 and fought more than 200 amateur bouts before turning pro in 1965, with his father a co-manager.
A 6-foot 195-pounder, Quarry was an adept counterpuncher with a fine left hook, but a fighter who was easily cut. In a division dominated by black fighters, he was sometimes at the center of racial hype. Quarry was referred to in one magazine article as "The Great White Hope" and in another as "Hungry, White and 22."
Quarry had two bouts in Los Angeles in 1967 against Patterson, the former heavyweight champion, who was 10 years older than Quarry. The first fight was a draw and the second one a majority victory for Quarry in an elimination fight for the World Boxing Association title that had been stripped from Ali for refusing to submit to the military draft. In April 1968, Quarry lost a majority decision to Jimmy Ellis in his bid to win the WBA title.
Quarry fought a furious bout with Frazier at Madison Square Garden in June 1969, seeking Frazier's share of the heavyweight title that was recognized by New York and five other states. The fighters exchanged head-rattling blows through the first round in a bout stopped after seven rounds with Quarry bleeding severely from a cut and his eyes closing.
"Quarry had an appeal that made the public snap up tickets," Frazier would recall. "Why not? He was a good-looking Irish kid with a nice smile and an engaging boy-next-door manner."
Ali's first bout on returning to the ring was with Quarry on Oct. 26, 1970, in Atlanta. Ali dominated Quarry, stopping him in the third round after cutting him severely. But it was Quarry's biggest payday, a purse of $338,000.
Ali stopped him again, in seven rounds, two years later, and after Quarry defeated Ron Lyle and Earnie Shavers, he was knocked out by Frazier in five rounds in June 1974.
Quarry retired in 1975, made brief comebacks in 1977 and 1983 and then, in a final return in 1992 at age 47, took a beating from an unknown fighter in a six-round bout in Aurora, Colo.
In addition to his parents and his brother James, Quarry is survived by three children; two brothers who also boxed, Mike and Bobby, and four sisters.
In the mid-1990's, James Quarry started a Jerry Quarry Foundation to raise money for him and other boxers with dementia. When Quarry was inducted into the World Boxing Hall of Fame in October 1995, he was so disabled that he could not sign his name for autograph-seekers.
---

Virginia Verrill, Unseen Voice of Hollywood's Singing Stars, 82

Virginia Verrill, the on-screen singing voice of some of Hollywood's most famous leading ladies and later a popular radio star, died on Jan. 18 at the Mayview Nursing Home in Raleigh, N.C. She was 82 and lived in Raleigh.
Ms. Verrill, born in Santa Monica, Calif., was a child of Hollywood, where her parents were musicians. At the age of 5 months she appeared in her mother's vaudeville act, and at 3 she made her first public singing appearance when Paul Whiteman, in whose band her father used to play, stood her on a piano while she sang "I Never Knew I Could Love Anybody" at the Palais Royale in Times Square. "And from that minute, I guess," she later said, "singing was what I wanted to do more than anything else."
At 15, already a veteran of a West Coast band led by Orville Knapp, she was heard performing in a school play and asked to audition for an off-screen role singing "Ten Cents a Dance" in Barbara Stanwyck's film of the same name. She beat out more than 300 competitors.
She soon landed work as a professional dubber. Traveling from John Marshall High School in Los Angeles to Hollywood studios almost every day after school, she would sing for leading ladies whose voices were not considered quite up to par.
Disillusioned, Ms. Verrill left Hollywood in 1935 for the "Socony Sketchbook" on CBS radio and recorded with the Isham Jones Orchestra.
The tables seemed to turn in 1937, when she was seen on screen in "Walter Wanger's Vogues of 1938," starring Warner Baxter and Joan Bennett. Ms. Verrill sang "That Old Feeling," which became a hit. The same year she was cast as the female lead in "The Goldwyn Follies" and taken under the wing of Samuel Goldwyn. With newly dyed and styled hair, high heels and lifts in her shoes, Ms. Verrill was presented as "the second Myrna Loy," and stardom seemed almost a certainty.
But the Goldwyn Co. decided that the similarities between the two actresses were too strong. Ms. Verrill, who had recorded the film's soundtrack, suddenly found herself ousted by the actress of the moment, Andrea Leeds, who had become an overnight success that year in "Stage Door."
Ms. Verrill abandoned Hollywood in the spring of 1938 for a career in radio and retired in 1942.
She is survived by her husband, Dr. Louis Duddleston, and a son, James Breyley Jr., both of Raleigh; a daughter, Diana Caldwell of Anchorage, Alaska, and seven grandchildren.
Monday, January 25, 1999
Let's Go Home -- I wanna get out of here!

---

Charles Brown, 76, Blues Pianist and Singer
By Peter Watrous

Charles Brown, the singer of the hit "Merry Christmas Baby" and a member of Johnny Moore and the Three Blazers, died on Thursday in Oakland, Calif. Brown, who was 76 and lived in Oakland, was to have been inducted into the Rock 'n' Roll Hall of Fame in March.
The cause was congestive heart failure, said a spokesman at his management company.
Brown, toward the end of his career, had benefited from a revived interest in his art, partly helped by support from singer Bonnie Raitt. But in the 1940s and 1950s, Brown, as part of the Three Blazers and on his own, was a star in the new black music that was coming out of postwar Los Angeles. Though in the last part of his career Brown played the role of the blues pianist and singer, he was, as so many of the musicians in the rhythm-and-blues scene, well versed in jazz, gospel and classical music.
Brown also had a bachelor's degree in chemistry, which led him to seek work in California during World War II. He landed in Los Angeles, abandoned chemistry and took work as an elevator man near Central Avenue, Los Angeles' center of jazz and rhythm-and-blues. He won a spot at the amateur hour at the Lincoln Theater, much like the Apollo's in Harlem, and in the audience were Moore, a guitarist, and his friend Eddie Williams, a bassist. They needed a pianist and singer, and hired Brown. The group became the Three Blazers.
The group became one of the premier examples of the new, sophisticated rhythm-and-blues that was replacing jazz as popular music among blacks. Like Nat (King) Cole's trio (which featured Moore's brother Oscar on guitar), the group mixed swing, blues and often-advanced harmony, and placed Brown's voice out in front. In 1945 they recorded Brown's composition "Drifting Blues," which became a hit, and in its introspective, sophisticated way became a template for a new style.
Brown's singing, casual and with a drawl, was intimate and in the jazz crooning tradition, even if the group's sound was deeply based in blues. One sign of the influence of Brown is that Ray Charles' early recordings are a direct imitation of his style; others are that Frankie Laine and Kay Starr were regulars at Brown's recording sessions, and scores of rhythm-and-blues singers based their careers on his style.
In 1948, Brown went on his own and began recording under his name; a year later he married rhythm-and-blues singer Mabel Scott. In 1951, he had a hit performing "Black Night," and in 1952 he had another with a tune written by Jerry Leiber and Mike Stoller, "Hard Times."
For the next several decades, Brown's style, replaced by more modern black music, fell out of favor, and by the 1970s Brown was working as a teacher and janitor. By the end of the '70s, European record companies were interested in him, and his career flourished. Until recently, Brown spent much of his time touring and recording. In the early 1990s, he toured as Ms. Raitt's opening act, and that brought him to a new market.
There are no survivors.
Monday, January 25, 1999
---
And here's the next set of more groovy obits...
Orlandus Wilson, Bass Vocalist for the Golden Gate Quartet

PILLSBURY DOUGHBOY DEAD AT 71

John Goldwater, Creator of Archie and Pals, Dies at 83

---
Links
---
There are several obit enthusiast sites out there, and each has its own unique take on obituary journalism. Here are some recommended sites you may enjoy as well.
---