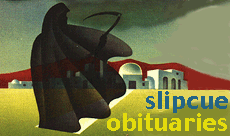 ---
ROCKIN' IN THE GRAVEYARD
Recent Obituaries of Interest
For your edification... some more obituaries...
---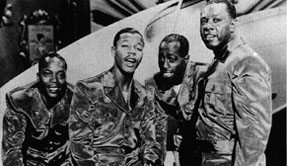 Orlandus Wilson, 81, Singer in Influential Gospel Quartet
By Jon Pareles
Orlandus Wilson, whose bass voice was the foundation of the Golden Gate Quartet's gospel harmonies, died on Dec. 30 in Paris, where he lived. He was 81.
The Golden Gate Quartet had a huge influence on American sacred and secular music. Performing in clubs and concert halls as well as churches, and backing up blues singers like Lead Belly and Josh White, the quartet demonstrated that gospel had all the vitality of secular music. Its driving versions of spirituals were a model of vocal harmony for groups from the Dixie Hummingbirds to the Spaniels. And Wilson, who joined the group in 1934, provided its syncopated bass lines for six decades.
Wilson was born in Chesapeake, Va. When he joined the Golden Gate Jubilee Singers in 1934, all four members were still in high school. Two years later the group was singing five days a week for a radio station in Columbia, S.C., and in 1937, they signed to RCA Records' Bluebird label, releasing a new single every month.
In 1938, they were part of the program at John Hammond's historic "Spirituals to Swing" concert at Carnegie Hall, sharing the bill with Joe Turner, Sidney Bechet, Lionel Hampton and Benny Goodman. The quartet stayed in New York City with a regular engagement at Cafe Society, where their sets included gospel and popular material. In churches, the quartet sang only gospel songs.
The group moved to Columbia Records in 1941 and shortened its name to the Golden Gate Quartet. During World War II, it recorded songs like "Stalin Wasn't Stallin' " along with spirituals. Wilson left the group to join the Navy in 1944 and returned in 1946. The quartet had a national radio show on the CBS network and appeared in a number of films, including "Star Spangled Rhythm," "Hollywood Canteen," "Bring On the Girls" and "A Song Is Born." It had performed at the inauguration of Franklin Delano Roosevelt, becoming the first black group to sing in Constitution Hall, and also sang for the Roosevelts at the White House.
In 1958, after a 28-country tour sponsored by the State Department, the Golden Gate Quartet relocated to Paris. With Wilson as its manager and arranger, the group continued to be a major concert draw in Europe and on world tours. Since the 1970s, the group has included Wilson's grandnephew, Paul Brembly.
In 1994, the quartet gave its first performance in the United States since the 1950s when it was inducted into the hall of fame of United in Group Harmony, an organization devoted to preserving the history of vocal harmony.
Wilson announced his retirement from performing with the quartet in October but continued to oversee rehearsals for his replacement, Andrew Freeman.
He is survived by his wife, Gun, and a son, Charles, of California.
Monday, January 11, 1999
---

PILLSBURY DOUGHBOY DEAD AT 71
(off the Internet)

Veteran Pillsbury spokesman Pop N. Fresh died yesterday of a severe yeast infection. He was 71. Fresh was buried in one of the largest funeral ceremonies in recent years. Dozens of celebrities turned out including Mrs. Butterworth, the California Raisins, Hungry Jack, Betty Crocker and the Hostess Twinkies. The graveside was piled high with flours, as long time friend Aunt Jemima delivered the eulogy, describing Fresh as the man who "never knew how much he was kneaded." Fresh rose quickly in show business, but his later life was filled with many turnovers. He was not considered a very smart cookie, wasting most of his dough on half-baked schemes. Still, even as a crusty old man, he was a roll model for millions. Fresh is survived by his second wife -- they have two children and one in the oven. The funeral was held at 4:25 for about 20 minutes.
---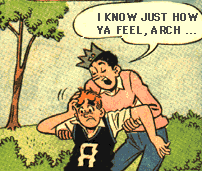 John Goldwater, Creator of Archie and Pals, Dies at 83
By Ralph Blumenthal

NEW YORK -- He is survived by Archie, Jughead, Betty and Veronica in Riverdale, U.S.A.
Their creator, John L. Goldwater, an orphan from East Harlem who hitchhiked his way west in the Depression and invented prototypical teen-age America in the comics, died of a heart attack on Friday at his home in Manhattan. He was 83.
Archie Andrews and his pals remain forever 16 going on 17.
In 1941 Goldwater, a struggling writer distantly related to the late Sen. Barry M. Goldwater, dreamed up the carrot-topped, freckle-faced character perpetually torn between two loves, one blond, one dark-haired. He was a hapless teen-age Everyman counterpoised to the hyperpotent Superman, who had made his debut just a few years earlier.
Naming his creation Archie, after a school chum, Goldwater surrounded him with other characters patterned after teen-agers he had met in the Midwest, gave them jalopies and typical teen-age problems, placed them in the mythical and idyllic town of Riverdale, and found a young artist, Bob Montana, who provided what became indelible faces.
Millions worldwide came to chuckle over Archie's misadventures at school with his spinster teacher, Miss Grundy, and the fussy principal, Mr. Wetherbee; his intractable romantic triangle with the sweet Betty and spoiled, rich Veronica; the hamburger obsession of the nerdy Jughead; the rivalry with the handsome, conceited Reggie. In time, the supporting cast members grew to star in their own comic books.
Over the years the settings have been updated -- Archie and his friends now exchange e-mail and go in-line skating -- but the problems have not changed.
The guiding idea, Goldwater always said, was simple. It came down to Archie. "He's basically a square, but in my opinion the squares are the backbone of America," he told The New York Times in 1973. "If we didn't have squares we wouldn't have strong families."
The formula clearly hit a responsive nerve. The comic strip once ran in 750 newspapers. Comic book sales sometimes reached 50 million a year, though they have leveled off at about 15 million a year.
Goldwater's touch catapulted him to the pinnacle of the comics world, with a multimillion-dollar fortune and publishing empire, Archie Comic Publications Inc. of Mamaroneck, N.Y., one of the industry's big three, along with Marvel and D.C. Comics. Archie was on the radio, on television and in the movies. There was even a short-lived chain of Archie restaurants.
Goldwater was also instrumental in creating the Comics Code Authority, which was formed in 1954 to self-police the industry's depictions of sex and violence. He was also a national commissioner of the Anti-Defamation League of B'nai B'rith and his wife, Gloria, was the first national chairwoman of its women's division.
His childhood world of East Harlem was no Riverdale, U.S.A. His mother died giving birth to him in 1916 and his father succumbed to grief, abandoning his baby and dying soon afterward. Young John was raised by a foster mother and grew up to complete high school, where he knew a red-haired boy who became the prototype for Archie. Goldwater was six feet tall and husky with dark hair, more the Reggie type.
With the Depression worsening, he left New York, hopping freight trains and bumming rides to the Midwest, where he worked for a time in Kansas as a news reporter. Assigned to school sports, he hung around with football teams, meeting the players and the girls they attracted, who would later supply him with ample comic material.
After a few years he continued west to the Grand Canyon, where he worked at a lodge, but was dismissed for socializing with the female help, affording him more future material. The lodge paid his way to San Francisco, where he found work again as a reporter and saved enough to book passage on a ship back to New York. On board, he met two young women bound for the novitiate. Both fell for him, which later gave him the idea of the Betty-Veronica rivalry.
Back in New York, he got a job on the docks and his experience with shipping gave him an idea. He went to a magazine publisher and offered to buy his outdated issues at a penny each. Then he shipped them abroad to an avid market. The business prospered and Goldwater soon joined with a pulp magazine publisher, Louis Silberkleit, to found a magazine publishing business in 1941, just as the war was restricting paper supplies.
Their Archie venture, with illustrations by Montana, himself then a teen- ager, began as a four-page insert in another comic. It proved an immediate hit and Archie and his pals quickly got their own comic.
In 1954, with national critics decrying brutality, vulgarity and sex in the comics, Goldwater helped found the Comics Magazine Association of America, whose Comics Code Authority persuaded magazines to voluntarily weed out offensive copy as well as ads for guns, knives and war weapons. He was president for 25 years.
In 1973, he went further, licensing Archie for evangelical Christian messages. Although Jewish, Goldwater said the sentiments were in line with his wholesome family message.
In 1983, the Archie comics company, then public, was acquired by a son, Richard, from Goldwater's first marriage, and by Silberkleit's son, Michael, and returned to private ownership. It now employs 32 writers and artists and publishes more than 30 comics.
In addition to his wife and his son Richard, of White Plains, N.Y., he is survived by two other sons, Jonathan, of Scarsdale, and Jared, of Manhattan.
This is not Goldwater's first obituary. When he was 48, in June 1964, The New York World-Telegram and Sun reported that he had died at age 89, confusing him with someone else with a similar name. In a letter to the editor, Goldwater responded, "This is a unique experience, and I guess that I am one of the very few men in the world who is able to laugh at his own obituary."
Tuesday, March 2, 1999
---
And here's the next set of more groovy obits...
Jaki Byard, a Jazz Musician and Teacher, Is Dead at 76

Thomas Banyacya, 89, Who Told of Hopi Prophecy

Gershon Legman, Anthologist of Erotic Humor, Dies at 81

---
Links
---
There are several obit enthusiast sites out there, and each has its own unique take on obituary journalism. Here are some recommended sites you may enjoy as well.
---