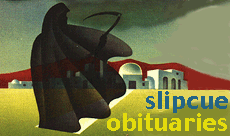 ---
ROCKIN' IN THE GRAVEYARD
Recent Obituaries of Interest
For your edification... some more obituaries...
---

Jaki Byard, a Jazz Musician and Teacher, Is Dead at 76
By Peter Watrous

NEW YORK -- Jaki Byard, a pianist, saxophonist and teacher who recorded with some of jazz's most important figures, was shot dead Feb. 11 in his house in Queens, said his daughter, Denise Byard-Mitchell. He was 76.
A police investigation is continuing. Ms. Byard-Mitchell said that the family was baffled by the killing, and that she and other family members had been home when Byard died and had heard nothing.
Byard was an extremely important figure in modern jazz for several reasons. In his playing he spanned the history of jazz, and his improvisations, filled with quick stylistic changes, moved from boogie-woogie to free jazz. He was a stylistic virtuoso, his fecund imagination saw comparisons and contrasts everywhere, and his improvisations were encyclopedic and profound. He also had a sense of humor that rippled through everything he played.
"I played Bud Powell solos, and that was a phase," Byard once said in an interview with one of his students, the saxophonist Marty Ehrlich. "Then there was Garner, and that was a phase, and then Tatum, and then finally I decided to put everything together and say the hell with it, this is it."
It made him the perfect accompanist for two of the more well versed musicians of modern jazz, Charles Mingus and Rahasaan Roland Kirk, and Byard was one of the few jazz pianists capable of keeping up not just with their stylistic references, but also with their humor and volcanic intensity.
Byard also taught for several decades and brought his cross-generational sensibility to his students. The re-evaluation of jazz history that began in the late 1970s and early 1980s was partly due to Byard's encouragement and example.
Byard was, early in his career, an integral part of a little-known jazz scene in Boston. During the late 1940s he worked with the tenor saxophonist Sam Rivers in a band, and worked society jobs, sometimes with the violinist and trumpeter Ray Nance.
He then took a job with the alto saxophonist Earl Bostic in 1949, and when he returned to Boston he performed as a solo pianist, and later joined the big band led by Herb Pomeroy, one of Boston's most important bands.
In 1959 he joined Maynard Ferguson's orchestra for two years. Also that year he met the saxophonist Eric Dolphy, and recorded with him on the album "Outward Bound."
In 1961 Dolphy procured Byard's first recording date for Prestige records, producing "Here's Jaki," which featured the Boston-based drummer Roy Haynes. Byard also worked with the innovative trumpeter Don Ellis. For the rest of the 60s Byard became the pianist of choice for one of jazz's many vanguards.
In the early 1960s he started recording with Mingus, and his playing can be heard on "The Complete Town Hall Concert," from 1962, and the two classic albums Mingus recorded for Impulse, "Mingus Mingus Mingus Mingus Mingus" and "The Black Saint and the Sinner Lady."
In 1963 he recorded and worked with the tenor saxophonist Booker Irvin, another Mingus associate, and with Charlie Mariano. Two years later he began an association with Kirk, recording and performing with the saxophonist.
During this time Byard began teaching at the New England Conservatory of Music, where he became an important figure in jazz education. He recorded regularly until his death, and when Duke Ellington became ill at the end of his life, filled the piano chair in the Ellington Orchestra.
In the late 1970s Byard led the Apollo Stompers big band in Boston and New York, and he continued teaching at the New England Conservatory and at the Manhattan School of Music, along with stints at Bennington College, the Hartford School of Music, the Brooklyn Conservatory, the University of Massachusetts and others.
In addition to Ms. Byard-Mitchell, he is survived by another daughter, Diane, and a son, Gerald, all of Queens, four grandsons and six great- grandsons.
Monday, February 15, 1999
---

Thomas Banyacya, 89, Who Told of Hopi Prophecy
By ROBERT McG. THOMAS Jr.

Thomas Banyacya, who spent half a century on a tireless and often thankless Hopi spiritual mission to save the planet from the ravages of modern materialism and greed, died on Feb. 6 at a hospital in Keane Canyon, Ariz., about 40 miles from his home in Kykotsmovi on the Hopi reservation. He was 89 and the last of four messengers named by Hopi elders in 1948 to warn the world of impending doom.
The 15,000 or so Hopis are a small nation, but their sense of burden is great. According to a 900-year-old religious tradition, the Great Spirit Maasau'u, Guardian of the Earth, assigned them the duty of preserving the natural balance of the world and entrusted them with a series of ominous prophecies warning of specific threats and providing guidance on how to avoid them.
The prophecies remained a secret oral tradition until 1948, when Hopi religious leaders, alarmed by reports of the atomic bomb's mushroom cloud, which they saw as the destructive "gourd of ashes" foretold in the prophecies, appointed Banyacya and three others as messengers to reveal and interpret the prophecies to the outside world.
Banyacya seems to have been an obvious choice. At a time when many Hopis were beginning to embrace modern ways, even accepting the governmental jurisdiction of the United States, he had remained so steadfast in his devotion to the sacred traditions and cherished sovereignty of the Hopi that he had spent seven years in prison rather than register for the draft in World War II. As he tirelessly explained, the Hopi, whose very name means "peaceful," reject fighting in wars, especially for another nation. His moral stand apparently had an impact. In 1953, according to Hopi commentators, after writing a letter to President Dwight D. Eisenhower, Banyacya helped win an understanding with local Selective Service officials that any Hopi who requested classification as a conscientious objector would receive it.
Banyacya's special feelings for his culture emerged early. A native of the Hopi village of Moencopi, he attended the Sherman Indian School in Riverside, Calif., where he was so distressed at being required to use the name Jenkins, which his father had accepted, that he later insisted on using his Hopi name.
At the all-Indian Bacone College in Oklahoma, where he was a star long- distance runner, he chafed at the lack of attention to indigenous cultures and helped establish an Indian lodge where students sang and performed traditional ceremonies.
Although his later efforts to persuade the world to respect nature and protect the environment under the threat of a devastating "purification," produced indifferent results, along the way he forged spiritual alliances with indigenous people around the world and was credited with reviving interest among American Indians in their native cultures.
Banyacya, whose work was supported by donations, traveled widely in the United States and abroad, something that was made a bit tricky by his refusal to apply for an American passport. It was a reflection of his spiritual appeal that he managed to attend several foreign conferences using a Hopi passport encased in buckskin.
Although his appointment as interpreter of the prophecies gave him a broad mandate, from the beginning his main focus was on securing a hearing at the United Nations in accordance with an ancient prophecy to take the Hopi message of peace, as he put it, "to the Great House of Mica on the Eastern shore where the nations come together to solve world problems without war."
Although he was often warmly received by U.N. officials, his efforts to give a speech were repeatedly rebuffed. But then, as he explained, the elders had told him to knock on the door four times.
On his fourth attempt, in 1992, he was allowed to make a brief speech at the General Assembly hall, but on a day when the General Assembly was in recess. Only a few delegates were present when he carefully sprinkled cornmeal on the podium and then delivered his message stressing the need for world leaders to listen to those still living in harmony with nature.
A fierce opponent of uranium mining and a variety of other industrial assaults on the environment, Banyacya warned that an endless quest for material wealth would destroy the balance of the world; yet he did not reject all modern conveniences. His U.N. address and several other messages can be found on the Internet at www.alphacdc.com/banyacya/banyacya.html, a site maintained by the Alpha Institute.
Banyacya, whose family asked that his survivors not be identified, leaves several children, grandchildren and great-grandchildren.
Monday, February 15, 1999
---

Gershon Legman, Anthologist of Erotic Humor, Dies at 81
By JANNY SCOTT






Gershon Legman, a self-taught scholar of dirty jokes and bawdy limericks and ballads who played a pivotal role in opening up the field of erotic folklore to scholarly study in the 1960s and 70s, died on Feb. 23 at a hospital near his home in Opio, France. He was 81.

Legman is best known as the author of a two-volume psychoanalytic study of sexual and scatological humor titled "Rationale of the Dirty Joke" and as an industrious anthologist of limericks. He also published books on violence in comic books, oral sex and various aspects of erotic folklore. He accumulated what has been described as one of the world's largest collections of published and unpublished erotic and scatological literature, and served as a kind of intermediary for scholars worldwide, maintaining a voluminous correspondence from his home in a hill town on the Riviera.

A tireless autodidact, he was credited with a role in introducing the art of Japanese paper-folding to the West. In interviews, he also said he had developed a vibrator in the late 1930s and coined the phrase "Make love, not war" during a talk at the University of Ohio in 1963.

At his death, after a series of strokes that began in 1991, he left behind several unpublished manuscripts, including a two-volume book on ballads that he had worked on for years and an autobiography that his wife, Judith, said he had lost the desire to complete after he became ill. In addition to his wife, he is survived by their three children, David, of Summit, N.J., and Rafael and Sarah, of Opio, and by his daughter Ariela, of Amsterdam. Mrs. Legman, his wife since 1966, said she was unsure whether their marriage was his second or third.

The son of immigrants from Eastern Europe, Legman grew up in Scranton, Pa. His parents, he said, expected him to become a rabbi. But he became interested in erotica at an early age and took to clipping racy jokes out of magazines, pasting them on index cards and filing them by subject.

He dropped out of college in his first semester, his wife said. In interviews, Legman said he had traveled across the country lecturing on contraception for organizations that promoted birth control and being arrested for violating anti-obscenity statutes. Eventually, he landed in New York, took a series of odd jobs and began spending long hours at the New York Public Library, cultivating what his wife called "his interest in all that was erotic and at that time completely forbidden except in medical circles."

In the late 1940s, he became editor of Neurotica, a short-lived Freudian quarterly. Along with work by Allen Ginsberg, Marshall McLuhan and others, he published his own essays attacking violence in comic books, which later appeared in his first book, "Love and Death: A Study in Censorship." In the book, Legman questioned why children were exposed to lurid depictions of violence but shielded from descriptions of people making love. After publishers rejected the manuscript, he published it himself and distributed it by mail out of his book-cluttered house in the Bronx.

Shortly afterward, the postal service stopped delivering his mail, Legman said. So he moved to France with his first wife, Beverly Keith, in 1953. They settled eventually on the Riviera, having arrived one day by train and having been overwhelmed by the sight of the bougainvillea, Judith Legman said.

Legman's first anthology, "The Limerick," appeared in France in 1953 and later in the United States. Like much of his work, it was encyclopedic; it contained 1,739 limericks. In 1977, Crown Publishers published a sequel, "The New Limerick," with 2,750.

"Rationale of the Dirty Joke" came out in 1968, published by Grove Press. A second volume, "No Laughing Matter: Rationale of the Dirty Joke, 2d Series," appeared in 1975. In it, Legman sorted more than 2,000 jokes into categories like "sex and money," "castration" and "homosexuality." In a review in Time magazine, R.Z. Sheppard called the book "an undeniable presence, a work of majestic ego that was weathered by new attitudes and ideas long before completion." The review continued: "In the future, it will be plundered, measured and thumbed through for titillation. But the book will remain impervious in all its pocked dignity, authenticity and embattled romanticism."

Among Legman's other books are "The Horn Book: Studies in Erotic Folklore and Bibliography" and "Oragenitalism," on oral sex.

A devotee of paper-folding, he put together a bibliography on the topic in the early 1950s and is said to have helped initiate a museum exhibition on origami in Amsterdam.

Bruce Jackson, a professor of American culture at the State University of New York at Buffalo and the author of a 1974 book on narrative poetry from the black oral tradition, said Legman made accessible to other scholars material that scholarly journals had long been afraid to publish.

"Legman is the person, more than any other, who made research into erotic folklore and erotic verbal behavior academically respectable," Jackson said. "He's utterly famous in the world of erotica for what he did -- for making these materials accessible by providing them freely to anyone who asked and for finding stuff that nobody else knew about."

Sunday, March 14, 1999
---
And here's the next set of more groovy obits...
Del Close, Member of Second City and The Committee comedy troupes

Ann Corio, Burlesque Performer and Historian

Lee Falk, 87, Creator of Comics Like 'Mandrake' and 'Phantom'

---
Links
---
There are several obit enthusiast sites out there, and each has its own unique take on obituary journalism. Here are some recommended sites you may enjoy as well.
---