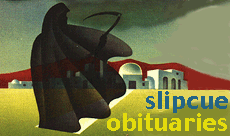 ---
ROCKIN' IN THE GRAVEYARD
Recent Obituaries of Interest
For your edification... some more obituaries...
---

Del Close, 64, a Comedian With a Flair for Improvisation
By Bruce Weber

Del Close, an actor, improvisational comic and mentor to such comedians as John Belushi, John Candy and Bill Murray, died on March 4 at Illinois Masonic Hospital in Chicago. He was 64 and lived in Chicago.
The cause was emphysema, said Charna Halpern, his partner for the last 15 years at Improv Olympic, a theater school and performance space.
A lifelong devotee of improvisational comedy, Close was one of those show business legends whose influence was felt far beyond his limited fame. As one of the founders of the Committee, the San Francisco comedy troupe of the 1960s; as a longtime performer with and director of the Second City troupe in Chicago, and as a resident coach of the "Saturday Night Live" troupe during its early years, Close played guru to many of the most prominent comedians of the last quarter century.
Mercurial and hard-living, he had a dark -- some said morbid -- sense of humor, which was evident on the night before he died. Some 50 of his friends, including Murray and the director Harold Ramis, gathered in his hospital room for a raucous farewell, during which, among other things, Close bequeathed his skull to the Goodman Theater and telephoned his final instructions to the group he had been coaching, the Upright Citizens Brigade.
Close never married and leaves no immediate survivors.
The son of a jeweler, Del Close was born on March 9, 1934, in Manhattan, Kan. He was a second cousin of Dwight D. Eisenhower. As a teen-ager, he left home to join a traveling carnival, learning to swallow fire and survive as the target of a knife thrower. In the mid-1950s, he joined the St. Louis company of the Compass Players, an improvisational troupe created by Mike Nichols and Elaine May. The troupe was a direct ancestor of Second City, which was founded in 1959 and which Close joined in 1962. By then he had performed on Broadway in a comedy about beatniks called "The Nervous Set."
For the next two decades, he had an on-again, off-again relationship with Second City, which grew ever rockier as his own predilection for improvisation clashed with the troupe's scripted sketches. He finally left in 1983, joining Ms. Halpern at Improv Olympic, where they developed a method, which they called the Harold, for creating extended comic improvisations.
Over the years, Close created two comedy albums, "How to Speak Hip" and "The Do-It-Yourself Psychoanalysis Kit." He acted in many films, including "Ferris Bueller's Day Off," "The Untouchables" and "Fat Man and Little Boy." He also appeared onstage, most recently in the 1995 Steppenwolf revival of Sam Shepard's "Buried Child," and in Peter Sellars' 1994 production, at the Goodman, of "The Merchant of Venice," which was set in Venice Beach, Calif.
Indeed, Shakespeare sounded a continuous note in Close's life. In 1975, he played Polonius in a production of Hamlet, at the Wisdom Bridge Theater in Chicago, directed by Robert Falls, and in his second album, he imagined Sigmund Freud with Hamlet as a patient.
He underscored the theme with his deathbed bequest to the Goodman, where Falls is now the artistic director. "It was so he could play Yorick in their next Hamlet production," Ms. Halpern said. "But he was also willing to be an extra, you know, a desert skull if they needed one for a western. That's the quintessential Del. He's still getting laughs even when he's gone."
Tuesday, March 16, 1999
---

Ann Corio, Who Helped Keep Alive the Memory of Burlesque, Is Dead
By LAWRENCE VAN GELDER






NEW YORK -- Ann Corio, the auburn-haired, green-eyed queen of burlesque whose long-running show, "This Was Burlesque," kept alive the art of strippers and the comedy of baggy-pants clowns in the age of the X-rated film, died on March 1 at Englewood Hospital in Englewood, N.J. Ms. Corio, a resident of Cliffside Park, N.J., kept her age a closely guarded secret, but was believed to be in her 80s.

A survivor of a shapely sisterhood that included Gypsy Rose Lee, Maggie Hart and Georgia Sothern, Ms. Corio lasted long enough to reach the iconic status that enabled her to present the striptease as a put-on.

"We emphasize comedy," she said one day in 1976 as she discussed her show, which began Off Broadway in 1962 and continued for at least two decades in various productions, tours and revivals with Ms. Corio as author, director, star and interlocutor. "There is no total nudity. The girls are lovely and artistic, and they're terribly, terribly pretty.

"What is called burlesque today isn't that at all. Those girls aren't artists. They just take clothes off, and they don't even do that very well. Burlesque is exactly what it says it is. It's from the Italian word burlare, to satirize, to laugh. That's what we do, and we are not offensive."

Ms. Corio was one of 12 children of Italian immigrants from Naples who settled in Hartford, Conn., where, she said, she was once a Sunday school teacher. Her father died when she was young, and, at 16, after working as a dancer, she discovered she could earn more on the burlesque circuit.

Those old enough to remember when strippers in burlesque houses were regarded as hot stuff could recall Ms. Corio as a reigning beauty of the East Coast wheel of burlesque houses that extended from Boston to Washington, with many a whistle-stop in between. Her fame won her roles in jungle films like "Swamp Woman" (1941) and touring stage productions like "White Cargo," in which she sashayed onstage one night in Boston, playing a native girl under a light layer of brown powder and not much more. When she declaimed, "I am Tondelayo," a Harvard undergraduate leaped from his seat and shouted, "What an actress!"

Legend had it that it was said in Boston, "You can't graduate from Harvard until you've seen Ann Corio."

Of her movies, Ms. Corio said, "Those pictures always made money, and I made a lot of money. I asked for $10,000 a week and a percentage and got it, but I didn't know they were going to shoot the movie in six days. They didn't want the movie good. They wanted it Tuesday. I was the Queen of the Quickies. Those pictures weren't released, they escaped."

As burlesque faded away, Ms. Corio toured in shows like "Rain," "Cat on a Hot Tin Roof" and "Once More With Feeling" until she conceived the idea of "This Was Burlesque." Billed as a musical satire based on Ms. Corio's recollections, the play opened at the Casino East Theater on Second Avenue and 12th Street in Manhattan and ran for 1,509 performances before it moved to the Hudson Theater on Broadway and ran for 124 more. Over the ensuing years, numerous productions played across the country from Miami to Las Vegas to San Juan. The last performance was in St. Petersburg, Fla., in 1991.

In a 1981 review of a revival at the Princess Theater on West 48th Street, Richard F. Shepard of The New York Times wrote: "Miss Corio, who looks radiant, does it all by the book and, whether you like the book or not, it is to her credit that she catches the flavor of the old burlesque with little attempt to ennoble or elevate it. This is close to the real thing."

Ms. Corio and her third husband, Iannucci, a former linebacker for the Pittsburgh Steelers, made millions from the show. Eventually, they leased the Playhouse on the Mall in Paramus, N.J., where, for many years, they presented legitimate productions and where "This Was Burlesque" was eventually filmed as an HBO cable attraction. The play had the honor of being banned in Boston, Chicago and Hoboken, N.J.

Ms. Corio, who retired about eight years ago, recalled that shortly after the show first opened on Second Avenue, the police showed up. "One night we thought we were being raided, but it was only the cops arriving to escort Mike to the bank. We never had trouble with the police. And I was invited to Gracie Mansion. Mayor Wagner insisted I sit next to him for the photographers."

As a result of charges that burlesque had become lewd and unsavory, it was banned in New York in 1937. Five years later, it was permitted to return, but without the use of the label and in a restricted format. A court finally lifted the ban in 1955. Nevertheless, Ms. Corio's efforts to present her show at the 1964-65 World's Fair in Flushing Meadows, Queens, were rebuffed by Robert Moses, the pillar of municipal rectitude who presided over the corporation that ran the event.

"You know, we're really quite mild compared to what children are exposed to on television -- topless bathing suits and all," Ms. Corio said.

"We're naughty and bawdy, but never vulgar," she said. "More than half our audience are women. They love it. Even the kids respond to it. To go to a movie these days, you need a computer to figure out the ratings. The whole family can see my show."

"There's nothing really new," she said. "It's comedy, pretty girls, bubble gum, stepping on toes, the kind of stuff you can leave your brains home for. It's burlesque."

As she once put it, "We do nothing you wouldn't write home about to your aunt in East Cupcake, Ohio."

In addition to her husband, Michael P. Iannucci, she is survived by two sisters, Helen LaRue of West Hartford, Conn., and Lillian Denote of Bristol, Conn.

Tuesday, March 9, 1999
---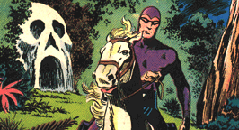 Lee Falk, 87, Creator of Comics Like 'Mandrake' and 'Phantom'
By THE ASSOCIATED PRESS

Leon Falk, the creator of the comic strips "Mandrake the Magician" and "The Phantom," died on Saturday. He was 87 and lived in Manhattan. Falk, who had been ill for several weeks, died of congestive heart failure, said Ted Hannah, a spokesman for King Features Syndicate, which distributes the strips.
Falk, who was known as Lee, was a college student when he conceived "Mandrake the Magician," about a hypnotist who used his powers to fight crime. The strip, which has been drawn by Fred Fredericks since 1965, is syndicated in 125 newspapers. In 1936, Falk developed "The Phantom," which follows the exploits of a superhero and appears in more than 500 newspapers.
Falk likened creating a comic strip to writing a play or screenplay. "I think the art of writing a comic strip is closer to the theater and to film technique than any other writing I know," he said.
"When I create stories for 'Mandrake' and 'Phantom,' I write a complete scenario for the artist in which I detail the description of the scene, the action and the costumes," Falk said.
Falk was born in St. Louis and graduated from the University of Illinois. He worked in intelligence with the Office of War Information during World War II and later enlisted in the United States Army. After the war, Falk turned to playwriting and theatrical production. He produced more than 300 plays and directed about 100 others, featuring stars like Dame May Whitty in "Night Must Fall" and Charlton Heston in "Bell, Book and Candle." He also wrote several plays and two musicals, "Happy Dollar" and "Mandrake the Magician and the Enchantress."
He is survived by his wife, Elizabeth Moxley Falk, a stage director; three children from a previous marriage, Valerie, of Northhampton, Mass.; Conley, of Los Angeles and Diane, of Washington, and a brother.
Monday, March 15, 1999
---
And here's the next set of more groovy obits...
Lowell Fulson, West Coast Blues Pioneer

Dusty Springfield, British Soul Singer

Sidney Gottlieb, 80, Dies; Gave LSD to the CIA

---
Links
---
There are several obit enthusiast sites out there, and each has its own unique take on obituary journalism. Here are some recommended sites you may enjoy as well.
---