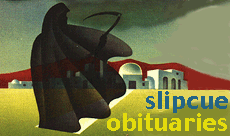 ---
ROCKIN' IN THE GRAVEYARD
Recent Obituaries of Interest
For your edification... some more obituaries...
---

Lowell Fulson, Who Took Texas-Style Blues to the West Coast, Dies at 77
By JON PARELES

Lowell Fulson, a major figure in West Coast blues, died March 6 in Long Beach, Calif. He was 77 and lived in Los Angeles.
The cause was complications from kidney disease, diabetes and congestive heart failure, said his companion, Tina Mayfield.
Fulson took the smooth, jazz-tinged jump-blues of Texas to California, where he had rhythm-and-blues hits from the 1940s to the 60s. He wrote songs that were also recorded by Elvis Presley ("Reconsider Baby"), Otis Redding and Carla Thomas ("Tramp") and B.B. King ("Three O'Clock Blues"). He was a member of the Blues Hall of Fame and the Rhythm-and-Blues Hall of Fame.
Fulson was born in 1921 on a Choctaw Indian reservation in Oklahoma; his grandfather was a Choctaw. Fulson played gospel and country music before turning to the blues. In 1939 he replaced Chester Burnett (later known as Howlin' Wolf) in the band led by the country-blues singer Texas Alexander, who was based in Gainesville, Texas. He served two years in the Navy in Oakland, Calif., and stayed on the West Coast when he began his recording career in 1946.
He had his first rhythm-and-blues hit, "Three O'Clock Blues," on the Swingtime label in 1948, and went on tour in 1950 with a band that included Ray Charles on piano. Other bands Fulson led would include Ike Turner on guitar and Stanley Turrentine or King Curtis on tenor saxophone. He continued to have hits, including a version of Memphis Slim's "Nobody Loves Me" that he retitled "Everyday I Have the Blues," and his own song, "Blue Shadows," in 1950. Although he lived in California, he began recording for the Chicago- based Checker label (part of Chess Records) in 1954, when he had a hit with "Reconsider Baby."
He moved in 1964 to Kent Records, recording as Lowell Fulsom, and his soul- styled "Tramp" reached No. 5 on the rhythm-and-blues chart in 1967. He continued to tour and record well into the 1990s, with albums for European labels and, most recently, for the Rounder and Bullseye Blues labels. He won five W.C. Handy blues awards in 1993 and his 1995 album, "Them Update Blues" (Bullseye Blues), was nominated for a Grammy Award for Best Traditional Blues album.
In addition to Ms. Mayfield, he is survived by a sister, Norvell Larney of Oklahoma; a brother, Jack Stewart; two sons, Lowell Jr. and Richard; two daughters, Yvonne Penna and Edna Fulson, and 13 grandchildren, all of Los Angeles.
Sunday, March 14, 1999
---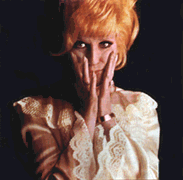 Dusty Springfield, 59, Pop Star of the 60's, Dies
By Stephen Holden

Dusty Springfield, the smoky-voiced English torch singer whose interpretations of pop ballads were suffused with a heartbroken wistfulness, died on Tuesday at her home in Henley-on-Thames, near Oxford, west of London. She was 59.
The cause was breast cancer, said her agent, Paul Fenn.
Ms. Springfield had one of the longest recording careers of any contemporary pop star, beginning in 1961 when she had the first of several hits with her folk-pop trio, the Springfields, and ending with her 1995 album, "A Very Fine Love." She had most of her major hits in the 1960s when she was considered the British equivalent of Dionne Warwick; she recorded only intermittently after the early 1970s.
Her career was briefly rejuvenated in 1987 when the English duo the Pet Shop Boys (Neil Tennant and Chris Lowe), who were longtime fans, produced her Top Five hit, "What Have I Done to Deserve This?" They also wrote and produced "Nothing Has Been Proved," the dense, swirling post-disco theme song that she sang on the soundtrack of the 1989 movie "Scandal," about the Profumo sex scandal that had rocked the British government in the early 1960s.
Ms. Springfield became an international pop star in 1964 with "I Only Want to Be With You," a perky early-Beatles-style love song. Other major '60s hits included "Wishin' and Hopin"' (1964), and "The Look of Love" (1967), both written by Burt Bacharach and Hal David, the team that supplied Ms. Warwick with most of her early hits. Ms. Springfield's sultry rendition of "The Look of Love," from the soundtrack of "Casino Royale," anticipated the heavy- breathing eroticism of Donna Summer a decade later.
Her best seller, "You Don't Have to Say You Love Me" (1966), was a big- belting tear-jerker that reached No. 4 on Billboard's singles chart and won her her first Grammy nomination. The country-soul ballad "Son of a Preacher Man," her Top 10 hit from 1969, won her new respect and her second Grammy nomination after being prominently featured in the 1994 movie "Pulp Fiction."
Dusty Springfield was born Mary Isabel Catherine Bernadette O'Brien on April 16, 1939, in Hampstead, London. While attending British convent schools, she discovered the music of Peggy Lee, whose intimate come-hither style was a major formative influence.
She got her professional start with an Andrews Sisters-style group called the Lana Sisters, but quit to form her own folk-pop group, the Springfields, with a friend, Tim Field, and her brother, Dion O'Brien, now known as Tom Springfield, who is her only survivor. Promoted as a British answer to Peter, Paul and Mary, the group had a popular British television show and scored several English hits before breaking through in the United States with a Top 20 single, "Silver Threads and Golden Needles."
While visiting New York with the trio, Ms. Springfield recalled many years later, she heard the Exciters' brash, aggressive song "Tell Him" coming out of a Broadway record store and decided that she wanted to go pop.
"I was deeply influenced by black singers from the early 1960s," she said. "I liked everybody at Motown and most of the Stax artists. I really wanted to be Mavis Staples. What they shared in common was a kind of strength I didn't hear on English radio."
Ms. Springfield subsequently broke up her folk group and signed as a soloist with Philips Records. Her first single for the label, "I Only Want to Be With You," established her new direction. Ms. Springfield, with her teased beehive hairdo and eyes heavily blackened with mascara, was a 1960s pop fashion icon. From 1964 and 1967, when she left Philips, 11 of her singles hit the American pop charts.
"Son of a Preacher Man," a song that Aretha Franklin had rejected but later recorded, became Ms. Springfield's first single for Atlantic Records and was featured on her Atlantic debut album, "Dusty in Memphis," which is widely regarded as a pop masterpiece. To make the album, the Atlantic producing team of Jerry Wexler, Tom Dowd and Arif Mardin, who had brought Ms. Franklin to her peak of popularity, took Ms. Springfield to Memphis to record with a hot rhythm section.
The record, which included "The Windmills of Your Mind," an early collaboration of Michel Legrand with the lyricists Alan and Marilyn Bergman that was written for the movie "The Thomas Crown Affair," was a perfect blend of warm country-soul and New York pop sophistication. For many singers, including Melissa Manchester, Linda Ronstadt and k.d. lang, it provided a blueprint for stylistically adventurous vocal showcases.
But "Dusty in Memphis" was not a big hit, reaching only No. 99 on Billboard's album chart. In 1970 Atlantic released her much-admired rhythm- and-blues-flavored album, "A Brand New Me." Recorded in Philadelphia, the album fared no better than its forerunner.
Thereafter Ms. Springfield, who was awarded the Order of the British Empire in January, recorded only sporadically. Although her subsequent American albums -- "Cameo" (1973, ABC-Dunhill), "It Begins Again" (1978, United Artists), "Living Without Your Love" (1979, United Artists), "White Heat" (1982, Casablanca) and "A Very Fine Love" (1995, Columbia) -- found her voice as full and compelling as ever, the material and production rarely matched the singing.
After the 1970s she led a peripatetic existence, living sometimes in Los Angeles, at other times in the Netherlands and Britain. In 1997 Mercury Records released the 3-CD, 77-song "Dusty Springfield Anthology Collection." Last month Rhino Records released an expanded version of "Dusty in Memphis."
Thursday, March 4, 1999
---

Sidney Gottlieb, 80, Dies; Took LSD to C.I.A.
By TIM WEINER

WASHINGTON -- Sidney Gottlieb, who presided over the Central Intelligence Agency's cold-war efforts to control the human mind and provided the agency poisons to kill Fidel Castro, died on Sunday in Washington, Va. He was 80 and had spent his later years caring for dying patients, trying to run a commune, folk dancing, consciousness-raising and fighting lawsuits from survivors of his secret tests.
Friends and enemies alike say Gottlieb was a kind of genius, striving to explore the frontiers of the human mind for his country, while searching for religious and spiritual meaning in his life. But he will always be remembered as the Government chemist who dosed Americans with psychedelics in the name of national security, the man who brought LSD to the C.I.A.
In the 1950's and early 1960's, the agency gave mind-altering drugs to hundreds of unsuspecting Americans in an effort to explore the possibilities of controlling human consciousness. Many of the human guinea pigs were mental patients, prisoners, drug addicts and prostitutes -- "people who could not fight back," as one agency officer put it. In one case, a mental patient in Kentucky was dosed with LSD continuously for 174 days.
Other experiments involved agency employees, military officers and college students, who had varying degrees of knowledge about the tests. In all, the agency conducted 149 separate mind-control experiments, and as many as 25 involved unwitting subjects. First-hand testimony, fragmentary Government documents and court records show that at least one participant died, others went mad, and still others suffered psychological damage after participating in the project, known as MK Ultra. The experiments were useless, Gottlieb concluded in 1972, shortly before he retired.
The C.I.A. awarded Gottlieb the Distinguished Intelligence Medal and deliberately destroyed most of the MKUltra records in 1973.
John Gittinger, a C.I.A. psychologist who vetted Gottlieb -- "one of the most brilliant men I've ever known" -- and worked with him for 22 years, said the agency began the tests because it was gripped by "a great fear" in the cold war. It was afraid that the Soviet Union would corner the market on LSD and use it as a chemical weapon or that China would perfect the black art of brainwashing, Gittinger said.
The agency and Gottlieb believed the United States had to fight by any means necessary.
"We were in a World War II mode," Gittinger said. "The war never really ended for us."
John Marks, author of the definitive book on the experiments, "The Search for the 'Manchurian Candidate' " (Times Books, 1979) said Gottlieb was "unquestionably a patriot, a man of great ingenuity."
"Gottlieb never did what he did for inhumane reasons," Marks said. "He thought he was doing exactly what was needed. And in the context of the time, who would argue? But with his experiments on unwitting subjects, he clearly violated the Nuremburg standards -- the standards under which, after World War II, we executed Nazi doctors for crimes against humanity."
Sidney Gottlieb was born in New York City on Aug. 3, 1918, the son of immigrants from Hungary. His parents were orthodox Jews, but he did not embrace the faith. Gottlieb "had had a real problem to find a spiritual focus, having gone away from Jewishness," Gittinger said, and he experimented with everything from agnosticism to Zen Buddhism all his life.
He left the City College of New York, first for the Arkansas Polytechnic Institute, then for the University of Wisconsin, where he graduated, magna cum laude, with a chemistry degree in 1940. He earned a doctorate in biochemistry from the California Institute of Technology, where in 1942 he married Margaret Moore, the daughter of Presbyterian missionaries who served in India, where she was born. A clubfoot kept him from military service in World War II, and he was always bitter that he missed the war, Gittinger said.
Gottlieb joined the C.I.A. in 1951, although not before telling Gittinger, his interviewer, that he had been a socialist in his youth. Two years later, the agency established MKUltra and Gottlieb was running it. As chief of the agency's technical services division, he served two decades as the senior scientist presiding over some of the C.I.A.'s darkest secrets. The first of these were the LSD experiments. Gottlieb was fascinated by the drug, and, a family friend said, he took it hundreds of times.
"He was the most curious man I ever knew," Gittinger said. "He was willing to try anything to discover something."
Gottlieb was also involved in the C.I.A.'s assassination plots. In the Eisenhower and Kennedy Administrations, Gottlieb, always under orders from the Director of Central Intelligence or his chief spymaster, developed a poison handkerchief to kill an Iraqi colonel, an array of toxic gifts to be delivered to Fidel Castro, and a poison dart to kill a leftist leader in the Congo. None of the plans succeeded.
After he left the C.I.A., Gottlieb and his wife went to India, where he ran a leper hospital for 18 months. A lifelong stutterer, he pursued a master's degree in speech therapy. He bought land with an old log cabin outside a small Virginia town, Boston, where he practiced two of his lifelong hobbies, folk dancing and herding goats.
"He bought that old house and the land with the idea of setting up a communal home, with several families living together," said Gittinger, a lifelong friend. At least one other couple stayed for years. Gottlieb spent his last years in Washington, Va., a pretty village in the foothills of the Blue Ridge mountains, working in a hospice, tending to the dying.
He is survived by his wife and four children, Penny Gottlieb Chesluk, Rachel Gottlieb Samoff, Peter Gottlieb and Steven Gottlieb. Cleaving to old habits of secrecy, his wife declined to disclose the cause of Gottlieb's death.
Wednesday, March 10, 1999
---
And here's the next set of more groovy obits...
They saved Goethe's brain!!

Willard R. Espy, 88, Scholar and Practitioner of Wordplay

Look -- up in the sky!! It's Superman!

---
Links
---
There are several obit enthusiast sites out there, and each has its own unique take on obituary journalism. Here are some recommended sites you may enjoy as well.
---