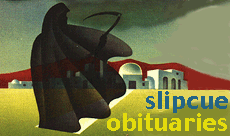 ---
ROCKIN' IN THE GRAVEYARD
Recent Obituaries of Interest
For your edification... some more obituaries...
---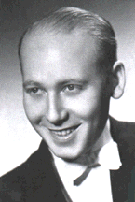 RED NORVO, 91, Effervescent Jazzman, Dies
By Peter Watrous - courtesy of The New York Times






Red Norvo, one of jazz's early vibraphonists and a gifted band leader whose groups greatly influenced American music and backed singers like Mildred Bailey, Billie Holiday and Frank Sinatra, died on Tuesday at a convalescent home in Santa Monica, Calif. He was 91.

Norvo helped introduce the xylophone and later the vibraphone as legitimate jazz instruments. But playing an unusual instrument was not what earned him, early in his career, spots in some of jazz's most important orchestras, including the groups of Paul Whiteman, Benny Goodman, Charlie Barnet and Woody Herman. Norvo was a genuine improviser, effervescent, intelligent and searching, and even his early solos reflect a literate sensibility, embracing both the classical and jazz worlds.

A typical Norvo solo dives and turns, nudging the harmony with astringent dissonances. He had a way of keeping his lines happy; they bounce with a firm sense of swing. But underneath was an element of darkness, an exploratory urge that led his improvisations into corners where most improvisers would not venture. On "Blues a la Red," from 1944, Norvo's solo uses odd figures and a streamlined swing that mix perfectly: riffs and lines and melodies all combining for a powerful statement.

Norvo, who was born Kenneth Norville in Beardstown, Ill., sold his pet pony to help pay for his first instrument, a marimba. He started his career in Chicago with a band called the Collegians in 1925. In the late 1920's he joined an all-marimba band, playing the vaudeville circuit. (He also tap-danced and played xylophone.)

He changed his name after a vaudeville announcer pronounced it incorrectly, and it appeared that way in Variety. "It stuck," he told an interviewer, "so I kept it."

When he graduated to the Whiteman orchestra, he met Bailey, a singer in the band, whom he married in 1930; they were nicknamed "Mr. and Mrs. Swing" and remained together for 12 years. They were still friends when Bailey died in 1951. The couple formed their own band in 1936, using the innovative arranger Eddie Sauter to write much of their material. They had several hits, including "Rockin' Chair," "Please Be Kind" and "Says My Heart," and their work was well respected by musicians, who found the arrangements sophisticated.

But Norvo was not simply producing pop music with his wife. He was one of the earliest musicians to take refuge in the jazz clubs that once lined West 52d Street in Manhattan, and he worked there at the Famous Door with a group that had neither a drummer nor a piano. The group and the music it played helped set Norvo's reputation as a leader with experimental ideas, a jazz musician who like to play quietly. The music quickly came to be called chamber jazz.

In 1933, the year he first recorded under his own name, he produced some of the most unusual recorded jazz of the time, including Bix Beiderbecke's "In a Mist" and his own "Dance of the Octopus," using a group that included Benny Goodman on bass clarinet and himself on marimba, accompanied by guitar and bass. And he was cultivating his own bands, with a fine ear for talent. In 1934 he led a group with Artie Shaw and Charlie Barnet as sidemen, and recorded with Chu Berry, Teddy Wilson, Bunny Berigan and Gene Krupa.

Norvo offered a singing spot to Frank Sinatra in 1939, but he turned them down as he had just signed a contract with Harry James. Sinatra and Norvo remained friends, however, and the Norvo band influenced Sinatra's music.

In 1944 Norvo joined Benny Goodman's sextet, and a year later played with the First Herd of Woody Herman, an orchestra that was proud of its harmonic innovations. It was in the middle 1940's that Norvo moved from the xylophone, an acoustic instrument, to the vibraphone, an electrified version. At that point he undertook an innovative recording project, merging some of the best of the swing-era improvisers with the leaders of the be-bop movement, Charlie Parker and Dizzy Gillespie.

The session, recorded for Comet records, included Norvo, Gillespie on trumpet, Charlie Parker and Flip Phillips on saxophones, Teddy Wilson on piano, Slam Stewart on bass and Specs Powell and J. C. Heard on drums. They recorded "Hallelujah," "Get Happy," "Slam Slam Blues" and "Congo Blues," and the result was some of the most highly regarded music of the era.

Two years later, having moved to California from New York with his second wife, Eve Rogers, Norvo decided to form a small group. (It was hard for him to find good musicians in California at that time.) He brought together Tal Farlow on guitar and Red Kelly on bass. The bassist Charles Mingus, who had worked with Norvo when his group backed Billie Holiday, replaced Kelly in 1950, and the three produced extremely light but swinging and complicated music that was almost shocking in its virtuosity, full of rapid tempo changes and sophisticated harmonies.

The band, regarded as one of the finest small groups in jazz history, recorded for two years; later trios included the guitarist Jimmy Raney and the bassist Red Mitchell.

Norvo kept busy even during jazz's slack periods. He worked with Goodman in 1959 and 1961, and recorded regularly in the late 1950's, for Contemporary, Victory and Fantasy Records. And in 1957 he resumed his relationship with Sinatra, who would come to Norvo's shows at the Desert Inn in Palm Springs, California.

A year later Sinatra hired Norvo for the Sands in Las Vegas. It was there that Sinatra came up with the idea of touring with Norvo, which they did in 1959. The association lasted nearly 20 years. Sinatra liked to have Norvo and his band at the Sands, so that he could perform with a jazz group whenever he wanted. Norvo often toured under the auspices of the jazz entrepreneur George Wein as well.

In the 1960's Norvo suffered partial hearing loss after an infection and compounded the problem at a shooting range when a gun discharged next to his ear. Surgery and a hearing aid helped him regain some hearing. Then in the 1970's, after his wife and one of their two sons died within a short time, he stopped playing for two years.

He is survived by a daughter, Portia Corlin of Santa Monica; a son, Mark, and one grandchild.

He began to work again at a club in Las Vegas and for the rest of his career kept recording and touring regularly. A stroke in the mid-1980's, forced him into retirement, but even in his last years his performances were often marvels of intelligent swinging.

Thursday, April 8, 1999
---

JAMES V. BLEVINS, 87, Made a Kingdom of Popcorn
By Wolfgang Saxon, courtesy of the The New York Times

James Victor Blevins, who liked to be known as "the Popcorn King" after he began to market his own version of the snack to movie and grocery chains in the 1940s, died on Monday at his home in Nashville. He was 87.
Blevins was originally from Birmingham, Alabama, and worked for the Firestone Tire and Rubber Company. He moved to Nashville to go into business as a food broker. It was at that brokerage house that he realized how demand for popcorn was surging along with movie audiences and that it was in short supply. Seizing on the opportunity, he founded the Blevins Popcorn Company in Nashville in 1945. He was able to offer a fluffier, tastier hybrid corn that proved highly successful, especially because concessionaires got more bulk for every ounce of popping kernels.
For a starter, Blevins signed on a Tennessee movie chain to become its sole popcorn supplier. His enterprise branched out to introduce its product beyond Tennessee and started selling it in ready-to-pop packaging. He also concocted a buttery but low-fat seasoning in the company kitchen. He introduced popcorn to the baseball bleachers of Japan, a venture that he sold to Frito-Lay in 1952.
Mindful that a good hype cannot hurt in business, he dubbed the company's headquarters Popcorn Village and called himself variously the mayor of Popcorn Village or, trumping that, the Popcorn King. In 1948, he introduced a rather unscientific popcorn poll that nonetheless shamed some professionals by predicting Harry S. Truman's presidential victory in November. The poll accurately called six presidential elections altogether.
Blevins sold the business in 1961. It came to sell a wide variety of supplies to concessionaires as it passed through several ownerships as the Blevins Concession Supply Company. It moved its base to Tampa, Florida, and grew into the nation's biggest supplier of movie-theater concessions. But by the early 1990s it was in financial straits after having bought up a string of related companies. Overextended, it was forced into bankruptcy in 1995.
Blevins was inducted into the Popcorn Institute's Hall of Fame in 1989. After selling most of his business to the Conwood Corporation, a diversifying tobacco company, in 1961, he continued to manage its Blevins affiliate for several years, particularly its international operations.
After retiring, he looked after his investments and a family foundation that helps students get through college and advocates tithing for charity. He kept an office and recently completed a book, as yet unpublished, on the subject of tithing for the common good.
Blevins is survived by his wife of 66 years, Patty Hester Blevins; a daughter, Betty B. Jensen of Atlanta; a son, Bill, of Nashville; five grandchildren, and eight great-grandchildren.
---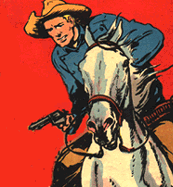 RORY CALHOUN, 76, Star of Many Cowboy Movies
By Nick Ravo - courtesy of The New York Times

Rory Calhoun, a heartthrob-handsome actor who starred in scores of cowboymovies and the television series "The Texan," died April 28 at St. Joseph's Medical Center in Burbank, California. He was 76.
Calhoun, who lived in Morongo Valley, California, was being treated at the hospital for diabetes and emphysema, said A.C. Lyles, a friend.
Although he was known mainly as a rugged leading man in B-westerns, Calhoun also played opposite such leading ladies as Marilyn Monroe in "River of No Return," Susan Hayward in "With a Song in My Heart," and Betty Grable in "Meet Me After the Show."
Calhoun's nickname was "Smoky" -- for his smoldering good looks, particularly his gray-as-smoke eyes. His screen name, Rory, was said to have been pinned on him by producer David O. Selznick, who, depending on which story the press agents put out, either was fascinated by the actor's youthful adventures fighting roaring forest fires or thought that he should roar because his astrological sign was Leo.
The actor was born Francis Timothy McCown on Aug. 8, 1922, in Los Angeles, and grew up in Santa Cruz, California. His father died when he was nine months old and he sometimes used the surname of his mother's next husband, Nathaniel Durgin. He dropped out of high school and became a car thief, eventually landing in a federal reformatory in El Reno, Oklahoma, where he served three years.
After his release in the early 1940s, he worked at a variety of odd jobs, among them fisherman, truck driver, mechanic, logger, miner and ranch hand. While riding a horse in a Los Angeles park, he met actor Alan Ladd, who persuaded him to take a screen test.
He made his screen debut in 1944 in "Something for the Boys," a musical with Carmen Miranda. After years of playing small parts, he established himself as one of Hollywood's leading cowboys in the 1952 western "Way of a Gaucho." Among the westerns that followed were "Four Guns to the Border," "The Treasure of Pancho Villa," "The Hired Gun," "Powder River," "The Silver Whip" and "Black Spurs."
His career was endangered in the mid-1950s when blackmailers threatened to expose his prison past, but he disclosed his record himself, emphasizing how he had changed.
He may be best remembered for "The Texan," which ran on network television from 1958 to 1960. He played Big Bill Longley, who ambled from town to town and fought bad guys who broke the peace.
When the western genre faded in the 1960s, he made many low-budget films. From 1982 to 1987, he appeared on the CBS television soap opera "Capitol." His last film was "Pure Country" in 1992.
Calhoun's two marriages, first to singer Lita Baron, and then to Susan Langley, a journalist, both ended in divorce. He is survived by four daughters, Cindy, of Toluca Lake, California, Tami, of Newcastle, Washington, Lorri, of Portland, Oregon, and Rory Patricia Nagy of Wilmington, N.C.
April 30, 1999
---
And here's the next set of more groovy obits...
Joel Price - brought the electric bass to country music

William Hunter McCrea, 94, Expert on Sun's Composition

Irving "Fishbones" Stevens, 88, Ex-Hobo, Author, Inventor of Fly Dope

---
Links
---
There are several obit enthusiast sites out there, and each has its own unique take on obituary journalism. Here are some recommended sites you may enjoy as well.
---