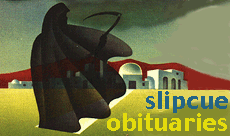 ---
ROCKIN' IN THE GRAVEYARD
Recent Obituaries of Interest
For your edification... some more obituaries...
---

JOEL PRICE, 88, Country Music's first electric bass player

Joel Price, the man credited with introducing the electric bass to country music at the Grand Ole Opry, died Monday of a heart attack. He was 88.
Tired of lugging around the hefty bass fiddle, which would frequently go out of tune, Price bought a Fender electric bass for $100, according to former Grand Ole Opry announcer Eddie Stubbs.
Playing with Country Music Hall of Famer "Little" Jimmy Dickens, Price became the first to play the electric bass on stage at the Opry in Nashville, Tennessee.
Citing a 1997 interview with Price, Stubbs said the Georgia native was "quite possibly the first to play that instrument in country music."
Price played bass on Dickens' classics "We Could" and "Take Me As I Am or Let Me Go."
Price got his start with Tommy Scott in 1937 and also played with Bill Monroe and the Bluegrass Boys and George Morgan.
---

WILLIAM HUNTER McCREA, 94, Expert on Sun's Composition
By Wolfgang Saxon, courtesy of the The New York Times

Sir William Hunter McCrea, a British astronomer and mathematician who as a young researcher advanced the knowledge of the Sun's composition and more recently set forth his own theories on the formation of planetary systems and galaxies, died April 25. He was 94 and lived in Lewes, Sussex.
In the 1920s, astrophysicists succeeded in debunking an ancient proposition that the Sun was made up mostly of iron. The scientists theorized that the Sun held many of the same gases and materials as the earth.
Later spectroscopy hinted at the presence of hydrogen in the Sun's atmosphere, and the German astronomer Albrecht Unsoeld suggested in 1928 that hydrogen, in fact, was the most common element. William McCrea, a brilliant mathematician and research student at Cambridge University, worked out the calculations to confirm the hypothesis a year later.
Cosmologists eventually established that all stars were composed chiefly of hydrogen, a realization that turned their science into a new direction. It also pointed toward the Big Bang theory of the origin of the universe.
In the late 1960s, McCrea distanced himself from that theory of a single Big Bang. He advanced his own interpretations that indicated instead a series of bangs at different times and places in the cosmos.
A native of Dublin, William McCrea was educated at Cambridge and the University of Goettingen. He returned to Cambridge and received his Ph.D. there in 1929, then became a lecturer in mathematics at Edinburgh University.
He next moved to the University of London and the Imperial College of Science. He remained associated with the University of London until 1966, when he was appointed research professor of theoretical astronomy at the University of Sussex. He took emeritus status in 1972.
He contributed papers to mathematical and astronomical journals and translated Unsoeld's "The New Cosmos" (1969). His own books included "Relativity Physics" (1935), "Analytical Geometry of Three Dimensions" (1942), "Physics of Sun and Stars" (1950), "The Royal Greenwich Observatory" (1975), and "History of the Royal Astronomical Society, 1920 to 1980" (1987).
McCrea's wife, Marian Nicol Cole Webster McCrea, died in 1995 after 62 years of marriage. They had two daughters and a son.
May 6, 1999
---

Irving Stevens, 88, Ex-Hobo, Inventor of Fly Dope
By Nick Ravo - courtesy of The New York Times

Irving "Fishbones" Stevens, who became a folk hero in Maine for his tales of hobo life in the 1930s and his success developing a foul-smelling insect repellent called Irving's Fly Dope, died at the home of his sister, Dorothy Glazier, in Pittsfield, Maine, last Tuesday. He was 88 years old.
Stevens, who was born on June 21, 1910, in Surry, Maine, and lived in Corinna, Maine, picked up the nickname "Fishbones" as a youth, when he was poor and hungry.
"He was as thin as a rail," Ms. Glazier said. "So, everyone called him 'Fishbones.' You could see every bone in his body."
As many down-and-out men did during the Great Depression, Stevens hit the road, becoming what was then known as a hobo. When World War II started, he joined the Air Force and served as a private. After the war, he never returned to the hobo life. Instead, he became a machinist in Maine and Connecticut.
In the early '60s, Stevens, always a tinkerer, developed Irving's Fly Dope by heating pine tar and adding a few secret ingredients. The concoction, which he bottled himself and sold throughout New England, from a car, was as effective as it was rank, and it remained a staple of campers and fishermen during black-fly season until 1991, when environmental licensing fees made it too expensive to produce.
For some men, being the creator of Irving's Fly Dope might have been enough fame for one life, but in the 1980s, Stevens self-published "Fishbones: Hoboing in the 1930s," a collection of stories about his hobo years. The book became something of a local sensation.
Stevens wrote two more books, "Mandy's Washtub and Other Stories" in 1992 and "National King of the Hobos" in 1997. He was given the ceremonial title King of the Hobos in 1988, at the annual National Hobo Convention in Britt, Iowa. Five years later, he crowned one of his daughters, Constance Hall of Dexter, Maine, as Queen of the Hobos.
In addition to Ms. Glazier and Ms. Hall, Stevens is survived by another sister, Sidney Hanscom of West Palm Beach, Fla.; three sons, James Stevens of Stetons, Maine, Richard Russell of Worcester, Mass., and Philip Batchelder of Abbot, Maine; two other daughters, Brenda Hall of St. Albans, Maine, and Marybeth Cribbs of Waterville, Maine, and 13 grandchildren.
May 10, 1999
---
And here's the next set of more groovy obits...
Jean Vander Pyl, 79, the voice of Wilma on "The Flintstones"

Sam Shaw -- film producer and photographer of Marilyn Monroe

Arthur Schawlow, 77, laser scientist, dies

---
Links
---
There are several obit enthusiast sites out there, and each has its own unique take on obituary journalism. Here are some recommended sites you may enjoy as well.
---