<! MP3 12/13/09, 10/21/12 > <! pix 12/13/09 > <! icons 12/18/10 > <! UPDATES: 10/21/12 - some links updated >

---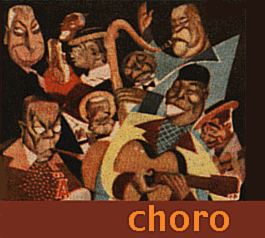 This is the fifth page of a brief guide to Brazilian choro music, part of a larger Brazilian Music Guide, published by Slipcue.Com. This page includes reviews of multi-artist compilation albums, as well as books about choro and links to other online resources. The reviews of individual artist albums start on a separate page: follow this link to read those reviews.
---
Choro Compilations
---

Various Artists "1st COMPASSO: SAMBA & CHORO" (Biscoito Fino, 2000)


Various Artists "2nd COMPASSO: SAMBA & CHORO" (Biscoito Fino, 2000)


Various Artists "3rd COMPASSO: SAMBA & CHORO" (Biscoito Fino, 2001)


Various Artists "4th COMPASSO: SAMBA & CHORO" (Biscoito Fino, 2001)


Various Artists "5th COMPASSO: SAMBA & CHORO" (Biscoito Fino, 2001)


Various Artists "6th COMPASSO: SAMBA & CHORO" (Biscoito Fino, 2001)



Various Artists "7th COMPASSO: SAMBA & CHORO" (Biscoito Fino, 2001)


An excellent series of live peformances of old-fashioned samba and choro, with a slew of talented traditionalists and jazz-oriented MPB artists. As the series picks up steam, the musicians become higher-profile, better known artists. The stars include Elton Medeiros, Guinga, Muicha, Francis and Olivia Hime, and Joyce. Far more numerous are the more obscure artists, such as Trio Madeira Brasil, Quarteto Maogani, Luciana Rabello, and others whose fortes lie with the older acoustic styles. A lilt of samba, a whiff of jazz, and a classical touch all combine in these fine performances staged in the Paco Imperial do Rio De Janeiro. Recommended!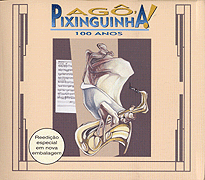 Various Artists "AGO PIXINGUINHA: 100 ANOS" (Som Livre, 1997)


This is a very nice, very classy, very well-programmed and listenable tribute to choro pioneer Pixinguinha. This impressive 2-CD that gathers together classic performances of MPB stars such as Maria Bethania, Joao Bosco, Chico Buarque, Nana Caymmi, Paulinho Da Viola, Tom Jobim, Simone, Caetano Veloso and others, assembled by producer Herminio Bello De Carvalho, who worked with Pixinguinha in his twilight years, and who remembers him fondly in an essay included in a thick set of liner notes. There's also a long interview with Pixinguinha, and nice archival photos, as well as vintage choro recordings by Jacob Do Bandolim and Pixinguinha himself. A great introduction to his work, with plenty of information and memorabilia to back up the sweet-sounding music. Recommended!

Various Artists "OS BAMBAS DO BANDOLIM" (Kuarup, 1999)


A first-rate collection of Brazilian mandolin playing, featuring choro masters such as Deo Rian, Joel Nascimento and Pedro Amorim. The picking is dazzling and flashy, and while it may all start to sound alike, it's pretty sweet stuff. Recommended!
Various Artists "BEATLES 'N' CHORO, v.1" (Deckdisc, 2002)


Various Artists "BEATLES 'N' CHORO, v.2" (Deckdisc, 2003)


Various Artists "BEATLES 'N' CHORO, v.3" (Deckdisc, 2004)


Various Artists "BEATLES 'N' CHORO, v.4" (Deckdisc, 2005)



Various Artists "BRAZIL CHORO: SAXOPHONE, WHY CRY?" (EMI Hemisphere, 1999)


A nice solid collection of latter-day choro recordings, including old-timers like Pixinguinha, Radames Gnattali and Waldir Azevedo, as wel as younger acolytes like Deo Rian, Severino Araujo and Paulinho Da Viola. This set is mainly from the 1960s and '70s, well after the heyday of the genre -- it's a bit on the flowery side, but still pretty darn good. If you can find it, it's a good introduction to the modern side of the style. Great liner notes, packed with concise, informative biographies of all the artists.


<! 109 x 108 >
---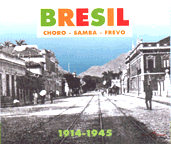 Various Artists "BRESIL -- CHORO - SAMBA - FREVO: 1914-1945" (Fremeaux & Associates/France, 1998)


Colossal. Enthralling. Essential. Legendary figures from the dawn of samba such as Pixinguinha, Noel Rosa, Sinho and Ary Barroso may seem distant and antique, but this excellent French compilation brings their music back with resounding immediacy. Two CDs worth of catchy, classy, crazy, playful creativity with an old-timey, jazzy feel. A lot of this would work well alongside old big band tunes, or Django Reinhardt records. HIGHLY recommended. Also check out the similar BRESIL: SAMBA collection.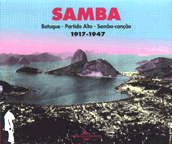 Various Artists "SAMBA -- BATUQUE - PARTIDO ALTO - SAMBA-CANCAO: 1917-1947" (Fremeaux & Associates/France, 1998)


The second in this fabulous archival series of early Brazilian pop songs. Of course, this 2-CD collection has a tasty sampling of early Carmen Miranda recordings, but better yet are the two dozen other tracks featuring fabulous artists whose work has been next to impossible to find for decades. Noel Rosa, Bahianho, Mario Reis, Cyro Monteiro and others are all represented -- this is a HIGHLY recommended collection!!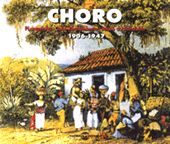 Various Artists "CHORO: 1906-1947" (Fremeaux & Associates/France, 1998)


Another stunner in this incredible French series. A beautiful collection of mostly-instrumental music, featuring the legendary Pixinguinha and acoustic jazz pioneer, mandolinist Jacob do Bandolim. There is some teensy overlap between this and the first BRESIL comp, but it's pretty negligible considering how great both collections are. This collection is indispensible for anyone looking into the roots of Brazilian samba.
---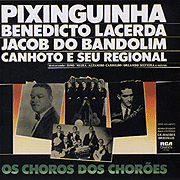 Various Artists "OS CHOROS DOS CHOROES" (RCA, 1977)


A delightful collection of the best, classic Brazilian choro recordings. This nostalgia album originally came out in 1977, packed with lively performances from four giants of the choro style, saxophonist Pixinguinha, flautist Benedicto Lacerda, mandolin master Jacob Do Bandolim and bandleader Canhoto, all recorded in top form between 1946-52. This disc is a perfect introduction to the best of the genre, and is a delight to listen to... Highly recommended!

Various Artists "DANCE MUSIC FROM BRAZIL: CHOROS AND FORRO" (Nimbus, 2000)


A far-flung but fairly wimpy 4-CD set that features about four hours of mostly-instrumental music drawn from this label's vast catalog. It's not actually a proper compilation so much as a collection of albums... each disc features a separate group: Os Ingenuos, Oficina De Cordas, Camarao, and the Fred Dantas/Ailton Reiner ensemble each tackle a separate style -- choro, forro, etc. Like many choro albums, this disc might be best taken in small dose, but there is some truly fabulous musical virtuousity on display here. The forro disc has the greatest variety, but they're all worth checking out. A great introduction to the styles, and the label.

Pixinguinha/Various Artists "NAQUELE TEMPO: CHOROS E VALSAS" (Revivendo, 1998)


Wartime and postwar chororecordings featuring duets with Pixinguinha and flautist Benedito Lacerda, as well as other choro and valsa stars, such as Custodio Mesquita and the legendary pre-bossa nova guitarist, Garoto. A great deal of the old-world gentility of the style is preserved in these recordings, which were made well after the style's real heyday in the 1920s, with the delicate society band fragility of the music fully intact. It's also easier to parse the music out, as these later renditions also have superior sound quality to the rollicking originals... Also of interest is the Hawaiian-style slide guitar employed by Garoto on several tracks made in the mid-'40s. Great stuff... Highly recommended!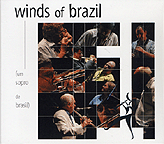 Various Artists "WINDS OF BRAZIL (UM SOPRO DE BRASIL)" (Adventure Music, 2006)


This live concert disc celebrates wind instruments in Brazilian music, including the flute, clarinet, bassoon and brass, as well as a bit of harmonica music, courtesy of harpist Mauricio Einhorn. It's mostly a soft, classically-informed jazz set, with featured players such as the esteemed Altamiro Carrilho, Teco Cardoso, flautists Lea Freire and Mauro Rodrigues, trombonist Vittor Santos and others, supported by an enesemble led by pianist Benjamin Taubkin and bassist Zeca Assumpcao
---
Books On Choro Music
---
"Almanaque Do Choro: A Historia Do Chorinho, O Que Ouvir O Que Ler, Onde Curtir"
by Andre Diniz
(Jorge Zahar Editor, 2003)
A slim but informative volume outlining choro's history and growth, from its 1870 debut into the early years of the 21st Century. Lots of easily digested nuggets of deep historical information, as well as some wonderful archival imagery. (Diniz has also written a similar volume for samba, the Almanaque Do Samba.) In Portuguese.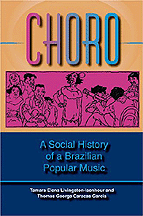 "Choro: A Social History Of A Brazilian Popular Music"
by Tamara Elena Livingston-Isenhour & Thomas George Caracas Garcia
(Indiana University Press, 2005)

Scholarly and authoritative, but also with a casual, chatty side, this will probably stand as the best English-language overview of the choro style for many years to come. The two authors each approach the music from different points of view, but the synthesis of their perspectives works well, combining interest in its social significance with an in-depth analysis of its musical components. Although there are some dense technical passages, they are, remarkably enough, written in a way that lay people (like myself) can understand. If you want to learn about choro, this book is an invaluable resource.
"O Melhor Do Choro Brasileiro, v.1"
(Various Composers)
(Irmaos Vitale, 1997)

For the performance-abled among you, here's some actual sheet music to help you figure out all those lightning-fast choro licks...
"O Melhor Do Choro Brasileiro, v.2"
(Various Composers)
(Irmaos Vitale, 1998)

More sheet music!
"O Melhor Do Choro Brasileiro, v.3"
(Various Composers)
(Irmaos Vitale, 2001)

More sheet music!
"Brazilian Piano: Choro, Samba, And Bossa Nova"
by Robert Willey and Alfredo Cardim
(Hal Leonard, 2010)

Sheet music and essays about Brazilian piano music, with a companion CD and accompanying interviews of artists such as Joao Donato, Clare Fischer, Cesar Camargo Mariano and Dom Salvador, which help illuminate the selections. (Also of interest may be Robert Willey's website, www.brazilianpiano.com which profiles a couple dozen well-known Brazilian pianists...)
---
Choro Links
---

<! a href= "http://www.futuris.net/linen/92/" Dirty Linen Magazine also has a lengthy piece on choro which appears in the March, 2001 issue. The online version is much shorter than the version in print. Written by Ellen Collison. > <! a href= "http://www.cbmr.org/idbc_entries/pixinguinha.htm" The Center for Black Music Research, of Columbia College in Chicago, hosts an excellent academic site which discusses Pixinguinha's musical theory and the development of the musical style in great detail, and also provides an extensive, track-by-track discography. Very nice! > <! a href= "http://www.acari.com.br" Acari Records is a choro-oriented label that also has in-depth profiles of several of the styles greatest performers. (In Portuguese) >

---



Other Brazilian Styles
Main Brazil Index


---