<! cd = 01/22/08 > <! MP3 09/12/08, 11/24/09 > <! update 09/12/08 > <! pix 11/24/09 > <! icons 12/20/10 >

---
Jose Bispo Clementino Dos Santos, aka Jamelao, played old-school gafiera jazz -- swinging samba, but with an unusual, almost un-Brazilian twist. He was also closely associated with the fabled Mangueira samba school, and recorded regularly from the late 1950s through the dawn of the 21st Century... Here's a quick look at his work (most of which is still out of print... though a few gems have made it into the digital era...)
---
Discography: Best-Ofs
---
Jamelao "A Voz Do Samba" (Warner, 2002)


A three-CD box set (also for sale as single discs) that outlines Jamelao's work across the decades... It's a fine, comprehensive look at his career, and it's packed with some mighty fine music.
Jamelao "O Eterno Mangueirense" (Revivendo, 2004)

Jamelao "Noventa Anos Do Samba" (Tumi, 2005)


---
Discography: Albums
---
Jamelao "O Samba Em Noite De Gala" (Continental, 1958)

Jamelao "Escolas De Samba" (Continental, 1958)

Jamelao "O Samba E Bom Assim: A Boite E O Morro Na Voz De Jamelao" (Continental, 1959)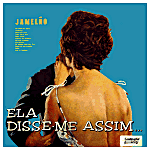 Jamelao "Ela Disse-Me Assim..." (Continental, 1959)
This is an LP-era collection of various 78s recorded earlier in his career, with a variety of bandleaders such as Severino Araujo, et. al.... It's a mixed bag: some of the songs are super-schmaltzy, redolent with drippy string arrangements and gooey saxophone, though several of the big-bandy singles really swing! "Como Ela E Boa," "Ela Esta Presente" and "Ha Sempre Um Que Fica" are standouts among the uptempo numbers, but even some of the slow boleros are fun as well. It's all classic material, for sure!


<! Ela Disse-me Assim (1959), a compilation released by Continental with selected tunes taken from selected 78rpm records. Loronix Preview Center features 09 - Ha Sempre um que Fica (Alcebiades Nogueira / Jamelao), recorded in 1959 with Jamelao backed by Maestro Severino Araujo e Sua Orquestra Tabajara. > <! mega-schmaltzy! LOTS OF SAX... SOME TUNES SWING, THOUGH >

Jamelao "Desfile De Campeas: Jamelao E Escolas De Samba" (Continental, 1960)





Jamelao "Jamelao E Os Sambas Mais" (Continental, 1961)





Jamelao "Canta Para Enamorados" (Continental, 1962)





Jamelao "Sambas Para Todo Gosto" (Continental, 1963)





Jamelao "Aqui Mora O Ritmo" (Continental/Warner, 1964)


Swinging samba, but with an unusual, almost un-Brazilian twist. The punchy, big band-ish horn charts have a density that's similar to Stan Kenton and other highbrow jazzmen of the 'Fifties; Jamelao's vocals have a throatiness that has more in common with Cuban guaracheros such as Cascarita and Beny More than with homegrown heros like Dick Farney or Lucio Alves. Jamelao's affinity for muscular, jazzy arrangements would remain constant throughout his life, but this is a fine example of his work in the first half of the '60s. Recommended!

Jamelao "Cuidado Moco" (RCA, 1969)


Once again, an interesting mix of intimate samba and schmaltzy, bombastic big-bandish vocals. This was Jamelao's first album after a six year hiatus, and ably showcases his affection for the archaic vocal style of the "radio singers" of the 1940s and '50s... Indeed, he even covers artists such as Tito Madi and Lupicinio Rodrigues, whose heyday had been years earlier. Old-fashioned, but entirely enjoyable -- similar to early work by Jair Rodrigues.




Jamelao "Jamelao" (Continental, 1970)





Jamelao "Interpreta Lupicinio Rodrigues" (Continental, 1972)





Jamelao "Jamelao" (Continental, 1974)



<! 1 Coquetel de sofrimento (Lupicínio Rodrigues) 2 Complicou-se (Antônio Moreno - Lúcio Cardim) 3 Um sagrado juramento (Ferreira dos Santos) 4 Uma Graća de Deus (Jamelčo) 5 Molambo (Jayme Florence - Augusto Mesquita) 6 A vida é isto (Jamelčo) 7 Se é verdade (Lupicínio Rodrigues) 8 Imantaćčo (Antônio Moreno - Lúcio Cardim) 9 Sou verde-rosa (Jamelčo) 10 Foi bom (Moysés Sant'Anna - Jamelčo) 11 Castigo (Dolores Duran) 12 Perdčo, perdčo amor >

Jamelao "Os Melhores Sambas Enredos '75" (Continental, 1974)





Jamelao "Jamelao" (Continental, 1975)





Jamelao "Samba-Enredo: Sucessos Antologicos" (Continental, 1975)





Jamelao "Folha Morta" (Continental, 1977)





Jamelao "Jamelao" (Continental, 1980)
(Produced by Manoel Barenboim & Paulo Ribeiro)
This later effort is a bit too lush and over-the-top for me, although Jamelao certainly gives it his all. Although the arrangements are a bit much (standard-issue overdo-it-for-the-old-guy big bandy orchestrations...) of note is the participation of pianist Fats Elpidio, whose work in the confines of the pre-bossa nova pop-orchestral scene often yielded pleasant surprises. There's some of his characteristic quirkiness and nimble plunking at play here as well, although he is mostly in the background, as much overwhelmed by the too-eager brass section as Jamelao himself. Severino Araujo is credited as an arranger, but it's hard to tell how much influence the old-timers had on the final outcome -- most of the tracks sound a bit rushed. This album is worth checking out, I suppose, but it doesn't really stick to your ribs.


<! 1 ArrogČncia (Moysés Sant'Anna - Jamelčo) 2 Respeito (Roberto Medeiros - David Raw) 3 Vocź nunca mais vai ouvir (Neila Garća - Jamelčo) 4 Risque (Ary Barroso) 5 Também tenho coraćčo (Ferreira dos Santos) 6 Teu retrato (Roberto Paciźncia - Jočo Grimaldi) 7 Dona Divergźncia (Felisberto Martins - Lupicínio Rodrigues) 8 Resolvido (Antônio Bruno - Lúcio Cardim) 9 Beco sem saída (Roberto Medeiros - Armando Nunes) 10 O amanhč será melhor (Tairzinho - Jamelčo) 11 Nem eu (Dorival Caymmi) >

Jamelao "Mangueira, A Super Campea" (Continental, 1984)





Jamelao "Recantando Magoas -- Lupi, A Dor E Eu" (Continental, 1987)





Jamelao "Minhas Andancas" (RGE, 1994)





Jamelao "Por Forca Do Habito" (Som Livre, 2000)


An unusual album, to say the least. Jamelao is a samba old-timer, whose career dates back to the 1940s, and who helped popularize and define the Carnaval samba-cancao style, as well as compose many of the best-known themes of the Mangueira samba school. Here, though, he takes a Tony Bennett-ish turn, with sinuous, though sometimes sluggishly heavy horn arrangements and a sleek pop vocals styling. Certainly not what I expected when I spotted this album, and not entirely to my tastes, but certainly very intriguing. If you're looking to explore a very different avenue of Brazilian pop, check this out. Might make a nice compliment to Dick Farney's stuff, for example.
---
Links
---
---



---