<! cd = 04/01/14 > <! MP3 00/00/00 > <! outside 00/00/00 > <! pix 00/00/00 > <! icons 00/00/00 > <! 208-pix: 00/00/00 > <! UPDATES: 07/04/14 >
---
Merle Haggard (1937-2016) came out of the jaunty West Coast/Bakersfield music scene of the 1960s and carved out a niche as a craftsman songwriter, a self-proclaimed working man's poet whose plainspoken lyrics captured the imagination of fans and fellow musicans for decades to come. Here's a quick look at some of the many tributes that have been recorded over the years.
---
Tribute Albums - Individual Artists
---
Suzy Bogguss "Lucky" (Loyal Dutchess, 2014)


The Buckaroos "The Songs Of Merle Haggard" (Capitol) (LP)





<! ST-860 >

Leon Copeland "...Sings The Big Hits Of Merle Haggard" (Alshire) (LP)

David Allan Coe "Sings Merle Haggard" (King, 2002)

Leona Williams "...Sings Merle Haggard" (Ah Ha, 2008)






<! there is a CD edition >

P. K. Thompson "The Merle Haggard Songbook" (Pickwick) (LP)

Glenn Walker & The Nashville Country Singers "Okie From Muskogee" (Mountain Dew) (LP)

---
Tribute Albums - Compilations
---

Various Artists "TULARE DUST: A SONGWRITER'S TRIBUTE TO MERLE HAGGARD" (Hightone, 1994)



I think this may have been the first Merle Haggard tribute album of the 1990s -- it's certainly the best. Jam-packed with an all-star alt-country cast, the disc includes tracks by Dave Alvin, Dwight Yoakam, Lucinda Williams, Iris Dement and John Doe, as well as several other eminently talented folks who are in the HighTone orbit. What's most striking about this record is its overall high calibre of performances -- most tribute albums are a bit lame; this one doesn't have a dull moment! In fact, never having been a diehard Merle fan, I'd even say that in a few instances these tribute tracks manage to sound more soulful and less stuffy than ol' Hag himself... HIGHLY recommended!


<! really 109 x 108 >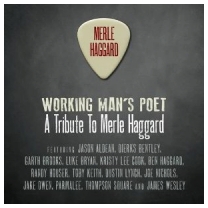 Various Artists "WORKING MAN'S POET: A TRIBUTE TO MERLE HAGGARD" (Broken Bow Records, 2014)


(Produced by Mickey Jack Cones & Derek George)
Mainstream Nashville, circa 2014, pays homage to outlaw poet Merle Haggard, and darned if they don't do it right! The crew is mostly packed with younger, newer artists -- folks like Jason Aldean, Dierks Bentley, Luke Bryan, Dustin Lynch, Jake Owen and Randy Houser -- with singers from the '90s and '00s such as Toby Keith and Joe Nichols forming a kind of new "older" generation for modern-day Nashville... Heck, even Garth Brooks makes an appearance, singing a fine version of "Tonight The Bottle Let Me Down." I had to listen to this one a bunch of times to really form an opinion about whether these guys "got it right" or not... The first thing that leaps out is the instant recognizability and strength of these songs -- track after track, the lyrics command center stage, and prety much steer the singers where Haggard had laid his course. You could argue that these contemporary neo-trad singers are just singing the songs like Merle sang 'em in the first place, but in this case I'd say the lack of innovation is a very good thing -- there are no big, high-tech pop arrangements, just the plain old sparse, elegant arrangements that Merle crafted in the first place, and artist after artist settles into the songs, giving these modern singers a chance to sing some real country twang. These are all strong performances of truly great songs... Definitely worth a spin!
---
Tribute Songs - MP3s
---
---
Links
---
Thanks to Fun With Music, a German fansite that provided some info for this discography page...
TheHag.com seems to have gone the way of all good things. If anyone has information about where this site went (is it just plain gone?) please feel free to write me and let me know...
---
Merle Haggard Discography: 1962-69 | 1970-1979 | 1980- Present | Best-Ofs Tributes & Links
---
---