<! cd: 9/10/03> <! MP3 04/08/09 > <! update 04/08/09 > <! outside 00/00/00 > <! pix 00/00/00 > <! 208-pix: 00/00/00 > <! icons 03/21/11 >
---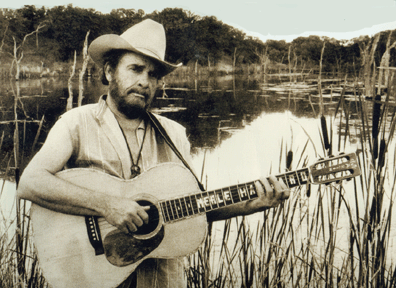 This page looks at the records made in the 1980s, '90s and in the 21st Century by country outlaw/old-timer Merle Haggard (1937-2016). Early in the '80s, Merle was still going strong, pegging a few tunes in the charts... After a while, though, things started to slow down, and Merle's audience dwindled. Then, around the turn of the millennium, Haggard found new, resurgent artistic strength, gaining a new audience with a series of powerful albums... Here's a quick look at this third phase of Merle's career...
---
Merle Haggard Discography: 1962-69 | 1970-1979 | 1980- Present | Best-Ofs Tributes & Links
---
Merle Haggard "The Way I Am" (MCA, 1980)


Merle Haggard "Back To The Barrooms" (MCA, 1980)


Merle Haggard "Rainbow Stew: Live At Anaheim Stadium" (MCA, 1981)


Merle Haggard "Songs For The Mama That Tried" (MCA, 1981)

Merle Haggard "Big City" (Epic, 1981)



On his debut for the Epic label, Merle kicked out the stops and delivered a calm, capable masterpiece, one of the finest albums of his career. The title track, while rooted in his neoconservative Libertarianism, is still a poignant plea in favor of the simple life -- he takes regretable, Reaganesque swipes at the gummint and its "so-called Social Security," but he also makes the simple life sound oh-so sweet. This theme is reprised on other songs, but the album also has its romantic side, as heard in golden oldies such as an updated version of "You Don't Have Very Far To Go." It's certainly no shortchange to hear Merle singing some of his old songs as he coasts through middle age -- his crooning style was never richer, and he never sounded more relaxed; the differences from his earlier versions are telling, and if anything, these later recordings have a greater emotional richness. This is a fine album, well worth checking out.
Merle Haggard & George Jones "A Taste Of Yesterday's Wine" (Epic, 1982)


Merle Haggard "Going Where The Lonely Go" (Epic, 1982)


Merle Haggard "Goin' Home For Christmas" (Epic, 1982)



An outstanding holiday album, with Merle crooning over a tasteful bed of strings'n'pedal steel; he was admirably suited to the cornball spirit of the holidays, and really put his heart into each of these tracks... Most of the songs are Haggard originals, ranging from tearjerkers like "Grandma's Homemade Christmas Card" and "Daddy Won't Be Home Again For Christmas" (he's in prison...) to a sleighbell-bedecked remake of "If We Can Make It Through December" and the cheery "Santa Claus And Popcorn." Plus, his spins at older tunes like "Santa Claus Is Comin' To Town" and "Blue Christmas" are pretty rich and resonant -- Merle's version of "Rudolph, The Red-Nosed Reindeer" is a welcome addition to the hillbilly holiday repertoire. (The CD reissue also includes a bonus track from 1986, a jazzy acoustic version of "White Christmas..." It doesn't match the tone of the other tracks, but it's also kinda cool.)

Merle Haggard & Willie Nelson "Pancho And Lefty" (Columbia, 1983)



A really nice collaboration which is somewhat dominated by Willie (but in a very good way). Willie and Merle share a certain geezerly grace, and a similar affection for old-fashioned heart songs. Here, they play up their bad-boy mythos, with a series of boozer-loser ballads that seem to lay it on a bit thick, but eventually bum you out into submission. The "Reasons To Quit" / "No Reason To Quit" double play packs a real wallop, and the rest of the album follows suit, including a sublime version of the old Bob Wills standard, "Still Water Runs The Deepest." Admittedly, the Townes Van Zandt title track was no big whoop for me -- I grew up listening to Emmylou Harris' 1977 version, and now, umpteen bazillion years later, I'm kinda sick of hearing about Lefty and the federales... Also, the arrangements, particularly the opening notes, are a little icky... Don't let that dissuade you, though -- get past that first track, and this is a great album. (The 2003 reissue, by the way, adds a couple of swell bonus tracks, Willie singing "Half A Man" and "My Own Peculiar Way," which are pretty darn nice.
Merle Haggard & Leona Williams "Heart To Heart" (Polygram, 1983)


Duets with singer Leona Williams, who was part of Haggard's road show for several years before becoming his wife. The material on this album can also be found on the Bear Family collection, Old Lovers Never Die.
Merle Haggard "That's The Way Love Goes" (Epic, 1983)

Merle Haggard "The Epic Collection" (Capitol, 1983)



A live set, reprising some of his best material done for his new label...
Merle Haggard "It's All In The Game" (Epic, 1984)


Merle Haggard "Kern River" (Epic, 1985)


Merle Haggard "Amber Waves Of Grain" (Epic, 1985)

Merle Haggard "A Friend In California" (Epic, 1986)

Merle Haggard "Walking The Line" (Epic, 1987)


With George Jones and Willie Nelson
Merle Haggard "Out Among The Stars" (Epic, 1987)

Merle Haggard & Willie Nelson "Seashores Of Old Mexico" (Epic, 1987)


Merle Haggard "Chill Factor" (Epic, 1987)


Merle Haggard "5:01 Blues" (Epic, 1989)


Merle Haggard "Blue Jungle" (Curb, 1990)


Merle Haggard "Best Of Country Blues" (Curb, 1990)

Merle Haggard "All Night Long" (Curb, 1991)

Merle Haggard "1994" (Curb, 1994)


Merle Haggard "1996" (Curb, 1996)


Merle Haggard "Cabin In The Hills" (Relentless/Hag Records, 1999)


(Produced by Merle Haggard)
A swell country gospel album, with some nice pickin' that helps frame Hag's elder-statesman vocals. He sounds old and frayed around the edges, but heartfelt and sincere, and if you're open to the emotion he puts into these songs, this album can have a real payoff. About half the songs are standards like "Farther Along" and "Life's A Railway To Heaven," while most of the others are well-crafted originals written by Merle. Iris Dement, who'd become a sort of protege of Merle's, contributes "Shores Of Jordan," which is certainly an album highlight. Recommended!
Merle Haggard "Live At Billy Bob's Texas" (Smith Music Group, 1999)



This disc opens with a stunning performance of "Misery & Gin," with Merle doling out some of the firmest, richest honkytonk heartbreak imaginable... You think, "Man! The old coot has still got it!" and marvel at how this live performance surpasses many of his recent studio albums. Then things start to get shakier: on "Working Man Blues," Haggard simply can't find the downbeat, and his phrasing falls apart, collapsing the momentum he'd gained on the earlier tracks. But his band is solid, and Merle regains his composure, and by the time "Swinging Doors" comes around, he's back in the saddle again. Guitarist Redd Volkaert anchors the show, but the rest of the band is solid as well, and fiddler Johnny Gimble even puts in an appearance, giving the show the official Texas old-timer stamp of approval... Like all the Billy Bob CDs, this one has butt-ugly artwork... But don't let that stop you: this is a nice portrait of a country legend, playing live, wars and all...
Merle Haggard "If I Could Only Fly" (Anti/Epitaph, 2000)



At age 63 (!) Merle, perhaps following the lead of Johnny Cash's American Music albums, makes his entry into the wow-the-college-kids genre with an pleasantly understated record that could double as the soundtrack to a biopic on George Dubbya Bush. The opening verse is a sure-fire attention-getter about watching old friends snorting coke while yearning for the recklessness of bygone days. Party animal nostalgia echoes through the album, shamelessly balanced by a maudlin "confession" to his kids regarding the youthful indiscretions that sent Merle up the river to San Quentin. Despite the baldness of the writing, this is easily one of his best albums in years.
Merle Haggard "Roots, Volume One" (Anti/Epitaph, 2001)


Merle Haggard "Oh Boy Classics Presents Merle Haggard" (Oh Boy, 2000)


Merle Haggard "Oh Boy Classics Presents Merle Haggard... Again" (Oh Boy, 2001)


An odd, somewhat deceptive set of reissues. From the title, you'd expect these discs to be classic performances from the good ole days, but instead they are from some unspecified Nashville sessions from an unknown date (possibly in the late 1980s? The '90s? Anyone know?) and are a far cry from Haggard in his heyday. Still, Merle is a pretty intense performer, so fans will find plenty to dig into with this set of tunes drawn from across his career. This dodgily-packaged reissue series erodes my respect for a label that is one of the world's great indies... I guess I wouldn't have minded half as much if they'd chosen to at least let us know where and when these recordings were made. But by acting like they had something to hide, the folks at Oh Boy cheapen their brand and turn off their fans. These discs are okay, but kind of superfluous if you already have the old, original recordings.
Merle Haggard "Peer Sessions" (Audium, 2002)



Ol' Hag pays homage to the real country old-timers -- Jimmie Rodgers and Jimmie Davis -- who helped lay the foundation for the honkytonk music style, back in the 1920s and '30s. A boozy, relaxed set of old-fashioned country ballads drawn from the catalog of the Peer/Sessions publishing house. A super-mellow set of half-forgotten oldies, with laid-back, at times almost shaky performances, but plenty of great tunes.
Merle Haggard "Haggard Like Never Before" (Compendia, 2003)


Dedicating the album to his dental surgeon, who made the album possible, Merle opens the disc up with the title track, which describes the hardships of life on the road when you're an old, old man, ready to retire at last. And this time, it seems like he might mean it -- there's definitely a weariness at play here that's as genuinely moving as it is sad. His political/libertarian streak is also live and kicking, as heard on the sombre but sublime featured track, "That's The News," in which Merle seems to take President Bush to task, even while supporting the troops (a sentiment also heard on "Yellow Ribbons," towards the album's end). He's still looking out for the helicopters and the men in black, on the outlaw-paranoia anthem, "Lonesome Day..." As ever, it's a little hard to pin down Haggard's place on whole liberal/conservative political spectrum, but it's clear that current events are still on his mind: he's a little bummed out but still soldiering on. And more power to him: this is one of his strongest albums in years!
Merle Haggard "Chicago Wind" (Capitol, 2005)



Hmmm. Well, old Merle got great press on this one, but honestly, I can't say there's much here that stands out as particularly new or captivating. He gets poetic, political and gruff, rueful and world-weary, and it all sounds like songs we've heard before, performed with great deliberation and slightly over-cooked backup music. His previous album, ...Like Never Before, was much more raw and compelling, like he really had something riding on the line, emotionally... Here, he sounds too comfortable with his own persona (and perhaps with his long track record with the folks at Capitol...) It's professional, by the numbers and all too safe. It ain't bad, but Merle's done much better before.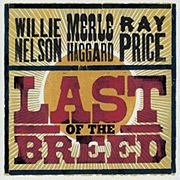 Merle Haggard/Willie Nelson/Ray Price "Last Of The Breed, v.1 & 2" (Lost Highway, 2007)



(Produced by Fred Foster)
SO SWEET. Three venerable old coots get together and sing the kind of songs they love -- sappy old standards, soulful heartsongs, gospel tunes and heartwrenching ballads, all performed with a light, loving touch. Each of these old-timers has had a creative renaissance in recent years, but it's really Ray Price who shines on here... Price sank into irrelevance during the 1970s countrypolitan years, but his old pal Willie Nelson keeps bringing him back into the spotlight, with ever-increasing creative rewards. Willie and Merle are no slouches, but Price really steals the show -- he delivers these songs with such depth and conviction, it's hard not to be blown away. What a treat to hear him in such fine form again. This 2-CD set is a worthy reprise of Willie and Ray's Run That By Me One More Time, an album that was one of my favorite country releases of 2003. And if you like this collection, you should definitely pick up a copy of Willie's recent tribute to songwriter Cindy Walker, You Don't Know Me, which was produced by Fred Foster, and taps into the same wellspring of classy, heartfelt sentimentality. This is a really rich, rewarding listening experience. Yay, Willie. Yay, Merle. Yay, Ray!
Merle Haggard "Bluegrass Sessions" (McCoury Music/Hag Records, 2007)



(Produced by Ronnie Reno)
Another fine record by ol' Hag... Despite the album title, he doesn't really cut loose and rip into some pure, old-fashioned truegrass (the way we want him to...!) but he does make the most of some top-flight acoustic musicians backing him up, and this is one sweet record. Scott Joss and Aubrey Haynie play fiddle, Ron Ickes in on the dobro, Carl Jackson and Marty Stuart kick in on guitar and mandolin... And lil' old Alison Krauss throws on a nice harmony on a weepy remake of "Mama's Hungry Eyes." Merle revisits some of his best old songs, and he finds time to lament on the sad state of American life on "What Happened?" Haggard closes the album with a wonderfully mournful, memorable version of the old Delmore Brothers tune,"Blues Stay Away From Me," as sure a sign as any that he remains faithful to his deep country roots. This is a fine-tuned, delicate album,the latest in a series of great, late-vintage Haggard sets... Well worth checking out!
Merle Haggard "Working Man's Journey" (Cracker Barrel, 2007)
(Produced by Merle Haggard)
Another surprisingly strong new album from the Hag... Actually, this is an odds-and-ends collection that Haggard put together for the Cracker Barrel restaurant chain... The tracks come from his personal vaults and include re-recordings of great old hits such as "Shade Tree Fit-It Man," "Kern River," "If We Make It Through December" and "Workin' Man Blues." There are also a half-dozen new songs, apparently exclusive to this release, and I gotta tell you: they sound mighty fine. There are no recording dates included in the liner notes, but regardless of the fuzzy timelines, the music all fits together beautifully and the performances are uniformly satisfying and strong. This is classic Haggard: rough, rugged, honest and musically rich. Merle's profound disenchantment with the current political landscape (and the war on terrorism, in particular) is an element of his recent work which may surprise long-time fans, but on "In The Mountains To Forget" he again confronts the failures of the Bush Administration, and concludes that maybe the best thing for the working man to do is sit this next one out. Probably not what Karl Rove wanted to hear, but Haggard has always been a guy who calls 'em like he sees 'em. Contemporary history is also reflected in "Stormy New Orleans," although here Haggard avoids finger-pointing while paying sincere tribute to the late, great, resurgent city... Politics aside, this is a fine record, a pure country treasure that fans will be eager to hear. (Exclusively available on the road or at Cracker Barrel.com)


<! 03/11: still no ASIN >

Merle Haggard/Willie Nelson/Ray Price "Last Of The Breed Tour -- Live" (Ambassador, 2009)


Merle Haggard "I Am What I Am" (Vanguard, 2010)



(Produced by Lou Bradley & Merle Haggard)
Although many years ago he took up the mantle of a redneck political traditionalist, Merle Haggard has always had the heart of a poet, and he's avoided being a caricature by establishing himself as one of the most emotionally open, honestly reflective writers in the country music pantheon. As an older man, he's retained both his poetry and his potency, as well as the willingness to delve deep, speak truthfully, and admit it when he doesn't have all the answers. His vulnerabilities are many and multi-layered and they are a welcome change in a society that values self-love, brashness and bluster; in recent years they've included a brush with cancer, and other health troubles that come along with age and a life that's been lived pretty hard. Yet Merle is still here, and like other old-timers such as Willie Nelson and Ray Price (who he has recorded with in recent years) he sings with the quiet confidence and grace of a wise, seasoned performer, aided on several songs by the harmony and duet vocals of his wife and touring partner, Theresa Haggard. Merle's acres-deep furrows of hardcore country music are seeded with subtle touches of blues, jazz, swing and standards, and lyrics that live up the high songwriting standards that he set for himself, all those decades ago. This is a rock-solid record that will appeal to fans old, new, and future. Keep 'em coming, Merle!
Merle Haggard "Working In Tennessee" (Vanguard, 2011)


---
Merle Haggard Discography: 1962-69 | 1970-1979 | 1980- Present | Best-Ofs Tributes & Links
---
---