<! MP3 05/07/09 > <! update 05/07/09 > <! outside 00/00/00 > <! pix 00/00/00 > <! 208-pix: 00/00/00 > <! icons 03/26/11 >
---
In country music, as in rock, the dividing line between "commercial" and "alternative" has got pretty fuzzy in recent years, as indie-oriented artists found Nashville ever-hungry for good new songs, and the more marginal independent labels eager to showcase talent on the way to the top. The husband-wife duo of Buddy and Julie Miller could be the poster children of this phenomenon -- a few years back they were pigeonholed as "Americana" artists, recording for Oakland, California's tiny yet influential HighTone Records, producing the kind of soulful, eclectic hard country albums that a handful of fans will worship, yet the world will never hear. Slowly, though, both have established themselves as fixtures in the Nashville establishment, Buddy Miller breaking through as the lead guitar in Emmylou Harris' band, and later as a songwriter whose material was covered by Top 40 megastars such as the Dixie Chicks and Brooks & Dunn. Julie Miller followed next, with her idiosyncratic songwriting finding an unlikely home in Music City, as witnessed by a recent album packed with her compositions. Their own records are idiosyncratic and quite wonderful... here's a quick look at their work...
---
Discography - Best-Ofs
---
Buddy & Julie Miller "Love Snuck Up: Duets" (HighTone, 2004)



A handy-dandy best-of that spans the Miller's mutual careers as HighTone recording artists. Cherry-picking their solo and duo albums, this is a fine collection, and includes a previously unreleased version of "You Make My Heart Beat Too Fast" (...which doesn't really seems that different than the version on their Buddy & Julie Miller album... But hey, it's still a rarity!) At any rate, this is a nice retrospective, although, as always, going for the original albums may be more rewarding in the long run... If you want to check these two out, though, this is a perfect place to start.
---
Discography - Albums
---
Buddy Miller "Your Love And Other Lies" (Hightone, 1995)


Buddy Miller "Poison Love" (Hightone, 1997)



This fella has a great sense of old-fashioned country roots, with nice taste in cover tunes, and a knack for penning catchy originals. I think this is probably his best album, at least from a traditionalist's viewpoint. It's properly rough-edged and makes all the right nods towards the past, from the Johnny & Jack cover that gives the album its title to catchy originals cowritten with his wife, the ever-eccentric Julie Miller. Buddy's patron and employer, Emmylou Harris, also guests on several tracks, along with Steve Earle and Gurf Morlix and several other alt.country luminaries. Miller only slightly overdoes the twang-thang in his voice, but he more than compensates for this with solid musicianship throughout... Plus, with standout tracks like his shimmering version of the great soul oldie, "That's How Strong My Love Is" and "Love In The Ruins," a stunning new song co-written by Jim Lauderdale, this is an album that will stay in my library for many years to come. One of the best records to come out of the late-'90s "Americana" boom... Highly recommended!
Julie Miller "Blue Pony" (Hightone, 1997)



Emmylou Harris and Steve Earle guest
Julie Miller "Broken Things" (Hightone, 1999)



With folks like Patty Griffin, Victoria Williams and NRBQ bassist Joey Spampinato helping out... how could she go wrong?
Buddy Miller "Cruel Moon" (Hightone, 1999)



The bad news here is that suddenly Buddy Miller wants to sound like Steve Earle. The good news is, despite the straining-to-sound-like-a-sweaty-tattooed-tough-guy-house-rocking vocals, he's still Buddy Miller, and he still can write a helluva great song. Don't get me wrong. I adore Steve Earle as well as the next alt-country fan... it's just that we already HAVE one of him, and it seems like one is enough. Likewise, we also only have one Buddy Miller, and I by far prefer him moving through the solid soul of James Carr, instead of acting like George Thorogood. But really, biker-bar silliness only gets in the way on the first few songs, and afterwards, Miller's natural melodicism kicks in pretty quickly. This is another first-rate album, with plenty of his beautiful harmonizing with his wife, Julie Miller (or Emmylou Harris), and some fine, fine lyrics.
Buddy & Julie Miller "Buddy & Julie Miller" (Hightone, 2001)



Although this husband/wife team have pitched in on one another's albums over the years, this is actually the first time they've released a record as a duo... And it's pretty nice. Still a little muscle-bound and house-rockin' for my tastes, but pretty damn catchy for that turf. Buddy Miller, of course, has considerable roots and country chops, and the mousy-voiced and mildly nutty Julie Miller has a rather distinctive tone as a songwriter. Some of their material is quite reflective, and tracks such as the Carter Family-flavored "Forever Has Come To An End" and "Rachael" are quite compelling. Even on the choppier, more rock-tinged material, the Millers have a way of commanding our attention... Another strong effort, and well worth checking out!
Buddy Miller "Midnight And Lonesome" (Hightone, 2002)



The wear and tear of show business is a major theme of Buddy Miller's latest new solo album, bitterly tinged with the still-fresh scars of the September 11th hijackings. On "Water When The Well Runs Dry," Miller proclaims himself "a man of peace, with some exceptions," and laments the feuds and bloodshed in the world, events that made his tour schedule seem less and less significant. Songs by musicians about being musicians are traditionally a rather hollow exercise, but Miller succeeds where others have failed because what he's expressing is not narcissistic "gee, it's hard to be on the road and still write a good tune" navelgazing, but rather the same soul-searching, metaphysical angst that many of us feel in the wake of tragedy. When planes, bombs and terror can literally rain from the sky at any moment, it's only natural to sit down and examine your life a little. Which isnÕt to say that Miller's new album is all gloom and doom Š indeed, it's filled with the rollicking, irresistible, bluesy melodies he's known for. Muscle-bound bar band riffs interweave with a spry cajun fiddle (courtesy of Tammy Rogers) and real country roots. On "Wild Card," the Millers duet on a love song that could have been recorded by Carl Smith or any of a number of 1950s honkytonkers, and the album's closer, "Quecreek," is a sparse, spooky throwback to the old-fashioned topical story-song Š here about a Pennsylvania mining disaster that happened only months before the album came out. Powerful albums like this show why the Millers, whether high-rolling on Music Row or hauling their own amps and plugging in at your local neighborhood dive, are at the heart of modern country music.
Buddy Miller "Universal United House Of Prayer" (New West, 2004)



It's tough to know just what to make of this all-gospel album... I have a lot of respect for Miller as a musician and it's obvious that his heart is really in this dark, complex, challengingly religious record. That being said, it's hard to figure out just who the audience might be: college-age alt-country hipsters are generally a blasphemous lot, and might find all the Jesus talk and soul-searching spirituality a bit off-putting... Old-fogey Southern gospel and country gospel fans will probably find its hard-edged, bluesy musical approach a bit off-putting, as well as its multi-layered view of the Christian faith... For example, alongside the Louvin Brothers' rally-the-troops anthem "There's A Higher Power," Miller also covers Bob Dylan's scathing "With God On Our Side," which is one of the greatest folk scene satires of religious triumphalism and hypocrisy. Most of the other songs are Miller originals, with co-writers that include his wife Julie as well as Jim Lauderdale and Victoria Williams, and while his exploration of his own faith is fascinating, it doesn't lend itself to the embrace of those who look to religion for easy answers. On the musical end, I found it a little too loud and overly muscular, as if Miller & Co were trying to reclaim Christianity for the neo-Southern rock wing of the Americana scene... I personally could do with a few less of the sludgy, soul-tinged electric guitar power chords, but then again, I might not be Buddy's target audience either. Anyway, if you want to check out a country gospel album that has sincerity and substance, with depth and shades of dark and light, this disc really might speak to you.
Buddy & Julie Miller "Written In Chalk" (New West, 2009)


Buddy Miller "Buddy Miller's Majestic Silver Strings" (New West, 2011)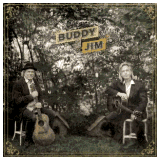 Buddy Miller & Jim Lauderdale "Buddy & Jim" (New West, 2012)



(Produced by Buddy Miller)
Two of today's most idiosyncratic, independent Americana auteurs team up for an all-star twangfest that should turn a few heads... Both of these guys are old pros who are quite comfortable bending roots music's rules, and Lauderdale in particular can get pretty goofy when he wants to, but I think I detect Miller's hand at the helm as the album's producer, keeping them on track with solid, more traditional-sounding verse-chorus material, lines that rhyme and melodies that just won't quit. This album is packed with hard country twang, gritty blues and some subtle, sweetly romantic acoustic ballads to round things out. It's a rock-solid record, from start to finish, and sure to please fans from both sides of the fence. I'm hoping these guys will continue to collaborate, since this disc is a winner.
---
Related Records
---
Steve Earle "El Corazon" (E-Squared, 1997)


Emmylou Harris "Spyboy" (Eminent, 1998)


As Emmylou Harris' lead guitarist, Miller is the melodic power behind this sleek concert album which highlights her compactly arranged, four-piece late-'90s band, Spyboy. Emmylou runs through a bunch of her old crowd-pleasers and a few new tunes. For the most part, though, I find this disc to be a bit cluttered and too rock-oriented. The snare drums are all over the place; too busy sounding and too prominent for my tastes. There are some moments of grace, though, on tunes like "Boulder To Birmingham," for example, but she's definitely had more subtle albums. A nice to chance to hear what her band sounded like on the road, though...
---
Links
---
Buddy and Julie Miller's website includes bios, tour info, snapshots of their equipment-cluttered living room, and of their cute kittie-kats, too. Nice site.
The HighTone Records website has info on almost all the Miller's albums, as well as tour info, and records by plenty of other kickass contemporary roots musicians.
---



Hick Music Index



---
Photo credit: Jim Herrington. Courtesy of Hightone Records.
---