<! MP3 05/01/09 > <! update 00/00/00 - did not look into new best-ofs > <! outside 00/00/00 > <! pix 00/00/00 > <! 208-pix: 00/00/00 > <! icons 04/02/11 >
---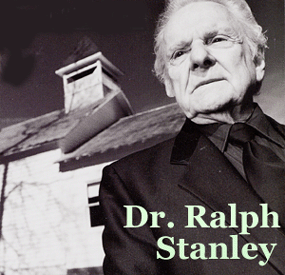 Well into the 21st Century, Ralph Stanley (1927-2016) remained a vital and creative performer, crafting album after album of of great, timeless bluegrass. In contrast to the buoyant feel of the best Stanley Brothers material, his solo work tended towards the darker and craggier end of the bluegrass spectrum, leaning towards style's more foreboding old-timey roots. He also collaborated with dozens of younger artists in a variety of styles, proving himself as versatile as he is traditionally oriented.
Sadly, the band's success (and gruelling tour schedule) took its toll on songwriter-guitarist, Carter Stanley, who died in 1966, a tragic turn of events that stunned his younger brother, prompting a brief retirement before Ralph Stanley regrouped and reformed the old Stanley Brothers band. In the late '60s and early '70s, the Clinch Mountain Boys became a training ground for many of the top young artists in the hippie-era bluegrass revival. Dr. Ralph (the honorary degree was bestowed on him in recognition of his historic impact as an ambassador of Appalachian culture) became one of the grand old men of bluegrass and old-timey music, emerging in the 21st Century as the craggy-voiced singer of "O Death," a song which improbably won the 2001 Grammy for Best Male Country Vocal Performance, as part of the movie/soundtrack phenomenon, O Brother Where Art Thou. Here's a quick look at the music made by Ralph Stanley over the decades as a solo artist. A separate Stanley Brothers discography can be found on another page.
---
The Stanley Brothers | Ralph Stanley Albums | Ralph Stanley Best-Ofs
---
Ralph Stanley "Classic Bluegrass" (Rebel, 1990)


Ralph Stanley "Bound To Ride: Vintage Mountain Bluegrass" (Rebel, 1991)


Ralph Stanley "Almost Home" (Rebel, 1992)


A collection of all a cappella songs gathered from various albums.
Ralph Stanley/Various Artists "Man Of Constant Sorrow" (Rebel, 2000)


Ralph Stanley "Great High Mountain" (Rebel, 2004)



A fine best-of set, looking back at Dr. Ralph's decades-long run on the Rebel label, spanning 1971-1996. There's one previously unreleased track, "Wild Geese Cry Again," and thirteen other tracks of equal calibre. It's classic, vintage high lonesome-style bluegrass, with Stanley's uncompromised, hardcore traditionalist sound coming through loud and clear on every track. Nice stuff! Definitely worth checking out if you don't already have a bunch of the old original albums.
Ralph Stanley "Mountain Preacher's Child" (Rebel, 2004)



A fine gospel collection, featuring a crackerjack lineup on several early '80s albums: I'll Wear A White Robe (1979), Snow Covered Mound (1982) and I Can Tell You The Time (1985).


<! features tracks from Ralph Stanley's magnificent but often overlooked Gospel recordings of the early 1980s. The material included here--all of it available on CD for the first time--comes from three albums: I'll Wear A White Robe (1979), Snow Covered Mound (1982) and I Can Tell You The Time (1985) (the lone exception, "Looking for the Stone," appeared on the 1975 release Let Me Rest on a Peaceful Mountain featuring Keith Whitley). Stanley's group of Clinch Mountain Boys during this period of the late '70s and early '80s was arguably his best lineup. The band on most of this collection--Charlie Sizemore (rhythm guitar, lead and harmony vocals), Junior Blankenship (lead guitar), Curly Ray Cline (fiddle), Jack Cooke (bass and harmony vocals) and Ralph Stanley (banjo, lead and harmony vocals)--remained together for over nine years, the longest Stanley ever went without a personnel change. No doubt, this longevity and stability contributed to the group's hard driving, cohesive sound, and, with Stanley in his prime, it resulted in some of the best music of his career. >
Ralph Stanley "Shine On" (Rebel, 2005)



Edging his way up towards eighty years of age, Ralph Stanley remains remarkably undiminished as a performer, as this sterling set of gospel tunes will attest. This is a strong, soulful collection that showcases Stanley's band at its best, including guitarist James Alan Shelton and Stanley's son, Ralph Stanley II, who continues to grow as a superior country-folk vocalist. Dr. Ralph himself is in fine form as well, delivering one of his most powerful assured performances in recent years. Folks who get turned off by the gospel message will want to sit this one out, but for fans of the style -- or just fans of great bluegrass -- this one's a gem.
Ralph Stanley "Old-Time Pickin': A Clawhammer Banjo Collection" (Rebel, 2008)



(Various producers)
This is without doubt one of the sweetest bluegrass albums of the year, a yummy collection of recordings from the Rebel vaults, highlighting Ralph Stanley's mastery of the archaic, backwoods clawhammer banjo style, which he learned from his mother, many, many, many years ago. Clawhammer has a brightness of tone and -- in Stanley's hands -- a lightness of meter that makes it one of the most enchanting sounds in American rural music. This retrospective stretches back to the early 1970s, when Stanley embarked on his solo career, and fast-forwards to the 21st Century, where Stanley stands as the unchallenged patriarch of traditional bluegrass. Along the way a lot of great musicians came into Stanley's orbit, and while the theme of this album is the banjo, there are plenty of great solos surrounding him. Remarkably, this set includes nearly an album's worth of previously unreleased recordings, mainly from sessions dating back to 1996, 2000 and 2001, with Stanley and his band all in fine form. This is the kind of record that will stay in your playlists for a long, long time -- I can't stop listening to it!
Ralph Stanley "A Mother's Prayer" (Rebel, 2011)



(Produced by Ralph Stanley II)



<! April 19 > <! opening track features lead vocals from John Rigsby >

---
Related Records
---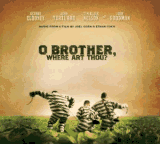 Various Artists "O, BROTHER WHERE ART THOU?" (Soundtrack) (Mercury-Nashville, 2000)



Ralph Stanley actually only sings one song on the soundtrack for O Brother, Where Art Thou?, though amazingly enough his stark rendition of "O, Death" earned him a 2002 Grammy award. It was part of a generalized O Brother lovefest, in which the music industry reveled in being taken by surprise by its country music past. Some of the best bluegrassers imaginable are on here, including humble keepers of the flame such as the Whites, the Cox Family, John Hartford and Norman Blake, along with celebrity young'uns such as newgrass idol Alison Krauss and neotrad superdiva Emmylou Harris. It was kind of disconcerting having Ralph Stanley's voice come out of the mouth of the fully-robed Ku Klux Klan grandmaster in the film (an unfortunate slight which a gentle old feller like Ralph really does not deserve...) but you can't fault the album... Good stuff.

James Alan Shelton "Song For Greta" (Rebel, 2002)



Guitar picker James Alan Shelton has a real smooth touch on the Martin flattop; here he steps out from his supporting role helping anchor Ralph Stanley's band to lead another fine, mostly-instrumental album of his own. Ralph Stanley II, mandolinist John Rigsby, banjo picker Steve Sparkman and others join in; Gillian Welch and David Rawlings sing on the gorgeous gospel tune, "Fifty Miles Of Elbow Room," which is certainly one of the album's highlights. Some of the instrumentals are a little too formal and less fiery than some bluegrassers might like, but it's still lovely stuff, with flawless musicianship throughout.
Ralph Stanley II & John Rigsby "Clinch Mountain Echoes: Songs In The Stanley Tradition" (Copper Creek, 1996)

Ralph Stanley II "Let My Hammer Ring" (Rebel, 1999)


Ralph Stanley II "Pretty Girls, City Lights" (Rebel, 2001)



I predict that Ralph Stanley, Jr. is going to become a big country star, sort of like Keith Whitley and Ricky Skaggs did after they left the Ralph Stanley band. He's a very talented musician, although he doesn't quite have the live-wire intensity that his dad has as a vocalist, and his bluegrass recordings don't have the same crackle and fire. But each of his solo albums have had slower, country-flavored tracks where his burnished, rumbling voice is really at its best. When I first Ralph, Jr. perform, he was a skinny little kid whose voice was still changing -- now that it has, he's got a real asset to work with: great tone and a soulful feel. Keep your eyes on this lad.
Ralph Stanley II "Stanley Blues" (Rebel, 2002)



This disc is more bluegrassy than Pretty Girls, but still has some countryish material. Again, he doesn't have the intensity of his old man, but that doesn't mean he's not a great performer. This disc has several nods towards the Stanley Brothers, including the title track, which Ralph Jr. penned himself. A slew of great bluegrass musicians back him up, and Ralph Sr. diets on two excellent gospel numbers.
Ralph Stanley II "This One Is II" (Lonesome Day, 2008)


Ricky Skaggs & Keith Whitley "Second Generation" (Rebel, 1971/1990)



These early '70s recordings capture two young members of Ralph Stanley's Clinch Mountain Boys just as they were about to go out on their own as vanguard members of the newgrass generation. Both Whitley and Skaggs cut new roads in the '70s country renaissance, and in the next decade each also successfully moved into the world of commercial Top 40 country. But here they are in their pre-Nashville days, young and earnest as can be, singing pure, sweet bluegrass and playing with a magical melodic grace. This album was originally a modest release, not entirely off the radar, and a welcome surprise for the bluegrass faithful, but not a blockbuster hit by a long shot. Now, decades later, it's a wonderful document of two master musicians in their early years. Plus, it's just enchanting -- great music performed with real feeling. Thank goodness Rebel dusted this one off for modern listeners to check out again... it's highly recommended!
---
The Stanley Brothers | Ralph Stanley Albums | Ralph Stanley Best-Ofs
---
---
Links
---
The Ralph Stanley Fan Club website is pretty spiffy, with bio- and discographical information, news, tour dates and festival information... And links to plenty other websites...
Ralph Stanley II, or "Two," as they like to call him, has a fan site of his own... catch up on all the news about this up-and-coming country-grass star...
---
Full Discographies: The Stanley Brothers | Ralph Stanley Albums | Ralph Stanley Best-Ofs
---



Hick Music Index



---
Thanks to Mark Freeman of Rebel Records for his help with this discography.
---