<! MP3 05/01/09 > <! outside 00/00/00 > <! pix 00/00/00 > <! 208-pix: 00/00/00 > <! icons 04/05/11 > <! UPDATES: 06/23/16 - Dr. Ralph Stanley RIP :-/ >
---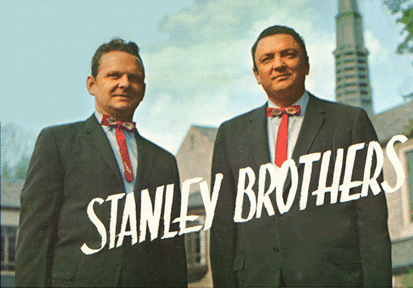 To say that The Stanley Brothers were one of the great classic bluegrass acts is an understatement of collosal proportions... Sure, Bill Monroe may have invented bluegrass, but the Virginia-born Carter Stanley (1925-1966) and Ralph Stanley (1927-2016) were one of the first bands to come up with their own, unique sound, creating one of the great rivalries in hick music history. I suppose you can count me among the Stanley Brother faithful... Don't get me wrong, now -- I dig Monroe's music as much as the next fella, but the Stanley Brothers played with a sweetness and melodic flair that makes their stuff ever so wonderful... Plus, Carter Stanley was such a great songwriter, able to craft moving, memorable lyrics with inescapably compelling melodies... All this and backwoods authenticity, too... how could anyone not be won over?
Sadly, the band's success (and gruelling tour schedule) took its toll on songwriter-guitarist, Carter Stanley, who died in 1966, a tragic turn of events that stunned his younger brother, prompting a brief retirement before Ralph Stanley regrouped and reformed the old Stanley Brothers band. In the late '60s and early '70s, the Clinch Mountain Boys became a training ground for many of the top young artists in the hippie-era bluegrass revival. Dr. Ralph (the honorary degree was bestowed on him in recognition of his historic role as an ambassador of Appalachian culture) became one of the grand old men of bluegrass and old-timey music, emerging in the 21st Century as the craggy voiced singer of "O Death," a song which improbably won the 2001 Grammy for Best Male Country Vocal Performance, as part of the movie/soundtrack phenomenon, O Brother Where Art Thou.
Well into the 21st Century, Ralph Stanley remained a vital and creative performer, banging out album after album of of great, timeless bluegrass. In contrast to the buoyant feel of the best Stanley Brothers material, his solo work tended towards the darker and craggier end of the bluegrass spectrum, leaning towards the style's more foreboding old-timey roots. Still, he collaborated with dozens of younger artists in a variety of styles, proving himself as versatile as he is authentic. Here's a quick look at the music made over the decades by the Stanley Brothers and their heirs.
---
The Stanley Brothers | Ralph Stanley Albums | Ralph Stanley Best-Ofs
---
Stanley Brothers "Earliest Recordings -- The Complete Rich-R-Tone 78s: 1947-1952" (Revenant, 1998)


Here are the earliest recordings of the Stanley Brothers band, made for the microscopic (but highly influential) Rich-R-Tone label. This is raw and untamed, even in comparison to the records they would make months later at Columbia... which only goes to show what a powerful creative force was driving these guys. Great early stuff, well worth tracking down!
Stanley Brothers "...And The Clinch Mountain Boys: 1949-52" (Bear Family, 1991)


A great collection of early Stanley Brothers recordings made for Columbia Records at the dawn of their career. Bill Monroe's influence is obvious -- they made no secret of their debt to him -- but the Stanleys were still remarkably original, particularly because Carter Stanley was such a prolific and deeply talented songwriter. Almost all of the tunes they recorded for Columbia were new material, and every one of them is now a standard in the bluegrass canon. What's also surprising about these early tracks is the tone: over the years we've grown used to hearing these songs in typical, blistering bluegrass "drag racing" renditions -- interesting, then, to hear how mellow the first versions actually were. A great collection with Bear Family's usual fab sound quality. A must-have for Stanley Brothers fans.
Stanley Brothers "Complete Columbia" (Sony/Columbia Legacy, 1991)



This CD has a near-complete overlap with the Bear Family CD above; the main difference is that this has one alternate take not included on the import album, and it has two not included here. Either way you go, this is super-great bluegrass.
Stanley Brothers "...And The Clinch Mountain Boys:1953-59" (Bear Family, 1993)


The pace picks up a bit on these later recordings, made for the Mercury and Blue Ridge labels later on in the 1950s... It's a sweeping 2-CD set, packed full of Stanley songs that are standards in the bluegrass canon. A young Art Stamper (see below) plays fiddle on about half of these sessions, along with a slew of other hotshot pickers and plunkers. Ralph steps to the fore as well, contributing a fair number of original songs and instrumentals, although admittedly Carter is still the main creative force. The boys also cover a few Bill Monroe tunes (including a couple co-written by Carter Stanley), showing the continuing cross-pollination of these legendary artists. This is a really great, essential collection, with the stellar sound quality that is the trademark of the Bear Family label. Highly recommended.
Stanley Brothers "Ridin' On That Midnight Train -- The Starday & King Years: 1958-61" (Westside, 1999)


More classic material by the Stanley Brothers. Although the wind had largely gone out of bluegrass music by the time of these late-'50s/early '60s recordings, the haunting quality of the Stanleys still comes through loud and clear. Once again, it's a bit odd to hear these slower, stripped-down versions of songs that have since become amped-up standards in the modern bluegrass canon. Tunes like "How The Mountain Girls Can Love," "Man Of Constant Sorrow" and even comedy routines like "How Far To Little Rock" (which Ralph Stanley still does in concert!) sound ancient and antiquated, even though it's a thrill to hear Dr. Ralph singing with his youthful voice. This is also a good chance to hear Ralph's sizzling banjo work, back when he could still to the lightning-fast stuff. Nice collection that whittles their Stanrday years down pretty nicely. Recommended!
Stanley Brothers "Early Starday/King Years: 1958-1961" (King, 1995)


If the single-CD collection above just ain't enough to satisfy your curiousity, then this 4-CD box set covering the entire King/Starday Stanleys catalog should blow your mind. Includes more or less straight reissues of several late-'50s albums, as well as a slew of songs that originally only came out on 45rpm singles.
Stanley Brothers "Complete Starday/King Instrumentals" (King, 2002)


Or, if the all-instrumental side of bluegrass appeals to you, then this collection may whet your whistle. Later material, but still pretty sweet.
Stanley Brothers "The Millennium Collection" (Mercury Chronicles, 2002)



Weighing in at a mere 12 tracks, this is a scanty, yet still quite sizzling budget-line introduction to one of the greatest bluegrass acts of all time. If you just want to get your feet wet, then this sampling of their mid-'50s work on the Mercury label is a fine place to start.
The Stanley Brothers "An Evening Long Ago: Live '56" (Columbia-DMZ, 2004)



So cool. Recorded in an after-hours session at Bristol, VA radio station WCYB, this twenty song set captures the Stanley Brothers at the peak of their fame, in March, 1956, playing in a relaxed, informal setting that emphasizes the their softer, folkier side. Station engineer Larry Ehrlich asked the brothers to play some of their favorite traditional songs, and while they still wound up performing several of their own original songs, the bulk of the album is material that were a little off the beaten track for the Stanleys, and has a haunting quality that will make you sit up and take notice. Although many of these tunes would become part of their regular repertoire, these versions have a more subdued, old-fashioned feel than in their more polished, popular studio renditions. On shorter instrumental numbers such as "John Henry," the band shows that size isn't everything: in 76 seconds they rip through the melody, with some notably slick banjo playing by Ralph, with dazzling backup picking throughout; even goofy novelty numbers like "My Long Skinny Lanky Sarah Jane" show the breadth of the band's entertainment repertoire. Mandolinist Curly Lambert and fiddler Ralph Mayo provide some sweet, understated accompaniment... Nice stuff!
The Stanley Brothers "The Definitive Collection: 1947-1966" (Time-Life, 2007)


A delicious 3-CD overview of the Stanley Brothers' full career, from their earliest recordings, through their later work on the Starday and King labels... Also included are three previously-unreleased live tracks (including a fine duet between Carter Stanley their old mentor, Bill Monroe) and two gospel tracks that haven't been on CD before now. It's all marvelous material, bluegrass music at its purest and most harmony-drenched. A fine mix of gospel and secular material (agnostics, beware!) with plenty of sweet picking and sweet vocals. Lovely stuff... highly recommended!
---
The Stanley Brothers | Ralph Stanley Albums | Ralph Stanley Best-Ofs
---
Links
---
I'm looking for more information on the Stanley Brothers LP and other vinyl releases... since I was horrified to find out that there apparently isn't a comprehensive Stanley Brothers discography up on the Web these days! Anyway, anyone with info along these lines is encouraged to write me and help me get the facts right...
This website, devoted to the history of Starday Records is a good start... Plenty of info on the label, its subsidaries and various releases during the three decades it was in existence. Thanks, dudes!
---



Hick Music Index



---
Thanks to Mark Freeman of Rebel Records for his help with this discography.
---