<! cd = 01/01/14 > <! MP3 00/00/00 > <! outside 00/00/00 > <! pix 00/00/00 > <! 208-pix: 00/00/00 > <! icons 00/00/00 > <! UPDATES: 06/09/14 - posted w/ few reviews or pix > <! P.K. Thompson and The Nashville Connection HANK WILLIAMS SONGBOOK Pickwick NM- > <! SONGS: Larry Boone "Everybody Wants To Be Hank Williams" >
---
Hank Williams was sort of to country music what the Beatles were later for rock -- an artist whose artistry was of such as high level, with a universal appeal that made country music legitimate among mainstream audiences. When Williams died at on News Year's Day, 1953, at age 29, he inspired a flood of memorial songs, and over the years his songs became standards in country, pop and even jazz, with a steady flow of tribute albums followed. Here's a quick look at just a few of these records (suggestions for others are always welcome!)
---
Discography - Albums & Best-Ofs | Tributes
---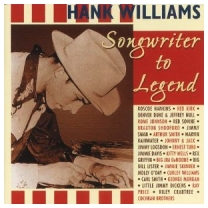 Various Artists "HANK WILLIAMS: SONGWRITER TO LEGEND" (Bear Family, 1998)


Various Artists "THE LOST NOTEBOOKS OF HANK WILLIAMS" (Columbia/Egyptian, 2011)



Really nice. This album is tied to an exhibit at the Country Music Hall Of Fame that features the notebooks of the late, great Hank Williams, including several unfinished songs. Those lyrics are brought to life by some of the most talented twangsters America has to offer: Alan Jackson opens things up with "You've Been Lonesome, Too," one of the finest songs on the album. Other highlights include tracks by Norah Jones, Patty Loveless and Rodney Crowell, as well as Hank's granddaughter, Holly Williams, a soulful singer who digs deep into the family tradition. Old-timers like Bob Dylan, Levon Helm and Merle Haggard bring another level of resonance to the project, as pioneers of the '60s folk, roots-rock and neotrad scenes whose connection to Hank's sound was immediate and profound. Nothing will ever match the majesty of Williams' own original recordings, but this disc latches onto the spirit of his work with surprising vigor and depth... It's a fun record as well as an honest one - definitely worth checking out!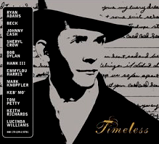 Various Artists "TIMELESS" (Lost Highway, 2001)



Yet another reason for Lucinda Williams fans to look forward to that eventual compilation of her zillions of scattered, non-album tracks. Her version of Hank William's "Cold Cold Heart" is by far and away the best track on here -- a superior rendition of a haunting old song. The rest of these Hank covers have their ups and downs... it's interesting to hear modernized updates of Hank's rather sparse sound, although some tracks (I'm not naming names) slide off in the wrong direction. Oh, fine, then: I will name names! Could Sheryl Crow have been any screechier? I thought overstated city-kids-doing-warbly-hillbilly-yodelling performances like that went out in the early '80s... and it's not like she doesn't have the range or ability to sing this stuff with the proper feeling. Overall, though, this is an album a lot of folks will enjoy; other than the Lucinda track, it doesn't move me that much, but it's not offensive, either.
---
Tribute Albums - Individual Artists
---
Roy Acuff "Roy Acuff Sings Hank Williams" (Hickory, 1966)


(Produced by Wesley Rose)
Sounds like a great idea -- the Acuff-Rose publishing house owned all of Hank's songs, to there was certainly history between the two, and a wealth of material to draw on... But this is a pretty blah album: Acuff was clearly over the hill, and doesn't really sound like his heart was in it. And while there are some talented musicians adding some sweet riffs, in general the arrangements were kind of bland and an uneasy mix of traditional and pop-tinged country. On track after track, you keep hearing the start of a great old Hank song, and then being disappointed by the followthrough. Oh, well. I'm sure there are Acuff devotees out there who will disagree with me, though, so take this review with a grain of salt. (NOTE: A 2007 CD reissue on Varese Sarabande adds several bonus tracks from different sessions -- I haven't heard those tracks yet, but imagine they add some nice perspective on the original album.)
Ramblin' Ross Allan "Memories Of Hank" (Arc, 1971) (LP)





<! Canadian country singer >

Slim Boyd "Hits Made Famous By Hank Williams" (Spin-O-Rama) (LP)

Floyd Cramer "I Remember Hank Williams" (RCA, 1962) (LP)

Lacy J. Dalton "Here's To Hank" (BSW, 2010)


Don Gibson "...Sings Hank Williams" (Hickory, 1971) (LP)





<! there is a CD edition >

Buddy Greco "Modern Sounds Of Hank Williams" (Epic, 1964) (LP)





<! 1960? '64?? >

George Hamilton IV "Sing Me A Sad Song: A Tribute To Hank Williams" (ABC, 1958) (LP & MP3)



(Produced by Don Costa)
A Hank Williams tribute album...


<! House Of Gold - I Can't Help It - How Can You Refuse Him Now - I Could Never Be Ashamed Of You - Half As Much - (I Heard That) Lonesome Whistle – Your Cheatin' Heart - I'm So Lonesome I Could Cry - Take These Chains From My Heart - Wedding Bells - Cold Cold Heart - You Win Again >

Rusty Harris "A Tribute To Hank Williams" (Diplomat) (LP)


"The songs on this album were all recorded by Hank Williams at one time..." This qualified statement might explain why so many of these songs may seem a bit obscure to even a seasoned Hank fan. I haven't taken the time to track them all down. Heck, I didn't even pick up the record when I saw it. Nonetheless, I documented its existence...
Ronnie Hawkins "Sings The Songs Of Hank Williams" (Roulette, 1961)


Don Helms "Steel Guitar Sounds Of Hank Williams" (Mercury-Smash, 19--) (LP)





<! SRS-67001 >
Arty Hill "Montgomery On My Mind: The Hank EP" (Cow Island, 2009)



(Produced by Arty Hill & Dave Nachodsky)
A swell tribute to Hank Williams, from Texas indiebilly Arty Hill. This mixes original tribute songs by Hill with strong covers of Hank Williams classics... Plenty of twang, soul, and solid musicianship. Hard to argue with Hank, and the new tunes are fun, too.
Waylon Jennings "Sings Hank Williams" (Universal/YMC, 2006)



The late Waylon Jennings famously nominated Hank Williams as the poster child for the 1975 "outlaw" music scene, paying a sideways tribute in the song, "Are You Sure Hank Done It This Way..." The affinity was natural enough -- Williams was one of country music's greatest waste cases and rebels, and like the Texas-based outlaw crowd, he forced the country music establishment to accept him on his own terms. Plus, he recorded some of the best honkytonk music ever made, songs that any true-country singer was gonna sing every chance they got. This album was originally recorded in 1985, but for whatever reasons, it went uninssued until now... It's a nice missing piece in the tapestry of Waylon's career; although many of the tracks have the too-smooth feel of a lot of '80s country studio work, there are several songs where Waylon really connects with the material, notably on "I'm So Lonesome I Could Cry," "Why Should We Try Anymore," "Mansion On The Hill" and "They'll Never Take Her Love From Me," four songs that are worth the price of admission alone. There's also a scripted interview wherein Jennings talks about his respect for William's legacy... Overall, this album is certainly worth checking out if you're a fan of either artist's work.

George Jones "My Favorites Of Hank Williams" (United Artists, 1962)





<! LP - B000P65X74 >

Spike Jones "...Plays Hank Williams Hits" (Liberty, 1965) (LP) <! year? >

Hank Locklin "...Sings Hank Williams" (RCA Victor, 1964) (LP)

Johnny Mac "The Era Of Hank Williams" (Crown, 1966) (LP)

George McCormack "Hank Williams Sung By..." (Wyncote, 196-?) (LP) <! date? >

Charlie McCoy/Various Artists "Lonesome Whistle: A Hank Williams Tribute" (Catbone Music, 2011)



With Jett Williams, Roy Clark and Ricky Skaggs...
Billy Mure "Songs Of Hank Williams" (Everest, 1960) (LP) <! date? >


Jim Owen & The Drifting Cowboys "A Salute To Hank Williams: A Song For Us All" (Epic, 1978) (LP)


During the 1970s, Nashville songwriter Jim Owen developed a one-man stage show tribute to Hank Williams, and he recorded this double-LP along with several former members of Hank Williams's band, the Drifting Cowboys. In 1978 he charted with a strictly Back-40 cover version of "Lovesick Blues," but while chart success was elusive, his theatrical show was well-regarded, and is reflected in this widely-distributed album.


<! also : B00412ADSW http://en.wikipedia.org/wiki/Jim_Owen_%28singer-songwriter%29 >

Jake Penrod "Hank Williams Remembered, v.1" (Landmark Productions, 2009)


Jake Penrod "Hank Williams Remembered, v.2" (Landmark Productions, 2009)


Jack Scott "I Remember Hank Williams" (Top Rank, 1960) (LP)

Del Shannon "... Sings Hank Williams" (Amy, 1964) <! label? >


Connie Smith "Connie Smith Sings Hank Williams Gospel" (Columbia, 1975) (KC 33414)
All gospel material... To be honest, this is pretty lackluster and indifferently produced, though she does hit the mark on a few songs. But really, there's better Hank, there's better Connie, and there's better gospel.
Larry Sparks "Sings Hank Williams" (County-Rebel, 1977)


Connie Stevens "Songs Of Hank Williams Sung By..." (Harmony) (LP)

Connie Stevens "The Hank Williams Song Book" (Warner Brothers, 1962)


Ernest Tubb "...Sings Hank Williams" (Decca, 1968) (LP)





<! 04/13: several ASINs >

Billy Williams & The Westerners "Your Cheatin' Heart: A Memory To Hank Williams" (Crown, 1964) (LP)

Johnny Williams "Your Cheatin' Heart" (Custom, 196-?) (LP)





<! Also: Johnny Williams "A Tribute To Hank Williams" (Crown Records, 196-?) (LP) - same album? >

---
Tribute Songs - MP3s
---

<! David Allan Coe "The Ghost Of Hank Williams" >

---
Links
---
---