<! MP3 04/18/09 > <! update 04/18/09 > <! outside 00/00/00 > <! pix 00/00/00 > <! 208-pix: 00/00/00 > <! icons 03/26/11 >
---
Lucinda Williams is notorious as a perfectionist and also somewhat of a grump as far as her public persona goes... And, hey -- it works for me! Williams is also known as the author of the smash hit, "Passionate Kisses," which Mary Chapin Carpenter made into a country Top-40 post-feminist anthem. And here's the real reason to revere her: Lucinda Williams is one of the best songwriters alive, regardless of genre. She's also got a great, plainspoken vocal style which brings a unique feel to her own records, though many others, including Emmylou Harris, have also done justice to her tunes. Here's a quick look at her recordings...
---
Discography
---
Lucinda Williams "Ramblin' On My Mind" (Smithsonian Folkways, 1979)



All blues and old-timey songs, from Robert Johnson to Hank Williams and the Carter Family. Portrait of an earnest young coffeehouse singer, with only a hint of the genius to come...
Lucinda Williams "Happy Woman Blues" (Smithsonian Folkways, 1980)



Lucinda's first album of all-original material, written and recorded when she was part of Houston's energetic folk-country scene (which also nurtured Lyle Lovett and Nanci Griffith...) Although the themes are familiar, the feel is different -- she's not yet the precise, confident performer she would become. Also, her vocals are somewhat uneven, particularly in her throaty lower register. Not stellar, but still fascinating, especially for fans. Plus, jeez -- if she was this good in 1980, what took so long for the rest of the world to catch on?
Lucinda Williams "Lucinda Williams" (Reprise, 1988)


She doesn't have a cult following for nuthin'! From start to finish, this is a fabulous album. Includes her "original" version of the C&W hit, "Passionate Kisses," as well as a half dozen other gr-r-reat songs. Personal favorites include: "Crescent City," "Am I Too Blue," and "Side of the Road," one of the best-written, most emotionally complex songs of the century. A couple of southern-rockish tracks round off each side of the album, and while these tracks don't do much for me, they don't really detract much from the overall fab nature of this record. (The CD re-release includes several tracks from the EP listed below.)
Lucinda Williams "Passionate Kisses" (EP) (Reprise, 1989)


A powerful, scrappy sampling of Lucinda in low gear, performing live on the radio. Her acoustic rendition of "Side of The Road" is every bit as haunting and incredible as the studio version, maybe even moreso. Most of this EP also made it onto the 1998 CD reissue of her self-titled album from '88. Recommended!
Lucinda Williams "Sweet Old World" (Elektra, 1992)



I have to admit, this is not my favorite Lucinda album, although the title track and her cover of Nick Drake's "Which Will" are both sublime. There is little to find fault with here, although production-wise, the overall mood is rather flat and same-y.
Lucinda Williams "Car Wheels On A Gravel Road" (Mercury, 1998)



All I ask (and I don't think this is so unreasonable) is that every aspiring or established songwriter on the face of the planet be physically forced to listen to Williams' song, "Metal Firecracker," at least three times in a row. If they did, you can be sure that the level of musical craftsmanship worldwide would increase dramatically: everyone would be scrambling to ascend to the alpine standard Williams sets. When this album was finally released -- after an eight-year wait -- most critics focussed on the angle of Lucinda Williams, Difficult Artist. Pity they didn't pay more attention to her phenomenal skill as a pop tunesmith. After a deceptively awkward opening verse, "Metal Firecracker" plunges into one of the sweetest, most seductive pop choruses ever written. Other great tracks include "Greenville" (a lovely duet with Emmylou Harris) and "Can't Let Go" a rocking acoustic blues that gives Bonnie Raitt a good run for her money. Personally I can live without the Tom Petty-ish rocker number, "Joy", but I figure Lucinda knows what she's doing. This is a fabulous album -- well worth all years it took her to get it out.
Lucinda Williams "Car Wheels On A Gravel Road" (Deluxe Edition) (Mercury, 1998/2006)



A 2-CD set that adds on a live disc of concert performances but, sadly, not a bunch of studio outtakes from the making of the album. Still, it's Lucinda at her prime. Hard to beat that.
Lucinda Williams "Essence" (Mercury/Lost Highway, 2001)



Hmmm. That's the sound that thousands of Lucinda's most ardent fans made when they first heard this album. The reason why is that this time around she's shooting for the ethereal, florid, Daniel Lanois-style crossover production sound that Emmylou embraced in the '90s... Sure, that's not all that's going on here, but it's a dominant trait. On some tracks, such as "Broken Butterfly," which closes out the album, the arrangements are so unusual that they merit the high-tech approach. But about half this album sounds like, well... it sounds like Emmylou's last few records, and that's a bit of a drawback not simply because the style itself is a bit iffy, but also because it now sounds kind of dated. The record is very erotic and languid, but also rather downcast and drony, even a bit monotonous. It's more varied and engaging than Sweet Old World, but it's still hard to differentiate between the songs. This is also the first time I've found myself nakedly conscious of her technique as a songwriter, particularly in the use of using chorus repetition to build an evocative tone (as on "Bus To Baton Rouge"...) In the past this has proved a very effective technique, although it may be over-used on this record, and draws one backwards into an inevitable comparison to songs such as "Lake Charles" and "Drunken Angel" where she earlier explored that trick. This is an album that may take a while to piece apart, and I can't decide whether that's good, bad or just plain vexing. But for Lucinda fans, particularly those who are drawn by her artist-as-enigma persona, this is a record well worth checking out...
Lucinda Williams "World Without Tears" (Lost Highway, 2003)



It's true, Lucinda sometimes requires listeners to give her work the benefit of the doubt; and on this album, she pretty much demands it. On this raspy outing, she indulges a taste for piercing, jam-band guitars and snarly roots-rock rapping, stylistic choices that may test the endurance of her more traditionally-oriented followers. First impressions can be deceiving, though, and devoted fans that revisit this record will be amply rewarded. (I hated this album the first time I heard it, then came back a week later, and learned to take the good with the bad....) A couple of songs are simply too grating, such as the Tom Petty-ish radio hit, "Righteously," which has some irritating, Stevie Ray Vaughn-ish guitar work, and the dismal, apocalyptic, rap-inflected "Atonement," in which Lucinda cites Biblical chapter and verse over a harshly repetitive, sledgehammering John Lee Hooker blues riff -- one of Lucinda's few outright songwriting disasters. Still, those who savor Williams' uncanny knack for crafting subtle, downcast ballads will find several gorgeous new classics here, such as "Ventura," "Overtime" and "Those Three Days," beautiful acoustic ballads that will win you over. All songs on this album are subsumed, however, to an overall sense of raw, raunchy, somewhat shocking eroticism. At the ripe old age of 50, when most folk musicians start recording children's songs and aging rockers join oldies tours, Williams surges forth with a fierce, forceful album that equates sex with a scorpion's sting, and loneliness with sheer carnal desire. She's always been a pensive songwriter, but something about this record feels defiant and exuberant, roisterous rather than bummed out. Williams takes delight painting the dingy details of life lived hard (two separate songs mention puking in a toilet bowl) and horniness, heartbreak and renewal are her canvas. The electrified rock songs may draw a new audience to Lucinda's work, but as long as she balances them with the moments of grace, we of the old-school faithful really can't complain much. Definitely worth checking out, though it might take a little getting used to at first.
Lucinda Williams "Live At The Fillmore" (Lost Highway, 2005)


Lucinda Williams "West" (Lost Highway, 2007)



(Produced by Hal Wilner & Lucinda Williams)
Lucinda Williams is, without doubt, Americana's big Bummer Queen. Her latest album renews the overweening sense of sadness, resignation and anger that came to the fore in her last few records, a genuine world-weariness that inspires as much discomfort as admiration for Williams's artistic potency... While her autobiographical desolation has an undeniable power, and while this is a more focussed, less grating album than her last few, it's still rough going, a gloom-junkie extravaganza that offers little respite for the casual listener. The comedic relief of traditional country has no interest for her; this is more like Joy Division with a slide guitar. I have to admit, I had to struggle with this one -- some songs, like "Fancy Funeral," "West," "Are You Alright?" and "Everything Has Changed" recall the elegance and economy of Williams' best writing, but others are so blunt and so bleak they seem like mere self-indulgence and wallowing. The obvious sexual entendre of "Come On," the protracted misery of "Unsuffer Me" and "Rescue," the windblown, lacerating masochism of "Words," and the utter clumsiness of "Wrap My Head Around That" seem more like spiral-binder journal writing than the proper work of one of America's most gifted songsmiths. Lucinda Williams has definitely blasted her ex -- and the world -- with the purity of her anger and abjection... Let's hope that she's also gotten it out of her system and can move on to a better place when she records again.
Lucinda Williams "Little Honey" (Lost Highway, 2008)



(Produced by Eric Liljestrand & Tom Overby)
Thank God, Lucinda Williams has finally gotten her mojo back. This disc has her once again writing crisp, clever songs, with a raw, ribald wit and -- most important of all -- with the concision and artfulness of her best early work. Plus, she sounds so much happier than on her last few albums, which were so relentlessly grim and bummerific. Here, Lucinda sounds once again like she's back in touch with the power of love -- sweet, sad, irresistible Love -- and that she's back in the world of the living again. On "Circles and Xs," "If Wishes Were Horses" and the album's upbeat opener, "Real Love," Williams is on the top of her game, capable of writing songs have poetic power greater than that of any other living mortal, tunes that will burrow into your brain, and bespeak an artistic vision that is cleansing and clear. Okay, admittedly, I'm not wild about clanky boogie-rock numbers like the grungy "Honey Bee", a hangover from her recent rock-chick fixation: playing songs like this one may feel personally cathartic, but the effect it has on me as a listener is simply to send me looking for the remote. But that's only one song, and when you do hit the "skip" button, you wind up with a gem such as the acoustic, Memphis-y plunk-twang of "Well Well Well," Likewise, the downcast "Knowing" is a bit dreary and meandering, as is "Heaven Blues" which follows, but keep going and you'll come to the more ethereal, mysterious "Rarity," which almost sounds like a Tindersticks track. And then there's "Jailhouse Tears," a gleefully obscene duet with labelmate Elvis Costello, that certainly loosens things up a bit. A nice return to form!
Download picks:

Tears Of Joy


If Wishes Were Horses


Well Well Well


>
Lucinda Williams "LU In '08" (EP) (Lost Highway, 2008)

Lucinda Williams "Blessed" (Lost Highway, 2011)


Lucinda Williams "Down Where The Spirit Meets The Bone" (Highway 20 Records, 2014)



Feeling too happy? A little too optimistic about life, kind of starry-eyed and indiscriminately joyful? Lucinda Williams can help with that. I have to confess, I went from being a super-ultra, diehard fan twenty years ago to getting -- well honestly, a little too bummed out by her stuff. I mean, yeah, I know she's dealing with "real stuff" -- dark emotions and whatnot -- but it got to the point where I just couldn't take it anymore. It felt like gloom-junkie wallowing with no hopes of redemption, and plus the pop-country-jam band fusion thing wasn't really working for me, either. Will Lucinda bring me back into the fold someday? I dunno... Guess we'll find out soon enough... Maybe this double album will do the trick...
---
DVDs & Related Records
---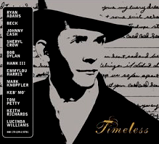 Various Artists "TIMELESS: HANK WILLIAMS TRIBUTE" (Lost Highway, 2001)



Yet another reason for Lucinda's fans to look forward to the eventual compilation of her zillions of scattered, non-album tracks. Her version of Hank William's "Cold Cold Heart" is by far and away the best track on here -- a superior rendition of a haunting old song. Stunning. The rest of these Hank covers have their ups and downs... it's interesting to hear modernized updates of Hank's rather sparse sound, although some tracks (I'm not naming names) slide off in the wrong direction. Oh, fine, then: I will name names! Could Sheryl Crow have been any screechier? I thought overstated city-kids-doing-warbly-hillbilly-yodelling performances like that went out in the early '80s... and it's not like she doesn't have the range or ability to sing this stuff with the proper feeling. Overall, though, this is an album a lot of folks will enjoy; other than the Lucinda track, it doesn't move me that much, but it's not offensive, either.
Lucinda Williams "Live From Austin, TX (1989)" (DVD) (New West, 2005)

Lucinda Williams "Live From Austin, TX (2005)" (DVD) (New West, 2005)

---
Links
---
---