<! MP3 10/20/11 > <! pix 10/20/11 > <! archived 04/04/13 > <! * >

---
Howdy, neighbors!
Here are some reviews of the new country, bluegrass and Americana records that I had the good fortune to listen to in June, 2005. This month: Tommy Alverson, Pete Anderson, Laura Cantrell, The Coal Men, The Country Gentlemen, Grey Delisle, George Jones & Gene Pitney, George Jones (and very special guests!), Freddie Hart, Chris Hillman, Rex Hobart & The Misery Boys, Erika Jo, George Jones & Gene Pitney, Jesse McReynolds & Charles Whitstein, John Prine, The Sons Of The Pioneers, Lee Ann Womack, "Patriotic Country 2"...
...It's not everything I heard, but it's a nice sample of stuff that either tickled my fancy or ticked me off... Many records that aren't included here are reviewed elsewhere in my full Guide To Hick Music.
---
New Stuff: June, 2005
---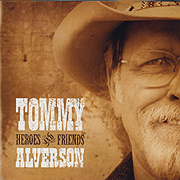 Tommy Alverson "Heroes And Friends" (Smith Entertainment, 2004)



Gather 'round, children, and take heed: here is Texas music at its casual, independent best. Back Forty picker Tommy Alverson has opened up the studio to invite a bunch of Lone Star artists he knows and admires to play on this fine, heartfelt guest-fest. Ed Burleson, Johnny Bush, Ray Wylie Hubbard, Gary P. Nunn, Rusty Weir, and the legendary Leon Rausch are among the more recognizable names on here; "new" artists like Heather Morgan and Jerry Max Lane may also perk up an ear or two, as well. There's a rough-hewn, even sloppy, soulfulness to this steel-drenched set, and a distinct sense that this is real music being made by real people, folks who play in local bars for a little free beer and a lot of fun, and who think that's about all you need to "make it" in the music world. Although the guest-performer aspect makes this album flow a little unevenly, but there are several standout tracks, so it all evens out. Particularly nice are "I Feel Like Drinkin' Today," "My Hometown," the alt-country anthem, "It Could Be Much Worse," and "My Way Or The Highway," Alverson's homage to the late, great Waylon Jennings. If you wanna hear some low-key country twang that's way off the Nashville radar, then Tommy Alverson's your man.
Pete Anderson "Daredevil" (Little Dog, 2004)



Guitar slinger Pete Anderson, best known as Dwight Yoakam's longtime lead guitarist and producer, cuts loose and kicks back on this fine, twangy set of original instrumental tunes. Anderson's tone is gentle and measured, his soundscapes lulling and lush, his leads tart and tasteful, as he mixes loungey exotica with West Coast twang and a smidge of funky electronica... Previous solo outings had seemed a bit frantic and forced, but this one sounds classy and calm -- It's a good listen, particularly for folks who dig instrumental music to begin with, although the last few tracks on the disc are kind of nondescript... Nice to hear that the fella who helped sculpt Yoakam's multi-layered modern twang kept some of the good stuff in reserve for himself as well... Worth checking out.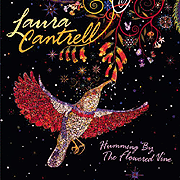 Laura Cantrell "Humming By The Flowered Vine" (Matador, 2005)



It's a delight to see when an independent artist crafts a masterpiece, particularly someone who's been around for a while and whose imperfections have been almost as charming as their artistic passion. On her third album, East Coast alt-country songwriter Laura Cantrell has crafted a solid, soulful work that may be the soundtrack for many a moody afternoon to come. Backed by East Coast indie-popster Dave Schramm and members of the uber-artsy, amorphous band Calexico, Cantrell shifts from style to style, drawing on numerous influences to forge a sparkling record with several memorable melodies. Unlike many big city altabillies, Cantrell seldom trawls through the depths of phony hick sterotypes to "prove" how country she is, and on this record she goes out of her way to claim ownership of her own urban identity, with songs that place the listener smack dab in the middle of New York, New York. For example, the album kicks off with its strongest track, "14th Street," a walking tour of heartbreak on concrete that half-unconsciously swipe its melodic hook from "There She Goes" by the La's. (Which, frankly, is fine by me. The next song, though, quotes that old Budweiser jingle... "when... you say... Bud!", which is a little more questionable...) Calexico & Co. prove themselves adept at absorbing country music, and when they do add a rock touch, it feels a bit raspy and Neil Young-ish; Cantrell anchors herself to her country roots through a fine, wistful version of the old Wynn Stewart hit, "Wishful Thinking," a plaintive rendition of the ballad, "Poor Ellen Smith," and her own "California Rose," a heartfelt homage to West Coast wild woman Rose Maddox. But while flexing her musical strengths inside a professional studio, with a versatile, ultramodern band to back her, Cantrell also zeroes in on unsuspected depths as a rock-popster, sounding as much like Linda Thompson as folkies such as Mary McCaslin. It's a glorious transformation, and this is an album that might floor more than a few listeners. Recommended!
The Coal Men "Nowhere's Too Far" (Vazkaleedez, 2004)


This three-piece Nashville-area band crafts thoughtful, mid-tempo roots-rock, mainly written by singer-guitarist Dave Coleman. If you liked the old, twangy version of Wilco, or other alt-roots types like Dave Alvin, then this disc might really get ya going, too. No flashy monster guitar riffs or dumb fake-hick lyrics, but lots of sorrowful, soulful and sincere songwriting... (Available through the band's website at www.thecoalmen.com.)
The Country Gentlemen "Joe's Last Train" (Rebel, 2005)



A fine set of straight-ahead progressive bluegrass from the early 'Seventies. This edition of the band featured a young Doyle Lawson, along with Charlie Waller and the boys... a couple of tunes hint at Lawson's future as a major proponent of bluegrass gospel, particularly the fine a capella harmonies of "Lord Don't Leave Me Here," which closes the album. This album isn't dazzling or flashy, it's just a fine, solid effort by one of the most talented and professional bands of the bluegrass revival... Definitely worth checking out!

Grey Delisle "Iron Flowers" (Sugar Hill, 2005)



Hmmm. I guess my love-hate relationship to Ms. Delisle is back on again... Her first albums of tepid, wannabee rockabilly retro soured me to her early on, but her last record, the moody, eerily moving Graceful Ghost, was a surprisingly strong album that really made me think twice. Here, she's delved too deep into the wellspring of oversculpted Americana uber-artsiness, with a slow, solemn, Gothically morose batch of tunes, the sort of densely produced, darkly poetic stuff that some folks really dig, but I find pretentious and impenetrable. There are wisps of Cowboy Junkies and various slowcore, indierock mopesters, but only a tune or two where the lyrics rose above the self-consciously artful presentation. I would have to say, in all honesty, I might not be the right person to ask about this album -- if it's the kind of thing you like, this might be a masterpiece.
Freddie Hart "Juke Joint Boogie" (Bear Family, 2004)


Most folks know Freddie Hart through his lush, louche countrypolitan hits of the early 1970s, steamy softcore classics like "Easy Loving" and "Got The All Overs For You..." But Hart spent decades slogging through the back 'forty before he got a shot at the gold, and there was a time when Hart was a full-on hillbilly singer, with rough edges and an even rougher life. This is a swell collection of his early work, rollicking honkytonk that'll knock the socks off country fans who only know him from his tepid '60s albums on the Kapp label and the slick, chart-topping country-pop he did for Capitol when he was a 'Seventies superstar. Seriously, folks -- this is a great record, packed with one fine rompy, stompy hard country tune after another. Check it out! I was amazed.
Chris Hillman "The Other Side" (Sovereign Artists, 2005)



For decades, Byrds co-founder Chris Hillman has been dancing along the elusive boundaries between rock and country, and since setting aside his chartmaking career in the country-oriented Desert Rose Band, he's settled into a more modest role as an altie-folkie-bluegrassy old-timer. This album, featuring contributions from longtime collaborator Herb Pedersen and bluegrassers such as Bill Bryson, Sally Van Meter and Gabe Witcher, is one of the best solo albums of his career. It's unhurried and unforced, full of delicate, soulful country flavored heartsongs and hillbilly gospel tunes. Hillman's occasional aesthetic lapses (the whole latter-day folk-rock thing) are nowhere to be heard here, and the record keeps on an even keel, rather than lurching from style to style as he has often done in the past... From start to finish, this is a very listenable album -- rootsy, melodic, and with great emotional depth, the kind of record you can come back to for years to come. Recommended!

Erika Jo "Erika Jo" (Universal South, 2005)



(Produced by Tim DuBois, Rick Giles & Steve Mandile)
A winner in the cable TV talent show, Nashville Star, teenager Erika Jo stands a good chance at becoming one of Nashville's new elite. Her major-label debut will probably do alright in the charts, even though I think it's a little too rock-pop at times, which is probably a hangover from an American Idol-y TV tilt towards perky, generic pop. But the album's opener, "I Break Things," is a great, upbeat honkytonkish tune that has a bit of Tanya Tucker sass to it, and hopefully it's a sign of good things to come. Like many younger singers, Jo doesn't quite sound like she has the real-life emotional experience to feel convincing on songs of heavy heartbreak and regret... But give her some time -- we all get kicked around a little, and when you're a country singer, that can come in handy. For fans of the current mix of ornate Nashville twang and fluffy, teenybopper pop (ala Lindsey Lohan), this disc might make for a little summer fun... I'll be interested to hear where she goes from here.

George Jones & Gene Pitney "The Complete '60s Duets" (Varese Sarabande, 2005)


Amid all the business wrangling and horse trading that went on during the history of the Musicor label, which was intertwined with United Artists in the early '60s and then went indie mid-decade, poor ol' George Jones was batted about like like a ping-pong ball in a typhoon. In 1965, he was moved decisively over to the Musicor label, and one of his first projects was a duets album with cricket-voiced teen idol Gene Pitney, who was then the hottest act on the label. It seemed an unlikely pairing, but it produced two albums, both cut the same year, George Jones And Gene Pitney and It's Country Time Again, each of which produced some moderate chart action, and led to a third LP of hillbilly material by Pitney, The Country Side Of Gene Pitney. This CD gathers all the duets off those albums (and leaves out several solo vocal numbers, which can be heard on a more complete collection on the Bear Family label...) Although a few songs, like the novelty-tinged version of "Mockingbird Hill," sank to the kitschy depths many naysayers predicted, other tracks have surprising resonance and grit. It's hard to shake Pitney's image as a chirpy, melodramatic teenpop crooner, but after a while his country side seems fairly plausible. After all, he sounds quite a bit like Hank Locklin in his youth, so what's to get riled up about, really? This is clearly not Jones' best work -- Pitney actually overshadows him on all but a few tracks -- but this disc is still worth picking up, if nothing else, for its historical value.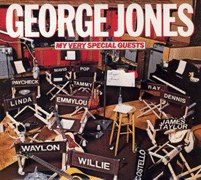 George Jones "My Very Special Guests" (Sony Legacy, 1979/2005)



Ya gotta get this one. Without question, George Jones is the finest country singer who ever walked the face of the planet... at least on a good night, he is. Although his personal life had hit rock bottom, by the end of the 1970s Jones rounded a corner artistically, rekindling the magic in his relationship with producer Billy Sherrill, and delivered stellar singles such as "Bartender's Blues," a 1978 duet with James Taylor (which is included on this set) and -- in 1980 -- the weepy single that may be his greatest recording ever, "He Stopped Loving Her Today." When it first came out in 1979, the 10-song celebrity guest-fest My Very Special Guests was greeted with skepticism and disparagement and, indeed, the project was rife with what could charitably be called missed opportunities. The teamup with Waylon Jennings that kicks off the album -- a cover of Willie Nelson's "Night Life" -- is a musclebound disaster, and other tracks, such as clunky pairings with a coked-up Johnny Paycheck and the mumbly, too-cool Elvis Costello, also fall flat. But then there are the gems, like "Bartender's Blues," and a number with his ex-wife Tammy Wynette, or a surprisingly strong collaboration with the guys from Dr. Hook, as well as a soul-piercing duet with Emmylou Harris ("Here We Are") that'll just make you melt, it's so damn pretty. So much for the original album... Now let's talk about the super-groovy, expanded, deluxe reissue that adds an extra disc-and-a-half of "new" material, gathering some of the finest duets Jones has sung in the last twenty-five years. Disc One rounds off with eight extra tracks, all of which are pretty solid, except for a painful trainwreck involving bluesman B.B. King and a shrill, horribly misguided cover of Clarence carter's old hit, "Patches." Other than that, though -- Randy Travis? Ricky Van Shelton? Ralph Stanley? Ricky Skaggs? All these guys tipping their hats to the master of the country heartsong? Count me in. Plus, it's got the fab Patty Loveless hit, "You Don't Seem To Miss Me," which is just one of the finest country ballads ever recorded, so I'm happy. Disc Two is even better. "Yesterday's Wine" with Merle Haggard was a deservedly big hit back in '82, and there are some fine, lesser-known tracks like those with Lacy J. Dalton and Deborah Allen that're also kinda fun... Appearances by Johnny Cash, Buck Owens and Ray Charles are okay -- they do the job, but that's about it -- while a series of tracks featuring 'Nineties neotraditionalists like Mark Chesnutt and Alan Jackson will knock your socks off. Of course, more than a few singers have styled themselves after Jones's soul-rending style, so it's particularly fun to hear him hanging out with folks like Vern Gosdin and Sammy Kershaw, who might be imitators, but who also had the real stuff. The Kershaw track, "Never Bit A Bullet Like This," is a real earbender: Jones and Kershaw sound so much alike that you really couldn't tell who sang which part if it weren't for them dropping each other's names as the song fades out. This is a nice reissue, a real class act, although the decision to limit its scope to the 1980s and '90s is a little unfortunate, since it leaves out a few great tunes that would've made the package complete. ("Beer Run," with Garth Brooks and "Bag Of Bones with T. Graham Brown come to mind for starters...) But overall, what's to complain about? This is a nice collection that'll help you hear a lot of fine material that'd take a bit of effort to track down otherwise... Recommended!

Jesse McReynolds & Charles Whitstein "A Tribute To Brother Duets" (Pinecastle, 2005)



Highly recommended. An elegant, emotionally resonant tribute to the classic "brother harmony" sound that stretched from Depression-era troubadours like the Monroe Brothers and the Blue Sky Boys on up through classic 'Fifties artists such as the Louvin Brothers and Jim & Jesse (the fabulous duo of whom Jesse McReynolds was a member) and even rock-pop singers like the Everly Brothers and folk-country acts like the Wilburns... Charles Whitstein is a great revivalist of the "brother act" style, and while he started out as a young'un who was eventually taken under the wings of some of the elders, by now he's fairly long in the tooth himself, and he matches McReynolds beat for beat with the deep, world-wise old-man mournfulness that makes this album so great. Many of these songs were originally played at a much faster clip, but old-timers like McReynolds and Whitstein are in no hurry to get anywhere, and their laid-back, low-intensity approach is in some ways similar to the later recordings of Louis Armstrong: master musicians whose power now lies in their calmness, rather than in the slam-bang showmanship of their youth. This really is quite a nice album; if you like old-fashioned blugrass and sentimental stringband music, you should check this out... You won't regret it!
John Prine "Fair & Square" (Oh Boy, 2005)



The great John Prine has found his voice again, both literally and figuratively... After battling with a debilitating throat cancer, Prine is back in fine form, with his first all-new studio album in nearly a decade, and one of the finest albums of his career. Prine's gentle, forgiving embrace of human failures and foibles comes through loud and clear, along with his trademark world-weary, warped wisdom and his ability to craft unexpected turns of phrase, spinning the listener along, wondering just how each stanza will end. This is his best and most heartfelt album since 1984's Aimless Love, with Prine present and engaged on every single song. The sweet, rich accompaniment dips into the country stylings -- pedal steel, etc. -- that Prine set aside for a while, and sets a lulling, pleasant tone; songs like "Taking A Walk" and "I Hate It When That Happens To Me" invite repeat listens, offering the narcotizing pleasures of Prine's familiar, now-grandfatherly artistic presence. As is his wont, Prine invites a few guest along for the ride, notably Alison Krauss and newcomer Mindy Smith, who harmonize on a few tunes. One song may stand out like a sore thumb: in "Some Humans Ain't Human," Prine takes an uncharacteristic dive into political commentary, zeroing in on the hypocrisy and heartlessness of George W. Bush, skewering his bullying, blustering administration with a scathing denunciation that's framed by low-key, matter-of-fact simplicity... Playing the everyman, Prine doesn't try to be clever and arch like Phil Ochs, or as impassioned and painfully earnest as many politico-folkies strain to sound; he just seems saddened by the insincerity and lameness of Bush and the Gang That Couldn't Shoot Straight... Prine doesn't dwell on it either, he just says he thinks these guys are jerks, and then moves on to another song. Thuh End. Politics aside, this is an excellent album, with a soft, elegant feel and a warmth that fans will find welcoming. The year's hardly halfway through, but I already know this disc will be near the top of my list for '05. Recommended!
The Sons Of The Pioneers "Under Western Skies" (Varese Sarabande, 2005)


The seemingly inexhaustible supply of old western-themed singing cowboy material featuring the Sons Of The Pioneers -- Roy Rogers' pals and longtime backing band -- continues unabated with this fine set of radio transcriptions of undocumented provenance. This disc gathers some of the group's earliest material, old radio transcription performances featuring the original trio of Bob Nolan, Tim Spencer and Leonard Slye (later to be known as... Roy Rogers!). Rogers sings most of the leads, and his easygoing, laidback approach is clear, although he seems less able to "fake it" and seem as peppy and enthusiastic as he later would appear. Although these 1934-35 recordings come at the start of their career, the group already sounded somewhat jaded and businesslike, spinning out perfect little cowboy songs while sometimes sounding a little distracted and remote... Actually, though, one of the things I like about these old radio performances, is hearing the live, showbiz side of these old artist's careers, how they handled their obligatory, perfunctory commercial duties, and how they sounded like the consummate professionals they were... And make no mistake, this disc gives a good glimpse at the band in its early years... Worth checking out, particularly if you're already a Sons fan, or a Roy Rogers buff.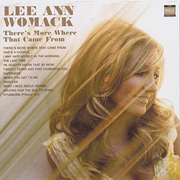 Lee Ann Womack "There's More Where That Came From" (MCA-Nashville, 2005)



(Produced by Byron Gallimore)
FINALLY...!!! A newly-minted mainstream country release that can make a hard-country traditionalist like me crank it up to top volume, and keep it blasting from start to finish... This is like capnip for an old codger like me: why aren't more modern Nashville records this good?? Womack's been down from the mountain, and she's come back again, having started out as a traditionalist and then coasting into massive success with popped-up modern material. But when it comes down to it, I guess it's more fun to sing the real stuff, and this album is a fine return to form for one of the best true-country singers of the last decade or so... The disc opens with the title track, a fiddle'n'steel-drenched, guilty-conscience cheatin' song worthy of the late, great Conway Twitty... and the rest of the album follows suit, dishing out one great, emotion-soaked tearjerker after another. Womack never shies away from tradition, either from the twang that country was built on or the slick, sleek craftsmanship of the early-'Seventies countrypolitan era... She even indulges in a few high-concept, densely constructed modern tunes (like "The Last Time" and "When You Get To Me"), but where these songs might sound trite or contrived coming from any number of her contemporaries, when Womack sings 'em, you believe 'em. This is a superior country album, the rootsy kind of stuff Nashville has neglected for the last few years -- let's hope Womack's success this time around will help usher in a new back-to-basics movement... It's been a long time, and Music City is long overdue for a breath of fresh air. Highly recommended! (By the way, note to the MCA art department: I love the use of some of the old Decca and MCA album art on this disc, like the Decca arrows and the MCA rainbow logo!)

Various Artists "PATRIOTIC COUNTRY v.2" (Sony-BMG, 2005)



The second volume in BMG's patriotic series fills in a few gaps from the first disc, but also suggests a weakening of the brand, reaching back pretty far to come up with enough songs to fill the playlist, and including several tracks that might not actually fit the theme. The first volume was pretty explicitly a pro-war response to the events of 9/11/01 and the passionate political debate concerning the Iraq War. This disc is more diluted and ambiguous, although it is still a valuable document of its time. It corrects the glaring omission on Volume One of Darryl Worley's "Have You Forgotten," which was one of the biggest, most influential hits of the post-9/11, let's-get-Saddam era... It also adds several notable new songs, recorded after the first flush of war fever cooled down a little -- John Conlee's stirring "They Also Serve," Chely Wright's tepid denunciation of a fellow motorist who gave her the finger because Wright's car had a USMC bumper sticker on it ("The Bumper Of My SUV," a song that, sadly, misses the oil-related irony of the situation, although I do agree with Wright that the other driver was being a real jerk...) It also includes the surprisingly reflective Lonestar 2004 single, "Somebody's Someone," which is one of the most saddening and emotionally honest songs to have come out of the war, wherein a father watching the nightly body count on TV cries for the loss of life, and nary a partisan or pro-war political view is expressed. Like other songs on this collection -- such as Phil Vassar's "This Is God," Willie Nelson's "Living In The Promiseland" and Johnny Cash's "Ragged Old Flag" -- "Somebody's Someone" is hardly a rah-rah, flag-waving anthem, it's a more subtle commentary than, say Montgomery Gentry's bullheaded, truculent "You Do Your Thing" and Aaron Tippin's equally macho "You've Got To Stand For Something," which both equate schoolyard chest-puffing with the highest moral good... In a sense, though, this inconsistence or ambivalence is welcome, as it may be a closer match to the actual mood of the country than the political arm-twisting found on the first disc of this series. The inclusion of oldies like Merle Haggard's "Okie From Muskogee" and Elvis Presley's over-the-top rendition of "America The Beautiful" feel a little tacked on, but since the series producers still haven't dredged up Clint Black's embarassingly bloodthirsty "Iraq And Roll," they can hardly be said to be scraping the bottom of the barrel. This disc, like the first, is a valuable document of its time, one you can either appreciate as a history lesson in the making, or as a call to rally around Old Glory...
---



Hick Music Index
Shop Amazon, Support Slipcue



---


<! June, 2005>