<! * > <! MP3 10/13/11 > <! pix 00/00/00 > <! archived 10/13/11 * > <! McGarrigle Sisters >

---
Howdy, neighbors!
Howdy, folks! Here are some reviews of the new country, bluegrass and Americana records that I had the good fortune to listen to in June, 2011. This page gets updated throughout the month, so check back if you can... Also, check out my full Guide To Hick Music for a bazillion more record reviews and artist profiles.
This month:
Matraca Berg "The Dreaming Fields" (Dualtone)
Louisa Branscomb "I'll Take Love" (Compass)
David Adam Byrnes "Premium Country" (Better Angels)
Laura Cantrell "Kitty Wells Dresses" (Diesel Only)
Rosanne Cash "The Essential Rosanne Cash" (Sony Legacy)
Carter's Chord "Wild Together" (Show Dog)
Ronnie Dunn "Ronnie Dunn" (Sony Nashville)
Sara Evans "Stronger" (RCA Nashville)
George & Earl "Better Stop, Look And Listen" (Bear Family)
Eliza Gilkyson "Roses At The End Of Time" (Red House)
Robert Johnson "The Centennial Collection" (Sony Legacy)
Jim Lauderdale "Reason And Rhyme" (Sugar Hill)
Bobby Lord "Everybody's Rockin' But Me!" (Bear Family)
Antsy McClain "Heroes Last Forever: The Sun Studio Sessions" (DPR)
Gurf Morlix "Blaze Foley's 113th Wet Dream" (Rootball)
Brad Paisley "This Is Country Music" (Sony Nashville)
John Rich "Rich Rocks!" (Warner Brothers)
J. D. Souther "Natural History" (Entertainment One)
Clyde Stacy "Hoy Hoy" (Bear Family)
Art Thieme "That's The Ticket!" (Folk-Legacy)
Randy Travis "Randy Travis" (Cracker Barrel)
Donna Ulisse "An Easy Climb" (Hadley Music Group)
Various Artists "I LOVE: TOM T. HALL'S SONGS OF FOX HOLLOW" (Red Beet)

---
New Stuff: June, 2011
---
Matraca Berg "The Dreaming Fields" (Dualtone, 2011)


Louisa Branscomb "I'll Take Love (From The Pen Of Louisa Branscomb)" (Compass, 2011)






<! Louisa Branscomb - from bands Boot Hill and Gypsy Heart recorded a solo album? http://www.louisabranscomb.com/Louisa.htm "Songs Of The Whimple Wood" 1884375030 (cassette only?) >

David Adam Byrnes "Premium Country" (Better Angels, 2010)



(Produced by Rob Rappaport & Tom Drenan)
An excellent independently-released set from an aspiring Top Country singer. Byrnes has all the formulae -- the ringing but rounded electric guitars, the booming rhythm and tamed twang, as well as the songwriting conventions of roughneck rumbles and sensitive-guy love songs. He's also got real soul: the opening tracks were a little too brash and commercialized for my tastes, but as the album progressed, he kept coming up with surprises, one strong song after another. And I, for one, enjoy a good wallow in misery, and on honkytonkers such as "The Jukebox, The Bottle, And Me," Byrnes really delivers. The guy's got a strong voice and knows how to write good songs, too... This is a powerful debut from a a fella that I'm gonna keep my eye on. Fans of Brad Paisley, in particular, might want to give him a spin.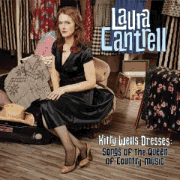 Laura Cantrell "Kitty Wells Dresses: Songs Of The Queen Of Country Music" (Diesel Only, 2011)



(Produced by Laura Cantrell)
A pure delight for pure country fans. Singer Kitty Wells was a country music trailblazer -- the first woman to hit the top of the charts and a towering figure in the Nashville landscape throughout the 1950s and '60s. Alt-country heroine Laura Cantrell kicks off this tribute album with a self-penned original, "Kitty Wells Dresses," which pays homage to the queen of country and namechecks many of the great female singers who came in her wake. Despite Wells' resolutely traditional image, Cantrell holds her up as an iconic modern woman, and given Wells' professional successes in the male-dominated honkytonk scene, I guess she has a point: for Cantrell, the stiff-collared, old-fashioned gingham dresses are just costumes and window-dressing -- it's that glint in Kitty's eyes that counts. Cantrell is herself a modern gal with a retro inclination, and she can tap into old-school twang like nobody's business. She finds a powerful muse in Kitty Wells, cherrypicking classic heartsongs and ballads, and channeling the plaintive, true-country vibe that made Wells' work so compelling. It's easy to imagine Cantrell sitting around at home over the years, guitar in hand, singing these songs for fun, harmonizing along with those old records. Now that she's put it down on wax, the results are pitch-perfect, a solid set of traditional, old-school country with strong contributions from numerous talented pickers: steel guitarist Chris Scruggs perfectly captures the simpler, Hawaiian-inflected style of the early '50s, bluegrass bassist Mike Bub thumps along in a minimalist mode while neo-twangsters such as Paul Burch, Fats Kaplin and Chuck Mead chime in as well. This is perhaps the finest album of Cantrell's career and a fitting tribute to Kitty Wells and her era -- a rock-solid set of heartfelt twang. Highly recommended!
Rosanne Cash "The Essential Rosanne Cash" (Sony Legacy, 2011)



This expansive 2-CD best-of could help save a lot of shelf space for CD-oriented fans, gathering material from throughout Cash's career. It kicks off with "Can I Still Believe In You," a lone track from her long-lost 1978 debut, an out-of-print rarity that was released in Europe, but never in the States. Then come the Rodney Crowell years, where she and he helped sculpt a hip new country sound, melding artful, introspective lyrics with big, hook-heavy production -- just the right mix to take her to the top of the country charts throughout the early '80s. There are a bunch of missing songs that I, personally, would have added here (especially "Couldn't Do Nothin' Right" and "Take Me Take Me") but with a collection like this, you can't have everything. Disc One contains primarily her younger, Crowell-related material, including gems such as the smash hit, "Seven Year Ache" and "My Baby Thinks He's A Train"; Disc Two encompasses her later, more introspective albums, with standouts that include her tribute to her father, "September When It Comes," and a smattering of songs from the List album. There are, of course, several duets gathered here as well, including a nice one with Vince Gill and a fun version of Don Gibson's "Sea Of Heartbreak," sung with Bruce Springsteen. All in all, a great introduction to a thoughtful, potent, spiritually mature artist - definitely worth a spin!

Carter's Chord "Wild Together" (EP) (Universal-Show Dog, 2011)



(Produced by Toby Keith & Mark Wright)
You might be disappointed if you thought this three-gal vocal group's name was an homage to the Carter Family... Unless of course, you were talking about Carlene Carter, 'cuz like Carlene in her younger years, this rough-cut trio want to make sure you know that they aren't just a bunch of harmless little "good girls." Indeed, on songs like "We Ain't Makin' Love," they go out of their way to underscore their carnality and downright raunchy horniness. Forget about the scented candles, baby, it's time to burn a hole in the rug!! To balance things out they close this 6-song EP with "Love A Little Bigger," a socially-conscious Christian country-pop song that urges everyone to be more thoughtful and thankful in life. (Of course, it's still a little self-absorbed: they start out by worrying about strangers who are starving, but instead of deciding to volunteer at a soup kitchen, they resolve to call their moms on the weekend. Well, every little bit helps, I guess...) Proteges of label head Toby Keith, these gals are a bit too overproduced for my tastes, but I'm sure old Toby knows what he's doing when it comes to making hits... So keep your eyes peeled for a little chart action...
Ronnie Dunn "Ronnie Dunn" (Sony Nashville, 2011)



A solo set from one half of the chart-topping Brooks & Dunn country duo...
Sara Evans "Stronger" (RCA Nashville, 2011)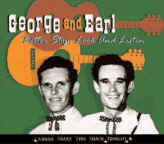 George & Earl "Better Stop, Look And Listen" (Bear Family, 2011)


A cool and much-welcomed reissue of a fab hillbilly record that I've had for years on vinyl, with new material added for the digital age... The 1950's duo of George McCormick and Earl Aycock only released about a dozen tracks together, all of which are included here, along with an equal amount from McCormick working solo. It's great hard country harmony, with an uptempo bounce that took the stolid sound of the Delmore Brothers and gave it a little extra pep. If you're a fan of the "brother act" sound that passed from the Delmores and the Blue Sky Boys, through to the Louvins and the Everly Brothers -- or if you just like good old-fashioned twang -- you'll definitely want to check this out as well... Great stuff!


<! George McCormick and Earl Aycock A welcome first CD reissue by one of the classic hillbilly vocal duos, George and Earl! 29 high class 1950s sides made in Nashville featuring musicians ranging from Hank Williams' band to the A team! Contains all 6 original 78s by George McCormick and Earl Aycock and another 6 singles by George McCormick. This CD is about two very different singers and musicians who came together for a brief two years to make some of the best and most interesting duet recordings of the 1950s. The still-prevalent sound of Hank Williams was just beginning to give way to newer styles of popular country music and the upstart sounds of rockabilly. George and Earl together provided a link from the country duets of the '30s, '40s and '50s, the likes of the Delmores and the Louvins, to the harmonies of country music as developed after the rockabilly era. In terms of commercial success they were outgunned by the Everly Brothers, but they had a very different duet style and one that has endured just as long. Sweet Little Miss Blue Eyes and If You Got Anything Good are often cited among the best country duet recordings of all time! Three of the songs were scheduled for Hank Williams to record before he died. George McCormick later led the Wagonmasters band for Porter Wagoner and was Dolly Parton's first duet partner on the Wagoner TV show. Earl Aycock later was a DJ in Texas and Louisiana. A 40-page booklet by Martin Hawkins featuring unpublished interviews with George McCormick. >

Eliza Gilkyson "Roses At The End Of Time" (Red House, 2011)



(Produced by Cisco Ryder & Eliza Gilkyson)
As folk music stretches its elbows and becomes comfortable in the new media landscape -- where pop/rock and rap/R&B slowly teeter into the same sort of niche markets that folk and blues have been in for years -- singer/songwriter Eliza Gilkyson has taken on the stature not only of a folk-scene elder, but as a paradigm of what "Americana" music can and ought to be. This album opens with the evocative and elegant "Blue Moon Night," where Gilkyson muses, surprised, on the good things in life, on how sometimes we realize that things can actually be okay, and that life can feel blessed or even just in balance; one brief line about how we've had it good reflects, perhaps what many of her generation may feel, that an America in decline was still a great place to be. This, however, is far less political than previous albums, the sense of immediacy and anger that the Bush years brought having faded to bring about a more subtle form of dread. The introspective, personal narratives work better for her here, and the title song, "Roses At The End Of Time," is a gorgeous love song, built at first on well-known poetic and folk refrains, then launching into a richly original romantic metaphor. By comparison, topical songs such as "Slouching Towards Bethlehem" (about the financial crisis) and "Vayan Al Norte" (about immigrant labor) seem clumsy by comparison. Between these two poles lies Gilkyson's apparent concern with reclaiming the spiritual sphere from the predations of zealots and hate-mongers: "2153" is a harsh lampoon of rapture-bound fundamentalists whose references I don't quite get, while in "Death In Arkansas" she seems drawn to tradition and to the comforts of church, while still obligated to criticize the fire-and-brimstone crowd. Perhaps most interesting is the approach of "Slouching Towards Bethlehem," which characterizes the greed of Wall Street as pure, unmitigated Evil, as the very Beast itself, a wicked presence that must be confronted, not simply morally, but religiously, spiritually. It's an odd fit for the folk scene, which has so long been identified with the supposedly secular Left, but I think Gilkyson is right: the distortions of religion -- Christianity in particular -- have to be confronted within the same institutions where these distortions take place. Lefties and liberals who also identify themselves as religious people need to do so publicly and actively reclaim this part of the public sphere, and rescue religion from the intolerant. This is difficult because many Americans, particularly those born of an earlier era, were raised to believe that religion is a private thing, and that proselytizing and bringing spirituality into public life is unseemly and rude. Obviously that sense of propriety and restraint has left middle America defenseless against the current wave of fundamentalists who seek to establish theocratic litmus tests throughout our society, and leaves the God-in-politics field open to our most crass, belligerent elements. Honest, searching, gentle reflections such as Gilkyson's (as well as Steve Earle's recent album...) seem like a good start in helping even out this imbalance. Here's to hoping that it will be enough.


<! Cisco Ryder is also her son >

Robert Johnson "The Complete Recordings: The Centennial Collection" (Sony Legacy, 2011)



The legacy of blues pioneer Robert Johnson is well known... Well, that's actually something of an understatement: Johnson has long been lionized as the greatest bluesman ever, the creator of the blues, the guy who perfected early blues guitar, yadda, yadda, yadda... Eric Clapton, Greg Allman and every other '60s blues player revered the guy and the legend of Johnson's "deal with the Devil" (how else could he have been so great?) has been oft repeated. I actually have some blues pioneers that I've preferred over the years - Furry Lewis, Son House, Bukka White -- but I gotta say, this 2-CD set of Johnson's complete work (29 master takes, 13 alternates) is a real doozy. The repertoire is stunning, partly because so many songs made it into the hippie-era blues canon -- "Ramblin' On My Mind," "I Believe I'll Dust My Broom," "Sweet Home Chicago," et. al -- and also because the songs themselves are so good in the original versions. These tracks have never sounded better -- although Sony issued a "complete recordings" box set two decades ago, digital sound has come a long way since the dawn of the CD era, and this new remastering sounds really sweet. Song after song, performance after performance drift out from the mist of decades with a clarity and power that is pretty impressive. If you're not familiar with Johnson's work, by all means scoop this up. And if you already have the old box set... well... you might need to get this as well: the packaging isn't as lavish, but the sound quality is tops! Highly recommended.

Jim Lauderdale "Reason And Rhyme" (Sugar Hill, 2011)



(Produced by Randy Kohrs)
Country auteur Jim Lauderdale's take on bluegrass music is as kooky and idiosyncratic as his approach to Top 40 songwriting, but since he's had so much success in both fields -- penning numerous Nashville hits and making two albums with the venerable Ralph Stanley -- I figure he's got the right to take a few liberties. This album is a collaboration with Grateful Dead lyricist Robert Hunter, who also takes a square-peg/round hole approach to Appalachian mountain music: the songs don't generally follow the standard-issue verse-chorus-verse/couplet/quatrain format, but somehow they all wind up being pretty compelling. I hear echoes of the blues-inflected, late-1950s/early '60s work of bluegrassers such as Jimmy Martin and Hylo Brown, both in the sincerity of Lauderdale's vocals, the purity of his sentiments and the caliber of the musicianship. A quirky, catchy album. Definitely worth checking out!


<! June 21 >
Bobby Lord "Everybody's Rockin' But Me!" (Bear Family, 2011)


You might be familiar with Bobby Lord from various rockabilly compilation albums; this is apparently the first time an entire album worth of his stuff has appeared on CD. A not-great, but totally authentic and enthusiastic early hillbilly/rockabilly artist, Lord recorded a couple dozen tracks recorded Columbia Records between 1954-60, all of which are gathered here. Some of this stuff is kind of clunky, but some of it is pretty fun. Worth checking out, though not top-flight hillbilly material.
Antsy McClain "Heroes Last Forever: The Sun Studio Sessions" (DPR, 2011)


(Produced by Antsy McClain)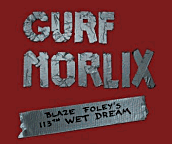 Gurf Morlix "Blaze Foley's 113th Wet Dream" (Rootball, 2011)



(Produced by Gurf Morlix)
A beautiful, glorious bummer. Producer/guitarist Gurf Morlix pays tribute to the late Blaze Foley, a tragic Texas indiebilly icon, a best known for composing "If I Could Only Fly," a song that has been recorded all the way from the indiest of the indie, up into the Top 40 charts by artists such as Merle Haggard and Joe Nichols. By all accounts, Foley was a singular, eccentric presence on the Austin scene -- tight friends with Townes Van Zandt and many others, he refused to work a day job and had no fixed address. Foley was a mainstay of Austin's music community until his untimely death in 1989, when he was shot and killed by the son of a friend, in the middle of a domestic dispute, and in the years since there have been several tribute albums featuring his sad, haunting, beautiful songs. This new record is particularly striking, since it is the work of one singer, and Morlix pours himself into the poetic sorrow that was Foley's mainstay... These songs are crushingly sad, but uplifting in a curious way, the artifacts of a guy who accepted life's losses, and yet celebrated the sunrise and the people around him. Some days you win, some days you lose. Morlix nails it on every song, from the John Prine-ish "Clay Pigeons" to the puckish title track and the stark resignation of "Cold Cold World," the album's closer. What's most surprising about this record is the sweetness that comes through: on paper, Foley's life sounds like a downer, but on wax, his music emerges as a blessing. This is a mighty fine, mighty powerful record -- highly recommended!

Brad Paisley "This Is Country Music" (Sony Nashville, 2011)



Another strong set from twangy chart-topper Brad Paisley, kicking off with the title track, "This Is Country Music," a cliche-packed Nashville anthem that seems meant to win back listeners who were miffed by the liberal views on the last album. Lots of guest stars on here, too: Blake Shelton, Carrie Underwood, Don Henley on a very Eagles-y tune, and a trio of talent on the gospel tune that closes the album: Sheryl Crow, Carl Jackson and Marty Stuart singing harmonies on a stripped-down version of "Life's Railway To Heaven." The strongest, most radio-friendly song is probably the booze-soaked novelty tune, "Don't Drink The Water," with Paisley and Shelton swapping lines about a tropical holiday where they don't have to worry about the local water quality, 'cause it ain't water they're planning on drinking. Moe and Joe would be proud. Also nice is his sympathy for the working man ballad, "A Man Don't Have To Die," which describes how bad things can get when the economy goes sour... best of all (from my point of view) there's only one of his chicken-pickin' guitar hero solo songs, and it's a good one, this time a surf-y take on old spaghetti western music, appropriately called "Eastwood." All in all, another good one from one of Nashville's finest!
John Rich "Rich Rocks!" (Warner Brothers, 2011)



A solo set by John Rich of the Big & Rich duo. I'm not a big fan of his work, with its mix of big-pop production and completely phony "country" posturing. I actually think his music is contemptuous of his audience and the musical traditions he claims to be modernizing. I'm not necessarily an anti-crossover/anti-fusion traditionalist, I just think that this particular path is really unpleasant and irritating. Rich has done semi-rootsy stuff in the past, but you won't hear that side of him here: this is full of the same big, blaring rock'n'rap riffs that are on all the Big & Rich albums. Some people dig it, but I do not.
J. D. Souther "Natural History" (Entertainment One, 2011)






<! May 31 >

Clyde Stacy "Hoy Hoy" (Bear Family, 2011)

Art Thieme "That's The Ticket!" (Folk-Legacy, 2011)


A nice archival reissue from one of the great cowboy/folk singer/storytellers and master of tall tales... I haven't heard this specific albums, but based on other records I've heard, I bet it's pretty fun.
Randy Travis "Randy Travis" (Cracker Barrel/Warner Brothers, 2011)


(Produced by Kyle Lehning)
The licensing deal with the folks at the Cracker Barrel restaurant chain must be pretty sweet, because a bunch of big-name artists have released exclusive records with them in the last few years. Add the original neotrad honkytonker Randy Travis to that list: this disc is a nice, compact best-of set, with three "new," previously unreleased tracks on it: his "I'm Free," Bobby Braddock's "This Song Doesn't Rhyme" and "She's Okay And I'm Okay," from the pen of Harlan Howard, along with a selection of hits from years gone by. The real draw is the trio of new songs -- there are so many great songs that got left off ("Old 8x10," etc.) that you'll really want to track down a bigger best-of to cover all the bases, but in the meantime, you'll enjoy cranking up tunes like "1982" and singing along. For the past decade or more Travis has been mostly an exclusively gospel-oriented artist, and there are a couple of his Christian country songs on here as well. There's nothing like hearing that great voice of his, that's for sure! Plus a little bit of mashed potatoes and chicken-fried steak never hurt anybody...

Donna Ulisse "An Easy Climb" (Hadley Music Group, 2011)



(Produced by Keith Sewell)
Another fine set of bluegrass tunes with a confessional/songwriter tone by one-time Nashville chart artist, Donna Ulisse. In recent years she's reemerged as an indie artist with a strong bluegrass sound. Among the pickers backing her on this album are dobro player Rob Ickes, banjoist Scott Vestal, fiddler Andy Leftwich and bassist Viktor Krauss; her partner, Rick Stanley, also co-wrote about half the songs on here and sings harmony througout. Less of a gospel bent this time around, and more of a personal-confessional tone... if you enjoyed, say, Patty Loveless or Dolly Parton's forays into the indie-bluegrass sound, you might get a kick out of this as well.


<! June 14 - no MP3 link yet >

Various Artists "I LOVE: TOM T. HALL'S SONGS OF FOX HOLLOW" (Red Beet/CMHF, 2011)



(Produced by Eric Brace & Peter Cooper)
A sweet, goofy tribute to a sweet, goofy record by Tom T. Hall. Hall's 1974 album, Songs Of Fox Hollow, is one of the kookiest kids' records ever recorded, and this all-star homage brings its charms back to life. Released when Hall was still at the peak of his fame, Fox Hollow yielded the whimsical hit "I Love," but was also packed with songs about barnyard animals with lyrics that didn't anthropomorphize the critters or have them go on fairy tale adventures, but rather described them rather matter of factly: a fox that ran away from dogs, a runt chicken born with only one leg that learns to survive in the barnyard, a basset hound that wasn't particularly pretty but wound up "famous," onstage at a Johnny Cash concert. Hall lent an odd, pedestrian touch to his songs, a plainspoken tone with a bizarre self-assurance that his audience would still listen, even though he wasn't really saying anything too fantastic, and for some reason it all plays out perfectly, especially with little listeners in mind. This modern-day remake features some alt-country heavy-hitters: Gary Bennett, Elizabeth Cook, Patty Griffin, Jim Lauderdale and Buddy Miller among them, along with old-timers such as Bobby Bare and Tommy Cash, and even a couple of tracks featuring Duane Eddy(!) With steel guitar legend Lloyd Green anchoring the album, this one's a real winner, sweet in all the right ways and drenched in the oddball charm of the original album... Definitely worth checking out!


<! May 17, 2011 >
---



Hick Music Index
Shop Amazon, Support Slipcue


---