<! * > <! MP3 10/15/11 > <! pix 00/00/00 > <! archived 10/15/11 * > <! Punch Brothers Rodney Crowell live album?? >

---
Howdy, neighbors!
Howdy, folks! Here are some reviews of the new country, bluegrass and Americana records that I had the good fortune to listen to in August, 2011. This page gets updated throughout the month, so check back if you can... Also, check out my full Guide To Hick Music for a bazillion more record reviews and artist profiles.
This month:
Trace Adkins "Proud To Be Here" (Show Dog)
Dave Alvin "Eleven Eleven" (Yep Roc)
Sonny Burns "A Real Cool Cat" (Bear Family)
Dale Ann Bradley "Somewhere South Of Crazy" (Compass)
Kasey Chambers "Little Bird" (Sugar Hill)
Dehlia Low "Ravens & Crows" (Rebel)
John Hiatt "Dirty Jeans And Mudslide Hymns" (New West)
Jolie Holland "Pint Of Blood" (Signature Sounds)
Eileen Jewell "Queen Of The Minor Key" (Signature Sounds)
Justin Moore "Outlaws Like Me" (Valory Music)
Michael Martin Murphey "Tall Grass And Cool Water" (Rural Rhythm)
Gary Nicholson "Texas Songbook" (Bismeaux)
Nu-Blu "The Blu-Disc" (Pinecastle)
Webb Pierce "Fallen Angel/Cross Country" (Hux)
Riders In The Sky "Land Beyond The Sun" (Riders Radio)
Mike Seeger & Peggy Seeger "Fly Down Little Bird" (Appleseed)
Ricky Skaggs "Country Hits Bluegrass Style" (Skaggs Family)
Connie Smith "Long Line Of Heartaches" (Sugar Hill)
Rhonda Vincent & Gene Watson "Your Money And My Good Looks" (Upper Management)
Gene Watson "Memories To Burn/Starting New Memories" (Hux)
Connie Smith "Long Line Of Heartaches" (Sugar Hill)
Paul Williams & The Victory Trio "Satisfied" (Rebel)
The Eli Young Band "Life At Best" (Republic)
Various Artists "THE BEST OF TIMES" (Sleeveless)
Various Artists "STICKBUDDY JAMBOREE" (Bear Family)

---
New Stuff: August, 2011
---
Trace Adkins "Proud To Be Here" (Universal/Show Dog, 2011)



(Produced by Kenny Beard & Mark Wright)
Top Forty star Trace Adkins has always shown unexpected depths; on the title track, which opens this album, he reflects on a rowdy past and gives thanks (and expresses amazement) that he's still alive. This being Nashville, of course he didn't actually write the song, but it still rings true -- it's a great song and a powerful opening salvo. The rest of the record is a little too high-concept and overproduced for my tastes, and not all the songs have as much rootsy vigor as they should. Adkins sounds great, but the songs tend to be a little sluggish -- I like the move towards maturity and contemplation, I just wish the music had more bite and sounded less factory-made. I also think the new hook-up with label head Toby Keith has led Adkins to adopt a sloppier singing style than he used to favor. A first-rate song stylist, Adkins can project huge emotional power while still staying in the lines, but unstructured redneck romps like "Love Buzz" and "Damn You Bubba" make him sound like just another dude with a low, gravelly voice. The relative merits of his strengths as a country singer get lost, though, on the bonus tracks of the "deluxe edition" where Adkins embraces the most corrosive aspects of "tea party" politics, first playing the victim card by whining about the imaginary oppression of "us" true-blue, red-blooded, God-loving, flag-waving Americans and calling for "real Americans" to "push back" against the nasty people who supposedly hate God and need to be reminded that "there's more of us than there are of them." Now, I'm pretty sure that I have some political differences with Mr. Adkins and whoever wrote this song, but I gotta say, it really pisses me off to have them talk about me as though I don't deserve to live in America and that my having a different point of view makes me some kind of a traitor. I was born in America, I love this country, I pay my taxes and I vote in every election, and I have as much right to my beliefs as anyone else. Talking about "double-checking" who the real Americans are is probably the single most un-American, unpatriotic act that anyone could make, including big Nashville stars. We're all Americans, and we should respect one another -- that's part of loving America. This kind of tough talk and chest-thumping might sell a few records, but it isn't going to help solve any problems. Frankly I'm disappointed and embarrassed to hear one of my favorite modern artists sink so low. You should be ashamed, Mr. Adkins. This is unworthy of your talent.


<! MP3 edition: multiple ASINs "More Of Us" ASIN: B005EVT5U6 >
Dave Alvin "Eleven Eleven" (Yep Roc, 2011)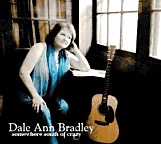 Dale Ann Bradley "Somewhere South Of Crazy" (Compass, 2011)



(Produced by Alison Brown)
Another rock-solid set from bluegrass grand dame Dale Ann Bradley, who mixes pure tradition and contemporary songwriting with an ease that rivals that of Alison Krauss or Dolly Parton. The title track is co-written with country's Pam Tillis, with propulsive backing from an all-star band: Stuart Duncan on fiddle, Steve Gulley on guitar, Sierra Hull playing mandolin, Mike Bub anchoring them all on bass, and producer Alison Brown with some smoking banjo riffs. After a bouncy opening, Bradley slows things down for a while, with a trio of tunes that include a cover of the Seals & Crofts oldie, "Summer Breeze," and an evocative soldiers-at-war song, "Come Home Good Boy." The rest of the record is split between Flatt'n'Scruggs style romps ("In Despair," etc.) and softer, introspective tunes. Includes a nice gospel number, a cover of Dottie Rambo's "New Shoes." As with Bradley's other recent records, this one is mostly on a slower, mellow tip, but offers plenty of sweet songs for fans to enjoy.
Sonny Burns "A Real Cool Cat: The Starday Recordings" (Bear Family, 2011)


A rock-solid set of classic Texas honkytonk from the early 1950s... A rugged, agile hard-country singer, the little-remembered Sonny Burns had the same sort of wicked, near-rockin' uptempo vibe as George Jones, and indeed the two performed together and even cut a couple of duets for the Starday label. Burns and Jones also shared a hard-partying lifestyle, and one day when Burns was too hung over to make it to a recording session with George, Starday ended his contract, and his career. Before then, though, he cut over two dozen totally killer honkytonk songs, gathered here with typically high-class Bear Family flair. If you like sizzling old-school country, like the stuff cut by Hank and Faron Young and good old George Jones, then this disc is for you. Highly recommended!
Kasey Chambers "Little Bird" (Sugar Hill/Essence Music, 2011)



(Produced by Kasey Chambers)
Another strong set from Australian folk/pop twangster Kasey Chambers. Her subtle explorations of religious issues continue on this album, though is a less overt fashion than on her recent record with husband Shane Nicholson... For listeners who are open to spiritual thought, her songs are melodically and lyrically inventive and free of the cliches and conventions of the traditional gospel canon. Also, this record isn't all religiously-oriented - the secular stuff is good, too. The title track is a clever, teen-sounding pop tune where a girl muses about the ways she could dress up or change who she is or how she looks to get the attention of a would-be partner -- then swiftly declares that she doesn't need the aloof approval of her judgmental heartthrob to make her life complete. If only a song like this could get as much airplay and attention as the endless sexually-retrograde pop hits of Miley Cyrus and Co. Plenty of twang on here, too, for folks who remember Chambers as an Americana icon... with texture and depth to spare! Definitely worth checking out.


<! July 12 >

Dehlia Low "Ravens & Crows" (Rebel, 2011)



(Produced by Travis Brook & Dehlia Low)
This is the fourth album from this North Carolina bluegrass/old-timey/Americana band, which features the twin female vocals of fiddler Anya Hinkle and guitarist Stacy Claude (with bassist Greg Stiglets singing lead on a couple of tunes...) In tone and tonality, the band taps into a Gillian Welch-like vibe, mixing rural authenticity with modern songwriting, indeed, on several slower songs, such as the doleful "Cannonball Blues, you'd be excused for mistaking this for one of Welch's records although on most tracks they take a faster, more bluegrassy approach. The clattersome, rugged sound prized by old-timey fans comes through as well, tempered with some fine dobro playing throughout. An excellent record for folks in search of bands that are taking this style into the future -- definitely worth checking out!
John Hiatt "Dirty Jeans And Mudslide Hymns" (New West, 2011)



A rich, country-drenched set from one of roots-rock/Americana's true pioneers... One of the powerhouse songwriters of the 1970s, Hiatt is edging towards sixty years old, smoothly settling into the grizzled old-dude persona that so many roots musicians adopt... But even though he's earned his show-biz survivor stripes, Hiatt's still got a vigor and intensity that many a youngster would envy. This record opens with a couple of windswept, dusty Americana epics, but he soon shows himself ready to produce catchy toe-tappers as well (such as "I Love That Girl" and "Detroit Made") and slower, arresting ballads, like "Don't Wanna Leave You Now" and "Hold On For Your Love." An old pro at work, still going strong.


<! 9/11 tribute: "When New York Had Her Heart Broke" > <! August 2 >
Jolie Holland "Pint Of Blood" (Signature Sounds, 2011)


Eileen Jewell "Queen Of The Minor Key" (Signature Sounds, 2011)






<! June 28 >
Justin Moore "Outlaws Like Me" (Valory Music, 2011)



(Produced by Jeremy Stover)
A strong set of Nashville-country bad-boy "outlaw" songs. While acts like Montgomery Gentry will toss in a redneck honkytonk number or two just to keep things real, Justin Moore recorded a whole album of hard-drinkin', hard-lovin', gun-totin', truck-drivin', guitar-heavy twang tunes, and he sings them with a gusto and sense of playfulness that brings Brad Paisley to mind: he might be posturing, but he makes it sound fun. After a while the Paisley vibe gives way to more of a Charlie Daniels feel (particularly in the vocals), and while this album has momentum, Moore might want to switch it up a bit and try some new sounds in the future, to keep things fresh. Highlights here include the sentimental "If Heaven Wasn't So Far Away," where he dreams about visiting loved ones who have passed away as though it were a day trip to Florida (and saying "hey there" to Hank Williams and Janis Joplin while he's in the neighborhood...) It's an effective novelty-gospel number, although one of the ideas -- seeing his cousin John who was "left behind in Viet Nam" -- rings a little false: it seems unlikely that the twenty-something Justin Moore would have have any memory of a guy who died in a war that ended over thirty-five years ago. Historical nitpicking aside, this is a good record for the style... Mr. Moore sounds more gritty and authentic than a lot of chart-toppers who wave the flag or toss in a tough-guy tune just to balance their demographics. This ain't Waylon or Willie outlaw, but for modern-day Nashville, it ain't bad.
Michael Martin Murphey "Tall Grass And Cool Water" (Rural Rhythm, 2011)



(Produced by Ryan Murphey & Pat Flynn)
This sweet acoustic album merges cowboy-oriented "western" songs with bluegrass arrangements, the simple, old-fashioned verse structures beefed up by fiddle, banjo and mandolin, with performances by several acoustic music heavy-hitters: Sam Bush, Pat Flynn, Andy Hall, Andy Leftwich, Ronnie McCoury and others. As on Murphey's other cowboy albums, the repertoire includes a lot of well-chosen but dimly-remembered Public Domain tunes, along with golden oldies such as "Cool Water" and "Springtime In The Rockies." Also included are a trio of songs about Jesse James, and a little bit of yodeling in there as well... Quite nice!


<! June 28 > <! Cowboy Songs VI/Buckaroo Bluegrass III >

Gary Nicholson "Texas Songbook" (Bismeaux, 2011)



(Produced by Gary Nicholson)
A great, funky, completely countrified set from Texas songwriter Gary Nicholson, a fellow with a lot of friends and a lot of songs that a lot of folks have recorded over the years. Lots of these musical buddies kick in on this disc: his old boss Delbert McClinton sings harmony on "Same Kind Of Crazy," while Ray Benson, Joe Ely and Jon Randall Stewart appear on various tracks, and harmonica wizard Mickey Raphael blows the harp on "Listen To Willie," a good-natured tribute to Willie Nelson. It's pure Texas-indie honkytonk and western swing -- rootsy, robust and full of gregarious good humor. Nicholson has a modest voice, and he makes the most of it, presenting himself as your best buddy, over to drink a few beers and sing a few songs -- if you like the laidback vibe of guys like Robert Earl Keen or Jerry Jeff Walker, you're gonna love this record. And you'll especially love songs like "Talkin' Texan" (about the legendary Texan capacity for exaggeration) and "Lone Star Blues," a cowboy comedy that was recorded by George Strait... Another highlight is Nicholson's version of "Fallin' And Flyin'," a gem of a song that may be familiar from the "Crazy Heart" soundtrack, invested here with the kind of soulfulness that sometimes only a song's author can summon up. Great stuff, highly recommended!

Nu-Blu "The Blu-Disc" (Pinecastle, 2011)



(Produced by Nu-Blu & Ethan Burkhardt)
A sweet set of independent bluegrass, with strong echoes of Alison Krauss & Union Station, both in singer Carolyn Routh's vocal style and in the switching off between male and female leads. Several interesting songs, including "Other Woman's Blues" (an answer to Dolly Parton's immortal classic, "Jolene," sung from Jolene's point of view) and Donna Ulisse's sombre "Guitar Case," a song about a man leaving his wife, where you think he'll reconsider and come back, but doesn't. There are also several spiritual songs, with clear gospel messages, but no explicit Christian references, and a socially-conscious song about homelessness ("That's Who I'm Supposed To Be") that shows an active, searching heart. Generally appealing, though occasionally a little rough around the edges, by an unknown band with some assistance from dobroist Rob Ickes. If you like off-the-radar, up-and-coming bluegrass bands, you might wanna check these folks out.

Webb Pierce "Fallen Angel/Cross Country" (Hux, 2011)


A spiffy CD reissue of two classic 1960s albums by honkytonk legend Webb Pierce, 1961's Fallen Angel, and Cross Country, from 1962, when Pierce was truly at his peak. These are actually two of my favorites, and since I'm still waiting for Bear Family to pick up from where their last Webb box set left off (1958), I think I'm gonna snag a copy of this disc while I can. Great, old-school Nashville county: Fallen Angel has the bright, big bouncy sound of his best early '60s work, with a heavier backbeat and a more rock-friendly feel than other Nashville albums of the era. Where the big-star country crooners at RCA took country into slushy pop-vocals territory, Webb and the folks at Decca adapted honkytonk twang to the teenpop sound of the Everly Brothers, with delightful results. Cross Country is a classic that's well-known to many collectors who picked up the 1980s vinyl reissue -- the cover shows Pierce posing with his ridonklulously flashy bling-mobile, a shiny convertible studded with silver dollars and a horse saddle and pommel by the gear shift. The music's even cooler: fiddle and pedal steel take front stage, with the loping beat from songwriters Wayne Walker and Mel Tillis that made Pierce's early '60s albums sound so awesome. In addition to the up-tempo numbers, there are also some sweet heartsongs, including faves such as "I'm Letting You Go" and "Crazy Wild Desire." Great stuff... highly recommended!
Riders In The Sky "Land Beyond The Sun" (Riders Radio, 2011)


(Produced by Joey Miskulin)
A nice singing-cowboy gospel album, mining familiar veins of Bob Nolan and other classic western artists, along with a few new originals by Ranger Doug and his posse, with perky guitar, zippy accordion and plaintive harmonies galore. There's a big camp meeting in the sky, and these fellas are gonna be singing around the fire... Saddle up, folks!


<! August 9 - no ASIN as of 07/10 ~~ no MP3 as of 10/15/11 >

Mike Seeger & Peggy Seeger "Fly Down Little Bird" (Appleseed, 2011)



(Produced by Mike Seeger, Peggy Seeger & Alexia Smith)
A plainspoken and touching collection of old, traditional folk music recorded by siblings Mike and Peggy Seeger, the younger brother and sister of the great Pete Seeger, and children of musicologist Charles Seeger. The Seegers shared a love of mountain music, and these barebones recordings -- the last sessions by the late Mike Seeger -- are particularly moving in their simplicity and in the palpable joy that Mike and Peggy took in singing the old songs and in performing together. If you enjoy old-style Southern and Appalachian music, particularly songs with odd topics and weird lyrical twists, then this album will be a true delight. It's a little heartbreaking that Mike Seeger is no longer with us, but the beauty and simplicity of these recordings underscores all the great work he did and the kooky magic of his musical passions. Highly recommended.
Ricky Skaggs "Country Hits Bluegrass Style" (Skaggs Family, 2011)



(Produced by Ricky Skaggs)
It's not uncommon for bluegrass artists to cover country hits, although genre star Ricky Skaggs is in a unique position, recording a whole album of songs that he put on the charts himself in the 1980s, when he was one of the biggest Top 40 artists of the decade. In the '90s he went back to his first love and took up the mantle of a bluegrass elder, one of a handful of artists filling the gap left when Bill Monroe passed away. It's nice to hear his Nashville tunes again; there were a lot of really great songs: "You've Got A Lover," "Heartbroke," "Country Boy," his versions of Webb Pierce's "I Don't Care" and Monroe's classic "Uncle Pen." Interestingly, these rerecorded versions don't differ all that much from a few decades back, since Skaggs had already perfected his blend of acoustic intimacy and catchy Nashville bounce. It was a great sound back then, and is still sweet and joyful today, mixing fiddle, banjo and mandolin with steel guitars and a steady, thumping rhythm section. It's wonderful stuff -- highly recommended! (Note: this record is largely a reissue of an album previously available through the Cracker Barrel restaurant chain; this version has a couple of tracks that are different.)


<! July 19 >
Connie Smith "Long Line Of Heartaches" (Sugar Hill, 2011)



(Produced by Marty Stuart)
Connie Smith is one of my favorite Nashville artists from the 1960s and '70s; a joyful singer with a crystalline voice who recorded some of the brightest hits of the countrypolitan era. She's been mostly off the radar since the late '70s, and this new record is only her third studio album since 1978, and her first since 1998. Although her voice has aged and the tone has changed, she's still a keen stylist with an ear for great material. Along with her husband, producer Marty Stuart, she's crafted a strong set of traditionally-minded country tunes. Songs like "Long Line Of Heartaches," "That Makes Two Of Us" and "My Part Of Forever" hearken back to the heyday of pop-country heartsongs, with robust musical backing by Stuart and his crew. Also joining Ms. Smith are her three daughters, who sing harmony on the closing track, "Take My Hand." Known mostly as a song stylist in her youth, here Connie Smith asserts herself as a composer, co-writing nearly half the songs on this album; other songs come from the likes of Roy Drusky, Dallas Frazier and Harlan Howard. Longtime fans will welcome this new record, which shows that the old gal's still going strong. Check it out!


<! August 23 - posted on AM 8/23 >
Rhonda Vincent & Gene Watson "Your Money And My Good Looks" (Upper Management, 2011)



(Produced by Herb Sandker)
Like many bluegrassers, singer Rhonda Vincent has one foot in the country tradition, and can sing as sad a heartsong as anyone. Here; she pairs up with Gene Watson, one of the finest honkytonk balladeers of the 1970s and '80s, a former chart-topper who went indie in the new millennium and is still crafting some of the finest country music around. They first sang together on an spur-of-the-moment Grand Ole Opry performance, and discovered that they really clicked. This excellent set of soulful duets recalls the energy and good humor of the early-1970's Charlie Louvin/Melba Montgomery team as well as the pathos and heartache of the George Jones/Tammy Wynette juggernaut. The musicianship is first-rate, with bluegrass fiddler Stuart Duncan chiming in alongside a solid Nashville studio crew... The repertoire includes several oldies - tunes by Hank Williams and Nat Stuckey, as well as a nice cover of Gary Stewart's "Out Of Hand," and a trio of Rhonda Vincent originals. The whole album is great, the sort of record that just gets better and better the more you delve into it -- highlights include the mournful "Till The End" and the robust honkytonker, "It Ain't Nothing New," about staying in love for the long haul. Duet singing is something of a lost art in the contemporary country scene, but this album evokes the style's glory days, and should thrill folks who yearn for the sweet sounds of yesteryear... Let's hope that this is the first of many such records from this pair!
Gene Watson "Memories To Burn/Starting New Memories" (Hux, 2011)


(Produced by Larry Booth & Gene Watson)
For a look back at Watson's older work, this twofer reissue combines two mid-1980s albums, 1985's Memories To Burn and Starting New Memories, from 1986. The swinging single "Memories To Burn" was one of Watson's last major hits, pegging out at #5 on the Country charts... There's other fun stuff: the creationist novelty song "I Want My Rib Back" is kind of a hoot (in which he references the Adam and Eve story, with the line "I won't let evolution make a monkey out of me" in the chorus...) Likewise, "The New York Times" is a nice rural-vs-urban country song, with a small-town gal heading for the big city lights... The rest of the record is dominated by slower stuff, ballads and midtempo tunes like "Cold Summer Day In Georgia," all of which Watson sings with his typical professionalism and economy. Starting New Memories has a similar sound, and although it fared less well on the charts, there are some well-crafted gems on here as well, such as "Atlanta Anymore," "I Saved Your Place" and "Everything I Used To Do." For a nice dose of simple, masterful, no-nonsense country singing, Mr. Watson can always be counted on for some classy material. Recommended!


<! 85: musicians include Tony Booth, Dave Kirby and Becky Foster >
Paul Williams & The Victory Trio "Satisfied" (Rebel, 2011)



(Produced by Paul Williams)
Another superlative gospel set from bluegrass old-timer Paul Williams. This is the real deal, rock-hard, fundamentalist Jesus music, with soulful delivery and sharp musicianship. Like Ralph Stanley, Williams is an elderly performer whose passion for the music and the material allows his aged voice to soar and to muster more soulfulness and genuine emotion than performers who are many decades younger. He also has a very talented band, who play with economy and grace, and provide beautiful harmonies, particularly on the quartet tunes. If you like bluegrass gospel -- or even if you don't -- the feeling in these performances is compelling, and well worth checking out. Recommended!


<! August 2 > <! no CD available on Amazon 07/11 >

The Eli Young Band "Life At Best" (Republic Nashville, 2011)



Various Artists "THE BEST OF TIMES: TEXAS ARTISTS PERFORMING THE MUSIC OF SARA HICKMAN" (Sleeveless, 2011)


(Produced by Sarah Hickman)
A tribute to folk/pop songwriter Sara Hickman, who is well known for her charitable and philanthropic work. This 2-CD set is a benefit for the Theater Action Project, which helps support arts education in the Texas schools. On board are several folk and Americana heavy-hitters, including Marcia Ball, Edie Brickell, Shawn Colvin, The Flatlanders, Rhett Miller and Robert Earl Keen, along with a slew of others, dipping into the more indie and obscure end of the spectrum. High marks go to Willie Nelson for his gentle rendition of "Simply," which perfectly frames the sentiments of the song in an old-fashioned Tin Pan Alley aura; the same song closes the album in a hyper, popped-up dance version, courtesy of Brave Combo... I'll take Willie's version any day. Much of Hickman's ouvre is too pop-crossover for me, but I imagine that for many of her longtime fans, this collection will be a real treat. (For more info, check out Hickman's website...)


<! August 9 > <! Certainly worth checking out if you're a Hickmanista, and if you think the Texas school system need our help. >
Various Artists "STICKBUDDY JAMBOREE" (Bear Family, 2011)


I do like me some obscuro-country, and this collection of 1950s-'60s rarities from the independent Delta label sure qualifies as obscuro. It's pretty rugged, often sluggish material, and you can see why this Mississippi-based label didn't have many hits, or why there are hardly any artists on here that you've ever heard from. There are a couple of recognizable names: hillbilly twangster Jimmy Swan recorded one of his last singles for Delta, and smoothie Warner Mack made his debut here (a bouncy rockabilly zinger, "I Wanna Play House With You"). There are a few female voices here, always of interest to me, and a handful of novelty gems, such as "Don't Flirt With Me In Public (I'm A Married Man)" by Mac McQuinn and "Black Horse And A Blonde Headed Woman" by Rick Richardson. For the most part, though, this is a little too funky and ultra-obscuro, even for me.
---



Hick Music Index
Shop Amazon, Support Slipcue


---