<! MP3 00/00/00 > <! pix 00/00/00 > <! archived 00/00/00 > <! Nikki Lane "All Or Nothin' " (New West, 2014) xxxxxxxxxxxx B00JG4ZQUU >

---
Howdy, neighbors!
Howdy, folks! Here are some reviews of the new country, bluegrass and Americana records that I had the good fortune to listen to in June, 2014. This page gets updated throughout the month, so check back if you can... Also, check out my full Guide To Hick Music for a bazillion more record reviews and artist profiles.
New Stuff: June, 2014
Jay Boy Adams "Let It Go" (Rockin' Heart Records)
Dave Alvin & Phil Alvin "Common Ground" (Yep Roc)
Moot Davis "Goin' In Hot" (Crow Town)
Brigette DeMeyer "Savannah Road" (Brigette DeMeyer Music)
The Everly Brothers "Songs Our Daddy Taught Us" (Bonus Tracks) (Varese Sarabande)
Radney Foster "Everything I Should Have Said" (Devil's River)
The Gentlemen Of Bluegrass "Carolina Memories" (Pinecastle)
Wilbert Harrison "Gonna Tell You A Story" (Jasmine)
Joshua Scott Jones "The Healing" (JSJ Music)
Miranda Lambert "Platinum" (RCA Nashville)
Amy McCarley "Jet Engines" (Self-released)
Midnight River Choir "Fresh Air" (Rambling Gypsy)
Nickel Creek "A Dotted Line" (Nonesuch)
Willie Nelson "Band Of Brothers" (Sony Legacy)
The Osborne Brothers "Nashville" (Pinecastle)
Bruce Robison & Kelly Willis "Our Year" (Premium Records)
Sue Thompson "Sad Movies And Other Tales Of Woe" (Jasmine)
Hank Williams "The Garden Spot Programs, 1950" (Omnivore)
Various Artists "THE OTHER SIDE OF BAKERSFIELD, v.1-2" (Bear Family)

---
New Stuff: June, 2014
---
Jay Boy Adams "Let It Go" (Rockin' Heart Records, 2014)


(Produced by Jay Boy Adams & Monty Byrom)
'Way back in the 1970s, Texas-born troubadour Jay Boy Adams straddled the worlds of outlaw country and fancy-pants singer-songwriter pop; he was pals with Jackson Browne and worked as a roadie for high-profile rock bands, such as ZZ Top, and recorded a couple of albums of his own that were, as they say, highly regarded at the time. In 2007, he came back to the studio to record a doleful, world-weary set of roots-rock and folk, and this new album follows suit. It's an extended meditation on life and the wisdom that comes with middle age and beyond, with Adams sounding a bit like a mix between Rodney Crowell and Loudon Wainwright III. Not all the songs are gems, but there are some definite winners, including the album's opener, "Judgement Day," which is a nice twist on the looking-back-on-my-wild-days genre, in which Adams sees a little too much of himself in his own wild and stubborn daughter, and the contemplative "Count Your Friends," which may be the album's strongest song.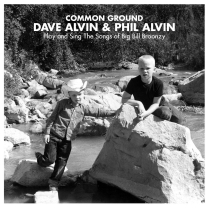 Dave Alvin & Phil Alvin "Common Ground: Dave Alvin & Phil Alvin Play And Sing The Songs Of Big Bill Broonzy" (Yep Roc, 2014)



This is the first album in roughly three decades with the Alvin brothers recording together, long after the famous implosion of their roots-rock band, The Blasters. Here they play a rollicking, mostly-acoustic blues set, celebrating the work of 1930's blues legend Big Bill Broonzy... It's great stuff, perfectly suited to the Alvins' strengths as veteran performers and as the title implies, Broonzy's music is the perfect meeting place for these two famously argumentative siblings... Great to hear them together again as well!
Moot Davis "Goin' In Hot" (Crow Town Records, 2014)


Brigette DeMeyer "Savannah Road" (Brigette DeMeyer Music, 2014)



(Produced by Brigette DeMeyer)
More soulful, sultry vocals mixed with the backwoods twang of steel guitar, mandolin and banjo, with sweet, precise arrangements and evocative, haunting lyrics... Her stylistic likeness to Shelby Lynne remains striking and strong, and as far as I'm concerned, that's a good thing, although there's also a bit of Rumours-era Fleetwood Mac in there as well, with the crisp, concise picking of multi-instrumentalists Will Kimbrough and Guthrie Trapp... Nice stuff that holds up to repeated spins.


<! at least a half-dozen albums > <! soulful >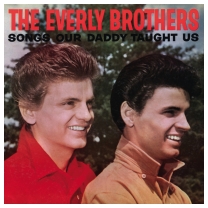 The Everly Brothers "Songs Our Daddy Taught Us" (Varese Sarabande, 1958/2014)


A new edition of a classic album, with six bonus tracks added... When the Everly Brothers broke into the spotlight in the vanguard of the 'Fifties rock sound, no one expected that their second full-length album would be a low-key, traditionally-oriented country album reaching back not to the honkytonk style of the '40s, but rather to the hardcore mountain music of the 1920s, songs that were literally taught to them by their father, hillbilly singer Ike Everly. To fans of the style, this album has always held up as a masterpiece, packed with traditional Appalachian oldies and songs from the catalogs of old-timey singers such as Bradley Kincaid and Gene Autry, and perhaps more notably from "brother act" artists such as Bill and Charlie Monroe and the Bailes Brothers, sibling duos who set the vocal harmony template that the Everlys brought to new heights in the '50s and '60s. The songs are all delightful, with Don and Phil perfectly capturing the sweetness and simplicity of mountain music as sung by the Carter Family, et.al. with remarkably concise, understated acoustic performances... This has always stood out as one of their most "country" albums, and one of their best. In this new edition we are treated to a half-dozen outtakes -- two alternate versions of "Down In The Willow Garden" (one of them with electric guitar) and one each of "Barbara Allen," "Put My Little Shoes Away" and "Roving Gambler," and one false start of "Barbara Allen" which reveals a bit of their chemistry in the studio. These alternate versions are generally the first takes, and it's interesting to contrast them with the final album tracks: they all sound beautiful, with the main difference being that the early takes have a slightly more exuberant feel, which the Everlys carefully tweaked to add more gravity and maturity to the final versions. A true classic, with added depth from the extra tracks.
Radney Foster "Everything I Should Have Said" (Devil's River Records, 2014)


The Gentlemen Of Bluegrass "Carolina Memories" (Pinecastle, 2014)



(Produced by Lorraine Jordan)
Nice, straightforward traditionalist bluegrass with echoes of the Stanley Brothers and the Country Gentlemen... This band's founding members, Danny Stanley and Tom Langdon, were formerly in a band called Carolina Sonshine, and also worked as the backing band for singer Lorraine Jordan (who is also married to guitarist Langdon...) If you like pure, old-fashioned, sentimental mountain music with sweet vocal harmonies, these guys have got the goods. The picking's not too flashy, but that's fine by me: I like it when they really pay attention to the lyrics and the feeling behind them. Recommended!


<! lead singer Danny Stanley - is he related to the Stanley Brothers?? formerly in the band Carolina Sonshine - banjoist Tom Langdon also from Carolina Sonshine; married to Lorraine Jordan >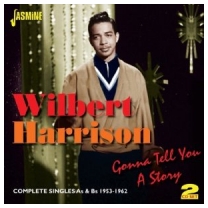 Wilbert Harrison "Gonna Tell You A Story -- Complete Singles As & Bs: 1953-1962" (Jasmine, 2014)


This 2-CD set gathers together all the far-flung singles recorded by R&B singer Wilbert Harrison in the first decade of his career, encompassing several labels and dozens of songs in a variety of styles. Like many pop fans, I'm mostly familiar with Harrison from his one big hit, "Kansas City," a million-plus seller which was famously covered by the Beatles, but which Harrison wasn't able to fully capitalize on because of a restrictive contract he signed early in his career. This is a fascinating chronologically-arranged retrospective, which in some ways maps out the creative path of countless struggling blues and pop artists in the 1950s and '60s. Many of Harrison's earliest recordings were somewhat generic and uninspired, typical of the try-it-and-see-if-it-sticks approach many indie labels took, and Harrison himself has a hard time distinguishing himself as a vocalist. Of note, however, is the persistent thread of Caribbean rhythms that surfaces on several songs, as well as early choices in repertoire that included country oldies like "Cool Water" and a remake of "Rye Whiskey." Some arrangements stand out, particularly as the technology changes and electric guitar tones get fatter and grungier, as herad on the reverbalicious instrumental "Florida Special." In 1959, after years of churning out standard-issue singles, Harrison blows the lid off things with the super-sleek, ultra-cool "Kansas City," a hit single that sold over two million copies. After that, though, he never quite gets the lightning back in the bottle, but he branches out into more soul-oriented arrangements and finally emerges as a more subtle, versatile singer. His last historic hit was "Let's Stick Together," a catchy song that was later covered by hippie-boogie rockers Canned Heat, among others, though for the most part Harrison slipped back into trying to catch up with or manufacture some kind of fad or fluke hit. Some of these songs were lackluster, and some were great -- they are all gathered together here on this superb 40-track collection, which gives an obscure old-time R&B star... Definitely worth a spin!
Joshua Scott Jones "The Healing" (JSJ Music, 2014)


A recovery album by Joshua Scott Jones, best known as one half of the country duo Steel Magnolia...
Miranda Lambert "Platinum" (RCA Nashville, 2014)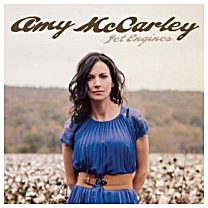 Amy McCarley "Jet Engines" (Self-released, 2014)


(Produced by Kenny Vaughn & George Bradfute)
At first, indiebilly auteur Amy McCarley might be a little hard to get into... She has a very atypical voice -- muddy, rugged, a bit brusque -- that defies conventional thinking about female singers. Also, her lyrical and melodic approach is notably downcast and depressing -- on her previous album it was hard to avoid comparisons to Lucinda Williams, both because of her rough, conversational delivery and because she seemed like another alt-country bummer-queen. That record also had an unfinished feel, very DIY production values, although here she finds much stronger framing, courtesy of producer-guitarist Kenny Vaughn, whose day job is anchoring Marty Stuart's band, the Fabulous Superlatives. The musical boost helps a lot: McCarley emerges as a powerful, laconic songwriter in the style of Guy Clark, and as a swampy Southern singer, almost in the tradition of Tony Joe White. This is a powerful, uncompromised set of hardcore country lo-fi -- difficult, rough-egged stuff that might appeal to fans of those old Freakwater albums, not easily categorized or digested, but quite rewarding if you give it the time.


<! second album >

Midnight River Choir "Fresh Air" (Rambling Gypsy Records, 2014)



A real mish-mosh of styles -- roadhouse/electric blues, Jackson Browne-esque adult-contemporary/Americana meanderings, alt-rock, and a bit of would-be Nashville pop (as on "Tombstone Lullaby" and "Fly By." Feels like a real see-what-sticks approach, though none of it really resonated with me.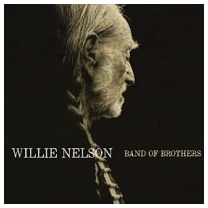 Willie Nelson "Band Of Brothers" (Sony Legacy, 2014)



(Produced by Buddy Cannon)
Another fine album from country's surviving elder statesman, with Willie alternating between stately, contemplative ballads and more robust, uptempo novelty numbers. This album is notable for the high number of Willie Nelson originals -- nine new songs -- as well as for the well-rounded, full-toned soundscape provided by producer Buddy Cannon. The album opens with a surprisingly punchy "Bring It On," followed by gems such as "Guitar In The Corner" and "The Wall," and while arguably the record has been front-loaded with Willie's best new tunes, the quality remains high, including several fine cover tunes, including a recent Billy Joe Shaver song ("It's Hard To Be An Outlaw") and Bill Anderson's elegaic ode, "The Songwriters." Also of interest is the relative lack of guest performers -- Willie has been a very generous, almost compulsive, collaborator in recent years, but on this album he sings only one duet, a slow, bluesy Shaver tune sung with Jamey Johnson, who is quite possibly the finest honky-tonk singer of his generation. Unfortunately, the song is a slightly dreary political screed from Billy Joe Shaver, about how the deck is stacked about the little guy, and how the rich and powerful even killed Jesus, way back when: I don't disagree with the message, but I wish Johnson's talents had been better used on this album. Anyway, Willie's still going strong, and this will certainly count as one of his best recent records. Definitely worth checking out!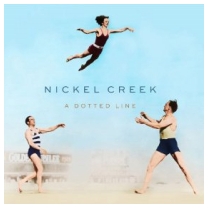 Nickel Creek "A Dotted Line" (Nonesuch, 2014)



The first new album in nearly a decade from these adult contemporary/bluegrass powerhouse trailblazers... Despite far-flung solo wanderings in folk, classical, jazz and rock, the trio of Chris Thile, Sara and Sean Watkins still have the same old chemistry together... Fans should be elated!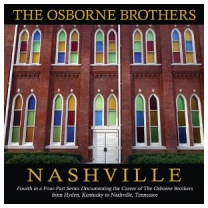 The Osborne Brothers "Nashville" (Pinecastle, 2014)



(Produced by Owen Bradley & Sonny Osborne)
The fourth in a series of archival albums tracing the career of the Osborne Brothers bluegrass duo -- this disc includes two separate sessions, a country-colored set from 1975 that was helmed by country producer Owen Bradley, and one tracks from twenty years later in 1995 that features a smaller, more compact bluegrass band. The country session includes studio pros such as Ray Edenton, Hargus Robbins, Leon Rhodes and Hal Rugg, beefing up the 'grassy twang of the Orbornes, who are also joined by fiddler Vassar Clements... It's a nice contrast between an era when bluegrass was pretty much outside the Nashville system to the current day, when top-flight pickers routinely spice up mainstream singles in the Country Top 40. The Osbornes were one of the few traditional bluegrass acts successful enough to bridge that gap, and they sound as comfortable with the old-school Nashville cats as they do with the slick modern pickers. Nice stuff!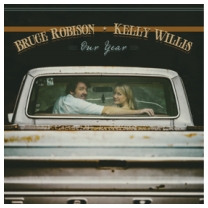 Bruce Robison & Kelly Willis "Our Year" (Premium Records, 2014)



(Produced by Brad Jones)
Another fine album from hard country's reigning duo... Honestly, I can't tell you how how much I love hearing their voices together (and solo) and of course, the calibre of songwriting and musicianship is always top-notch. In addition to more great Bruce Robison originals, this set features several interesting cover tunes, such as Walter Hyatt's homage to Detroit and American car culture, "Motor City Man," and Buddy Mize's weeper, "Hangin' On." The album's most delightful surprise is that the title comes from their cover of an old rock ballad by The Zombies (one of my favorite '60s bands!) and when Willis croons "This Will Be Our Year" to a stripped-down country arrangement -- with a banjo and pedal steel taking the place of the brass fanfare and dreamy keyboards of the original -- it's a moment of sheer brilliance. Not surprisingly, Willis and Robison have chosen perfect accompanists, with particularly strong contributions from Eamon Mclaughlin on fiddle and mandolin, and Geoff Queen playing dobro and pedal steel. This is sweet, soulful country traditionalism at its best... Another gem from these cool, collected twangcore auteurs.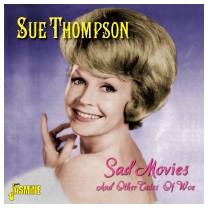 Sue Thompson "Sad Movies And Other Tales Of Woe" (Jasmine, 2014)


A generously-programmed, 30-song collection of golden oldies from country-pop star Sue Thompson, who flourished in the same genre-bending, in-between space as '50s/'60s-era singers like Brenda Lee and Patsy Cline, subtly mixing muted, feminine twang with bouncy pop orchestrations. At times she slips into an almost girl-groupish sound, as well as mildly growly rockabilly-tinged material that's reminiscent of Wanda Jackson. Thompson had authentic country cred -- she was married to country swinger Hank Penny, and covered some overtly country material, such as Don Gibson's "Oh Lonesome Me" (and later formed a duo act with Gibson during the early '70s). But perky Kennedy-era teenpop was her real bread and butter, notably with a string of hits written by the up-an-coming John D. Loudermilk, which put her in the Pop Top Ten in 1961, where she slowly coasted down into the Top 40, then the Top 100, and then into a more exclusively country-oriented direction in the 'Seventies. This is a very nice overview of her early work, dipping into both pop and country, including some really nice tracks, and even a few surprises, such as her resonant cover of the Everly Brothers' "Til I Kissed You," as well as her better-known chart hits. If you finally want to check out her work, this disc is a fine option.
Hank Williams "The Garden Spot Programs, 1950" (Omnivore, 2014)



Over the decades, and especially in the last few years, there have been a lot of great collections that dig into the vaults and discover "new" live recordings by the great Hank Williams. This set distinguishes itself by its excellent sound quality, and by the quality of the music, which features Williams working with musicians who weren't in his Drifting Cowboys band, giving a more ornate, flowery sound than on many of his rather stark, spooky studio recordings. These tracks were recorded in Nashville for transcription discs that were sent out to Iowa, specially commissioned for the Naughton Farms' "Garden Spot" radio programs, and while they sound "live" due to the introductions by a local deejay, it was really Williams working with some (unknown) Nashville hotshots. The steel guitar, in particular, features sweet, ornate riffs that stand in contrast to the normally compact, concise Hank Williams honkytonk, and there's some hot, hoedown-style fiddle that spices things up. Also, in addition to big hits like "Lovesick Blues," these sessions feature some less well-known tunes, like the sentimental "I've Just Told Mama Goodbye" and "I Can't Get You Off Of My Mind," as well as a few swell gospel tunes. Even if you've been getting Hank reissue fatigue, this set is worth checking out -- there's some really nice material that'll prove quite rewarding!
Various Artists "THE OTHER SIDE OF BAKERSFIELD, v.1" (Bear Family, 2014)



This swell two-volume set explores the rockabilly and "hillbilly bop" side of the Bakersfield/West Coast country sound, with tracks by well-known country artists such as Tommy Collins, Buck Owens and Tommy Duncan rubbing shoulders with little-known and dimly remembered locals such as Cliff Crofford, Alvadean Coker and Bill Woods. (Who?? Yeah: exactly!!) Curated by Bakersfield buff Scott Bomar, these discs are an obscuraholic's dream, digging deep into the Oakie/Arkie rural roots of the Central Valley's country scene; the beer-soaked honkytonk style of the 'Forties giving way to a raunchier, sweatier rock vibe. There are some great guitar riffs backed by thumping backbeats, giving fans a fuller picture of the sizzling musical stew that spawned Buck Owens' own Fender-friendly musical vision. Hillbilly and rockabilly fans alike will wanna pick these discs up, and not just for those old "Corky Jones" singles.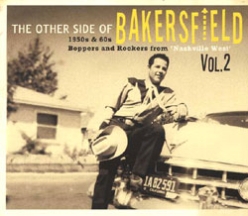 Various Artists "THE OTHER SIDE OF BAKERSFIELD, v.2" (Bear Family, 2014)



Although there are still a bunch of random unknowns on here -- folks like Al Hendrix, Lynn Billingsly, Larry Bryant and Lawton Jiles -- this second set seems more front-loaded with established artists trying their hands at this newfangled, greasy kids' stuff called rock'n'roll. Even future super-squares like Ferlin Husky were able to let their hair down on funky, uptempo early singles like "I Feel Better All Over," while honky-tonk veteran Johnny Bond sizzles through an amazingly robust rocker called "Three Or Four Nights." There was no shortage of hot rock'n'roll pickers available to back up country singers who wanted to plug in and go electric -- take for example Larry Thornton backing the suave western swing vocalist Tommy Duncan on the jazzy "I'll Be There Next Sunday," which is another album highlight. All told, this is particularly potent, generously programmed reissue disc, backed up with all the authoritative weight of Bear Family's fabled archival info... Highly, highly recommended!!
---



Hick Music Index
Support Slipcue


---