<! cd = 02/08/09 > <! MP3 02/02/09, 01/04/11 > <! update 02/02/09 > <! outside 00/00/00 > <! pix 00/00/00 > <! icons 01/04/11 >

---
Irish folkie Paul Brady triumphed in the world of trad and went on to become a successful pop songwriter... He started out in the nominally traditional Irish family band, The Johnstons, a youthful group that explored the expanding boundaries of folk-pop in the late 1960s and early '70s... After the group disbanded, Brady joined the gloriously trad band, Planxty, taking the place of singer Christy Moore, and played with the groups for several years. He also recorded several traditionally-oriented albums where his primary role was as an acoustic guitarist, showing a flair for innovative flatpicking. After recording a dazzling solo album in 1976, Welcome, Kind Stranger, Brady turned towards more pop-oriented songwriting, and found success when several of his compositions became popular recordings, notably Luck of the Draw" (recorded by Bonnie Raitt) and "Paradise Is Here," which was recorded by (ugh) Tina Turner. Oh, but that early stuff is glorious -- when you get a chance, track down his version of "Arthur McBride" one of the greatest Celts-vs-Brits songs ever written!
---
Discography
---
The Johnstons "The Johnstons" (Transatlantic, 1968)



The debut album of the Johnstons family band, which also included Irish folk songwriter Paul Brady... This album was later reissued on CD along with the 1969 album, Barley Corn.

The Johnstons "Give A Damn" (Transatlantic, 1969)



Two late '60s albums by this influential British folk band, which in its early years included Paul Brady and Mick Moloney along with the Johnston Sisters, Luci and Adrienne. Give A Damn, recorded at the end of 1968, tackles social issues and folkie poetic yearnings in a rather clumsy manner, with the sisters warbling away in a most Judy Collins-ish fashion. The repertoire is ambitously chosen, though a bit lofty and quite modern: new tunes by Joni Mitchell and Dave Cousins, a couple of songs by Jacques Brel and Mort Schuman, a stab at traditionalism via Ewan MacColl, even a bit of Leonard Cohen. This is more of a modern "folk" album in the American mould, stretching towards the artsy singer-songwriter end of the spectrum and, frankly, a bit irritating and pretentious. Not my cup of tea, but it might be interesting to students of folk music folklore, and certainly to fans of Paul Brady who would like to explore his roots.
The Johnstons "Bitter Green" (Transatlantic, 1969)



Paul Brady emerges a bit from the background on this album -- although he's still not credited as a songwriter, he and Moloney help adapt some traditional tunes, and Brady's rich vocal style comes through on a couple of more Celtic-oriented songs, and this handful of songs are the real heart of these albums. This twofer CD reissue omits a couple of tunes from the original albums, and mysteriously opts to add a B-side from one of their singles -- probably no one but the most diehard of purists will even notice.
The Johnstons "The Barleycorn" (Transatlantic, 1969)



Released at the same time as Give A Damn, this record highlights their traditional side; the other disc showcased their interest in more contemporary material.
The Johnstons "Colours Of The Dawn" (Vanguard, 1971)







The Johnstons "If I Sang My Song" (1972)
By this time, the group had all but disbanded, and songwriter Paul Brady was the primary creative force...


<! WAS BRADY ON ANY OF THE PLANXTY ALBUMS? -- apparently not -- >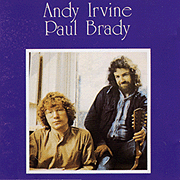 Paul Brady & Andy Irvine "Andy Irvine -- Paul Brady" (Mulligan's Music, 1976)



An delightful, beautiful album, merging the talents of two of Ireland's best folk singers, each at the pinnacle of their power as traditionally-oriented performers, having recently worked together as members of an interim lineup of the Irish trad supergroup, Planxty. Both Brady and Irvine later turned to more pop-tinged material, here though, it's pure, glorious acoustic trad, played with an understated grace that you just can't help but love. In addition to the simple, elegant musicianship, each singer has a lovely voice, fragile yet authoritative in their own way. The classic track on here is the wry "Arthur McBride," a stinging, sarcastic 19th-Century ballad gleefully celebrating the Irish resistance to British military recruitment, a tale of head-bashing and swordsmanship sung in as pretty and cheerful a fashion as imaginable... All the other songs on here are equally fine; this is the trad revival at its absolute best.
Paul Brady & Tommy Peoples "The High Part Of The Road" (Shanachie, 1976)



As fine a set of fiddle and guitar tunes as you're ever likely to find. Brady is pretty much in the background on this one, but that's just fine... Just listen to that fiddle dance and saw away! Recommended.
Paul Brady & John Vesey "The First Month Of Spring" (Shanachie, 1977)


(Produced by Richard Nevins & Daniel Michael Collins)
Once again, Brady contents himself with a supporting role, backing fiddler John Vesey, a native of County Sligo who emigrated to the United States. Brady's performances are subtle and modest, with almost all the melodic work being done by Vesey, whose style and tone are notably squeaky and rough-edged. A pleasant, unassuming and deeply resonant album... Highly recommended!
Tommy Peoples/Paul Brady/Matt Molloy "Molloy Brady Peoples" (Mulligan's Music, 1977)



Paul Brady "Welcome Here, Kind Stranger" (Mulligan Music, 1978)


Irish folk singer Paul Brady has often weaved in and out of Celtic traditionalism; his early work with the Johnstons was one of the formative Irish explorations into the wider world of modern singer-songwriter folk music. But his distinctive, fragile-sounding voice is so well placed inside the trad context, that it's always a treat and a pleasure to hear him go back to his roots. This hard -to-find late-'70s album is one of his masterpieces, with songs both old and new dressed up in beautiful arrangements of bouzouki, tin whistles, fiddles and pipes. The following decade would find Brady relying more on modern electronic instruments -- including keyboards and synthesizers -- that were anathema to many (myself included). But here, all is the rich, pure simplicity of acoustic music played soulfully, fluidly, and without a single flaw. Donal Lunny co-produced this album, joined by Planxty's Andy Irvine, Noel Hill, and fiddler Tommy Peoples. A truly beautiful album, which includes such classic performances as his version of "The Lakes Of Ponchartrain," along with many of Brady's own original compositions. Highly recommended.
Paul Brady "Hard Station" (21 Records, 1981)


Paul Brady "True For You" (21 Records, 1983)


Paul Brady "Back To The Centre" (Phonogram/Compass, 1985)






<! original label was..? 1986 release by Paul Brady. Features Eric Clapton on guitar, Larry Mullen Jnr on drums, and Loudon Wainwright III doing backing vocals. Side One: Walk the White Line Wheel of Heartbreak Deep in Your Heart To Be the One Follow On Side Two: Soulbeat Airwaves The Island The Homes of Donegal >

Paul Brady "Full Moon" (Demon, 1986)





<! Recorded live at The Halfmoon Putney, on Friday, April 6th, 1984. UK import. Song list: 01. Hard Station; 02. Not The Only One; 03. Take Me Away; 04. Busted Loose; 05. Dance The Romance; 06. Crazy Dreams; 07. Helpless Heart; 08. Steel Claw. >

Paul Brady "Primitive Dance" (1987)


Paul Brady "Trick Or Treat" (Fontana, 1991)


Paul Brady "Spirits Colliding" (Polygram, 1995)


Paul Brady "Oh What A World" (Compass, 2000)



Paul Brady "The Liberty Tapes" (Compass, 2002)



Longtime fans who have despaired of Brady's ever returning to his trad roots can at least take heart in the release of these classic concert recordings made in 1978, celebrating the release of his first solo album, the traditionally-oriented Welcome Here, Kind Stranger. It's a lovely set, with warm, sympathetic backing by the likes of Noel Hill, Matt Molloy and Donal Lunny. Brady was in fine form, with that beautiful, lilting voice of his. It's definitely worth tracking down a copy of this little gem!
Paul Brady "The Paul Brady Songbook" (Compass, 2004)


Paul Brady "The Paul Brady Songbook" (DVD) (Compass, 2004)

Paul Brady "Say What You Feel" (Compass, 2005)


---
Best-Ofs
---
The Johnstons "Give A Damn: The Folk-Rock Years" (Castle, 2003)



Brady's early years with the Irish family band, the Johnstons, encapsulated in a handy best-of set. Although this collection shares the same title as their 1969 Give A Damn album, it is actually a collection drawn from various late-1960s/early '70s albums... Probably as good an overview as any!

Paul Brady "Songs & Crazy Dreams" (Fontana, 1992)


It would be difficult to deny Brady's skill as a songwriter, but his stylistic inclinations as a pop-oriented balladeer often leave something to be desired. This best-of gathers material from 1980-87, and has a few gems, but also plenty of groan-inducing, synthy drek. There's considerable overlap between this set and the more recent American-issued Nobody Knows collection (reviewed below); folk or trad-oriented fans are advised to try that disc instead -- this one has just a bit too much tinkly, Chris Cross-ish synthiness to abide.

Paul Brady "Nobody Knows: The Best Of Paul Brady" (Compass, 2001)



Irish singer-songwriter Paul Brady long ago abandoned the comfortable confines of traditionalism for the shakier terrain of electrified, synthy pop-folk. It's not a style I much care for, although it must be said that Brady is a much better and more engaging songwriter than most who tackle this style. Plus, with jewels like "The Island," this collection has more than a few nice moments to recommended. It'll certainly give you a good idea of Brady's range, though I wish they had included more of the old stuff.


<! (1999) release date? > <! Brady returned to Ireland in 1974 to join the Irish group Planxty. (??) The Johnstons. Soon Paul became swept up in this current and joined the latter band with whom he recorded seven albums. > <! Paul Brady "Welcome Here Kind Stranger" (1978)x Paul Brady "Hard Station" (1981) Paul Brady "True For You" (1983) Paul Brady "Back To The Centre" (1985) Paul Brady "Full Moon" (1986) Paul Brady "Primitive Dance" (1987) Paul Brady "Trick Or Treat" (1991) Paul Brady "Spirits Colliding" (1995) Paul Brady "Oh What A World" (2000) Paul Brady "The Liberty Tapes" (2002) [Re-issue of Welcome Here Kind Stranger] Paul Brady "Say What You Feel" (2005) Paul Brady "Songs & Crazy Dreams" (Compilation) (1992) >

---
Links
---
---



Main Celt/Brit Index
International Music Index



---