<! MP3 03/07/09, 01/13/10 > <! pix 03/07/09, 01/13/10 > <! archived 10/16/09 > <! icons 02/20/11 >
---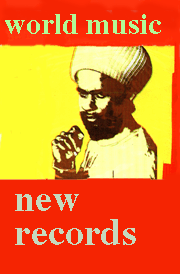 Welcome to my "New World Music" page, which highlights new(ish) African, Asian, Latin American and Celtic records, and "miscellaneous" records that I had the good fortune to check out in November, 2008. This page is added to as new records come in... If you want more to read more reviews, many others are archived nearby, and there are separate sections for various kinds of world music that you might like exploring as well.
---
Recommended Records: November, 2008 | Review Archives
---
Jorge Ben "Solta O Pavao" (Philips)
Luiz Bonfa "O Violao E O Samba" (Odeon)
Gal Costa "Gal" (Dusty Groove reissue)
Aracy De Almeida "Warner 30 Anos" (Warner)
Feufollet "Cow Island Hop" (Valcour)
Katerine "8eme Ciel" (Barclay)
Leleo "Maravilhas" (Acid Jazz)
Leonardo Paniagua "La Bachata Original" (Universal)
Alceu Valenca "Vivo!" (Som Livre)
Samba Meets Boogie Woogie "Samba Meets Boogie Woogie" (Adventure Music)
Various Artists "JAPANESE ROCKIN' PSYCHE & PUNK" (Toshiba-EMI)
Various Artists "PUTUMAYO PRESENTS: SESAME STREET PLAYGROUND" (Putumayo, 2008)
Various Artists "SAINT-GERMAINE-DES-PRES: 1926-1954" (Fremeaux)
Various Artists "TRIOS PODEROSOS EN 3 CD" (Sony)

---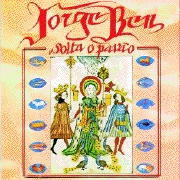 Jorge Ben "Solta O Pavao" (Philips, 1975)



It's come to my attention that one of Jorge Ben's finest albums, a beautiful, mystical, labyrinthine samba-funk-folk masterpiece that's long been out of print, is finally back... in pure digital form. Being a old-school techno-saurus, I can rarely bring myself to buy a download album, but in this case it's worth it: this is some of the prettiest Brazilian music you're ever likely to hear, incredible stuff from Ben's absolute peak. Mainly it's full of relaxed, summery tropical acoustic vibes, but there's also a bit of chunky, groovalicious samba-funk in there as well, the kind of stuff that Ben created, perfected, and made his own. Don't take my word for it, though -- check it out for yourself! If you're a longtime Jorge Ben fan, or if you've never heard of the guy before, this record should blow your mind, either way.

Luiz Bonfa "O Violao E O Samba" (Odeon, 1962)


Wonderful! A pleasant, light-toned album from Brazilian acoustic guitarist Luiz Bonfa, who became known worldwide after his performance on the Black Opheus soundtrack. Indeed several songs here echo his hit, "Manha De Carnaval," with a bouncy, fluid guitar that is simply irresistible. Brisk accompaniment by Edson Machado on drums, Tiao Neto on bass, Luiz Carlos Vinhas and Chico Feitosa help fill out the sound. On first blush, this may seem like a fairly lightweight album, but with repeated listens, Bonfa's melodic brilliance and technical mastery will simply overwhelm you. Each song is a bright, perky, poppy gem, and the range of dynamics and guitar techniques he employs from song to song is truly dazzling. Any aspiring guitar whiz has to check this album out... Any fan of old-school bossa nova will love it as well; underneath the bouncy rhythms are many understated, sublime passages. (On a personal note, I've found this to be a superior baby-rocking album, packed with numerous rhythms at various tempos that you can zero in on... A few bouncy sambas and lyrical soft spots, and the kid was out like a light...) Highly recommended.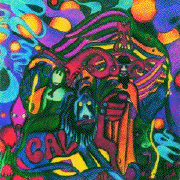 Gal Costa "Gal" (Philips, 1969)


(Produced by Manuel Barenbein; Arranged by Rogerio Duprat)
One of the most sizzling and crazed of the tropicalia-era psychedelic rock records. Gal Costa, normally a swanky ballad singer, was a true wild child for a few years there when the whole tropicalia scene was new. This was her second album, with Costa belting out snarling vocals amid grinding, aggressive electric guitars and pounding, hard percussion. Her creative cohorts, Caetano Veloso and Gilberto Gil, chime in as songwriters and harmonists (appearing on a version of Jorge Ben's "Pais Tropical") while the tropicalia scene's celebrated avant arranger, Rogerio Duprat, puts his stamp on the album, particularly on the impressive proto-world music anthem, "Tuareg," which he amplifies with Arabic instruments and varied textures and sound dynamics. This is not the easiest or mellowest Gal Costa album to groove out on, but it is a striking historical document, and one of the more notable and coherent Brazilian psychedelic relics of the late-1960s/early '70s era. Long out of print except for pricey imports, it makes its American debut courtesy of the folks at Dusty Groove mailorder, who know a thing or two about Latin American oldies... Kudos to DG, once again!

Aracy De Almeida "Warner 30 Anos" (Warner, 2008)


A swell set of samba-cancao oldies from Brazilian singer Aracy De Almeida, who was one of the major interpreters of songwriter Noel Rosa, back in the 1940s. This is old-school samba, from way, way, way before the bossa nova, and it's fun, antique stuff. If you like ancient pop music, you might want to give this disc a spin!

Feufollet "Cow Island Hop" (Valcour, 2008)



A fine new album from one of the most dynamic and musically accessible young Cajun bands of this generation. These youngsters from Louisiana remain true to the traditions of Beausoliel, the Balfa family, et. al., but they add a warmth and melodic grace that makes them a little easier on the ears than the classic chanky-chank of bygone years. Particularly nice is their no muss, no fuss incorporation of old-school traditional country sounds -- pedal steel, etc. -- into their sound. The connection has always been there (just listen to those old Adolph Hofner albums...) but it's still a little surprising, and quite gratifying, to hear folks in the swamps reaffirming their links to country music. A nice record! Full of catchy, satisfying songs -- definitely worth checking out.

Katerine "8eme Ciel" (Barclay, 2002)



(Produced by Philipe Katerine)
Well, okay, I'm a little late on the uptake for this one, but hey, I live in a benighted land where French pop isn't as common as we might like. Anyway, this now-ancient album is a strong offering from French indierock artist Philipe Katerine. He sounds, for all the world, like a Gallic version of Beck, a mad, half-chaotic, historically conscious blender of popular culture... He's all over the map with this manic mix of rock, pop, indie, soul and psychedelia -- the experience is alternately thrilling and grating. Honestly, it's a bit much when taken en toto but a song here and there in a wide-ranging freeform mix would be pretty rewarding. Definitely worth checking out, if you're looking for some interesting contemporary French rock.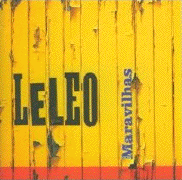 Leleo "Maravilhas" (Acid Jazz, 2008)



(Produced by Leleo & Lucas Marcier)
Perfect summertime tunes from this Brazilian guitarist-producer. The first song I heard off here, "Ferias," is a real doozy, a sly, sexy samba-pop song which mixes the funky tropical vibe of Jorge Ben's best early-1970s work with a great approximation of the classic roots reggae of the Bob Marley era -- heavy syncopation, doubled guitar lines, and plenty of soul. It's a celebration of summertime and idleness, freedom and relaxation, with Leleo's nasality exaggerated by vocal processing -- a heady brew of unusual sounds, all coalescing into an irresistible, perfect Brazilian pop tune. I rushed to get the CD after seeing the "Ferias" video, and am pretty pleased with the rest of the record. About half the album is too clubby for me, but the songs I like are pretty groovy, reminiscent of the best of the '70s samba-funk scene. Definitely worth checking out.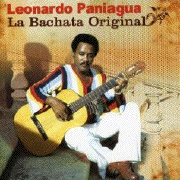 Leonardo Paniagua "La Bachata Original" (Universal, 2007)


A deliriously beautiful set of heartfelt romantic ballads from one of the Dominican Republic's finest balladeers. Paniagua was one of the early stars of bachata music, a style that has since evolved past its humble acoustic roots into a more aggressive brand of global Latin pop. Back in the old days, as heard on this first-rate best-of set, the music was simply heavenly, filled with sweet, seductive acoustic guitar work, dripping with densely-layered melodies and inventive improvisations. Equally alluring are Paniagua's vocals, which recall the ripe emotional melodrama of traditional Latin American boleros, but which never descend into stale bathos or mere formula -- he sings 'em like he means 'em. It's really gorgeous music: I can listen to this album for days on end.


<! http://www.facebook.com/pages/Leonardo-Paniagua/18202938294 >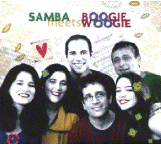 Samba Meets Boogie Woogie "Samba Meets Boogie Woogie" (Adventure Music, 2008)


(Produced by Mariza & Mario Adnet)
A delicious tribute to the pre-bossa nova era, when Brazilian music was defined by the popular samba-cancao style, but also open to foreign influences such as North American "boogie woogie" blues, big band jazz, and also the florid romanticism of the Latin American bolero. This is a sweet, solid set featuring contributions by veterans of the modern bossa-jazz scene, including Maucha and Mario Adnet, Jovino Santos Neto, Ze Renato, Roberta Sa, Monica Salmaso and others. The song selection includes oldies by artists from the 1930s, '40s and '50s such as Haroldo Barbosa, Ciro Monteiro, Jackson Do Pandeiro and Os Cariocas. While it's mellow and slick enough to satisfy "smooth jazz" fans, it also has the deep historical grounding and a rootsy enough feel to appeal to folks like me who enjoy more rugged material. It's a very pleasant record, satisfying on a number of levels -- I also enjoyed the chatty, informative liner notes that tell about the origins of all these great golden oldies. Recommended!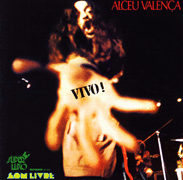 Alceu Valenca "Vivo!" (Som Livre, 1976)



(Produced by Guto Graca Mello; arrangements by Alceu Valenca)
A very cool live album, mixing wild, innovative acoustic music with wild, innovative electric rock. The intense, live-wire nature of these performances is felt from start to finish -- here, Valenca is an experimental artist at his creative peak, pushing persistently and playfully at the boundaries of style. It's pretty cool, and pretty compelling. If you're looking for watershed albums from the tropicalia era, this late entry is one of the gems. Ze Ramahlo plays ukulele and guitar; and there's a flute player in there as well...


<! with Ze Ramalho playing the ukulele and 12-string guitars >
Various Artists "JAPANESE ROCKIN' PSYCHE & PUNK '65-71: PSYCHEDELIC MAN" (Toshiba-EMI, 2005)
Various Artists "JAPANESE ROCKIN' PSYCHE & PUNK '65-71: HAPPENING AT 3 O'CLOCK AM" (Toshiba-EMI, 2005)


This is a pretty cool series, with plenty of real-deal, hardcore Japanese garage-psychedelic gems rescued from the shorelines of obscurity... The music is remarkably rugged and robust, with numerous Japanese bands full of the same energy and attitude as their snotty, brash contemporaries in the UK and USA. The sound quality's really good, too... Indeed, the only real drawback here is the lack of English-language liner notes, even, in most cases, the lack of non-Kanji song titles or artist names, which is pretty unusual for a Japanese reissue record. I guess the folks at EMI-Japan thought that no one outside of Japan would be interested in their old '60s rock records? Obviously they were wrong, but I'm still glad they put these records out. (There are at least three volumes I know about, two that I have, only one where I've been able to track down the song info...) Anyway, if you dig gnarly global retro-rock, and don't mind not knowing who the artists are, track these discs down. You might also enjoy poking around my Crazy Asian Pop pages...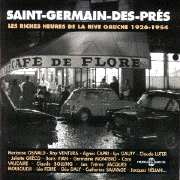 Various Artists "SAINT-GERMAINE-DES-PRES -- LES RICHES HEURES DE LA RIVE GAUCHE: 1926-1954" (Fremeaux & Associes, 2006)


This relaxed 3-CD set traces the musical history of Paris' fabled Left Bank... There are swing-oriented bandleaders such as Claude Bolling, Jacques Helian, Ray Ventura and Boris Vian, classic chanson singers such as Lys Gauty, Marianne Oswald and the emergent song stylists of the postwar era, like Juliette Greco Germaine Montero, Catherine Sauvage, and Leo Ferre. The early works by Greco, from 1950-1951, are particularly appealing, giving a glimpse of her raw, bright talent, before the excessive stylizations of the late '50s and '60s had set in. There's also a healthy dose of American-style jazz, with expatriate Americans such as saxophonist James Moody leading a mixed European-American band. All in all, this is a sweeping, cheerful, celebratory overview of one of the world's great cultural watersheds. A great collection that can lead you down many rewarding pathways.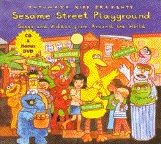 Various Artists "PUTUMAYO PRESENTS: SESAME STREET PLAYGROUND" (Putumayo, 2008)


Anyone who has purchased or rented a Sesame Street video in the last twenty years has been amply reminded by the ads at the beginning that the popular children's show has long since franchised out into a global phenomenon, with Sesame Street variants on TV channels across the globe. Mostly, for Americans, these international muppets remain a mystery... they flash across your screen and you think, "Hey, that looks like Ernie, except he's got a mohawk" or "Is that Prairie Dawn wearing a burka?" Some of the songs are familiar, albeit in different languages ("Rubber Ducky," appropriately enough, is sung in Chinese... honoring the single massive Southern Chinese factory where all rubber duckies are now made; the "sunny days" Sesame Street theme song is sung in Dutch...) Some tunes are new to these ears, such as the South African anti-pollution song, "Thath 'iphepha", and the revamped title theme for the Indian edition, "Galli Galli Sim Sim," and the hip Brazilian soundtrack, from the first country that picked up on the Sesame franchise, 'way back in 1972. There are some new-looking puppets, too, as seen in the second DVD disc, which features five video clips, showing international muppetry in India, Israel, Mexico, Russia and South Africa... only a taste of the global variants on Jim Henson's great, lasting legacy.
Various Artists "TRIOS PODEROSOS EN 3 CD" (Sony, 2008)


Wonderful music -- fab Cuban and Latin American acoustic trios such as the legendary Trio Matamoros, Trio Servando Diaz, Trio De Oro, Los Guaracheros de Oriente, Los Tres Ases, and others... What I don't get, though, is why they packaged this collection on three separate CDs, each with only nine songs on them, for total of twenty-seven songs. There are countless collections out there that have that many songs on a single disc -- this version just takes up too much shelf space. Oh, well. It's still a good introduction to a lot of great old music.
---



World Music Index
Other Recent Reviews


---