<! MP3 03/06/09 > <! pix 03/06/09 > <! icons 02/20/11 > <! archived 10/15/09 * >
---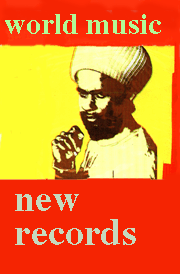 Welcome to my "New World Music" page, which highlights new(ish) African, Asian, Latin American and Celtic records, and "miscellaneous" records that I had the good fortune to check out in January, 2009. This page is added to as new records come in... If you want more to read more reviews, many others are archived nearby, and there are separate sections for various kinds of world music that you might like exploring as well.
I've recently been immersed in my French Pop and Celtic Folk sections -- which is reflected in this month's review list. There's a lot of cool French pop that just came out that I haven't been able to hear yet, but am pretty excited about... The best records are included below.
---
Recommended Records: January, 2009 | Review Archives
---

Bat Makumba "Boteco" (Bat Makumba Records, 2008)



(Produced by Carl Remde & Bat Makumba)
This San Francisco-based dance band plays Brazilian music with a vengeance. The Brazilian rhythms are dense and the tempo furious -- an other tracks delve deep into American-style funk and even a bit of hippie-ish folk-jazz. Some of it's really groovy, reminding me of the wildly eclectic Brazilian manguebit of the 1990s, or the more modern hip-hop flavored "baile funk"of the last few years. Other tracks may try your patience a bit (the weirdo-funk song "Homo Sapiens," for example, is way too self-indulgent for me) but some of it's pretty cool. If you were drawn to Brazilian music for the swank harmonies and mellow elegance of classic bossa nova and MPB, this world-beat blast will be a new sound for you; depending on your temperament and taste, it may be either exasperating or exhilarating... I suspect they are pretty fun live.

Benabar "Infrequentable" (Sony-BMG, 2008)



French avant-pop... I'm not that familiar with Benabar's work, but he is one of the new generation of innovative rock-chanson artists, and this disc seems to be pretty popular with the French hipoisie. I look forward to checking it out...
Benabar "The Best Of..." (Sony-BMG, 2008)



This best-of set might be a good way to check him out as well... Sounds sort of like generic alt-rock to me, but I haven't spent a lot of time with the record yet...

Mathieu Boogaerts "I Love You" (Discograph, 2008)



I really like Boogaerts' puckish, playful approach to indie-pop, and I was really excited to see he has a new album out, but I have to confess I haven't been wowed by this record yet. It hews too closely to the kitschier confines of New Wave/electro kitsch, and doesn't have as many of the sneaky, brainworm melodies and harmonies that make some of his other recordings so surprising and delightful. I'll try it again when I can, but I guess I wasn't the right listener for this album.
Francoiz Breut "A L'Aveuglette" (Le Pop Musik, 2008)



New Francoiz Breut. Yay. I haven't tracked it down yet, but look forward to checking it out. (And if you don't know her earlier albums, check out my French pop section for a few recommendations...)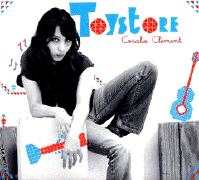 Coralie Clement "Toystore" (Discograph, 2008)



Sigh. There's a new album out by French singer Coralie Clement, it sounds great (what I've heard so far...) but what with the exchange rate being what it is, I just can't afford to buy it. Out of the goodness of my heart, though, I'm going to let the rest of the world know it's out there, and maybe you'll get to enjoy it instead. I do love her work, and this one sounds good.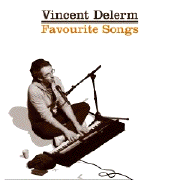 Vincent Delerm "Favourite Songs" (Tot O Tard, 2007)



(Produced by Bernard Desage & Vincent Delerm)
Author-composer Vincent Delerm is at the heart of the current French pop renaissance, a fact that's driven home by this marvelous concert album, which features cameos and duets with several of the decade's most vital young musicians -- Benabar, Cali, Jeanne Cherhal, Philipe Katerine, Benjamin Biolay, Mathieu Boogaerts -- as well as several elder statesmen of French pop-rock, such as Alain Chamfort, Yves Simon, George Moustaki and Alain Souchon. There are also the obligatory singing French actresses, with Irene Jacob and Valerie Lemercier contributing gorgeous, winsome vocals, while Delerm's close collaborator Peter Von Poehl sings on the dreamy "Marine," and Ireland's Neil Hannon (of the band The Divine Comedy) sings a hilarious duet on the bilingual title track, "Favourite Song." Indeed, this is a collection of favorite songs, not just those of the erudite Delerm, but also of his audience, and his fellow performers. The warm that emanates from every track is rich and enveloping: you can't help but love this album. I also recommend his studio albums, but this concert album is a winner. Anyone know where I can get ahold of a copy of the film version? Or the 2-CD set, which also has him performing solo?

Vincent Delerm "Quinze Chansons" (Tot O Tard, 2008)



Oh, the agony! To know that there's another great Delerm album out there, and have it be so far out of my grasp. Someday I'll track this down and write a proper review, but for now I'll settle for letting other folks know it's available. Oh, the misery.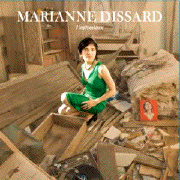 Marianne Dissard "L'Entredeux" (Le Pop Musik, 2008)



(Produced by Joey Burns)
Marianne Dissard is a French expatriate living in the American Southwest, a Tucson-based musician and filmmaker who is friends with the band Calexico, and who made a documentary about them that I'm now kinda curious to see. Her relationship to the band extends beyond the editing room, and on this album, Calexico's Joey Burns helps craft a stunning, sultry French-language pop album that draws on multiple eras and styles... There's an echo of 1960s ye-ye auteurs such as Francoise Hardy, a healthy dose of classic musette and chanson (as seen through the filters of the modern Parisian revivalists) and, perhaps more importantly, the eclectic sensibilities of the 21st Century American indie scene, which brings successive layers of pop, rock, blues and folk to bear, and gives this album a distinctive, alluring feel. Although I obviously like a lot of French pop, hearing this album helped me understand the subtle traps that contemporary French rock still finds itself in, the lingering allegiances to orchestral pop and '80s disco that still give it a relatively static, overly precise feel at times. Here, the all-embracing fluidity of the Americans gives this disc an extra dose of that magical j'ne c'est quoi... If you're a French pop fan, you'll love this album.
Marianne Dissard "Dedicated To Your Walls, May They Keep Blooming" (Self-Released, 2008)


Dissard has also self-released this download-only EP of demo tracks... Haven't heard it, but it's probably cool, too.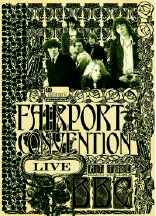 Fairport Convention "Live At The BBC" (Universal/Hip-O, 2008)



A 4-CD set of live performances on the venerable British Broadcasting Corporation... Pretty much everything the Fairport band played on the Beeb over the years. There's also a shorter, single disc version with highlights from the series... Either one is sure to be a treat for fans. (See my Fairport Convention discography for more info...)

Frigg "Economy Class" (Northside, 2008)



(Produced by Anttil Jarvela)
A lively, rollicking fiddle music lovefest. Although this half-Finnish, half-Norwegian band shows its Nordic roots, there are also strong echoes of Appalachian/Celtic and American cajun music in the mix as well. Whatever the sources, the music on this disc is cheerful and infectious -- once it starts, you can't stop smiling. Anyone with an interest in fiddle-based folk music will want to check this out: it's fun, innovative and invigorating. Recommended!

The Hot Club Of San Francisco "Bohemian Maestro: Django Reinhardt And The Impressionists" (Azica, 2008)



(Produced by Alan Bise)
The music of gypsy guitar legend Django Reinhardt and his era -- including several rich, fluid tunes by Impressionist composer Claude Debussy -- as envisioned by the Bay Area's own Hot Club Of San Francisco. The album starts off with several upbeat, bubbly Reinhardt-style swing tunes, and settles in the second half into a more demure, romantic mood. Another fine set from these acoustic-swing revivalists; it's familiar territory, but no less sweet for the familiarity.
Sharon Shannon "Galway Girl: The Best Of Sharon Shannon" (Daisy, 2008)



A nice overview of this dynamic Irish accordion player, covering her early work along with her more current, experimental pop-folk fusions.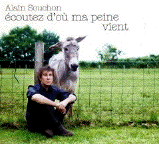 Alain Souchon "Ecoutez D'Ou Ma Peine Vient" (EMI, 2008)



One of the grand old men of contemporary French pop, Alain Souchon has been embraced by younger artists and continues to make velvety, subtle pop of his own. I haven't heard this one yet, but other recent records have been good.

Verdes Anos "Coimbra Fado" (Arc Music, 2008)



The town of Coimbra is the heart of Portugual's romantic, mournful fado style, famed for its wine bars and cafes filled with earnest acoustic guitarists and stunning vocalists who bring tears to the eyes of grown men (after a fair amount of port, of course...) Founded in 1996, the Verdes Anos ensemble is a fine example of this continuing tradition -- this album is marked by the same glowing, dripping guitar style that has been played for decades, and the three vocalists -- Antonio Dinis, Goncalo Mendes and Rui Seoane -- capture the ripe, emotive power of the style. Although modern fado has become dominated by female artists, it's nice to hear the masculine side of this rich, romantic style as well.


<! release date: January, 2008 >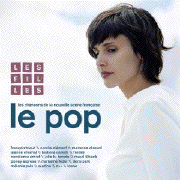 Various Artists "LE POP: LES FILLES" (Le Pop Musik, 2008)


Another outstanding collection from one of the most consistently satisfying indie-pop labels in Europe... A strong set profiling the women in the current French pop scene, including established artists such as Francoiz Breut, Jenne Cherhal and Coralie Clement and numerous others who will be new to most American fans. The disc itself is well-programmed and quite pleasant: I've listened to it several times in a row, and been delighted every time. It's also a superior guidepost for further explorations -- so far I've tracked down albums by Marianne Dissard, Loane and Julie B. Bonnie, and I now have several others, by Barbara Carlotti, Poney Express and others, that are on my long-term wantlist. This is a great record... If you like contemporary French indie-rock and the pop-chanson revival, you'll love this disc.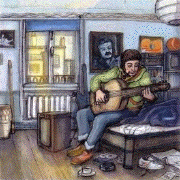 Various Artists "LES MECS QU'EMBRASSENT" (Productions Speciales, 2008)


This swell download-only French pop collection came to my attention through a Slipcue reader who bought in through Amazon... I haven't heard it (I still can't bring myself to buy downloads) but it looks awesome. Included are several artists I'm a little familiar with, such as Dominque A, Benabar, Mathieu Boogaert, Cali and Thomas Fersen... And based on the strength of those names, I'm now keenly curious about several other artists included here: Albin De La Simone, Fred Poulet, Loic Lantoine, Pascal Columb and others. Amazon France, here I come!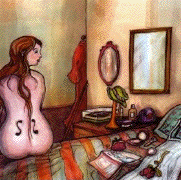 Various Artists "LES P'TITES QUE PIAFFENT" (Productions Speciales, 2008)


This is the female equivalent of the LES MECS QU'EMBRASSENT collection listed above, with contributions by Jeanne Cherhal, Pauline Croze, Juliette, Olivia Ruiz and others, including a lot of more-obscure artists. I'm definitely hooked! This would also appear to be a download-only album, but if anyone knows how to get ahold of a physical copy, I'd love to hear from you.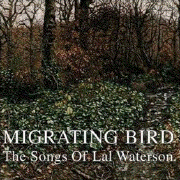 Various Artists "MIGRATING BIRD: THE SONGS OF LAL WATERSON" (EMI-Honest Jon's Records, 2007)



When Lal Waterson, a founding member of the Watersons, a hyper-tradtionalist English folk group from Yorkshire, passed away in 2008, many in the folk and folk-rock communities were shaken and sad. Waterson had long been a powerful figure on the British folk scene, both as a folklorist and as a contemporary songwriter. This reverent tribute album focuses on her original material, from the songs of the legendary "lost" album, Bright Phoebus to the many new songs that followed. A host of freak-folk luminaries are on board -- Vashti Bunyan, King Creosote, Victoria Williams, Alasdair Roberts, Richard James, Mark Olson and others -- each taking on one of Waterson's glum, grey-day compositions. Also noteworthy are tracks by the Willard Grant Conspiracy, Michael Hurley and Nancy Elizabeth... It must be said that this set, while not as severe or stark as the usual Watersons fare, still has a rather dour feel: although emotionally rich and texturally rewarding, Lal Waterson's work is a bit of a downer. The added layers of reverence make it difficult for most of these artists to escape the original template of stark, pensive moodiness, and while the results are very true to Waterson's spirit, there is also a slight, crushing gloom to it was well. Few of the singers veer far from the original musical template, one exception is alt-country old-timer Jeb Loy Nichols, who injects a bit of honky-tonk rhythm into the mix. Nonetheless, traditional folk fans and freak-folk modernists alike will find this a rich and rewarding album, a fitting tribute to one of the most original and resolute voices of the '60s folk revival.
---



World Music Index
Other Recent Reviews


---