---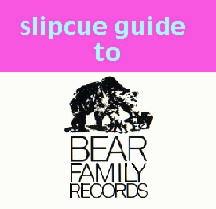 This German label is widely recognized as a class act. Started back in 1979, Bear Family has long been a symbol of a quality product -- the sound quality is always superior, the music selection is almost always phenomenal, and each CD usually from 20 to 30 tracks on it. A few years back I made the psychological leap to where I could shell out the import prices for these releases, and rarely have had cause to regret it... Besides, when you take into consideration that domestic CDs are so expensive to begin with, and they rarely are as reliably great as Bear Family stuff, it's quite a deal!
Here are some impressions of the Bear Family releases I've heard so far...
---
Country Records -- Page 1
---
Charline Arthur "Welcome To The Party" (Bear Family, 1998)

A stellar collection of ultra-rare oldies by one of hard country's most elusive figures. Brassy, loudmouthed and a snarly, dynamic singer, Arthur demolished the traditional role of the passive, ladylike country "girl" singer. Back in the early '50s, when all the other gals were demurely performing in Kitty Wells-style gingham dresses, Arthur was wearing slacks, smoking cigarettes, and cussing Chet Atkins out in the RCA recording booth. It was probably the last habit that had the most to do with her swift fall from grace -- Arthur was dumped from the label in 1956, after having plugged away for several years without much commercial success. Admittedly, Arthur's bluesy, occasionally raunchy style was at odds with the expectations of the times, but it's a tragedy she wasn't allowed to grow as an artist -- her vocals and approach certainly prefigured the work of bluesy country/pop stylists like Patsy Cline and Brenda Lee, and (of course...) the rockabilly bop of Wanda Jackson. Notably, the singer whose voice most resembles Arthur is Skeeter Davis, who Atkins did succeed in taming -- you can hear similar attempts to soften and Nashville-ize Arthur's vocals throughout this disc. But uptempo or slowed down, Charline Arthur was a force to be reckoned with, and this CD should send a quiver through the hard country community -- check it out!
Dub Dickerson "Boppin' In The Dark" (Bear Family, 2000) (BCD-16372)

Awesome! This is the kind of thing I look to Bear Family for -- an absolutely smashing collection of an artist that I've never heard of... this rocks from start to finish. "The Boy With The Grin In His Voice," Dickerson was one of those real hick singers who late in the game tried to cash in on the rockabilly craze, bringing a ruggedly adult country edge to the teeniebopper style. This CD kicks off with several hypermelodic rock tunes, like "Kiss Me With Your Eyes" and "Boppin' In The Dark" -- tunes that took liberties with the sexual license of rocknroll, and infused the pimply kid music with a genuinely salacious bump and grind. From there it works its way backwards into his early '50s country roots. Solid country, along with rare old rockabilly singles that make the collector nerds sweat... it's all great. Really, really great, and highly recommended!
Jimmie Dolan "Juke Box Boogie" (Bear Family, 2000) (BCD-16192)

Not a top-flight honkytonker, Dolan had been kicking around the edges of country stardom in the 1940s, years before these early '50s tracks were recorded. Resolutely devoted to the novelty song, Dolan recorded dozens of uptempo goofball numbers, like "Hot Rod Race", "Wine, Women and Pink Elephants" and "I Ain't Gonna Bring The Bacon Home Anymore"... Some of these tunes stand out among the crowd, like "Nicotine Fits", "Tool Pusher On A Rotary Rig", and "The Wheel That Does The Squeakin' (Is The One That Gets The Grease)". These songs are distinctive more for their lyrical persistence than their melodic qualities -- even though he hung out and recorded with '50s players like Cliffie Stone and Noel Boggs, Dolan was a strikingly limited singer, particularly when it came to phrasing. Even so, these tunes are so goofy and so much a part of their time, that fans of old country music will get a kickout of this disc... they don't make 'em like this anymore!
Tommy Duncan "Texas Moon" (Bear Family, 1996)

Tommy Duncan "Beneath A Neon Star In A Honky Tonk" (Bear Family,1996)

It's hard to overestimate the importance of Tommy Duncan's bluesy-crooner vocals to the success of Bob Wills' western swing sound of the 1940s. Duncan and Wills had a several big blow-outs after the War, and in 1948, Duncan left the Texas Playboys and set out on his own. These two CDs document the uneven results of his solo career, with maybe a half dozen screamingly awesome tracks spread between them, a bunch of fairly good tracks, and some stuff that just doesn't measure up. These discs are fascinating for several reasons. First, who else but Bear Family would have put them together, and saved this material from complete oblivion? Plus, it's instructive to see how a top-flight vocalist like Duncan could make mediocre records, when deprived of a steady, full-time backup band -- kinda gives you more respect for all those super-amateur bands whose hard-rocking honkytonk tunes grace all those endless compilation albums. These discs are well worth checking out, though in the long run they may not hold your attention.
Jim Eanes "...And The Shenandoah Valley Boys" (Bear Family, 1999)

Here's a nice surprise -- a tasty reissue of rare, early '50s country material recorded by bluegrass picker Jim Eanes, who had just left the Flatt & Scruggs band to seek fame and fortune on his own. These are atypical recordings -- a few banjo-based instrumentals speckle the craggy honkytonk that dominates these old Decca sessions. Eanes was clearly emulating Hank Williams (and later, Hank Snow) in his vocals, with a hefty does of Ernest Tubb-style musical arrangements in the mix. Among the pickers present here are a Chet Atkins, Autry Inman, and a young Bobby Hicks on fiddle... nice company, indeed! An interesting cross between hard country and bluegrass, which helps fill in some of the blanks in the husky, blues-laced style that made Eanes's later bluegrass recordings sound so unique. There are plenty of great heart songs and weepers on here, as well as a novelty tune or two, and a trio of Cold War-era patriotic songs round off the album... Nice stuff, well worth picking up!
Melvin Endsley "I Like Your Kind Of Love" (Bear Family, 1992)

Endsley wrote the bouncy singalong classic "Singin' The Blues," a big 1950s hit for both Marty Robbins and Guy Mitchell. Sadly, his own version of his signature tune is not included on this disc, though plenty of similar recordings are. Following the success of "Singin' The Blues," Endsley had an all-too-brief whirl on Nashville's wheel of fame, but after a wild couple of years, interest in his songs completely evaporated. These demo-y tracks on this album aren't the best country records ever, but they are charming, and some are quite good. Endsley wasn't really much of a performer, and as a composer was perhaps a bit formulaic, but it's always nice to hear songwriters cover their own material.
The Farmer Boys "Flash Crash and Thunder" (BCD-15579)(1991)

DOUBLE TRIPLE WOW. If you want to find out where The Dave and Deke Combo copped their schtick from, this is the place. Early members of the Bakersfield scene, the Farmer Boys helped set the pace for folks like Buck Owens and Wynn Stewart, who would come down the pike a little later. This disc covers the Farmer Boys brief relationship with Capitol Records, which lasted from 1955-1957. It includes high-powered, hot-pickin' hokey cornball novelty classics such as "Yearning, Burning Heart", "Lend A Helping Hand" and "I'm Just Too Lazy". These guys may have been on the periphery of hard country fame, but their old records sure hold up nicely, especially with all the hot pickin' and nasal twang. Highly recommended. (LINK: The Kern County Museum website has a nice article about the Bakersfield Sound.)
Bob Gallion "Out Of A Honky Tonk" (Bear Family, 2000) (BCD 16439)

Nice one. Gallion was an anomalous kind of honky-tonker -- he sounds a lot like Mickey Gilley, with a strong hint of Ernest Tubb's vocal roughness thrown in for good measure. Though a little untamable (this disc is full of late '50s efforts to frame him in a "pop" context), Gallion had a very comfortable presence and a swinging feel to his work. This album gathers together all of Gallion's work for the MGM label, much of it co-written with his songwriting partner, Luke McDaniel, who recently was given a Bear Family retrospective of his own. Anyway, this is a really good collection of cool old country, with its toes just dabbling in the rockabilly and teen-pop tides. Special treats: Gallion's 1959 version of the Patsy Cline hit, "This Should Go On Forever," and the divorce saga, "You Take The Tables, I'll Take The Chairs." Recommended!
Hank "Sugarfoot" Garland "Sugarfoot Rag" (1992)

Solo studio work by the hotshot guitarist whose picking made songs like "Sugarfoot Rag" so irresistably catchy. This disc is pretty much only for diehard fans of instrumental pop, though a couple of tracks are as boisterous and fun as his work with Foley. For the most part this CD is an attempt to document how Garland was a serious jazz enthusiast -- not my cup of tea, but it might be yours. Includes a couple of (nice) vocal tracks as well.
Jack Guthrie "Oklahoma Hills" (Bear Family, 1991)

Woody's cousin, Jack, had a huge 1945 hit with the title track, "Oklahoma Hills." Although there's more than a hint of Gene Autry-ish "cowboy" music here. there's also a hefty dose of good, uptempo hillbilly boogie. And, predictably, several Oklahoma-themed follow-up songs, such as "Oakie Boogie," "Oklahoma's Calling," etc. This disc is well worth checking out.
Roy Hogshead "Cocaine Blues" (Bear Family, 1999)
Jimmy & Johnny "If You Don't, Somebody Else Will" (Bear Family, 1996)

Wow! I only picked this CD up because it was something new from Bear Family, and 'cuz it looked cool. Imagine my ecstasy when I discovered that these guys were part of Webb Pierce's regular songwriting stable in the late '50s... not only that, but one of these fellows went into a performing and songwriting partnership with Wayne Walker -- one of my favorite Webb cronies... and there are demo tapes here to prove it. GREAT STUFF in a variety of styles, including ultra-twangy, uptempo honkytonk, Everly-esque teenpop, and out-and-out rockabilly. They even poke fun at their patron, Webb Pierce, on "Sweet Singin' Daddy." Highly recommended!
Johnnie And Jack "...And The Tennessee Mountain Boys" (Bear Family, 1992)
This 5-CD box set is pretty stellar. It runs from tuneful but sincere gospel and traditionally-oriented material, to Johnnie and Jack's uniquely poppy style. It took them a while to hit on the Latin American-flavored flair of their big hit, "Poison Love," but once they found it, they used it quite liberally. Normally such repetitiousness can wear thin -- but not in this case! With about 150 tracks on it, this is one of the most pleasantly listenable old country retrospectives you're likely to come across. Highly recommended!
Johnnie and Jack "...With Kitty Wells at KWKH" (1994)

A modest follow-up to the stellar 5-CD box set reviewed above. These late '40s radio transcriptions are filled with fiddle breakdowns and corny stage patter, and sound unglamourous compared to the melodic 'Fifties hits Johnny and Jack are best known for... Johnnie Wright's wife, Kitty Wells, sings several Molly O'Day-ish old-timey ballads; her phenomenal success as top-ranking honkytonk star are still several years away. This may be a bit too stark for the casual listener, but it does give a nice sense of what these old radio shows were like.
Claude King "More Than Climbing That Mountain, Wolverton Mountain, That Is" (1994) (BCD 15619)

This is another one of those gargantuan Bear Family box sets that makes you think, "wow... is someone really gonna want to buy this??" This copy sort of fell in my lap, and I have to admit, it's pretty interesting. Claude King is best (and pretty much only) known for his 1962 hit, "Wolverton Mountain," a goofy banjo-based story-song that was a huge hit at the same time that Johnny Horton had his "history" hits such as "Battle of New Orleans" and "North To Alaska." Although he was part of the same Louisiana Hayride scene that brought the world Horton, Webb Pierce, Faron Young, Kitty Wells and Elvis Presley, King made his mark in a poppier vein than those honky-tonk legends. This 5-CD set starts of with King's handful of scrappy postwar and early '50s recordings, which were all small-label honkytonk affairs, but it was in '61 when he signed with Columbia, and rode in on the wake of Johnny Horton's fame, replicating the same sort of goofy, half-recited story-songs that Horton had perfected. That Kennedy-era stuff is pretty formulaic and repetitive; it's his post-fame material that's most appealling to me -- the strivings of an old-timer in the countrypolitan era. With the steep entry price, I wouldn't exactly urge anybody go rush out and buy this one, but it certainly has its interesting aspects.
[BCD-15421]
John D. Loudermilk "Blue Train" (Bear Family, 1989)

One of Nashville's biggest hit songwriters of the late 1950s and early '60s, John D. Loudermilk wasn't really that electrifying as a performer, although he had several low-key albums and singles come out on RCA in the Kennedy era. By that time, he was deeply mining the post-rockabilly teenpop genre he'd helped pioneer in songs like "A Rose And A Baby Ruth," a big hit for George Hamilton IV, back in '56. Although various Nashville artists took his songs into the charts, Loudermilk's own versions are pretty tepid and folk oriented, lacking the brisk bounce of his Brill Building competitors. His albums also included a fair number of subpar tunes, and feel like extended demo tapes, rather than full-fledged pop albums. There are some cute tunes on here, and a few time capsules like "He's Just A Scientist" and the theme to the "Dr. Casey" TV show, as well as verifiable hits like "Road Hog" and "Blue Train," which became '60s rock standards. But on the whole, this seems like a for-fans-only kinda collection, not much vigor to attract the casual listener.
---
Links
---
---
---


Favorite Roots Labels
Hick Music Index
Slipcue Main Index


---
Copyright 1998-2006 Slipcue.Com. All Rights Reserved.
Unauthorized use, reproduction or translation is prohibited.
---