---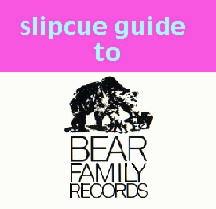 If you've gotten this far, then you probably already know what a big fan I am of Bear Family's country albums... but this fab German reissue label also has a hefty dose of pop, rockabilly and bluegrass releases, as well as a whole slew of records reissuing German pop albums of various stripes and styles. I'm mostly keen on the hick records, but take stabs at the non-country albums from time to time. So, here are a few recommendations of those, as well.
---
Bluegrass Albums
---
Hylo Brown "...And The Timberliners: 1954-1960" (BCD-15572)(1992)
An under-remembered but nonetheless awesome melodic bluegrasser, sort of along the lines of early Mac Wiseman, but with a harder, more drivingdriving instrumental edge. A highly recommended 2-CD set of prime material from the mid-to-late '50s, with a great mix of old-timey and original material. Recommended!
Jim and Jesse "1952-1955" (BCD-15635)(1992)
Wildly melodic, top-of-the-charts bluegrass from the early 1950s. This is a beautiful CD, one of my favorites in the Bear Family catalog. Fans of the Louvin Brothers should appreciate the gorgeously tight harmonies and rich pop sensibility of this well-known brother act. Jim and Jesse's commercial popularity continued well into the early 1960s, but these early tracks are really the bomb. Sweet, sweet music.
Lonesone Pine Fiddlers "Windy Mountain" (BCD-501)(1992)
One of the first string bands to switch over to Bill Monroe's new bluegrass style, the Fiddlers featured Curly Ray Cline and Ray Goins... Many of these early '50s recordings also feature vocals from Paul Williams (who has recently reeemerged for some top-notch bluegrass gospel sessions on Rounder...) Not as eerie or evocative as Bill Monroe or Flatt & Scruggs, but still pretty great.
Bill Monroe "Blue Grass: 1950-1958" (BCD-15423) (1989)
Pretty much everything Bill Monroe ever recorded was great -- from his early old-timey recordings with his brother Charlie, to his latest albums at the end of his career... It's all got the stamp of a great artist, and tremendous soulfulness. Normally I don't go fo these mongo box sets from Bear Family -- too much of a good thing -- but the Monroe boxes are different. A lot of his material from the early years is hard to come by -- most CD collections only scratch the surface. For the hardcore bluegrass fan, this 4-CD box set is a holy grail. All killer, no filler. Might be best taken in small doses, but still completely amazing -- other volumes cover his work in the '60s and '70s, which also is great stuff, but not as intense, or as essential.
Stanley Brothers "...And The Clinch Mountain Boys 1949-52" (BCD 15564)(1991)
Stanley Brothers "...And The Clinch Mountain Boys 1953-59" (2-CD set)(1993)
Do you really need me to tell you how great the Stanley Brothers were? If so, maybe you should just hop on the next flight to Bremen and buy these discs straight from the factory. This is some of the greatest, sweetest, tightest bluegrass music ever recorded. HIGHLY recommended! (Plus, I'm pretty sure both titles are still in print!)
---
Pop, Rock and R&B
---
Dorsey Burnette "Great Shakin' Fever" (Bear Family, 1992)

Despite his rockabilly credentials as part of the late '50s combo formed with his brother, Johnny, Dorsey Burnette left much to be desired as a Brill Building-era teen pop singer. Mainly it's the material; overwrought and ineffective, lugubrious would-be pop vocal hits, decidedly light on the rock'n'roll quotient, and often religiously themed. Also, there's the problem of Burnette's voice: although he's got the rumble of a burly trucker, he's not a great singer, certainly not on par with even passable contemporaries such as Gene Pitney, Jack Scott, etc. This disc is slow going.
Carl Dobkins, Jr "My Heart Is An Open Book" (Bear Family, 1991)

Corny Gene Pitney-style pop recorded under the auspices of Decca's Nashville studio god, Owen Bradley. Dobkins is one of those not-great singers who is charming nonetheless, and these 1958-1961 recordings have plenty of cutsie cuddly aw-shucks moments to offer fans of the teen-pop genre. Backing him up on these goofy ballads and novety tunes are hotshot pros such as Grady Martin, Sugarfoot Garland, and the Anita Kerr Singers.
Hula Hawaiians "Hilo March" (Bear Family, 1999) (BCD 16169)

If you ever pick up a copy of the Bear Family catalog, there's a whole section devoted to dozens of post-war German pop artists. It's the sort of thing where you just scratch your head, and think, "Huh. Wonder what that's all like...?" but you quickly put it out of your head, since the attraction isn't that great. So here's one that snuck in by the back door... I actually thought this was a collection of a Hawaiian band, but it turns out 'taint necessarily so. The Hula Hawaiians were actually a German outfit -- they started up in the late '40s and recorded well into the 'Fifties -- and man, did they rock! Not only could they play straight up Hawaiian style, they also started to infuse their work with a driving rockabilly undertone... a hint of Speedy West & Jimmy Bryant along with the standard Polynesian fare. Every time I play something off this disc on the radio, I get someone calling up to ask what it is; of particular note is the Hawaiian-ized version of Anton Karas' Third Man Theme... Recommended!
Janis Martin "The Female Elvis - Complete Recordings 1956-60" (Bear Family, 1987) (BCD-15406)

Being nicknamed "the female Elvis" sure would be a hard reputation to shake. Still, worse things could happen. And make no mistake, Martin was a hella ripsnorting gal, and if anything she may have outdone The King in the rocker department. This excellent retrospective of her old RCA material goes a long way to explain Martin's enduring legend in the rockabilly scene -- though it gets a little repetitious after a while, on the whole this is well worth checking out. (By the way, Martin came out of retirement a few years back, and cut a few duets with Rosie Flores, which got released on the Hightone label.)
Terry Noland "Hypnotized" (Bear Family, 1990) (BCD-15428)

With a richly warm, Lefty Frizzell-ish voice, Terry Noland was one of those rare rockabilly rebels who sounded as good in one style as the next. He's a real terror on the title track, and holds his own on all the later teenpop and pop vocals material he took on in its wake. There's plenty of corny material and a few overly-dopey novelty tunes ("A Fungus Among Us," for example...) but on the whole this is pretty solid stuff -- more pop than 'billy, but worth checking out.
Various Artists "SIE LIEBT DICH: WEITERE BEATLES SONGS AUF DEUTSCH" (Bear Family, 1997)
Various Artists "SIE LIEBT DICH, v.2" (Bear Family, 1997)

Everybody knows the story of how the fledgling Beatles got their start in show biz playing in the sweaty subterranean clubs of Germany's northern port cities... The Germans certainly never forgot it, as evidenced by these dozens of German-language covers of various Beatles classics. Some versions are peppy and rockin', while many are unbearably cheesy and horrendous. I've only heard the first of these two volumes, but it certainly had some fun material on it -- Beatles diehards will definitely want to track these collections down.
---
Links
---
Bear Family's website is a little difficult to navigate, but it's immediately at your disposal right this second. However, I recommend getting them to send you a hard copy of their catalog, which has a pleasantly old-time feel to it, and is easier to read. You might be able to get them to send you one via the internet, OR you could write them via the postal service:
Bear Family Records
P.O. Box 1154
D-27727 Hambergen GERMANY

Telephone: (04794) 9300-0
Fax: (04794) 9300-20

---


Favorite Roots Labels
Hick Music Index
Slipcue Main Index


---
Copyright 1998-2006 Slipcue.Com. All Rights Reserved.
Unauthorized use, reproduction or translation is prohibited.
---