---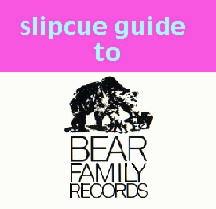 This German label is widely recognized as a class act. Started back in 1979, Bear Family has long been a symbol of a quality product -- the sound quality is always superior, the music selection is almost always phenomenal, and each CD usually from 20 to 30 tracks on it. A few years back I made the psychological leap to where I could shell out the import prices for these releases, and rarely have had cause to regret it... Besides, when you take into consideration that domestic CDs are so expensive to begin with, and they rarely are as reliably great as Bear Family stuff, it's quite a deal!
Here are some impressions of the Bear Family releases I've heard so far...
---
More Country Records
---
Big Bill Lister "Tear In My Beer" (BCD-16374)(1999)

Now THIS is for-real hick music... Hick as in back-woods, patched pants, oil-drilling, hard-timing, 'pea-pickin', tater patch tending HICK music. Sorry... I don't often indulge in such stereotypes, but then again, rarely are they so accurate. This feller -- a good pal of Hank Williams' -- was a total hayseed, and it oozes from his every syllable in the most delectable way. The music, too, is not overly refined. If you want to hear something that is as verifiably "country" as country can be, then check out these great old recordings from 1949-1953... Some of it's on major label material, recorded for Capitol, but many of these tracks are from the teesy indie label, Everstate... Once again, a jaw-dropping archival effort by the folks at Bear Family that is worth every penny they request. RECOMMENDED!
Hank Locklin "Send Me The Pillow You Dream On" (1996) (box set)

The title track of this fab 3-CD set is probably Locklin's best-known song (along with "Candy Kisses" and "Geisha Girl"...) What's great about this collection, though, is how thoroughly it mines Locklin's career before he struck paydirtwith those late '50s gems. These early tracks, originally made for tiny independent labels such Four Star and Royalty Records, show a slightly rawer and more nervous performer than the Locklin who settled into the Nashville firmament and increasingly slid into a comfortable pop crossover cheesiness. Dating back to 1948, these songs are sweet, romantic, and remote -- part of the wealth of "unknown" country oldies that are such a delight to discover. Highly recommended!
The Louvin Brothers "In Close Harmony" (Bear Family, 1993) (Box set)

Holy cow! Eight CDs worth of the Louvin Brothers -- a country music Holy Grail if ever there was one. This collection contains all of their studio recordings, including sessions from Capitol, MGM and Decca -- 169 songs total. I used to lust after this treasure chest, but eventually decided it was just too much, and that I was more likely to listen to the records I already owned than to crack open this imposing monument. The LP-sized box also contains a big, fat booklet and discography -- the early version of Charles K. Wolfe's biography of the Louvins.
Joe Maphis "Flying Fingers" (Bear Family, 1996)

This all-instrumental disc starts off at a gallop, and never really lets up. Maphis and a host of super-talented West Coast 50's honky-tonkers try on a variety of styles, from Jimmy Bryant/Speedy West style turbo-twang, to some late '50s tracks which sound an awful lot like proto-surf music. Includes a pair of sizzling duets with Larry Collins that will get the attention of anyone in earshot. By the end of the disc the formula starts to wear out a bit, but only when taken all at once. Great stuff, previously long out of print.
Frankie Miller "Sugar Coated Baby" (Bear Family, 1996)

There were plenty of shameless Hank Williams imitators in the early 1950s, but few had the arresting originality of Frankie Miller. This CD brings together material from two old BF LPs, and it is some of the best "unknown" country music you could ever hope to find. Yes, Miller apes Hank's tone and style, but his own songwriting flair and heartfelt delivery are stunning. One of the best single-disc Bear Family releases in recent memory.
Merrill Moore "Boogie My Blues Away" (Bear Family, 1990)

A piano-pounding plunker along the lines of Moon Mullican, Merrill Moore had a bit of a Jerry Lee Lewis rockin' edge to him. This 2-CD set of old Capitol recordings captures Moore in his prime, from 1955-1958. At first, it seems a bit repetitious (lots of songs with "boogie" in the title...) but it's hard not to get won over by all the shameless novelty songs, and by Moore's musical chops, as well. They don't make 'em like this anymore!
Leon Payne "I Love You Because" (Bear Family, 1999) (BCD 16195)

Payne was one of the more mysterious songwriters from the '50s honkytonk scene... But if George Jones recorded a whole album full of his material, well, there's probably a reason. As a singer, Payne wasn't exactly top-flight, but like Harlan Howard, he had his charms. The earliest material on here, at the disc's start, has some unfortunate fake-black shuckin'-and-jivin', along the lines of Red Foley's "Tennessee Saturday Night"... Not quite outright blackface minstrel material, but in the same neighborhood. If you can get over the rough start, though, this CD has a nice payoff, with some fairly straightforward honkytonk singing. Not stellar, but compelling, particularly since the songs are pretty well-written.


Webb Pierce "The Wondering Boy 1951-1958" (box set)(1991)

This box set features a walloping four CDs of Webb Pierce in his whiny monophonic prime. Some of the best country music ever made -- now all that's needed is a follow-up box, with stuff from 1958-1975. (For more information about Mr. Pierce, check out my Webb Site, a slightly sacrilegious tribute to one of my favorite hard country heroes.)
Orval Prophet "The Travellin' Kind" (Bear Family, 1999)

Well, in my book, you just gotta root for someone with a name as goofy as this guy, on principle alone. One of Canada's hopeful prodigals, Prophet rode onto moderate fame in the wake of Hank Snow's 1951 US breakthrough, even going down South to record a bunch of sides with a crew of crackerjack Nashville pickers in the Decca studios. He shared Snow's soft-edged Canuck grumble, but it's combined with a mousy warble that was a fairly comedic reflection of Mac Wiseman's more accomplished tenor. (What is it about Canadians and their voices? Did Neil Young hear Prophet's records when he was a lad??) Anyway, despite his vocal shortcomings, Prophet had a lot on the ball, mostly the strength of his sentimental, old-fashioned material. If you like Hank Snow, this fellow is well worth checking out as well... Also included on here are a handful of rock-era teenpop-ish tunes recorded under the name "Johnny Six" (which I sincerely doubt fooled anyone, but are still kinda cute...) Cool record.
Marvin Rainwater "Classic Recordings" (Bear Family, 1994)

A 4-CD set, covering Rainwater's career up through the late 1960s...

Marvin Rainwater "Whole Lotta Woman" (Bear Family, 1995)
Marvin Rainwater "Rock Me: The Westwood Recordings" (Bear Family, 2001)

A sad companion to Bear Family's other Rainwater collections. Here, a greatly diminished Rainwater recorded several somewhat limp recordings for a tiny indie label in the 1970s. I guess it's great that Bear Family is there to track down and keep tabs on this kind of lost country lore, but if the truth be known, this is not really that engaging. Mostly the trouble is Rainwater's voice, which just ain't what it used to be.
Jerry Reed "Here I Am" (BCD-16306) (1999)

Reed's Nashville persona is so well-defined -- the ornery, gruff, humorous, good ole boy, RCA label superpicker -- that it's hard to connect these early efforts from the 'Fifties with his later stuff working with Chet Atkins. Although these long-neglected Capitol recordings are (apparently) highly prized by rockabilly collectors, it has to be said that as an Elvis-era rocker, Reed -- an intensely talented guitarist -- lacked the clumsy rawness that made the unknowns so charming, or the blistering passion that made kids like Ronnie Dawson so fun. There's an interesting mix of material-- teenpop, half-hot rockabilly, and tons of earnest (but uninspired) honkytonk, patterned after the likes of Ray Price and George Jones. According to the liner notes, Reed doesn't think that much of these teenaged recordings, and label producer Ken Nelson was reluctant to record such a young artist. Turns out they were both kinda right, though fans of Reed's later stuff might still want to check this out, just to see what he was up to back when he was a youngster.
Kenny Roberts "Jumpin' And Yodelin'" (BCD-15908)(1996)

A very cute, but also very strong collection of early 'Fifties country. Due to a couple of early hits, Roberts was typecast as a novelty song artist -- but since his novelty songs were so good, this was hardly a liability. Features the hit version of the can't-shake-the-chaperone lament, "I Never See Maggie Alone", and the cutesy-wootsy little kid song, "Chocolate Ice Cream Cone." STRONGLY RECOMMENDED.
Weldon Rogers "Tryin' To Get To You" (BCD 16165) (Bear Family, 1997)

A quick dip into the cowpond of country-billy marginalia, though hopefully not an indication that the Bear Family well is running dry. This is decidedly lesser stuff, recorded by a lanky West Texas Oakie, with tracks cut between 1955-1968 for various small independent labels. The trouble with most of this Ernest Tubb-ish material is that both Rogers and his Kitty Wells-esque wife Wanda were profoundly underwhelming vocalists: they don't have the pipes or the phrasing needed to carry the day. A few of these tracks hold their own, but this CD as a whole does not stir and excite this country boy.
Carl Smith "Satisfaction Guaranteed" (box set)

Since they cost so damn much, I'm usually pretty leery of buying Bear Family boxes on a whim -- but based on the great Carl Smith LPs I already owned, I knew this would be a winner. Sure enough, this is stunning material -- sweet, weepy, romantic heartsongs along with a healthy slathering of upbeat, poppy honkytonk. If other BF boxes struck you as too monochromatic, give this one a try: Smith is a powerful stylist, and his '50s band was as good as it got. Highly recommended.
Connie Smith "Born To Sing" (Bear Family, 2001)

A four-CD box set of her early work on RCA, with a generously informative booklet to boot... Nothing to complain about here, except that I personally can't afford a copy. I'm sure it's very, very good, though, and if you want to get all of Smith's best material in one nice, shiny new package, then this might be just the thing for you. It's gotta be great.
Warren Smith "Call Of The Wild" (Bear Family, 1990)

Warren Smith "Classic Recordings" (Bear Family, 1992)

A super-rural '50s rocker who is best known for the rockabilly classic, "Ubangi Stomp," Smith went on to do country records, but it never really went anywhere. The oddest thing about these discs is how the label discounts Smith's early '60s recordings in the "Call of the Wild" liner notes -- basically, they say his country stuff sucked. I couldn't disagree more: there's a fun, loping Texas shuffle backbeat on here that you've just got to love. If anything, his earlier recordings when he was a rocker (the other disc) are a bit thinner, and he wasn't really a rocker for long. One thing about Warren Smith, though -- he didn't sound like one of those skinny, greasy-haired rockabilly teens. Hardly. Sounds more like someone who would wrap a tire iron upside your head in a truck stop parking lot, if you looked at him funny at the counter. These discs aren't top-flight material, but they're certainly worth checking out.
Wynn Stewart "Wishful Thinking" (Bear Family, 1999)

An excellent multi-CD set collecting the best of the bulk of Wynn Stewart's recordings on the Challenge, Capitol and Playboy labels -- crucial and catchy old West Coast country, as well as some super-sappy countrypolitan from the founder of the Bakersfield Sound. You have to be a pretty hardcore Wynn fan to get this one, but if you're frustrated by Capitol's disinterest in its fab back catalog of classic country material, then this is the collection that will help put things right. As is often the case with Bear Family releases, I wish this also had a single-CD version, so us poor folk could check out the groovy music, too...
Charlie Walker "Pick Me Up On Your Way Down" (box set) (Bear Family, 2000)

This box set is intriguing for a variety of reasons... mainly because it profiles a hardcore honkytonker of years gone by who fell out of the public eye a long time ago... Walker is best remembered for two big hits, "Pick Me Up On Your Way Down", which was an irresistable late-'50s smash, and "Don't Squeeze My Charmin", a less-vigorous novelty song from 1967. This is, of course, one of those anxiety-provoking, overly-definitive Bear Family fetish items: five CDs worth of Walker's material is probably too much for practically anyone, but then again, where else are you going to find this stuff? Part of the problem is that Walker himself was so stylistically limited -- his vocal range makes Ernest Tubb seem like Pavarotti, and even during his early-'60s prime, most of Walker's records sounded a lot alike. Still, when he hit his mark, he was awesome, and some of his best songs, such as 1964's "Last Call For Alcohol" never made it onto the now-scarce best-of vinyl LPs that are the only other place you can find his music these days. There are certainly a lot of gems on this set, but then again, Bear Family might do us all a big favor if, in addition to the giganto box set, they'd also put out a killer 30-song single CD collection.
Onie Wheeler "Onie's Bop" (BCD-15542) (Bear Family, 1991)

This disc is not as rowdy as the title would imply, but it's still pretty tasty.. Wheeler was one of those unreconstructable hick artists, who sounded more country than seems humanly possible, with debts to Lefty Frizzell early in his career, and broad swipes of the Ernest Tubb sound later on... When he started out in the early '50s, he was actually more polished than his mid-'50s material. Wheeler coundn't quite rock out the way some '50s honkytonkers tried to during the rockabilly era, although he did briefly wind up on the Sun label after a short stint on Columbia failed to produce any real hits... Specializing in light novelty songs, Wheeler wasn't a particularly dazzling lyricist, but his vocals are compelling. Junior Brown fans, in particular, might enjoy Wheeler's ET-like growls.... This is yet another Bear Family disc that no one else would put out, or produce with such loving care. Worth checking out!
Jess Willard "Honky Tonk Hardwood Floor" (BCD 16254) (2000)

Willard is one of those inexplicably attractive figures in hard country history - so craggy and odd that his authenticity is undeniable, so boisterous and upbeat that his songs are irresistible. This is real hillbilly stuff -- Willard was an unruly and unrestrained singer, but a guy whose every bark and yowlp projected immense enthusiasm. These beer-drenched Capitol recordings from the early 'Fifties are certainly material you're not likely to hear anywhere else any time soon... So take my advice: track this one down and check it out.
Various Artists "THE DAFFAN RECORDS STORY" (Bear Family, 1995)

Singer Ted Daffan is best known for his 1940s hit, "Born To Lose". Here we have the output of his indie label, which he started in 1955 and ran until 1971. It's a pretty uneven offering, with songs by oldtimers such as Floyd Tillman and Jerry Irby, as well as a couple of Laura Lee tracks. Fans of small-label obscuro country may enjoy this 2-CD set, but the truly engaging moments are infrequent, at best.
---
Links
---
---
---
---


Favorite Roots Labels
Hick Music Index
Slipcue Main Index


---
Copyright 1998-2006 Slipcue.Com. All Rights Reserved.
Unauthorized use, reproduction or translation is prohibited.
---