<! cd = 02/17/14 > <! MP3 02/17/14 > <! outside 02/17/14 - WP, Byrds sites > <! pix 00/00/00 > <! 208-pix: 00/00/00 > <! styles: Country-rock > <! UPDATES: 02/17/14 - posted >
---
Gene Clark (1944-1991) was a founding member of The Byrds and a key figure in the evolution of country-rock music. He frequently struggled to keep his career going, though, buffeted by the waves of instablility that seemed to beset all the core members of the Byrds, as well as his own personal demons such as his antipathy towards travel and tours, as well as the sustance abuse that ultimately led to his early demise. Clark is often cited as the strongest songwriter of the original Byrds, the composer of early hits and fan faves such as "Eight Miles High" and "I'll Feel A Whole Lot Better," and as a solo artist of gems like "Train Leaves Here This Morning," which was widely recorded by other artists in the early '70s. Clark left and regrouped with his Byrds bandmates several times and went into semi-retirement on several occasions. In the 1980s, Clark was embraced as a respected elder by LA's so-called "Paisley Underground" alt-pop scene, recording his last studio album with rocker Carla Olson of the Textones. Clark passed away in 1991 as a result of an alcohol-related ulcer, at a tragically young age forty-six. Here's a quick look at his work...
---
Discography - Best-Ofs
---
Gene Clark "Set You Free: Gene Clark In The Byrds: 1964-1973" (Raven, 2004)


This collection examines Clark's best work as a member of the Byrds...
Gene Clark "American Dreamer: 1964-1974" (Raven, 1993)

Gene Clark "Flying High" (Universal, 1998)


A 2-CD set...
Gene Clark "Echoes" (Columbia-Legacy, 1991)



This is an expanded edition of Clark's first solo album from 1967 (reviewed below...)


<! Gene Clark with the Gosdin Brothers with additional early material >

Dillard & Clark "The Fantastic Expedition Of Dillard & Clark/Through The Morning, Through The Night" (Beat Goes On, 2011)


A nice twofer reissue of the albums The Fantastic Expedition Of Dillard & Clark and Through The Morning, Through The Night, recorded with Doug Dillard, of the family bluegrass band, The Dillards. Both albums are reviewed below.
Gene Clark "Here Tonight: The White Light Demos" (Omnivore, 2013)


A set of demos from the sessions that led to Clark's so-called "White Light" album, from 1971...
McGuinn, Clark & Hillman "The Capitol Collection" (Acadia, 1991)

Gene Clark "Under The Silvery Moon" (Delta Deluxe, 2001)


Demos and outtakes from the mid-1980s...
Gene Clark "Gypsy Angel" (2001)


This disc gathers demos and unreleased material from 1983-1990...
---
Discography - Albums
---
New Christy Minstrels "Land Of Giants" (Columbia, 1964)



Clark was working in local folk bands in Kansas City when he was recruited to join the New Christy Minstrels, a nationally-known prefab pop-folk ensemble that had recently moved to the West Coast... The gig got Clark out to California and he toured and recorded with the Christies throughout 1963, appearing on this album and several singles, albeit mostly in minor roles. Soon he was chafing at the creative restrictions of the job, and left the group early in '64, soon after he heard the Beatles on the radio and got the rock'n'roll bug. Then he met Roger McGuinn who had a twelve-string that was like nothing you'd ever heard, and soon enough the Byrds became the foremost folk-rock band in the world. This disc is an interesting early footnote in Clark's career, though...


<! The New Christy Minstrels - Gene Clark was on two(??) of their albums, circa 1963 >

Gene Clark "...With The Gosdin Brothers" (Columbia, 1967)


(Produced by Larry Marks, Gary Usher)
This was Gene Clark's first solo album after splitting from the Byrds in 1966, a bold, eclectic, energetic album recorded with strong, sympathetic backing by former fellow Byrds Chris Hillman and Michael Clarke, as well as the country duo Rex and Vern Gosdin, who had been in a bluegrass band with Hillman, just before he joined the Byrds. Vern Gosdin went on to become one of the finest country ballad singers of the 1970s and '80s, a honkytonl vocalist nearly on par with George Jones, though here he's pretty much in the background, singing harmonies along with brother Rex. Although there are moments of twang, this is a distinctly rock-oriented record, catchy, strongly produced and packed with powerful material. Recommended!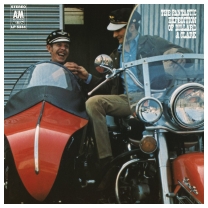 Dillard & Clark "The Fantastic Expedition Of Dillard & Clark" (A&M, 1968)


(Produced by Larry Marks)
This collaboration with bluegrass veteran Doug Dillard (of the Dillards family band) is one of the best, most resonant hippie country albums ever recorded, in no small part for its compelling and countrified reflection of the '60s drug culture. Several songs obliquely describe what I presume are acid trips, notably "Out On The Side," which is one of the oddest opening numbers of any album I know... There's no pretense at looking for a hit, or putting the poppiest material out front, instead listeners are plunked right into odd interior landscape, a mental anacrusis amid gentle, aqueous rock arrangements and lyrics that are difficult to understand outside of a druggie context. Similarly, the widely-covered "Train Leaves Here This Mornin' " uses the train-travel metaphors of departure and arrival as thinly-veiled code for a drug trip... Clark also makes nods towards more conventional country modes, such as the bitter lost-love ballad, "She Darked The Sun," though the lyrics include poetic forms that are unusual and allusive, accentuated by his purposefully rough vocals. Doug Dillard anchors the album with his truegrass chops, but also shows himself remarkably adaptive to the cosmic country style, a mode that's echoed in Dillards albums such as Wheatstraw Suite and Copperfields Other musicians include guitarist Bernie Leadon and mandolin player Don Beck, who adds some particularly sweet riffs... This is really a very striking album, with several classic tracks. Highly recommended.


<! Guitarist Bernie Leadon (later with The Flying Burrito Brothers and the Eagles), bass player Dave Jackson and mandolin player Don Beck joined them to form the nucleus of Dillard & Clark. >

Dillard & Clark "Through The Morning, Through The Night" (A&M, 1969)

Gene Clark "Gene Clark (aka White Light )" (A&M, 1971)


Gene Clark "Roadmaster" (1973)


Originally recorded in 1972, this album was shelved by Clark's American label but later released by a Dutch label, only finding listerners in America years later...
Gene Clark "No Other" (Asylum, 1974)



(Produced by Thomas Jefferson Kaye)

Gene Clark "Two Sides To Every Story" (RSO, 1977)

McGuinn, Clark & Hillman "McGuinn, Clark & Hillman" (Capitol, 1979)


A collaboration with Roger McGuinn and Chris Hillman, this was seen at the time as a semi-reunion of the original Byrds...
McGuinn, Clark & Hillman "City" (Capitol, 1980)

Gene Clark "Firebyrd" (Takoma, 1984)


(Produced by Andy Kandanes & Thomas Jefferson Kaye)

Gene Clark & Carla Olson "So Rebellious A Lover" (Rhino, 1987)





<! Carla Olson of the Textones >

Gene Clark & Carla Olson "Silhouetted In Light" (Demon, 1992)


Live recordings
Gene Clark & Carla Olson "In Concert" (Collector's Choice, 2007)

Gene Clark "Silverado '75: Live & Unreleased" (Collector's Choice, 2008)

---
Links
---
---