<! cd = 04/25/11 > <! MP3 00/00/00 > <! outside 00/00/00 > <! pix 00/00/00 > <! 208-pix: 00/00/00 > <! icons 04/25/11 > <! UPDATES: 05/28/12 - Doug Dillard (RIP - 05/16/12) 02/27/14 - added Dillard & Clark reviews - set faux 144-170 pix sizes - need new pix >
---
The Dillards were a family band from the Ozarks who hit it big in Hollywood with a recurring role on the Andy Griffith TV show, playing "The Darling Boys," a local stringband who'd pop up and pick and grin from time to time... They were also one of the hottest acts on the booming Los Angeles folk scene, real live Missouri-born hillbillies who knew how to tear into the old tunes. As the hippie counterculture took hold, they got freakier and freakier, and explored the wavy boundaries of country-rock-folk crossovers... The original early-1960s lineup of the band featured brothers Doug Dillard (1937-2012) and Rodney Dillard, along with their pals, mandolin player Dean Webb and Mitch Jayne on bass -- the group has since hosted a wide swath of pickers and plunkers, notably fiddler Byron Berline and longtime collaborator Herb Pedersen, who helped craft their folk-rock sound, as well as ther longtime friend John Hartford. Here's a quick look at some of their stuff...


<! Douglas "Doug" Dillard (born March 6, 1937, East St. Louis, Illinois) (banjo), Rodney "Rod" Dillard (born May 18, 1942, Salem, Missouri) (guitar, dobro), Dean Webb (born March 28, 1937, Independence, Missouri) (mandolin), and Mitchell Franklin "Mitch" Jayne >

---
Discography - Best-Ofs
---
The Dillards "There Is A Time: 1963-70" (Vanguard, 1991)


Although single-disc retrospectives can often be vexing, this collection does do a good job showing the band's progress over their years on the fledgling Elektra label, moving from earnest yet show-biz savvy folk-grassers to acid-laced folk-rock pioneers. Hearing it all happen over the space of one album is pretty instructive... They really did make quite a journey! A great introduction to an idiosyncratic and charmingly original band.


<! 144 x 144 >

The Dillards "The Best Of The Darlin' Boys" (Vanguard, 1995)



The early Dillards doing their Mayberry schtick...
The Dillards "Let The Music Flow -- The Best Of The Dillards: 1963-1979" (Raven, 2005)





<! The Dillards "I'll Fly Away" (Edsel, 1988) - no listing on AM > <! TWOFER: Dillard & Clark "The Fantastic Expedition Of Dillard & Clark" (A&M, 1968) B00000JAYN Dillard & Clark "Through the Morning, Through the Night" (A&M, 1969) B00000JAYN Doug Dillard on hiatus from the Dillards, long with Gene Clark of the Byrds >

Dillard Hartford Dillard "Glitter Grass From The Nashwood Hollyville Strings/Permanent Wave" (Flying Fish, 1977/1980)



A handy twofer reissue documenting their late-'70s partnership with John Hartford... In 1977, Hartford joined forces with Doug and Rodney, for an oddball disco-era grassy-delic outing, and they reunited a few years later for a forgettable follow-up. Combined as a single CD, these albums feature remakes of several Dillards/Byrds country-rock oldies (like "Don't Come A-Rollin' " and "Biggest Whatever," which was probably best well enough left alone...) The high point of the first album is the loopy stoner novelty anthem, "Two Hits And The Joint Turned Brown," and some of the instrumentals are kinda fun, too. It's pretty far from their mutual bluegrass/old-timey roots, but it has its moments. The 1980 follow-up, Permanent Wave, is a dismal, coked-up disco disaster, full of dreadful funk-tinged rock arrangements and so-so banjo plunking and indifferent vocals. It's a real mess. There are a couple of near-misses, such as Hartford's twangy cover of Stevie Wonder's "Boogie On Reggae Woman," or the kooky loopiness of "The Same Thing," but they even botch it up on sure-fire, slam-dunk cover tunes such as Reno & Smiley's "Country Boy Rock & Roll" (played as a clumsy, abrasive Dylan parody) or the polka standard, "No Beer In Heaven" (done as a sort-of reggae groove tune). The first album has its charms, but if you don't hit the pause button pronto, the rest of the disc will leave a very bad taste in your mouth.


<! 144 x 144 >

---
Discography - Albums
---

The Dillards "Backporch Bluegrass" (Elektra, 1963)



This was their debut album, and while it may seem a little thin by today's standards, it was pretty dazzling compared to many of the aspiring 'grassy bands of the day. I have lot of affection for these early Dillards albums -- although the production values weren't very rich, the musicianship is top-flight, as well as the feeling they put into the songs. Definitely worth checking out!


<! 144 x 144 >

The Dillards "Live!!! Almost!!!" (Elektra, 1964)


On their second album, the Dillards adopted a more riotous, hard-driving sound, with some hot picking and faster tempos... And it sounded pretty sweet! Another highwater mark for the early 'Sixties bluegrass revival.
The Dillards "Pickin' And Fiddlin' " (Elektra, 1965)


This album is pretty much of a piece with the first two, although you can hear them growing as musicians and also the shift twoards a warmer, richer production mix. Nice stuff.

The Dillards "Wheatstraw Suite" (Elektra, 1968)



When their sound started to get a little wiggier and more electric in the mid-'60s, the Dillards found their overlords at Elektra strangely resistant to any experimental moves, and unwilling to let them plug in and groove out, like their pals in the Byrds. So the boys shopped their sound around, tried swinging a deal at Capitol, then came back to Elektra (which had since jumped onto the psychedelic bandwagon) and produced this odd, gentle cult classic. Doug Dillard had actually split the band, but was replaced by Herb Pedersen, who'd been gigging with The Gosdin Brothers, and who brought a wellspring of new energy and enthusiasm along with him. The repertoire was pretty cool, a mix of softcore sunshine folk, breezy melodic newgrass (before there was such a word) and goodnatured humor. They covered the Byrds, nodded towards Alfred G. Karnes and Gene Autry, and painted a sonic pastel pallatte across the wide open horizon of the newfound hick-rock crossover. Pedal steel player Buddy Emmons adds a nice mind-expanding tone through his drifting, high tones, and the airy group harmonies are also kinda nice. Most of these songs are pretty short, some are fairly notional, but taken as a whole, this is a rather enchanting album. Recommended!


<! 144 x 144 >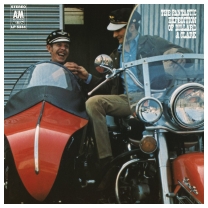 Dillard & Clark "The Fantastic Expedition Of Dillard & Clark" (A&M, 1968)


(Produced by Larry Marks)
While on hiatus from the Dillards, Doug Dillard teamed up with Gene Clark of the Byrds, for this gentle, exploratory early folk-rock gem. I had this as a kid, and remember listening to it quite a bit. This is one unquestionably of the best, most resonant hippie country albums ever recorded, in no small part for its compelling and countrified reflection of the '60s drug culture. Several songs obliquely describe what I presume are acid trips, notably "Out On The Side," which is one of the oddest opening numbers of any album I know... There's no pretense at looking for a hit, or putting the poppiest material out front, instead listeners are plunked right into odd interior landscape, a mental anacrusis amid gentle, aqueous rock arrangements and lyrics that are difficult to understand outside of a druggie context. Similarly, the widely-covered "Train Leaves Here This Mornin' " uses the train-travel metaphors of departure and arrival as thinly-veiled code for a drug trip... Clark also makes nods towards more conventional country modes, such as the bitter lost-love ballad, "She Darked The Sun," though the lyrics include poetic forms that are unusual and allusive, accentuated by his purposefully rough vocals. Doug Dillard anchors the album with his truegrass chops, but also shows himself remarkably adaptive to the cosmic country style, a mode that's echoed in Dillards albums such as Wheatstraw Suite and Copperfields Other musicians include guitarist Bernie Leadon and mandolin player Don Beck, who adds some particularly sweet riffs... This is really a very striking album, with several classic tracks. Highly recommended.
Dillard & Clark "Through The Morning, Through The Night" (A&M, 1969)

Doug Dillard "The Banjo Album" (Elektra, 1969) <! ASIN to expanded version >


The Dillards "Copperfields" (Elektra, 1970)



On their fab followup to the Wheatstraw album, the Pedersen-era Dillards smooth their sound out a bit, making their efforts both more cohesive and, in some regards, a bit bland. Here the lads lean heavily on sugary high harmonies and purty instrumental sweeps, and, if the truth be told, they remind me a bit of John Denver... Not a lot going on in terms of old-fashioned bluegrass pickin', though -- this is more of a template for the soft rock sounds of the coming country-rock boom than any sort of a 'grass album. Still, there are some lovely passages, even if listening to the whole album all at once may be a bit taxing at times.


<! 144 x 144 >

The Dillards "Roots And Branches" (Elektra, 1970)





<! ASIN towfer w/ "Tribute To The American Duck" >

The Dillards "Tribute To The American Duck" (Poppy, 1973)

Doug Dillard "Duelin' Banjo" (20th Century, 1973) (LP)

Doug Dillard "You Don't Need A Reason To Sing" (20th Century, 1974) (LP)





<! The Dillards "Country Tracks" (Elektra, 1976) - no listing on AM - best-of set, drawing from Wheatstraw Suite & Copperfields >

Dillard Hartford Dillard "Glitter Grass From The Nashwood Hollyville Strings" (Flying Fish, 1977)



(See the review above...)
The Dillards "The Dillards vs. The Incredible L.A. Time Machine" (Flying Fish, 1978) (LP)

The Dillards "Mountain Rock" (Crystal Clear, 1978)





<! with Herb Pedersen reissued on Delta/Laser Light >

The Dillards "Decade Waltz" (Flying Fish, 1979)

The Dillards "Homecoming And Family Reunion" (Flying Fish, 1979)


(Produced by Rodney Dillard)



<! With Rodney Dillard, Doug Dillard, Homer E. Dillard,Sr., Homer E. Dillard, Jr., Earl Jay Dillard, Earline Dillard, Brian Dillard, Linda Dillard, Mitch Jayne, John Hartford, Dean Webb, Herb Pedersen, Bill Bryson, Jeff Gilkinson, Richard Godfrey and Douglas Bounsall. >

Doug Dillard "Heaven" (Flying Fish, 1979)



<! 04/11: no listing on AM >

Doug Dillard "Jackrabbit" (Flying Fish, 1980) (LP)

Dillard Hartford Dillard "Permanent Wave" (Flying Fish, 1980)



(See the review above...)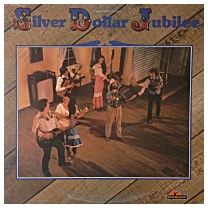 Silver Dollar Jubilee "Silver Dollar Jubilee" (Silver Dollar City, 1984) (LP)
(Produced by Allen Reynolds)
Well, maybe Rodney Dillard and Dean Webb were a little down on their luck when they landed a day job at Branson, Missouri's Silver Dollar City amusement park and cut this souvenir album for thr tourists... But at least it was a paying gig and they did put their hearts into the recording, with the result that it's a pretty darn good record. Dillard's wife, Beverley Cotten Dillard, adds vocals on a number of tracks, and the musicianship is solid from start to finish. Other than the Dillards and Webb, I don't recognize the other musicians, though pianist D. A. Callaway performed on other Silver Dollar commemorative albums, so I'm guessing most of these folks were on staff at the park. Also, I had assumed that this was the same record as Dillard's At Silver Dollar City album (below) but it turns out they are completely different... So, if you're a Dillards completist, you might wanna track this one down.


<! 04/11: no listing on AM - >

Rodney Dillard "At Silver Dollar City" (Flying Fish, 1985) <! (date? yes!) > (LP)





<! Track Listing 1. Six White Horses 2. Sally Let Your Bangs Hang Down 3. Ain't Nobody Here But Us Chickens 4. Orange Blossom Special 5. Head Over Heels 6. Caney Creek 7. Run River Run 8. Clay Pipe 9. Daniel Prayed 10. Will the Circle Be Unbroken >

The Doug Dillard Band "What's That?" (Flying Fish, 1986)



This on-again, off-again project often featured vocals from guitarist Ginger Boatwright, of the group Red White & Bluegrass...

The Doug Dillard Band "Heartbreak Hotel" (Flying Fish, 1988)



(Produced by Rodney Dillard)
A nice, straightforward set with a little bit of melodic, acoustic swing and an awful lot of pure bluegrass twang. The repertoire is delightful, and Dillard's banjo work is dazzling; I wasn't consistently thrilled by Ginger Boatwright's lead vocals, however -- they stood out at times in glaring contrast to the rest of the record (although when singing harmony she's perfectly fine...) Oh, well, can't win 'em all. Overall, this is a nice, sweet set of truegrass and twang.


<! 144 x 144 >

Rodney Dillard "Let The Rough Side Drag" (Flying Fish, 1991)


The Dillards "Let It Fly" (Vanguard, 1991)


The Dillards "Take Me Along For The Ride" (Vanguard, 1992)


The Dillards "A Long Time Ago: The First Time Live" (Varese Sarabande, 1999)


The Dillard/Haynes Band "There Goes The Neighborhood" (Varese Sarabande, 2001)


Some peppy bluegrass from Rodney Dillard and Bruce Haynes... A few duds (mostly the slower, more serious numbers) but mostly a fine album for a pair of old duffers to make. The title track (a good-natured, anti-yuppie singalong) is the real gem on here, followed by Haynes' "I've Had All The Good Times I Can Stand" and the zippy instrumental "Finger Pickin' Good." Drifts a little, but the title tune's a classic. I guess Haynes is more from the contemporary Christian/Southern Gospel side of the tracks, which might explain the slow pacing and over-profundity of a couple of the tracks on here... There are only two religious songs on here, though, and one of those is a nice, mid-tempo instrumental version of "Just A Closer Walk With Thee."


<! 130 x 130 >

Doug Dillard "Hard Times" (SnailWorx, 2006)


Reissue of 1968 recordings...
The Dillards & Arlo Guthrie "32¢ Postage Due" (Rising Son, 2008)


Rodney Dillard "I Wish Life Was Like Mayberry" (Rural Rhythm, 2010)


---
Links
---
Burrito Brother.com has an outstanding, minutely-detailed outline of the Dillards entire career trajectory. Many thanks for helping clear up a few patchy sections on my own discography...!
---